POV Holder:
Devin
Next POV
July 12th
POV Used
YES
POV Ceremony
July 7th
HOH Winner 1:
Amber
HOH Winner 2:
Devin
Battle of the Block Winner
Hayden & Nicole
Next HOH/ Next BOB
July 10/July 11
Original Nominations:
Devin's Noms (Pow Pow & Brittany) Amber's Noms (Hayden & Nicole)
Final Nominations:
POW POW & ZACH
Have Nots
Victoria Brittany, Zach and Derrick
POV Players
Host Donny, Players Devin, Brittany, POWPOW, Derrick, Zach, Amber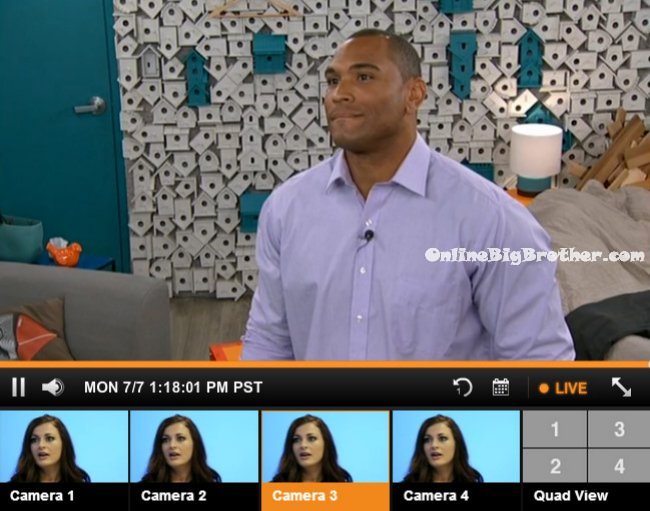 The Power of Veto Ceremony is taking place at this moment. Devin has been changing his mind every hour on who his target is this week. First it was Brittany, then it was Victoria and NOW he wants Zach out of the house. Devin is now in love with Brittany and wants to right his wrongs of nominating her and making her a havenot. Devin doesn't trust Zach after he voiced his opinion of going against Devin's HOH wishes. Devin has made deals with Brittany, Pow Pow and Victoria if he keeps them safe this week. Devin has stated that of the once 8 members of the bomb squad he now only trusts Caleb, Christine, Frankie and Amber (Leaving only 5 members of the bomb squad). Leading up to this point Zach has been threatening to blow up a part of the bomb squad exposing Devin, Caleb, and including Pow Pow in it while protecting the other members by not mentioning them. Derrick and Cody have promised Zach their support if he goes against Devin. Cody being the most vocal saying that he will be standing right there next to Zach. Zach plans to push Devin's buttons calling him a liar, bully and a bad father in order to get Devin to attack him ultimately getting him expelled from the house. This is going to be a crazy week on the live feeds for sure.
Watch the ENTIRE SEASON of Big Brother 16 for ONLY $26.99 – TRY it For FREE!
12:30pm Big Brother blocks the live feeds for the Veto Ceremony and when they return – we learn that as the power of veto winner Devin used the veto to remove Brittany from the block. As he is also the head of household he then nominated Zach as the replacement nominee.
1:20pm In the fire room Pow Pow says he just threw everyone under the bus! Pow Pow says I'm not f**king scared! I will blow up on Devin AGAIN! Pow Pow says to Nicole I didn't f**king throw the comp! Can you please tell Brittany that I didn't throw the comp! I will take his protein shake and throw it in the garbage right now!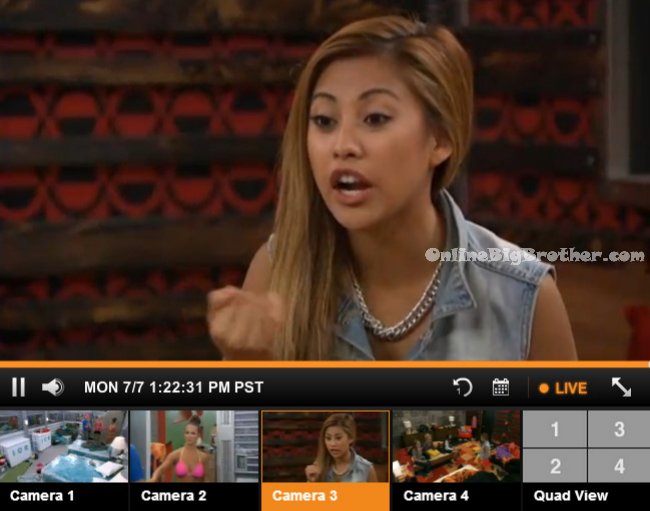 1:25pm Nicole asks to talk to Brittany. Nicole explains what happened when her and Hayden were nominated. Nicole say that Devin basically threatened us. Pow Pow comes in and asks Nicole to explain that she didn't throw the comp. Nicole says in her honest opinion I don't think she threw it. Hayden says it was the plan for her to throw the comp it was basically forced upon us. Brittany brings up all the reasons how Pow Pow's friendship with her changed after before the veto comp. Brittany tells Pow that she doesn't think its fair for her to go home when she was being loyal. Brittany says my honesty gets me in trouble and I will probably be up on the block each week. I am not making any deal especially with someone the whole house is against. Pow says heres the thing ever since that day he's been trying to manipulate me. Thats why I blew up on him. I would rather put my head in the toilet than stay in the house with him another week. Brittany says why wouldn't you come up to me then? Pow says I didn't know what to believe! People were telling me that you were making deals with him. Brittany says its different when the whole house is against him. He is on the verge of exploding. I wouldn't be surprised if he walks out of this house. Pow says are you kidding me if I see him again I am going to go off on him and get in his head. I hope is daughter isn't watching. Brittany says don't tell me that you didnt think about throwing that comp. Pow says of course I thought about it. Brittany says don't think I won't put you on blast if you put a knife in my back! Pow says I'm sorry but I thought you were working with Devin. Brittany says nobody freaking likes him. You should have hit pause and told everyone. Then everyone would have started working together. We're talking about 1 person that no one likes! Brittany says I don't know how to fix this. I think right now its going to be a close vote. I think you have to lay low and not campaign. Pow says I think everyone will be voting for him (Zach) because of your speech about me.
1:19pm Zach and POW in the storage room
Zach is saying POWPOW sore on her moms grave her moms not even dead
Jocasta I didn't know she was lying like that
Jocasta says she never heard Zach say he wanted to go home. Zach sasy he told Devin to put him up
Zach asks her if she's voting for him to stay. Jocasta says yes they
1:20pm Zach and Frankie HAve nots (Frankie is pissed at Zach)
Frankie – "Ok explain to me why you are smiling
Zach says he called him out because of cody and derrick they don't trust Frankie so now they think Frankie and Zach are not tight but they really are. Zach mentions final 2
Frankie – the whole house doesn't trust me
Zach – you serious
Frankie – I don't understand why you would do that
Frankie – I I have no idea why you would do that to me it's just terrible WOW
Frankie says he was his friends he had his back why would he called him out to the whole house.
Zach says it had to happen, " well now you have to work hard to keep me safe"
Zach says he's with Frankie 100%
Frankie – Cody and Derrick won't even look at me.
Zach says they don't trust him at all before so theres nothing new.
Frankie storms out gets to the door and Brittany comes in.. the conversation expands
Zach say he never meant for it to come off "Like that"
Zach asks him for his vote.. "I'll vote for you in the f*** end"
Frankie – You threw me under the bus to them.
1:24pm Rock Room POW and Zach
POW – Bro I didn't throw that f*** competition … f** that broi I told him that
POW wonders what they should do Zach says he's going to campaign and try to stay/
Zach – "He's fucked now" (Devin)
POW – "He's totally f*** bro"
POW says she wants to go home Zach says he's going to go to all her shows.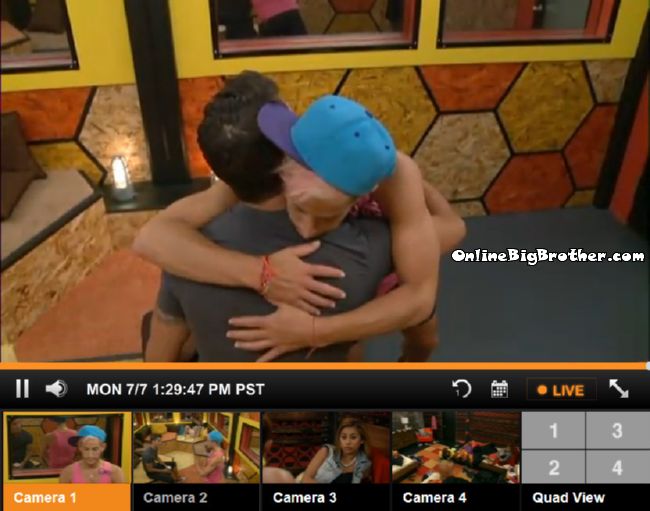 1:28pm BEEHIVE Cody, Caleb and Frankie
Cody says that "I don't trust you" is ridiculous. Cody tells him they don't have to talk every single day he told Frankie that already, Cody knew Zach was going to blow up the second he went on the block
Frankie -"Trying to blow up everyones game… I thought he was going after Devin and he called me out personally"
1:31pm BEEHIVE Caleb and Frankie
Frankie says Zach called them and Devin out in front of everyone frankie is in shock . Caleb says frankie has to beat him at something to get him out. Caleb – "He's acting like he's the only one without something to hide.. You are in the alliance you dummy"
Sounds like Zach brought up Devin daughter and all the pills Devin takes. Frankie goes to leave.
Caleb "I confronted Amber to"
Frankie – " I can't believe her"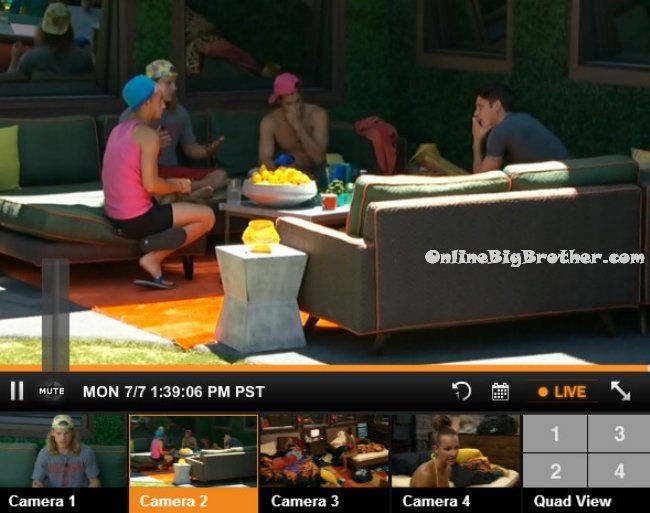 1:35pm backyard Frankie, Derrick, Cody and Zach
Zach apologizes for putting Frankie on blast the one thing he regrets is throwing Frankie's name out there.
Cody tells Frankie him and derrick are doing everything for Devin and Caleb. Cody knows he's at the bottom of the bombsquad and he' pissed about it. Frankie says all Zach had to do was be quiet and POWPOW would have been the one sent packing. Cody still thinks that will happen.
Frankie says he's playing this game to survive week 8 now zach is forcing them to take sides week 2.
Hayden comes in to explain to them they had nothing to do with Devin's plan this week. All he knows is they were put up on the block because they were strong competitors and Hayden/Nicole played to win to get off the block and be safe. Amber comes in and claims she had nothing to do with Devin's plan says Devin told her nominees they were going up before Amber even had it figured out.
Amber says she'll give Zach her vote. Amber leaves. Hayden says Amber was part of Devin's plan he was up in the HOH with Amber and Devin and they were talking about who the 4 nominees will be.
Zach gives Hayden the skinny on the bomb squad. Says he was approaches day two about it Originally it was Devin, Cody, Caleb, Derrick, Zach and Frankie. then Devin and caleb wanted to bring in Christine and Amber. Caleb was going to bring hayden in but deiced the alliance was too big so decided to use Hayden as a vote.
Hayden knew there was an alliance between Devin and caleb that was called bomb because they would always make bomb explosions with their hands.
Zach tells them yesterday when he told Devin to put him up it was part of his plan "I wanted to open the house out"
Zach says Caleb was going to keep Hayden on a side alliance since the start of the bomb squad then he was going to blow him out
Zach – He doesn't have you back at all AT ALL
Hayden mentions that Amber is running around trying to make everyone think she wasn't part of devin's plan. hayden is going to make sure everyone knows she does.
1:40pm In the havenot room – Cody is talking to Frankie. Frankie says obviously I am staying close with Devin …HE IS HOH!!! Frankie says if he (Zach) had just shut the f**k up Pow would have been going home! He just split the house! Frankie says I think its going to be close who goes home after Zach's rant about Deivn being a bad father and haing an Aderall adiction. Cody says it wasn't cool. Frankie says all Brittany had to do is say thank you and sit down. I feel like I'm playing with children.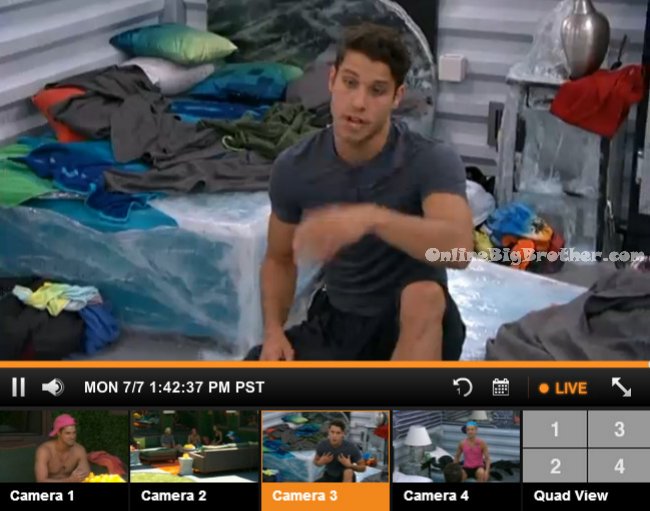 1:50pm – 2pm Zach comes into the havenot room to talk to Frankie. Zach says I had to do what I had to do. I have to start playing my game. Frankie says but you threw me under the bus. Zach says indirectly. Frankie says no you did it directly! Zach apologizes and tells him that he loves him. The cameras switch to the HOH room where Jocasta is talking to Devin. Jocasta tells him that shes proud of him for how he acted when his daughters name was brought up. I don't think I could have held my cool. The cameras switch again to the fire room where Frankie tells Chirstine and AMber that Zach just exposed the ENTIRE Bomb Squad to Hayden. Frankie says I think we need to deny it. Frankie says he threw everyone under the bus! He said this couch versus this couch. He's got to go!