POV Holder:
Devin
Next POV
July 12th
POV Used
?
POV Ceremony
?
HOH Winner 1:
Amber
HOH Winner 2:
Devin
Battle of the Block Winner
Hayden & Nicole
Next HOH/ Next BOB
July 10/July 11
Original Nominations:
Devin's Noms (Pow Pow & Brittany) Amber's Noms (Hayden & Nicole)
Final Nominations:
?
Have Nots
Victoria Brittany, Zach and Derrick
POV Players
Host Donny, Players Devin, Brittany, POWPOW, Derrick, Zach, Amber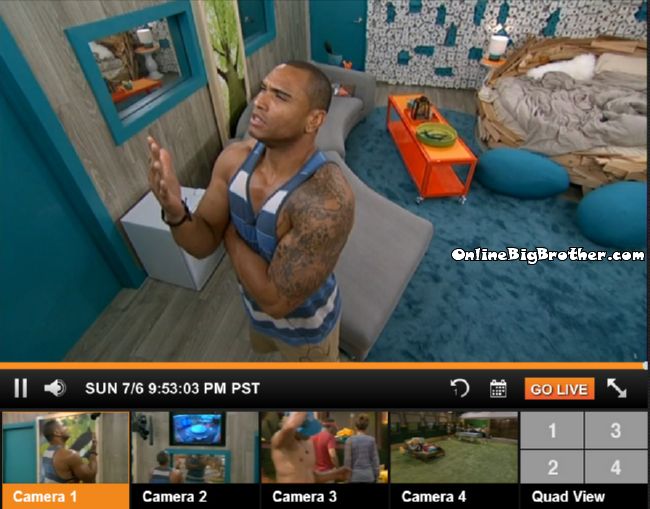 9:55pm Devin in the HOH
"Christine can work on Nicole to send Zach out.. I don't know about you Cody… Jocasta will send Zach out that six there's a tie breaker that's all I need.. Done done done done done done"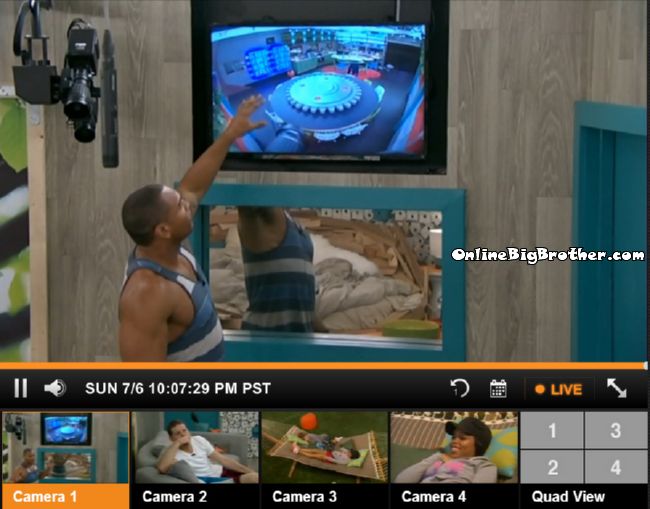 10:00pm HOH Devin and Derrick
Devin "I'll be straight up with you dude she hit me in my gut last night I was like wooosh.. Her struggles if she left here woosh it would be for nothing.. she's a strong player.. doing right by her she'll do right by a lot of us"
Derrick is worried Zach is going to blow up the bomb squad. Devin mentions Frankie talking to Zach this morning and he was saying he's going to blow everyone up.
Deven – "I don't want to hear the B word come out of his mouth about Victoria anymore Being a father of a daughter it upsets me"
Derrick – "She's a pain but she's not a bad person"
Devin says Zach is going rouge he's lost his game.
Devin telling him he's using the Veto on Brittany and wants to put Zach up. Devin is going to call Zach out for calling Victoria the B word during the ceremony.
Devin says the people that will 100% keep POW against Zach are Victoria, Brittany, Jocasta, Derrick, Frankie,, Donny. Devin thinks Christine will work on Nicole and Hayden so Devin is fairly confident he can get 9 votes.
Devin – "I said to you day one I would never put you and cody up .. This is between you and I .. I don't want to say anything to these two"
Derrick – "Caleb and Amber"
Devin – "He does whatever she wants and if she had her way everyone would stay here for 3 and a half months" Derrick brings up how Caleb and Devin are "Boys" Caleb is going to be asking him why he never told him. Derrick thinks Devin should talk to Caleb.
Devin is going to tell Cody and Caleb right before the ceremony. "8 is hard to control.. the 8th member.. I'm going to call Zach . is like a 12 member you have now idea what you are going to get"
Derrick says he's assuming everything isn't in stone yet he tells Devin he's doing the right thing by talking it through and giving it some thought. Devin says if he takes Brittany off the block he wants Derrick to walk around saying "Damn man that shows how much heart this man has"
Devin – "That Conversation I had with Brittany broke me down dude.. it started off real foul dude.. "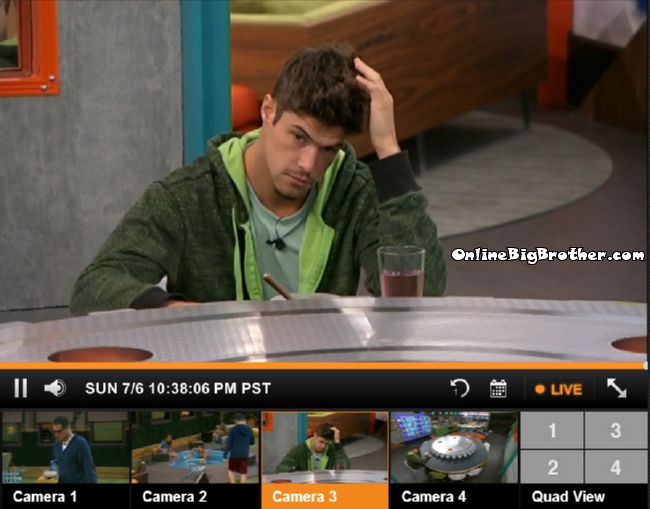 10:38pm Derrick and Zach Kitchen
Zach says he hasn't eaten much in teh last few days. Derrick think this is his problem says If you got no fuel in the tank you're going no where. Derrick tells Zach he needs to come and hang out with them all in the backyard. Derrick heads to the backyard.
Jocasat rolls in
Zach – "whats up Jocasta" She asks him how it's going he looks really tired "We'll you're still look cute" . Zach says he can't sleep in the have nots bed. Jocasta will cry when her "Time comes" to be a HAve Nots
Jocasta says the slop cookies that Derrick made look good. Zach – "ya they're not bad" Vicotira rolls in tried a cookie "OK i'm done with all this sugar"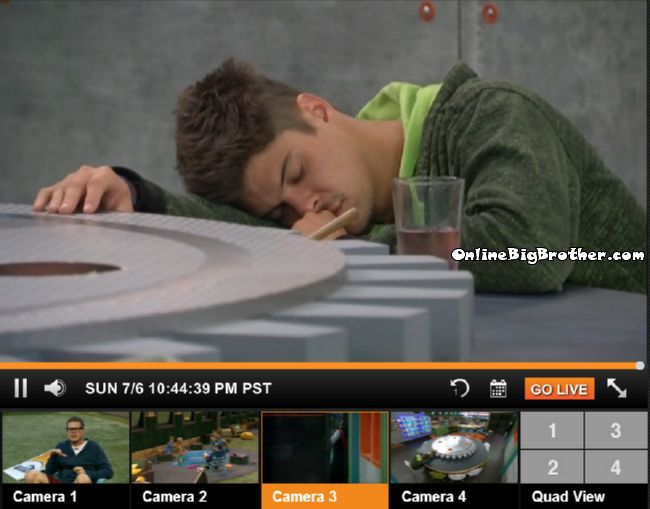 10:45pm Devin comes back into the Kitchen. Zach is sleeping at the table. Production tells him to wake up sleeping is only permitted in the bedrooms.
Devin is in a good mood and has been singing bits of songs for the last couple hours.. Production tells him to stop, "WHAT it's like telling Michael Jackson not to dance"
Try the feeds for free.. help out OBB and get them using one of the links on this site. You can go back and watch everything we showed on this site. A live feed subscription comes with access to the Big Brother Archive letting you rewatch from day one. It's a pretty sweet setup!
FREE 2 Day TRIAL! watch the ENTIRE Season of Big Brother 16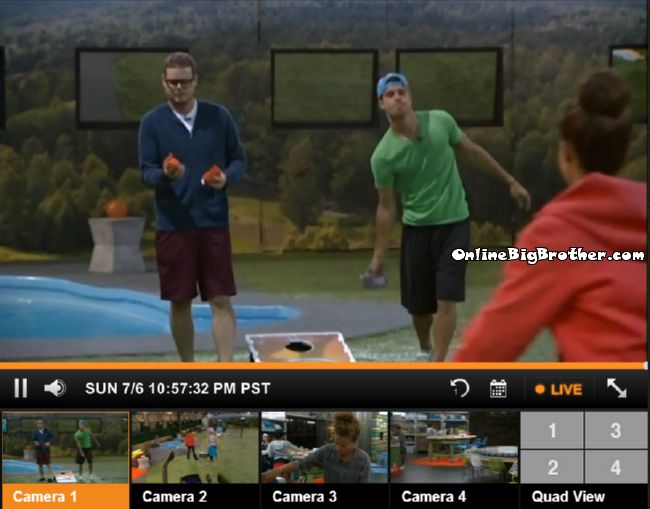 11:04 Nothing but Cornhole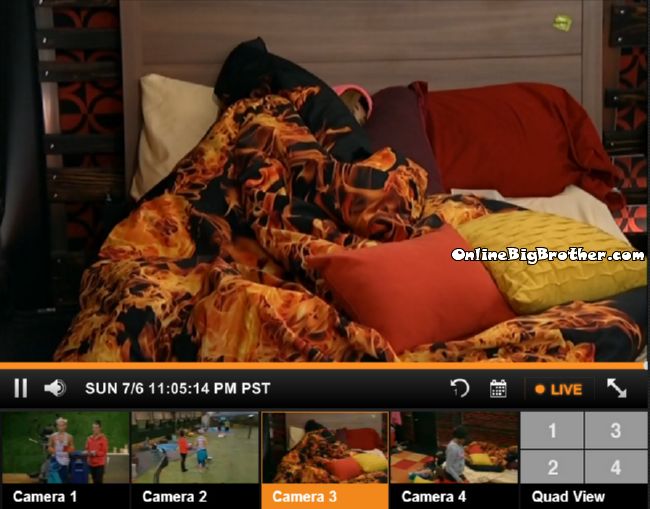 11:05pm POWPOW and Jocasta Fire Room
POWPWO – "You look like you are a member of TLC"
POWPOW – "you think people like me in the house"
Jocasta – "They adore you"
POWPOW – "Thats right you can't lie"
Jocasta says people are breaking out because they are not washing the pillow cases and the pillows are always thrown on the floor. They start talking about kids names, Prophets and bible tuff..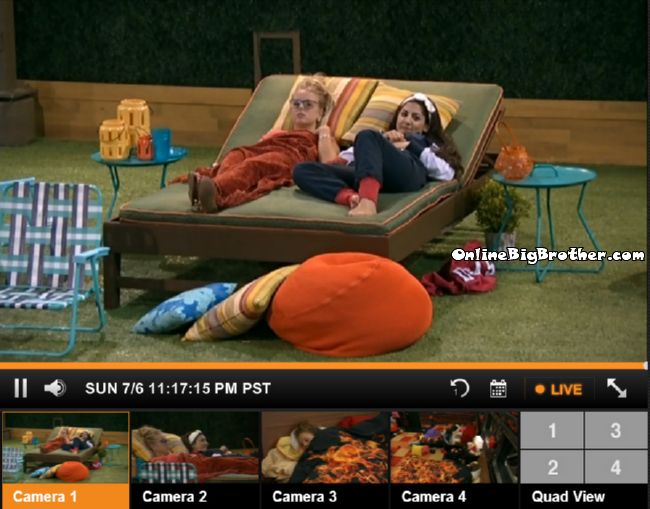 11:20pm Nicole and Victoria
The camera zooms in. Nicole tells it there's nothing to see here go away. Mentions it's getting a shot of her double chin. Nicole says hayden looks like he's deep in thought.
11:31pm Derrick is saying he really trusts his team America team mates. Derrick says they would be morons if they don't give this team America their all because they get 5 thousands per task. Derrick thinks they have 5 weeks until they start getting into trouble, "That's 25 thousands dollars"
Derrick brings up he's been talking to people makes deals. Donny mentions he hasn't really done much of it. Donny won't keep a non team american player over a team America player
Donny and Derrick agree they need Frankie in case their tasks are silly.
Derrick thought Hayden, Nicole would be Team America
Donny thought Nicole and Frankie
Derrick says he had a really tough upbringing so he's thinking that is why people picked up they wanted to give him a good chance .Derrick knows Donny and Frankie have not been manipulating people for being devious because America voted for them.
Derrick – 'I don't talk to Frankie much/.. I'm really not close to him"
Derrick says he's assuming they three of them are playing the most honest game.
Derrick wants to make up a hand signal so when they are in the Diary room they can flash it, "I'm so excited about this i'm not going to sleep tonight"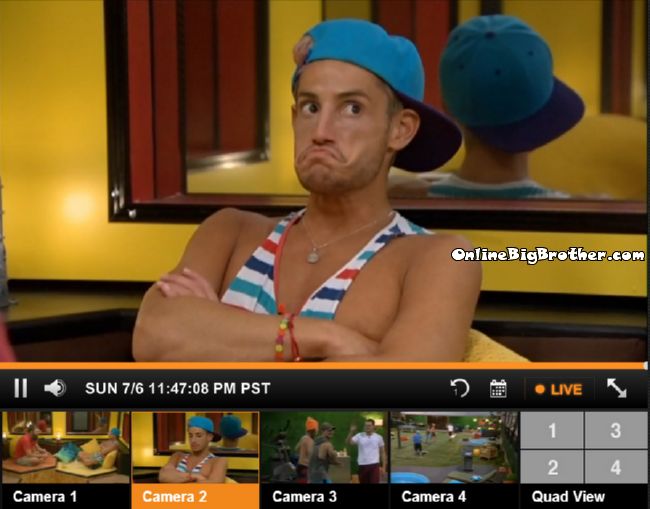 11:45pm BEEHIVE Frankie and Donny
Frankie – "It's going to be great i'm so excited.. you will be great at things we can't do"
Donny – We can pull it off it's an entertainment sort of thing we can be silly" (Frankie makes a face see an image)
Frankie – Why did America choose us
Donny says America is seeing a lot of good things he thinks they must see honesty.
Frankie – "the three of us are going to the end"
Donny tell him he's never going to turn his back on Team America.
Donny Tells him he's close to Jocasta because they are older and the outcasts. Donny doesn't care for Devin, :But we won't have to worry about him hopefully"
Frankie – 'I wouldn't be surprised if he lasted for a bit longer.. he's made a lot of deals"
12:00AM Brittany and Frankie
Brittany says she doesn't know what Devin is going to do she thinks he's either going to leave the votes the same. Frankie says if POV isn't played POWPOW is going home.
Brittany says if POWPOW and her stay Brittany is going full force after her "She's a liar, she';s deceitful she makes my blood boil"
Frankie -'Ya she's the worst.. I can't stand her"
12:05am Frankie in the backyard acting like a "southern bell" offer the boys some cookies.
12:15AM Devin has gone to bed all feeds on the backyard corn hole games.
[polldaddy poll=8164185]