POV Holder:
Devin
Next POV
July 12th
POV Used
?
POV Ceremony
?
HOH Winner 1:
Amber
HOH Winner 2:
Devin
Battle of the Block Winner
Hayden & Nicole
Next HOH/ Next BOB
July 10/July 11
Original Nominations:
Devin's Noms (Pow Pow & Brittany) Amber's Noms (Hayden & Nicole)
Final Nominations:
?
Have Nots
Victoria Brittany, Zach and Derrick
POV Players
Host Donny, Players Devin, Brittany, POWPOW, Derrick, Zach, Amber
3:19pm BEEHIVE Brittany, Amber and Caleb
They tell her nobody wants her gone Devin's got a huge target on his back he's going to want to take a person out that the house wants out. Brittnay "I feel like it's too soon for me to go but if I go home I'm going home to my kids.. I dunno it's just too soon"
Caleb – "I want all the pretty girls to go home that way my game is straight" They laugh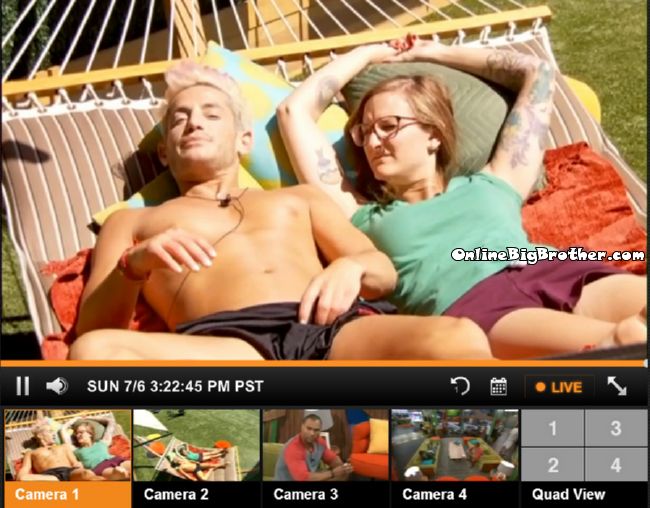 3:22pm Hammock Christine and Frankie
Caleb told Devin that someone in the alliance is plotting against him and Zach confirmed it
Frankie – "Zach in his craziness told me Derrick doesn't trust me.. he say I'm flip flopping" Frankie pulled Derrick aside and set things straight said they are both stuck in the middle of their alliances. Frankie says the bombsquad is back together. Frankie suspect Derrick is with Cody and Zach but he's not sure. Christine is unsure about Cody. Frankie showed his hands a bit to Derrick but he had to because he's smart. Frankie pitches him, her and Derrick would be unstoppable. Frankie and Christine agree Derrick is playing the same game as Derrick. Frankie mentions how he was down with getting Devin out but he wasn't making actually plans.
Frankie – "whispers i want to lick codys P***s"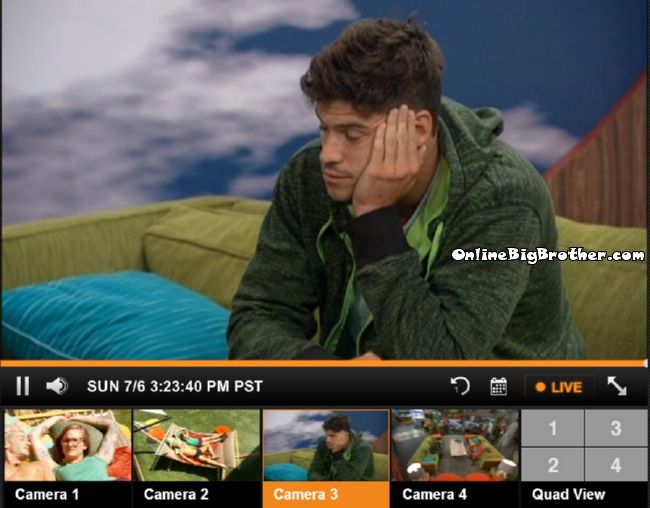 3:23pm Living room Devin and Zach
Zach says he may have said things he never met. Devin tells him the way you deal with that is right after you say it come to the person and set things straight. Zach says he did Devin mentions how there was things said days ago he never came to him.
Devin watched Zach in the backyard and was reading his lips. Devin – "All the time I pulled you aside that's real.. when it's over said and done I plan on hanging out with you.. "
Zach – "Bro i've always been 120% honest with you If you want to put me on the block than do it.. I don't care"
Devin – "that never crossed my mind until you said it now"
Zach – "I've always done where I can for the F** team.. F*** it "
Devin tells him when pieces of the bomb squad are not talking and they can't hash things out he's going to tell Zach he doesn't trust him.
Zach – "Then take brittnay off the block and put me on the block"
Devin – "I wouldn't do that.. it's not a option bro"
Zach – 'Do it .. DO it bro take Brittnay off and put me up on the block.. do it bro.. do it bro.. you don't trust me you want me out of this house "
Devin You are digging your own grave"
Zach – "Fine I don't care .. clearly I don't care"
Devin leaves to go to the storage room but isn't let in.
Zach says he's getting heated up because Devin is saying he doesn't trust him but Zach has been loyal to Devin 100%
Devin – "Why would I take her down and put you up it makes no sense bro"
Zach – "I hear so much shady sh1t that is going on"
Devin – "thats the game"
Zach – "I'm not throwing anyone under the bus
Devin – "Thats great dude I'm glad"
Devin doesn't want Zach to think he was going up because it never crossed his mind. Zach keeps telling him if Devin doesn't trust him he should put him up. Zach
Try the feeds for free.. help out OBB and get them using one of the links on this site. You can go back and watch everything we showed on this site. A live feed subscription comes with access to the Big Brother Archive letting you rewatch from day one. It's a pretty sweet setup!
FREE 2 Day TRIAL! The ONLY $26.99 to watch the ENTIRE Season of Big Brother 16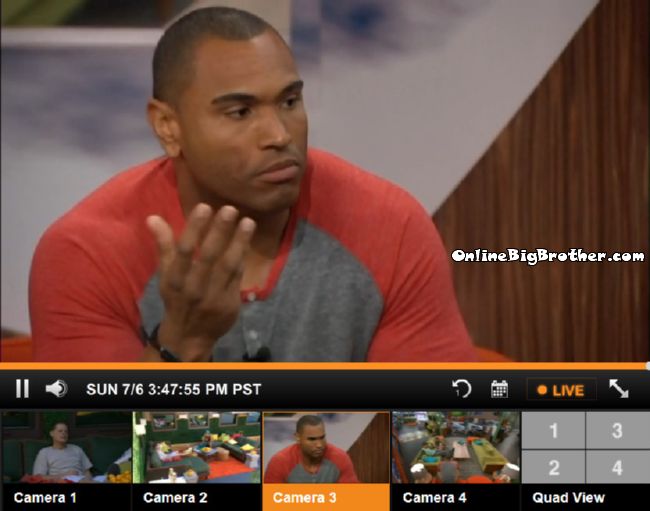 3:44pm Living room Caleb, Zach and Devin
Caleb saying they are 100% guaranteed to make to jury if they stick with their alliance.
Zach says he told Caleb things and he was loyal to and caleb told Devin
Caleb – "I never told him names bro.."
Caleb – "We all made a promise to hold this alliance for 3 weeks"
Zach says if he goes up he's going out swinging
Zach – "I've tried to be honest to him clearly it doesn't work I was honest to you clearly it doesn't work.. I would love to go home this week I want to see my dad and my brother.. you don't trust me put me up do it. I've only been true to everyone"
Caleb – "He's not going to put you up and if he does it'll be the biggest mistake he's ever made" Caleb says he's the head of the alliance and he thinks there's 3 other people they need to get out.
Zach says Caleb and Devin do sh1t that Zach doesn't know and they are up in the HOH say they have everyone where they want them.
Zach – 'He's been isce grilling me for a week"
Zach says he's over it he's going to lose his shit "I'm not a pushover dude I don't care how big he is"
Zach says Devin has been saying stupid sh1t all week why hasn't Caleb seen
Caleb – "I see everything" (Of course you do)
Caleb repeats over and over the group doesn't want Zach gone he really wishes and hopes that Zach holds it together, "If Devin doesn't trust you thats fine everyone else in the groups does"
Zach says everyone was talking sh1t about Devin.
Caleb says he's said sh!t abour devin but he's still kept a promise to Devin and to Zach
Amber comes by give Caleb a hug followed buy giving Zach a hug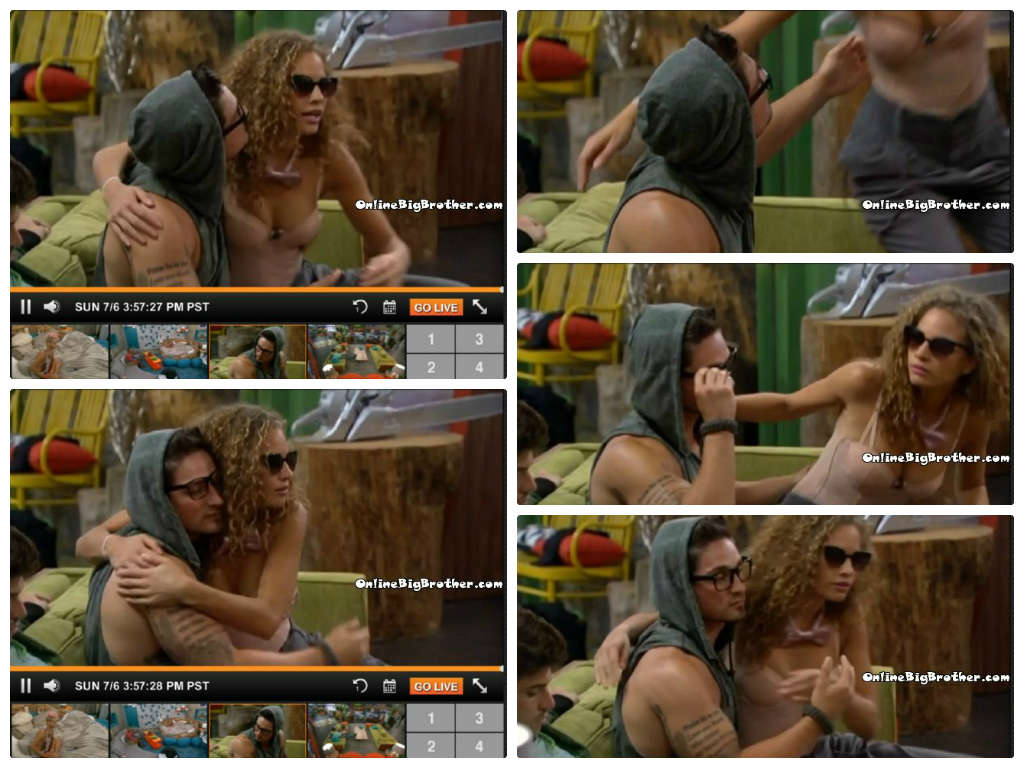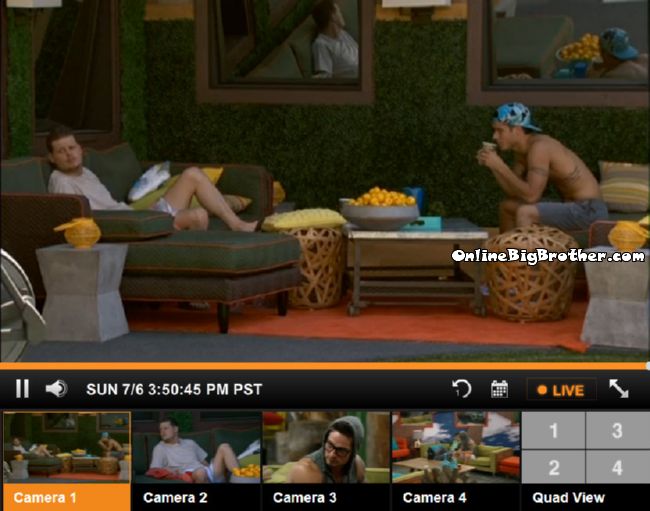 3:48pm Backyard Derrick and Cody
Derrick tells Cody they are not able to keep Brittany. Cody fumbles his words "What we can't'" Cody says when he talked to Devin he said "I will never put you or Derrick on the block" Cody is worried that he clumped their names together.
Derrick is to but thinks they can play it off as they are close it makes their team stronger.
Derick says Caleb and Devin have a deal with POW, Derrick asks him if Victoria goes up and POW is off who goes home. Cody says Victoria. Derrick Is fine with that they now have to convince Devin and Caleb.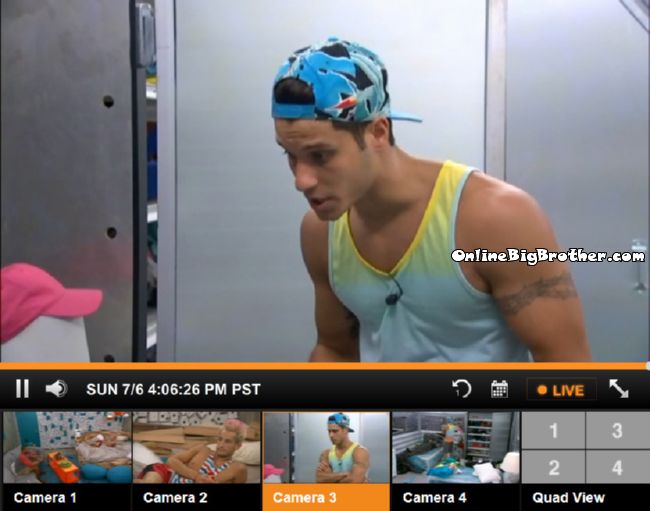 4:07pm Zach and Cody
Cody saying he's got to keep his cool Devin is going to put take POW down and put Victoria up. They are going to vote out Victoria bring Brittany. Cody says the plan is to get "Them out" (Caleb, Devin's side of the alliance) but first they have to get power so for now just chill. Cody says he has Zach's back he doesn't want Zach to blow up because it will mean he has to blow up. Zach was thinking that as soon as Devin say "I'm using the Power of Veto" put Devin "on Blast" in front of the whole house. Cody – "Don't do that definitely don't do that"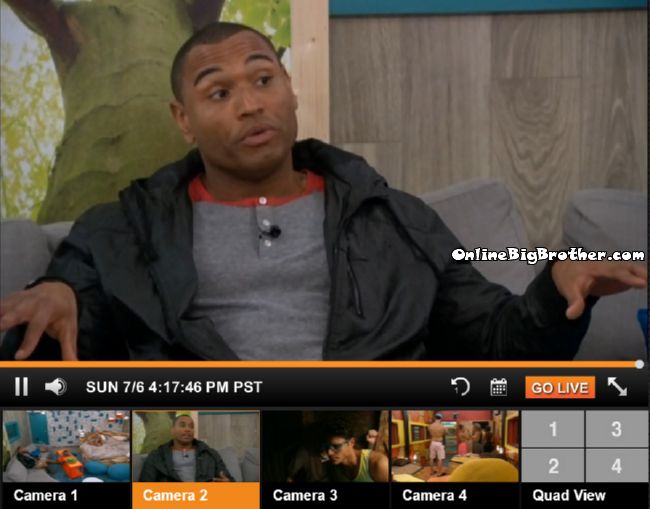 4:01pm HOH Devin and Frankie
Frankie – "If you put Zach up and he explode Derrick will go along"
Devin thinks Caleb is really going to take Zach going up heart to heart, Devin – "Dude you gotta cut the cancer out.. You gotta cut it out"
Devin only trusts Frankie and Christine, Devin doesn't like amber and Caleb is too attached to her.
Frankie says he wants him and Zach to win HOH next week so they can get him in the HOH and get him back on the right path. Frankie doesn't think Zach is lost to them.
Devin goes over the votes to get out Zach out.. Christine, Nicole, Frankie, Donny, Jocasta, Victoria, maybe Hayden maybe Brittany . Devin isn't 100% sure he has Brittany's vote. Frankie – "If you save her! she'll owe you" He thinks Brittany might vote out POW.
Devin tells him the guys are underestimating the girls because there will be a comp they excel in. Devin is expecting fully to go up next week. Frankie -Not is I win.. Not if Caleb wins"
Devin – "Me putting an alliance member up is heavy heat.. heavy heat.. I'm ready"
Devin says him saving Britinay will be Huge for her. "there two options.. i've been practicing both you need to get me back in the favour of the people that think I'm villainous"
Devin admits the times he gets grumpy is when he gets nervous outside the house he's not like this.
Devin "I get to watch a movie every day and it's called growth it's being a father"
Devin says he doesn't have a lot of friends so he's a bit of loner, "I hate judgement.. I try to look at everyone with no expectations"
Devin says he in a weird way he has a crush on Brittnay after their talk last night it was parent to parent thing. Devin says he was raised by a single mom and would never push a single mom out in the cold.
(Devin doesn't tell us what he's doing sounds like he's putting Zach up.. it's very confusing right now what Devin is saying one minutes he has a crush on Brittnay another minute he wants Zach to go.. )
4:40pm Picture time
5:01 Corn hole
[polldaddy poll=8164185]