POV Holder:
Devin
Next POV
July 12th
POV Used
YES
POV Ceremony
July 7th
HOH Winner 1:
Amber
HOH Winner 2:
Devin
Battle of the Block Winner
Hayden & Nicole
Next HOH/ Next BOB
July 10/July 11
Original Nominations:
Devin's Noms (Pow Pow & Brittany) Amber's Noms (Hayden & Nicole)
Final Nominations:
POW POW & ZACH
Have Nots
Victoria Brittany, Zach and Derrick
POV Players
Host Donny, Players Devin, Brittany, POWPOW, Derrick, Zach, Amber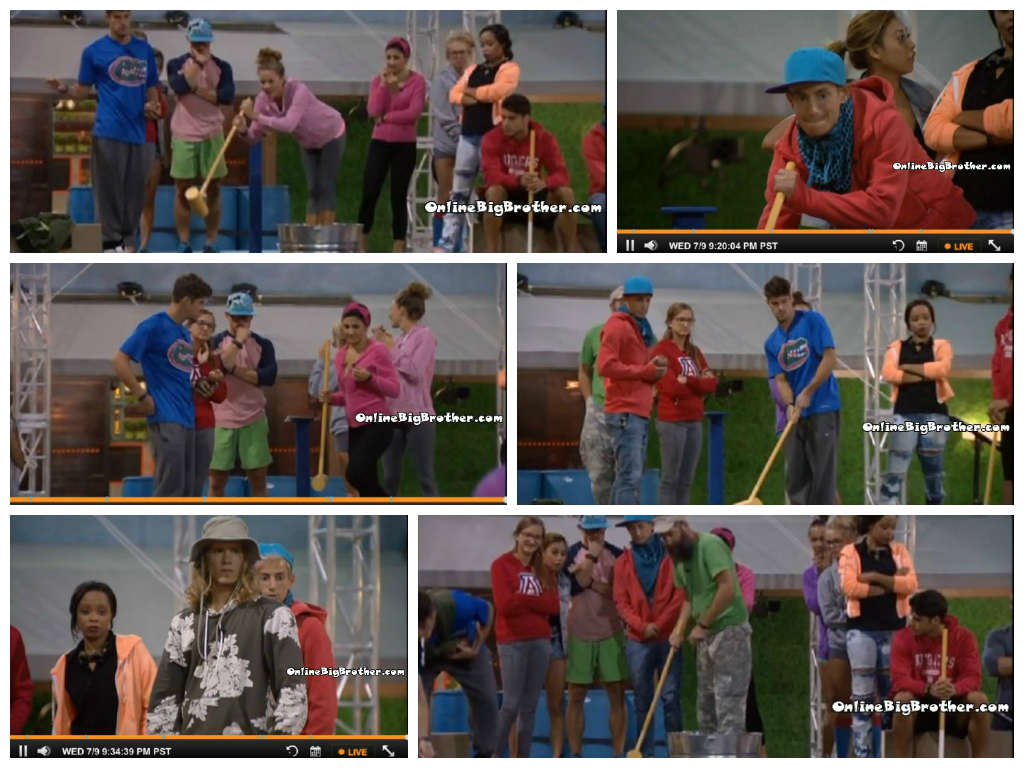 9:20pm They get to practice the HOH competition for one hour
POWPOW makes a big deal that Zach is a golfer. As they practice it becomes apparent that it's mostly a game of chance but POWPOW seem sto be doing very good. Frankie makes this known. The instructions told them to practice hitting the banks.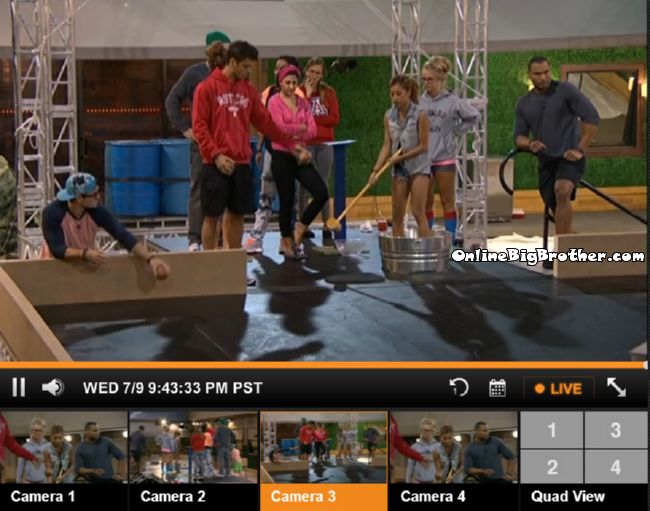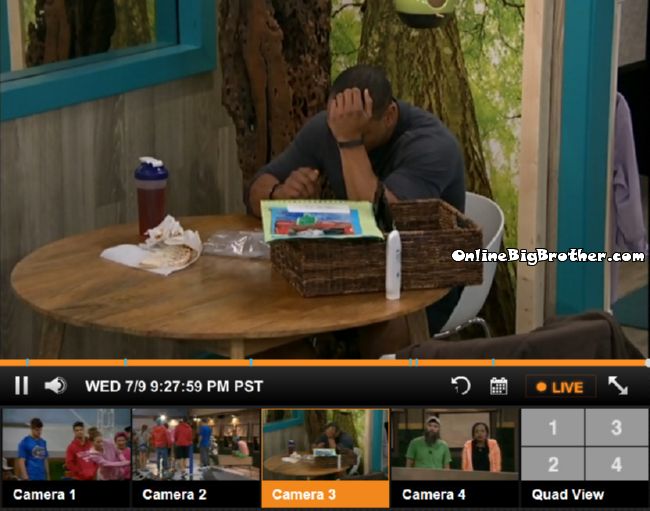 Devin by himself.. he eventually ventures outside to check out the competition.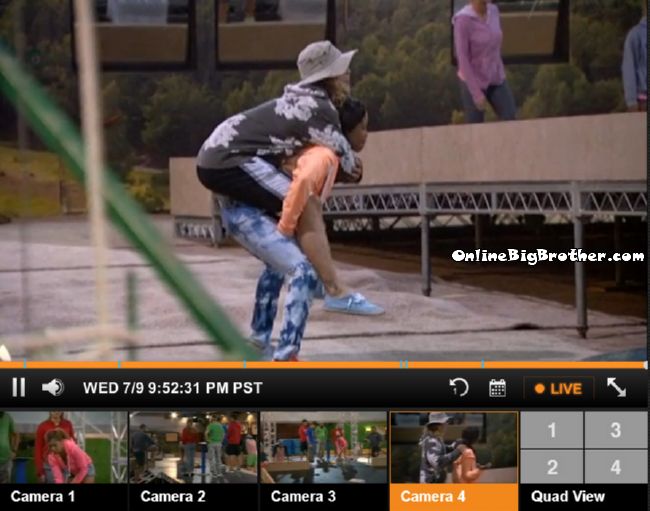 Jocasta gives Hayden a piggy back ride. (Note she carried him like she is carry a 12 year old. She's pretty darn strong because Hayden isn't tiny)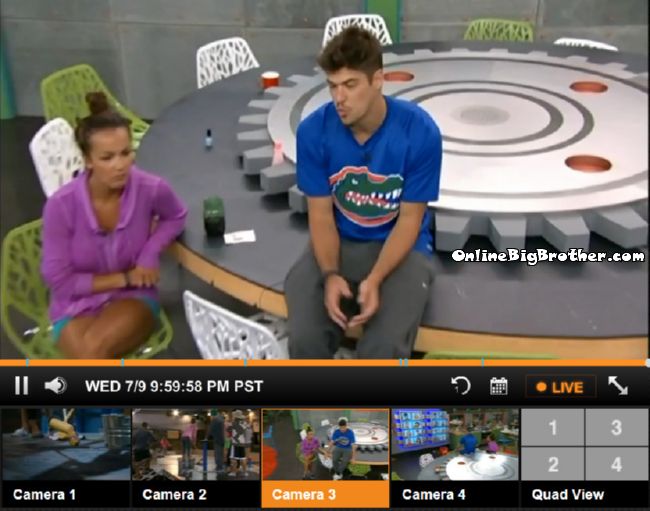 10:00pm Zack and Brittany
Zach says he thinks he's staying Caleb, and Amber are giving him votes now. Brittany says she's voting to evict POW. Brittany comments on all the lying that is going around the house. Zach tells her he doesn't care about the money any more.
Derrick joins them says the competition will be nothing like that tomorrow.
Zach – "No doubt in my mind I win that competition"
Caleb rolls in Zach says Caleb hasn't even gone up and tried the competition.
Caleb – 'Don't need to my geometry"
Caleb doesn't need to practice there's no point it's going to be different when they do it tomorrow.
Zach tells him he can practice his aim at least pick the spot where you want to hit the ball
Caleb – "I have my spot.. the hard part is hitting it the same strength the same speed" He goes on to describe theres a chip in the paint on the one side that's the spot.
Cody rolls in says the competition is 100% a crapshoot.
Caleb – 'I didn't hit the ball one time no point.. Just Figured out my angle"
10:11pm Storage room Cody, Derrick and Zach
Derrick tells them if Brittany doesn't talk to them tonight if he wins HOH he's putting her up because she's going to backd**r them.
Try the feeds for free.. help out OBB and get them using one of the links on this site. You can go back and watch everything we showed on this site. A live feed subscription comes with access to the Big Brother Archive letting you rewatch from day one. It's a pretty sweet setup!
FREE 2 Day TRIAL! watch the ENTIRE Season of Big Brother 16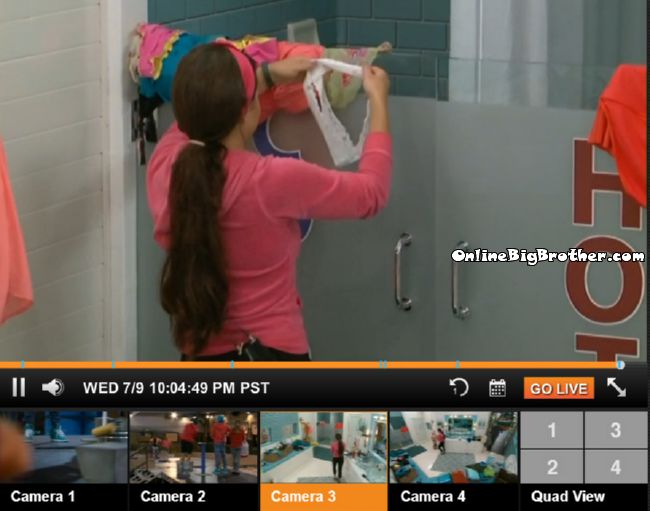 10:04pm
Victoria putting away her underwear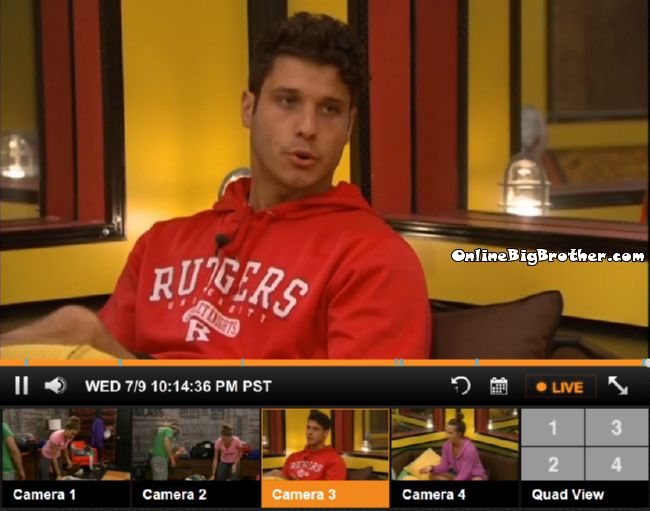 10:17pm Cody and Brittany BEEHIVE
Brittany says theres three groups one group of 8 people but it's really just 4 people with another 4 acting like fodder. Cody give her a run down of what happened between him and the alliance. He said he was never on board putting Brittany up this week and he told them all straight up he wasn't going to vote for her.
Cody says he loves Christine and now her game is screwed up because of Devin/Caleb they were bullying people to do what they wanted .
Cody says Devin and them were on a numbers power trip. Cody says the only people he's talking game with is Derrick, Zach and Cody.
Cody says week one he never wanted Joey to go home he wanted POWPOW goen. Brittany agrees. Cody adsd they got sick of Caleb/Devin running the house .
Brittany says she doesn't trust any of those f (Caleb/Frankie/Devin/Amber) Brittany says those 4 are still together.
Cody mentions how bad Devin wanted Brittany out, "It was beyond personal it made me sick to my stomach)
Brittany says Caleb has to go first he more toxic than Devin. Cody says he'll take out devin first and Caleb. Cody adds that nobody is trusting Frankie anym ore. Brittany and Cody agree they can't trust him.
Brittany brings up Hayden making a deal with Devin. Cody says Hayden hates "them" he went up there and they bullied him into joining their alliance.
Brittany says Caleb and Devin are playing the same type of game. "They are so cocky he (Caleb) has little mans syndrome and Devin is disgusting to me.. Amber is easily manipulated"
Jocasta rolls in game talk ends..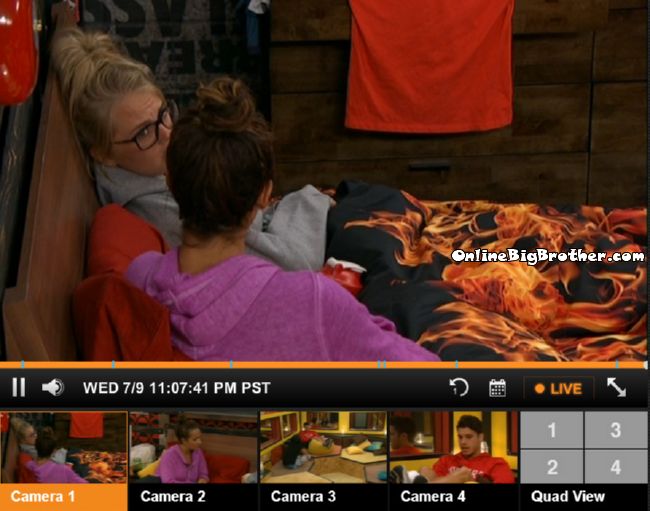 11:08pm Brittany and Nicole FIREROOM
They don't trust Frankie and the fact that Christine does worries them. They agree Caleb has to go first he's the key to the other side.
Frankie rolls, Brittany leaves. He asks Nicole who he's voting for. Nicole says she's voting to keep Zach thats what she thought the ouse is doing.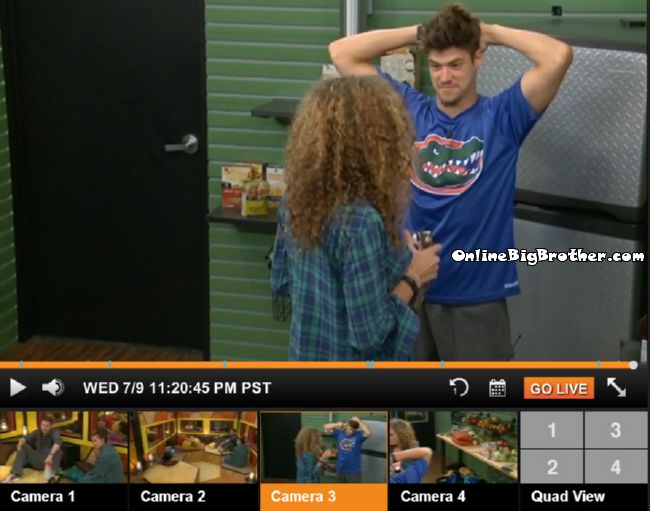 11:22pm Storage room Amber and Zach
Zach says he just talk to Christine and apparently they are all really mad and Amber and Caleb Amber says she so confused she never did anything.
Zach tells her everyone thinks she's with Caleb. Amber thinks she should call a house meeting/ Zach advises against it.
Zach tells her they are safe the targets in the house are too big, the only person that would put him up is Devin and nobody will put Amber.
Amber disagrees says the girls want her gone, Brittany, Jocasta and Nicole are going to put her up. Amber wants one of the girls to go home this coming week. Zach agree says Brittany. Devin comes in and everyone scrambles. .