POV Holder:
?
Next POV
?
POV Used
?
POV Ceremony
?
HOH Winner 1:
Amber
HOH Winner 2:
Devin
Battle of the Block Winner
Hayden & Nicole
Next HOH/ Next BOB
July 10/July 4
Original Nominations:
Devin's Noms (Pow Pow & Brittany) Amber's Noms (Hayden & Nicole)
Current Nominations:
?
Have Nots
?
POV Players
?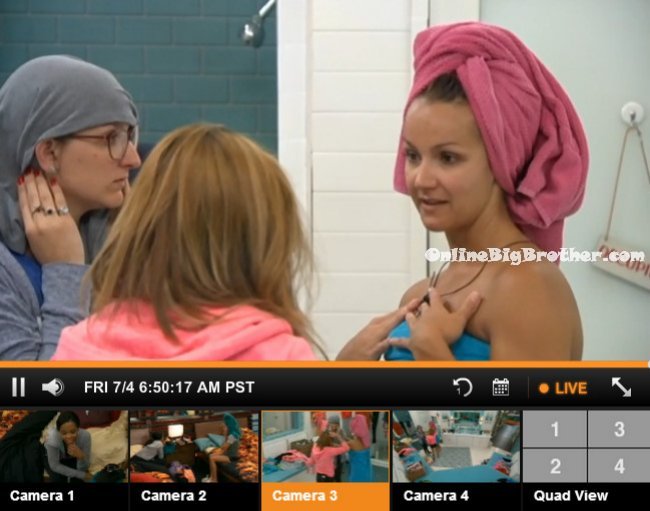 5am – 6:30am Big Brother blocks the live feeds for the Battle of the Block competition to take place. The Battle of the Block competition was between Devins Nominations Pow Pow & Brittany against Ambers nominations Hayden & Nicole. When the live feeds return we learn that Amber's nominees – HAYDEN & NICOLE won the competition. Which means they are no longer nominated and Amber is no longer Head of Household. Hayden & Nicole are safe from being nominated as a replacement should the power of veto be used, however as Amber is no longer HOH she is could be nominated as a replacement nominee.
Up outside the HOH room – Devin, Pow Pow and Jocasta are talking. Pow Pow is going off about how much she hates Victoria. Devin says this isn't the time. Pow Pow says she's so rude! I can't be nice to her any more!
In the bathroom – Pow Pow, Christine and Brittany are talking. Brittany says I have to win Veto or someone needs to win the Veto and save me. Pow Pow says it side says MOO. And you put WOO! Brittany starts talking about Victoria taking her seat when she was eating. You took my seat! I'm eating! Brittany then comments on oh Victoria was demanding Zach to get tweezers for her! Pow Pow asks Christine can I kick her a$$!! Pow Pow asks Christine if she would be a target if she says something!? Christine says no. Pow Pow heads to the kitchen and says I'm going to go say something! Jocasta grabs her arm and pulls her back telling her not to say anything!
In the HOH room – Devin says if Brittany wins the Veto and takes herself off then I'll throw Victoria up and she'll go home. It would be better to have Victoria here next week to take the heat off us. Caleb, Frankie and Devin talk about how Victoria acts very entitled. She's a bitch! Devin comments on how Pow Pow was supposed to throw it and she didn't. Devin says he looked at her at one point and was like seriously!? Devin says but then she sat there and didn't say anything.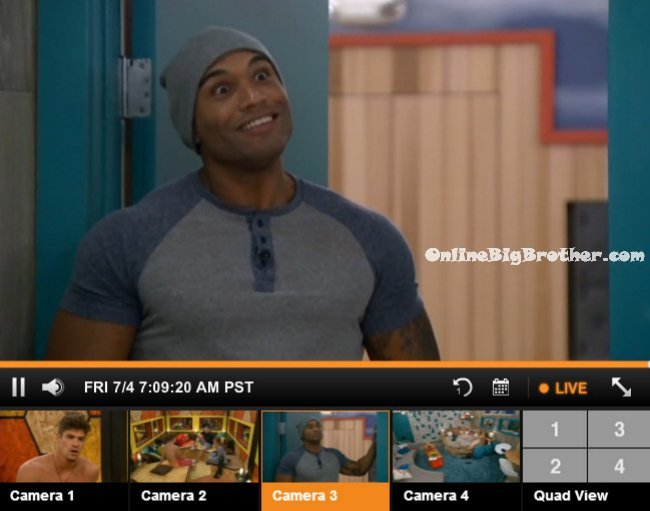 WATCH the next 48 hours for FREE – Big Brother 16 Live Feed TRIAL!
7am – 7:35am In the hive room – Zach, Christine, Cody and Derrick are talking. They agree to stay close to Devin, Caleb, Jocasta and Donny. Cody asks who's going home? Zach says Brittany! Zach says whoever goes home this week is fine. The other person we real in. It's fool proof. Derrick says the only reason he started this alliance was to get out the floaters and now he is keeping the biggest floater (Pow Pow). Zach says maybe this week we vote out Pow Pow and reel in Brittany. Zach says the only person that wants Brittany out is Devin. Why the f**k would we keep Pow! Zach says we need to be careful though because they might be on to us. We need to be careful when we talk game. Cody agrees. Cody says when they ask me who I want out I'll say yeah yeah yeah Brittany. I am not saying anything until after the POV. Zach leaves the room. Cody says to Derrick and Christine that Zach only thinks one dimensionally. He is thinking about this week and they're thinking about next week and that week after. I am not going to keep voting out people that can help us. Hayden joins them. The congratulate him on winning and being safe. He talks about how great it feels to be safe. Hayden comments on how Devin apologized the other night about strong arming Caleb to put up Donny. He said he wasn't going to do that and now it sounds like he strong armed Amber to put us up. Derrick comments on how Pow Pow is getting people killed out there. Cody says I am not keeping Pow here. What if she wins and she's close to them. Or if I'm up on the block next to her.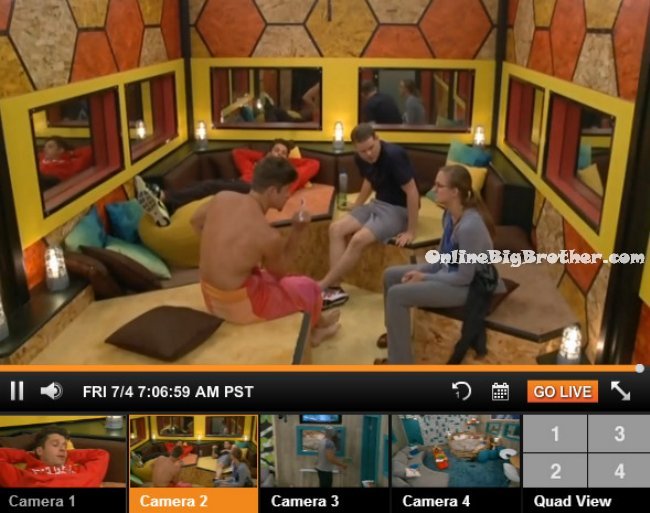 7:40am Hayden, Derrick and Cody leave the hive room. In the kitchen Pow Pow watches them come out and says sketchy! Cody comes over and hugs Brittany. Brittany says this sucks! It sucks! Hayden comments on how Nicole didn't buzz in even once. Hayden says it feels nice to be safe! Cody, Hayden and Derrick head to bed.
In the kitchen – Pow Pow and Brittany continue to talk. Pow Pow says that if she wins the veto she will stay on the block and take Brittany off. Brittany says no I can't let you do that, I can't let you go out like that.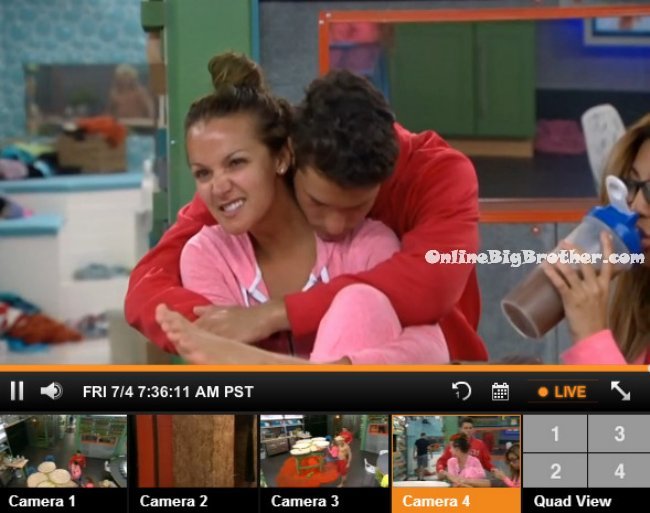 In the havenot room – Brittany joins Derrick and Cody. They tell her that they don't want her to go this week. Derrick says it comes down to who has the balls to do it. Brittany agrees. They talk about how obviously we want Devin out but that's not going to happen this week. Zach and Pow Pow join them. Cody goes to take a shower. They figure out the bed situation and head to bed. Zach, Brittany, Derrick and Pow Pow climb into bed on the earth room bed. Pow Pow asks Zach if they can cuddle. She then says just kidding. She tells him not to fart on her. Zach says you better not fart on me! Brittany asks for them to turn off the lights. Derrick says we can't its day time now.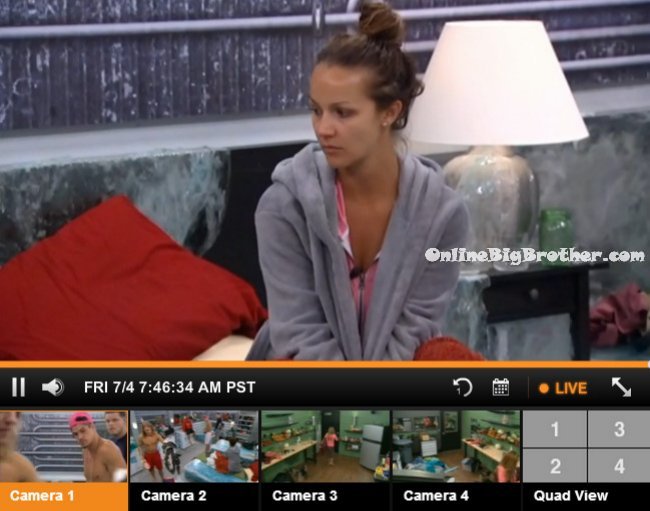 7:50am – 8:30am Big Brother switches the live feeds to the we'll be right back screen.. When the live feeds come back – Cody is getting out of the shower. He heads to the havenot room and then both he and Hayden head to the kitchen.Cody says I don't like what's going on right now. Hayden agrees. Just as easy as you got put up I could be put up. Hayden says I think for now we just leave it and then when it starts a new me run it. Cody says its frustrating. Hayden says it is frustrating but we just have to sit back right now. Its kind of good now that we didn't get it because now there is a line drawn. Cody says as sweet as Amber is she just fell right into it. She showed her weakness. Cody says I know its just a matter of time be before I go up. Hayden says the only way for strong players to go home this season is to be backdoored. I don't even care about nominations. I'm in the room laughing right before. Cody says I just don't like that Amber got pushed around. Cody comments on how everyone just throws all their dirty dishes in the sink and leave them. Hayden says I want the HOH so bad! Cody says If I was HOH I wouldn't make a move on Caleb, I would on Devin though. Hayden tells Cody you can talk to me any time.
Cody comments on how Hayden's decision to throw the beer goggles to Brittany was the best decision. Hayden says that was the only thing that impacted vision and this was a visual challenge. They talk about Victoria and how much Zach hates her.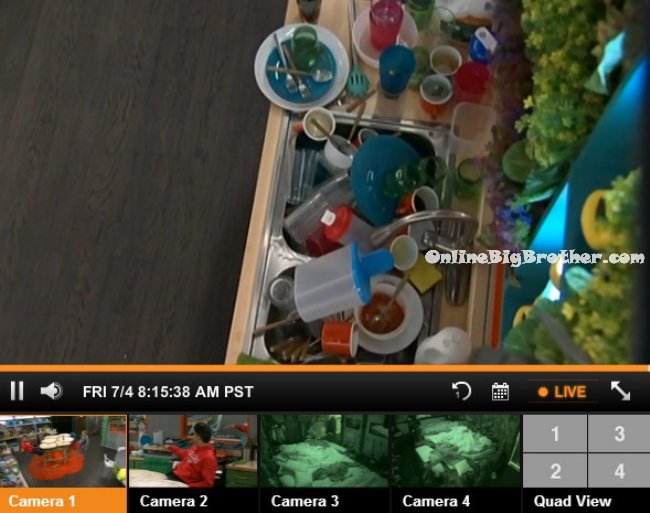 8:45am Cody says if I won HOH I would put up Pow. I would keep putting her up till she goes. Andy I would put up Jocasta with her. Hayden and Cody laugh about how they don't know what Jocasta is doing in the house. Hayden pretends to call Jocasta and tell her that she's 2 weeks late coming into the house. You're supposed to be in the house. If you could just come to the house that would be great. Cody asks what do you think about havenots. Hayden says I'm thinking I wouldn't mind it. Cody asks why? Hayden says because I'm already safe and it wasn't that bad.
See what they can't show you on TV! -Try the Big Brother 16 live feeds for FREE!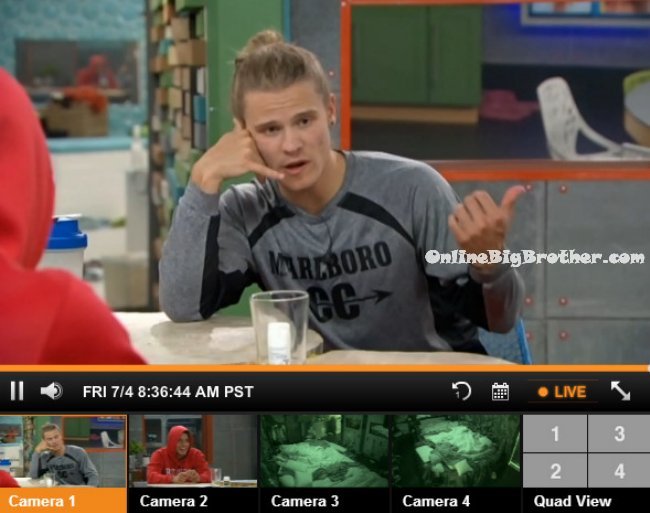 9am – 9:15am Hayden takes Cody into the havenot room and shows him the cheat sheet he and Nicole made out of rice to study the Big Brother messages they heard last night. Cody asks did you make that? Hayden says me and Nicole. Hayden says dude she's a gamer! They leave the room and then not long after big brother blocks the live feeds. When they come back Hayden is removing his rice cheat sheet. He tells Cody we're not allow to do this. Hayden says its weird because we were doing it all last night and pointing at the camera and they didn't do anything. They head back to the kitchen. Donny wakes up and joins them.
Alliances 
Bomb Squad = Frankie, Caleb, Devin, Cody, Derrick, Zach, Amber, Christine
Fragment of bomb squad no name  = Christine, Frankie, Cody, Derrick Zach
Sub alliance of the Bomb Squad = Derrick, Cody, Zach
Double Ds = Devin, Donny
Bed buddies = Nicole, Christine
Final 2 Deal Zankie= Frankie, Zach
Defunct alliances
TheCrazy8s = Frankie, Donny, Joey, Paola, Devin, Amber, Nicole, Cody
El Cuatro = Paola, Amber, Joey, Nicole
Where the vote is 
?
Stay connected and interact with other Big Brother Fans on our Facebook page.
And Follow: @BigBspoilers and @Dawgsbigbrother on Twitter for the most up to date spoilers.
[polldaddy poll=8164185]