POV Holder:
?
Next POV
July 12th
POV Used
YES
POV Ceremony
July 14th
HOH Winner 1:
 Nicole
HOH Winner 2:
 Derrick
Battle of the Block Winner
?
Next HOH/ Next BOB
July 17/July 11
Original Nominations:
Final Nominations:
Have Nots
POV Players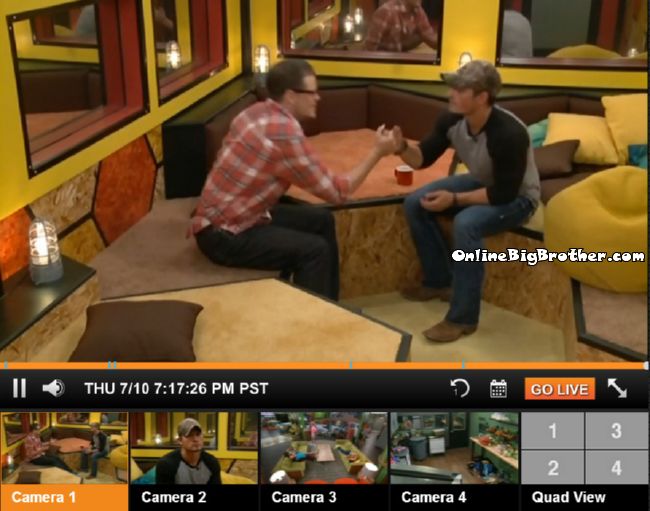 7:09pm BEEHIVE Derrick and Caleb
Talking about who is going up. Derrick says the target this week is Devin he's going home unless he wins POV. Caleb says if they want to put him up he trusts them. Derrick wants this conversation to be secret he's not sure who to trust anymore.
Derrick doesn't want Devin to do what he did. Derrick whispers he's going to backd**r Devin. "I can't trust him because he burned me he probably cost us our money"
Caleb says him, Amber and Frankie volunteer to be on slop. Caleb doesn't want to be stuck in the have nots room with Devin. Derrick really wants Devin on slop in case the POV is endurance.
Derrick warns him that sometimes Frankie over embellishes things. Caleb says all this is Devin's fault because he went to Devin. Caleb says Frankie went up to Devin and Said I made a deal with Zach. Derrick asks him if they would have had a problem if Frankie won the HOH. Caleb – "No he would never put us up he said from day one he trusts Caleb, Amber Derick.
Derrick isn't going to put Brittnay up because she's been up for two weeks now and he's got no beef with her.
Caleb says he heard Donny was trying to swing the votes. Derrick is going to ask Donny. He's a straight up dude so he'll give Derrick the truth. Caleb – 'Devin's going to bug me dude"
Caleb suggests they keep their plan a secret because if it gets spread around the house there's no telling what will happen. Derrick agrees tells him this is a conversation between the two of them do not share it with Amber.
Derrick says he's not taking Cody , 'F** the alliance for right now" Derrick says he told him the person who goes last in the HOH has the biggest advantage because they can watch where the balls go.
Caleb – "I didn't do too bad I got the 4th highest score"
Derrick tells him he's safe not to worry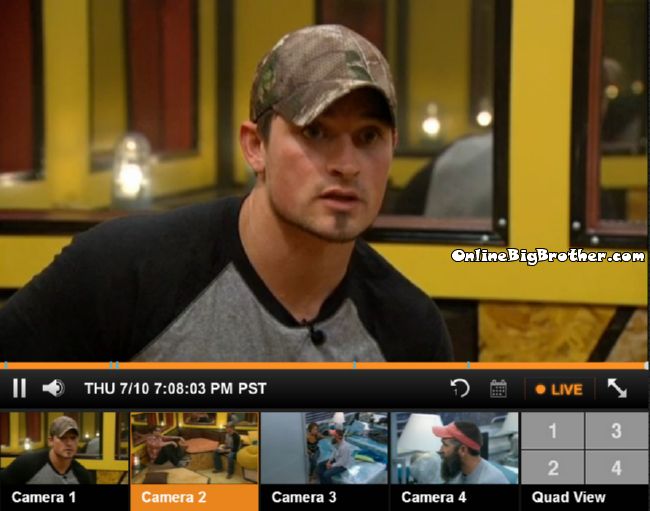 7:14 Have nots Amber, Frankie, Cody and Zach
Talking about the plan being to backd**ring Devin this week.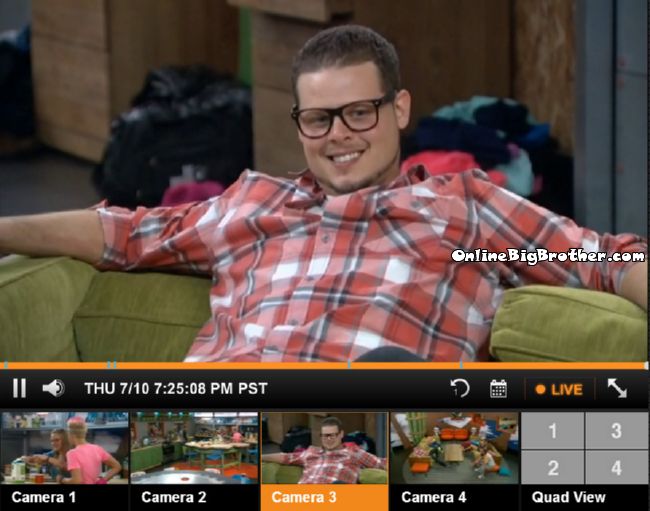 7:27pm LIving Room Talking about when the battle on the block competition is.
Try the feeds for free.. help out OBB and get them using one of the links on this site. You can go back and watch everything we showed on this site. A live feed subscription comes with access to the Big Brother Archive letting you rewatch from day one. It's a pretty sweet setup!
FREE 2 Day TRIAL! watch the ENTIRE Season of Big Brother 16
7:36pm Jocasta telling Amber her story about being constipated and having POWPOW guard the door so nobody would come by and disturb her. Jocasta is having =trouble with her bowel movements and she's been telling us this story as much as she can.. It's a great time to get the feeds :) Amber brings the conversation back onto game. Says she had to work with DEvin she's no longer working with him. Amber doesn't know if she will be able to work with Brittany, "I trust you but I don't know what is going on.. I think Caleb is mad at me because I told him I didn't trust him.. the only people I trust are you, Donny, Cody and Derrick sometimes"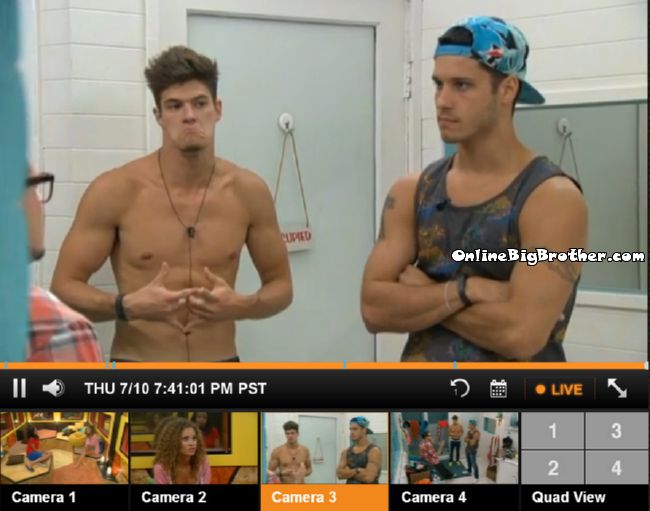 7:42pm Derrick telling Cody and Zach Devin was asking Derrick to put im up. Zach – "What does he think you are stupid" Derrick tells them 4 pawns are going up all they needs to do is to win the POV and get Devin up. Derrick tells them they almost lost their games last week they have to keep this plan quiet. Derrick assure a worried Zach he's not going to put Devin up.
Derrick – "It's out house up there" (HOH)_
Share it YO!
Tweet