POV Holder:
Devin
Next POV
July 12th
POV Used
YES
POV Ceremony
July 7th
HOH Winner 1:
Amber
HOH Winner 2:
Devin
Battle of the Block Winner
Hayden & Nicole
Next HOH/ Next BOB
July 10/July 11
Original Nominations:
Devin's Noms (Pow Pow & Brittany) Amber's Noms (Hayden & Nicole)
Final Nominations:
POW POW & ZACH
Have Nots
Victoria Brittany, Zach and Derrick
POV Players
Host Donny, Players Devin, Brittany, POWPOW, Derrick, Zach, Amber
1:15am Up in the HOH room – Devin tells Brittany that he pulled her off the block for a reason and that she might hear things. Devin tells her about the Bomb Squad alliance. He tells her all of the members. Devin says that Caleb has been pulling everyone into the bee hive room. I only trust you and Donny. Devin explains what happened with Zach and why he got nominated. Devin says that they we pulled in Hayden. Devin says the only two people I trust are you and Donny. Devin tells her that he no longer trusts the alliance and I've left it. I know that I am against the house anyways and everyone wants me out. I have to win back to back HOH and POV's. Devin tells her that there is no loyalty and integrity in the alliance. Devin says that Derrick wanted you out. Brittany is shocked to hear that Derrick wanted her out. I felt like I knew his family and wanted to meet his wife. Devin tells her that he is telling her so that she gets her game face on. I am telling you because I feel like we have a bond but I don't care if you come after me. Brittany says Derrick is a di*k! Wow! What a di*k! Brittany says now I can't even sleep. Brittany says so max I have 4 more weeks. Devin says I think jury starts in three weeks. Devin tells her that he knows something good will happen for you. Brittany says and everyone is convinced you're the a$$hole. I knew most of this stuff but I thought it was You, Caleb, Frankie and Amber. Devin says I love love Frankie and I feel horrible I've sent him up the river. Devin asks please don't throw out Donny's name or that he knows about all of this. Brittany says that she won't. The only thing I might do is give Derrick the evil eye. Devin tells her that people like you! Use that to your advantage. Devin says if you ever get HOH and you want to dismantle the bomb squad, you need to put up Caleb and Amber. Brittany says I know that, I was already thinking that.
Big Brother 16 Live Feed FREE TRIAL – Use the FLASHBACK feature to watch everything you've missed!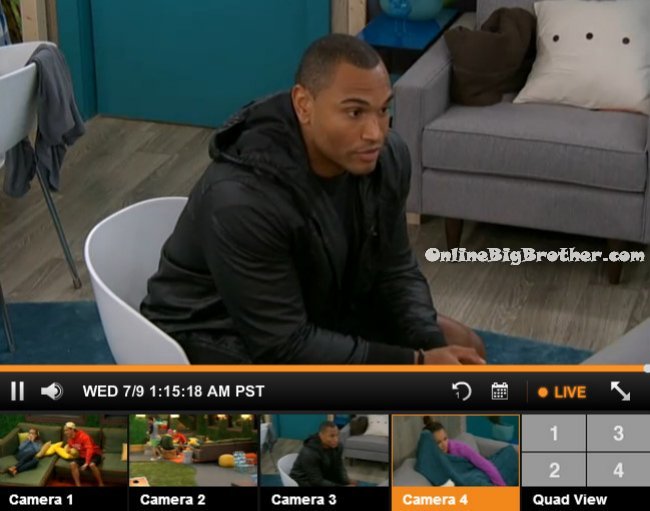 1:45am Out in the backyard –
Frankie, Cody and Derrick are playing pool. Frankie says that Devin is going to be 20 times worse the he was before. Derrick says that he's worried about Brittany. Cody says that he isn't, she hates him (Devin). Frankie says I am so happy she is going home! (Pow Pow) She is the worse, I can't stand her. This is just so much better! I hated my life. I felt tormented. Cody is worried about he and Caleb's relationship now. Frankie says Caleb is a man in every sense of the word. He sees steak, he eats it. He sees girl, he pursues it. He sees enemy, he kills it. Enemy goes away, he see friend.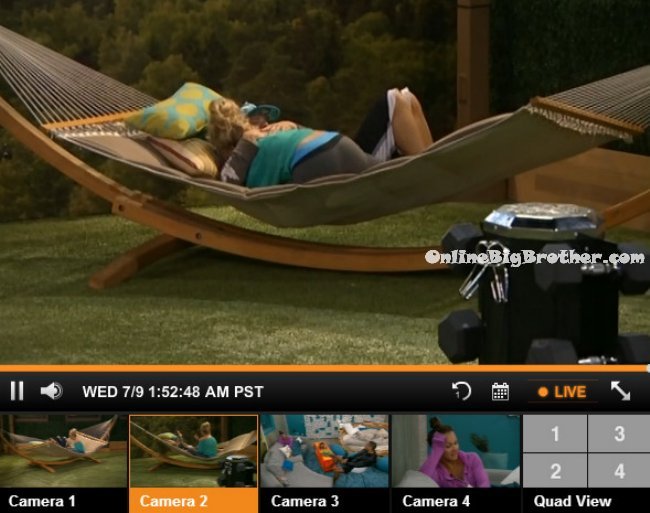 1:50am The cameras switch to Nicole and Hayden in the hammock. He asks her for a hug and she says no, people are watching. Hayden keeps trying and she gives in and hugs him. Hayden asks if she would kiss him. She says yeah. She says that she won't though. Hayden asks if he can just surprise her with one. Nicole says no. She gets up and heads over to the couches. Cody joins Hayden on the hammock. Hayden says this is still good because it's about getting out the weak players with the addition of Devin. Hayden says we need to go hard for the HOH. The thing is what if Caleb wins HOH. Cody says if Caleb wins it he won't put Devin up because he promised he wouldn't. Caleb can't win this week. Hayden says getting out Caleb right now would be genius. Cody says right now it wouldn't be good for our game because then we're targets. Hayden reveals to Cody how he could tear Caleb and Amber. Hayden says you know those things Devin said Amber said about Caleb. Those things were true, she said all that to me. Christine joins them. Hayden says the time will come when we need to get out Amber. I have this information that we can use and boom he's on our side to vote her out.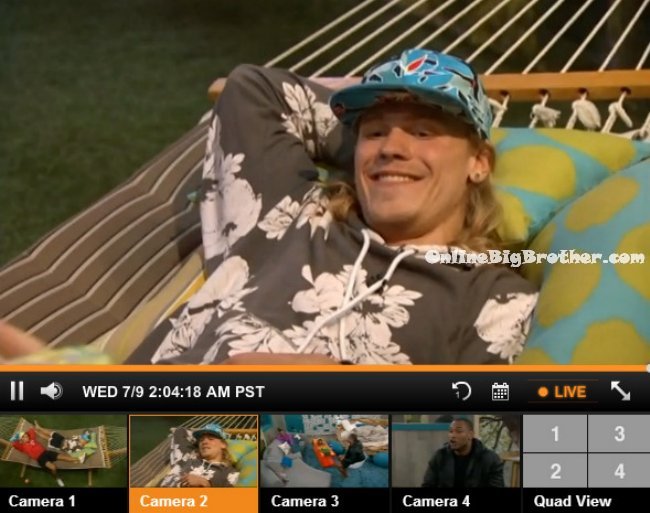 WATCH the next 48 hours for FREE – Big Brother 16 Live Feed TRIAL!
2:10am
Devin brings Jocasta up to the HOH room having now just finished telling Brittany all about the bomb squad. Devin then tells Jocasta everything. Jocasta explains how outside the house she has a womens ministry. I can't explain how I kept Zach after the things he did. After I talked to Zach I knew that the women wouldn't see that. I'm sure that won't be shown on the show. I know they don't have the live feeds. I can't explain keeping him to women that I try to empower about not needing people like that in their lives. Jocasta and Brittany tell Devin it was Christine talking bad about him. Jocasta starts to cry and says I can't leave I need to do this for my husband. Brittany starts crying and says I came in here knowing I'm going through a divorce. What if he tries to take my kids away from me. Brittany asks Jocasta are you just going to say we were praying? Jocasta says I'm not going to just offer up any information.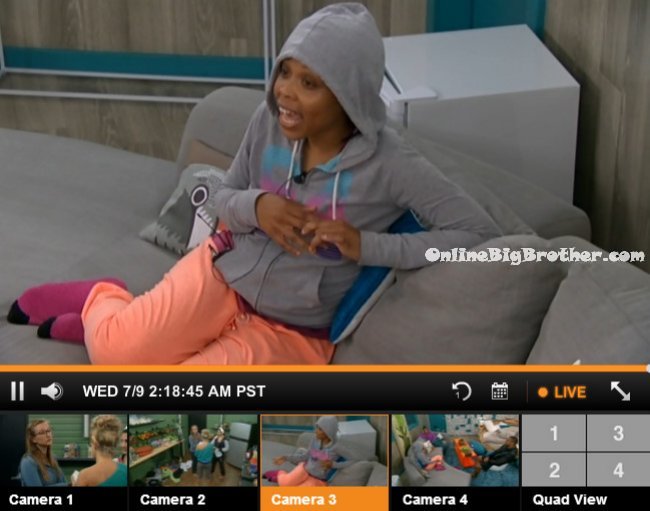 2:25am Out in the backyard – Cody, Derrick, Zach and Caleb are talking about how they will tell Brittany that it was only a 1 week deal with Devin. Caleb says I will say that I've been with him since the beginning. Caleb brings up how Devin said he was going to pick us off one by one. Okay, try it! They wonder what Jocasta and Brittany are doing up in the HOH room. Cody says if Brittany doesn't come down and talk to me or Derrick then we know something is up. Derrick tells Caleb that if Devin is up there blowing everything up .. Amber and Christine are in the worst trouble. Us having those two girls was the x-factor. Those girls were privy to conversations with the girls that helped us. Cody says that honestly might help them too. Caleb says Devin is thinking because he pulled Brittany off she now likes her. She hates him. Caleb says we just need to deny, deny, deny. Caleb heads to the bathroom and tells Amber that they have her back. He tells her to not go crazy because when you go crazy I have to go crazy.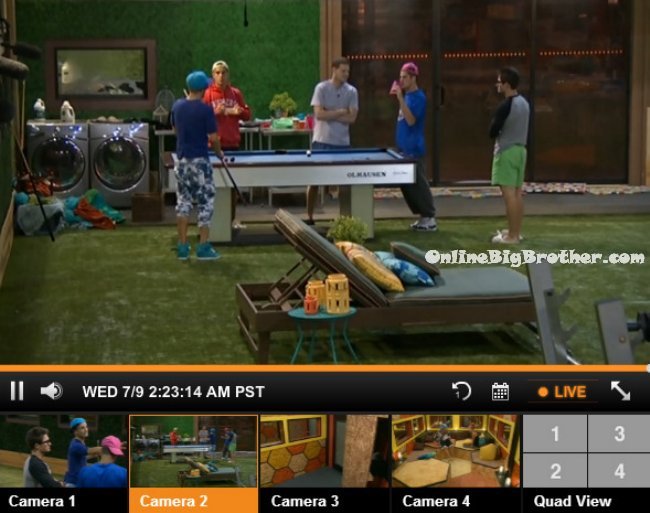 2:35am In the havenot room – Frankie starts telling Victoria about the blow up that happened tonight. Christine joins them. Victoria says we have to backdoor Devin. Frankie says everyone will backdoor Devin.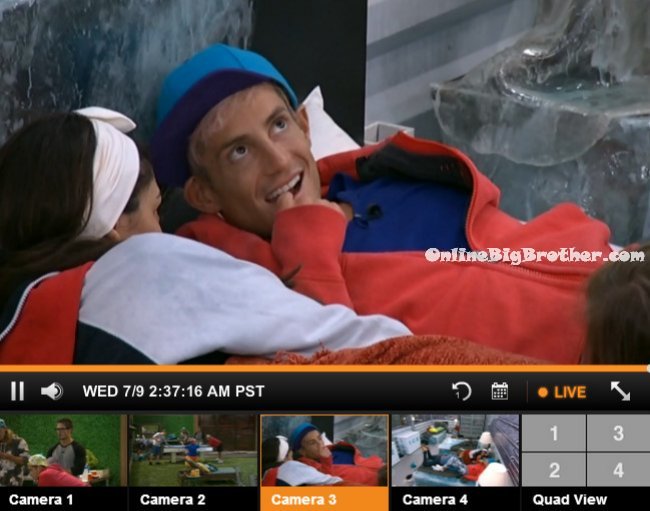 2:55am Frankie comes out to the backyard and tells Zach, Hayden, Derrick and Caleb that Brittany made a deal with Devin for him to use the veto on her. Anything that Brittany says can't be trusted. Zach doesn't think so and says it doesn't mean she make a deal with him just because he used the veto on her. Frankie says you know that and I know that but everyone doesn't know that. Zach says OHHhh I get what you're saying! If Brittany comes down and starts saying sh*t. We deny and say you made a deal with Devin for the Veto! You can't be trusted. Frankie says there you are, there you go!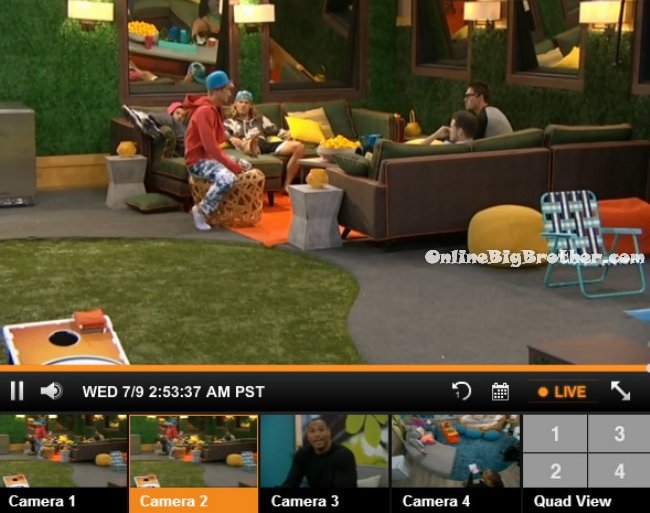 3am Caleb and Cody are talking laying in the earth room bed. Caleb tells Cody that Amber came to him and said that she's mad that things were being decided without her. Caleb says that he just walked away. Caleb tells Cody it was going to happen today or Thursday. Cody tells Caleb that she will be over it by tomorrow. They go to sleep.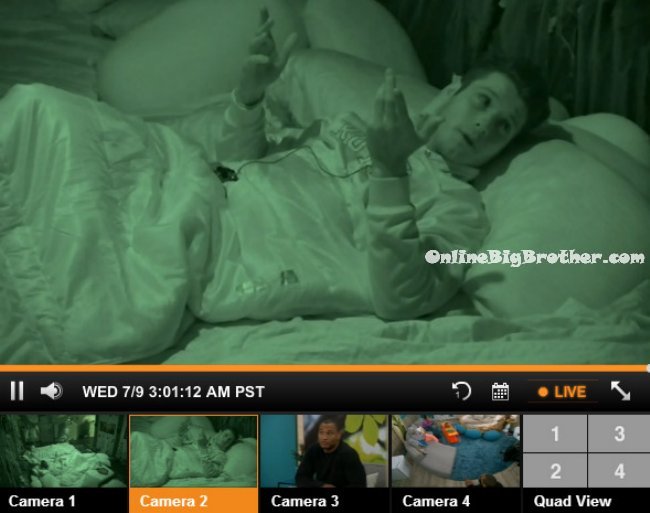 3:10am Pow Pow talks to Caleb by his bed. Caleb tells Pow Pow that there is no way Brittany and Devin aren't working together. He used the veto on her. Caleb says I don't think half the house would believe Devin. Caleb says I don't know half the stuff Devin talks about. Pow Pow says unless he just likes her. Pow Pow leaves. Amber joins Caleb and he tells her as he is pretty much the head of the alliance going forward anything we decide we will all talk together about it. Amber doesn't say anything and says I'm going to bed.

Out in the backyard –
Derrick, Zach and Hayden that they will tell Brittany it was only a one week deal with Devin. If she doesn't get on board with us then she will be out next week. Derrick says I can probably smooth it out with her. Derrick tells Zach that me, you and Cody need to lay low because we're going to be targeted. If Hayden thinks we're really close he will try and take us out. Derrick says if Brittany says nothing was going on.. then I know everything was said. Derrick says just for the simple fact that Jocasta is still up I know something is up. Derrick says Jocasta and Brittany never talk and now they're talking. Whenever Brittany talks with Devin she always comes out to talk about it and this time she didn't. It sucks because I wanted to work with Brittany. I knew an 8 person alliance was a bad idea. Loose lips, sink ships. Derrick says I've got to get Brittany alone to talk with her. Jocasta comes outside and Derrick asks what are you still doing up? Jocasta says she has a stomach ache.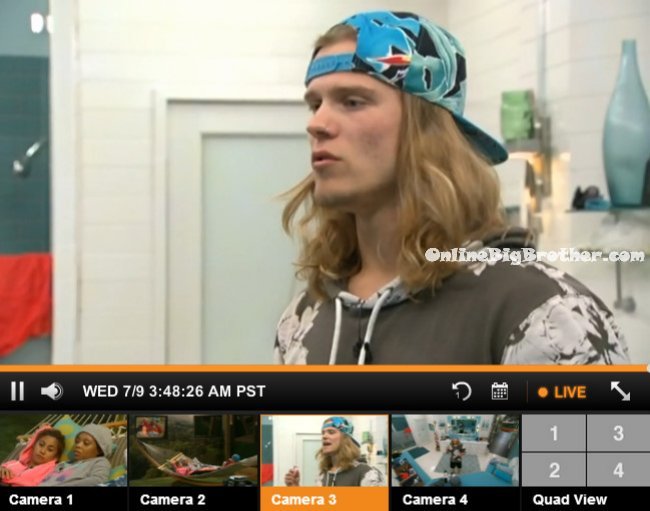 3:35am – 3:55am Derrick heads into the kitchen and makes small talk with Brittany. She is super short with him and avoids talking. Derrick asks her if she is going to bed. Brittany says nope. Frankie joins them and asks if she's drinking coffee. She says yes. She says that she can't sleep in that room. She says she's wide awake now. Zach tells her that's not healthy how long she's been awake. (Brittany has had maybe an hour of sleep in the last 3 days or more.) Pow Pow joins them. Brittany snaps at Pow Pow and asks her if she's made at her?! Every time I talk you sit there and don't say anything. Pow Pow says no I'm just tired. Frankie heads out to the hammock with Jocasta and Pow Pow. Frankie tells them that Caleb and Zach made up. Frankie says if Devin and Caleb are truly at war then Caleb with align with Zach. Jocasta tells Pow Pow that means you're going home. Frankie heads to bed. Meanwhile in the bathroom – Hayden tells Zach that he hates the fact that Amber is in the alliance with them. We have to get her out! And we have information to make Caleb want her out! Hayden heads to bed.