POV Holder:
?
Next POV
July 12th
POV Used
?
POV Ceremony
?
HOH Winner 1:
Amber
HOH Winner 2:
Devin
Battle of the Block Winner
Hayden & Nicole
Next HOH/ Next BOB
July 10/July 4
Original Nominations:
Devin's Noms (Pow Pow & Brittany) Amber's Noms (Hayden & Nicole)
Final Nominations:
?
Have Nots
Victoria Brittany, Zach and Derrick
POV Players
Host Donny, Players Devin, Brittany, POWPOW, Derrick, Zach, Amber
5:06pm Rock Room Zach, Amber, Nicole and Caleb
Zach tells them the only way Devin stays next week is if he gets picked fo veto, "He has a 1 in 30 chance of that happening"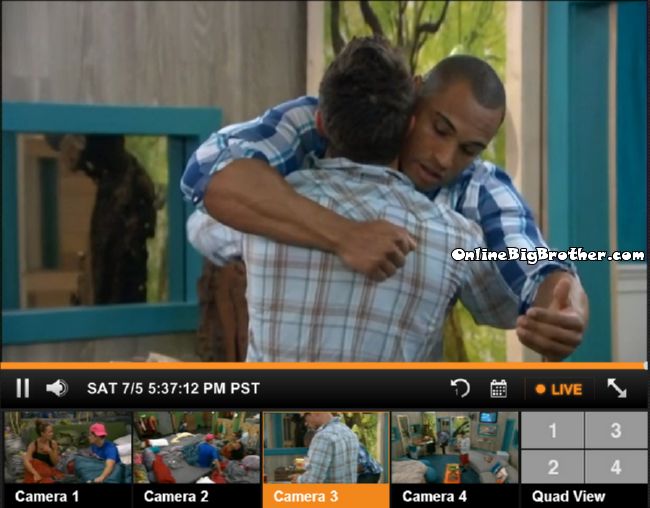 3:13pm Devin and Caleb HOH
the thing that set me off bro one thing dude when you say that and said the way I talked to women in this house I was raised by a single mom I have a daughter I've never talked to anyone with disrespect.
Devin says when he talked to Christine in the HOH they talked about Jocasta and Devin said he wished Caleb wouldn't mix business with Pleasure it was nothing scary.Caleb was only going by what he heard. Devin thinks he should have talked to him first.
Devin tells him he's never said anything to Nicole he never said anything to make her cry eve. Caleb says the only reason why he's said it to him last night was because that is what everyone in the house is saying. The house is saying Devin is mean to the girls and Caleb was just tryign to tell him. Devin says it's the way he was going about it.
Caleb tells him Cody, Derrick, Zach "None of them" want Brittany gone. Devin says that is not what they said to him. Caleb thought they were going to keep the stronger players and get rid of the floaters. Devin says they need to get the strong players that are dangerous to their team. Caleb doesn't really want Brittany to leave.
Devin wants to call a Bomb squad meeting.
Caleb – "Me personally I think Brittany needs to go.. both Derrick and Feel that way"
Caleb "More People want Brittany to stay than POWPOW.. we need to figure it out.. our alliance is split in half"
Caleb says he told the house he voting to keep POWPOW because of his promise so POWPOW has 2 votes.
Devin's best case scenario is he wins POV takes POWPOW off the block and puts Victoria up he wants to see Brittany and Victoria fight it out.
Devin – "what happened last night that stuff can't happen man.. " devin says he would never put up an alliance member but the one person he would consider is Amber."
Devin wants to call a meeting for the bomb squad right away. Devin says if people call their alliance out they Deny it, points out it doesn't matter they have the numbers. Caleb thinks bringing people up here isn't the best idea.
Devin – "We need everyone in the same room real quick and if anyone come sup we'll just start laughing"
They hug it out and say sorry, Devin – "I still look at you as a brother and best friend"
Caleb tells him everyone in the house is saying to put Devin up. (OMG heres the spark)
Devin – "what everyone.. is Cody"
Caleb – "I don't know Cody"
Devin – "Zach"
Caleb – "ya everyone they say you are causing too much noise"
Caleb leaves to get the bomb squad
Try the feeds for free.. help out OBB and get them using one of the links on this site. You can go back and watch everything we showed on this site. A live feed subscription comes with access to the Big Brother Archive letting you rewatch from day one. It's a pretty sweet setup!
FREE 2 Day TRIAL! The ONLY $26.99 to watch the ENTIRE Season of Big Brother 16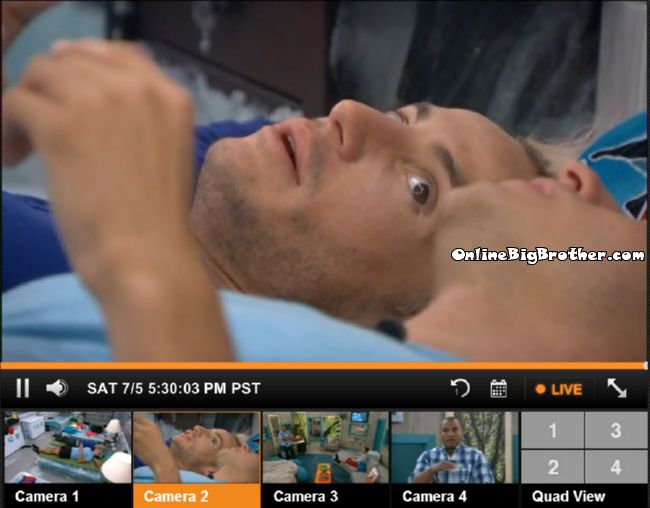 5:29pm have nots Cody and Frankie
Zach tells them every girls in the house will put up Devin, Frankie thinks everyone is going to backd**r him. Frankie says the best way is to have 4 strong people on the BLock and 2 strong people in the POV when POV gets played Devin its the replacement nominee. the only way
Frankie – 'I would put up Hayden and Nicole"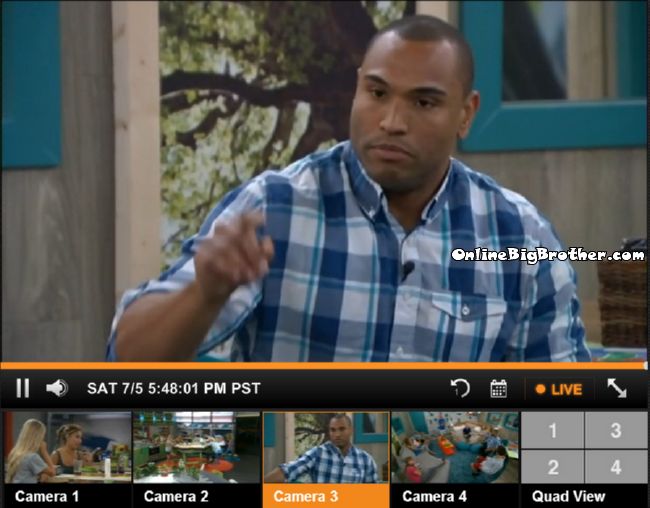 5:43pm HOH Bomb squad Meeting
Zach tells them from what he's heard from Caleb they are not on the same page right now. Devin time for everyone to put on their big brother face put all emotion aside. He wants them to Deny deny deny
Caleb told the other house guests Devin wants to talk to two groups of people, "Donny's been in the Diary Room for a minute"
"It doesn't matter if someone calls this an Allaince or noit Deny Deny Deny"
Zach – "Deny Deny DEny"
Devin – "this is the deal we got to be on the same page every week who we are sending home this is is not a dictatorship.. getting rid of Brittnay 50% game 50% personal " Goes to explain..
"she is the only girl that has the SACK to go against them ". POWPOW threw the BOB Comp so they could keep Brittnay up on the block, "She's working with me she was there with Caleb on this one"
"We're guaranteed she will lose a physical competition and when she wins a mental comp we will tell her hey we helped you to stay"
Devin says if Brittany wins POV he will put Victoria up and she can go home, "I'm personally threaten by Brittany because she's coming after me.. she's a smart girl I'm afraid of her game play it's about protecting the team.. the deal is we protect each other all the way to jury we made that deal face to face."
Cody asks him why he's looking straight in Cody's eyes because it feel threatening  Devin explains he's rotating around or at least tryign to he doesn't want to look at the girls because it might come off as the wrong thing. .
Devin – "Once we get to jury it's not personal"
Devein says Caleb told him there are people in his alliance that want him out of the house.
Devin – "We have to protect each other"
Devin says he's done a lot of the fodo work with this alliance so the target is on his back .
Devin explain he's getting stressed out in the house and agitated, he apologizes for jumping the gun early on. Say the reason he put Derrick and Zach on slop is they volunteered. Devin wants everyone to chill tells them he's nervous from the stress. Devin asks them who they want out.
Zach – "POW is the weakest player I've seen on Big Brother .. I want Brittany to stay"
Cody – "POWPOW is unbelievably terrible.. I'm on board with that
Cody wants to know whose names are saying they want to know whose names are getting thrown out that they want Devin to be sent home.
Devin says Caleb didn't give him any names
Zach doesn't want Devin gone people are coming to him.
Hayden and Nicole walk in.
Feeds go to Jeff interviews POV is going down..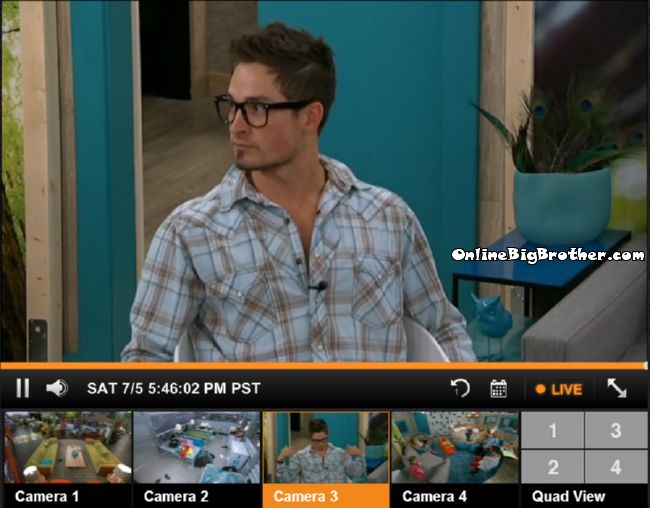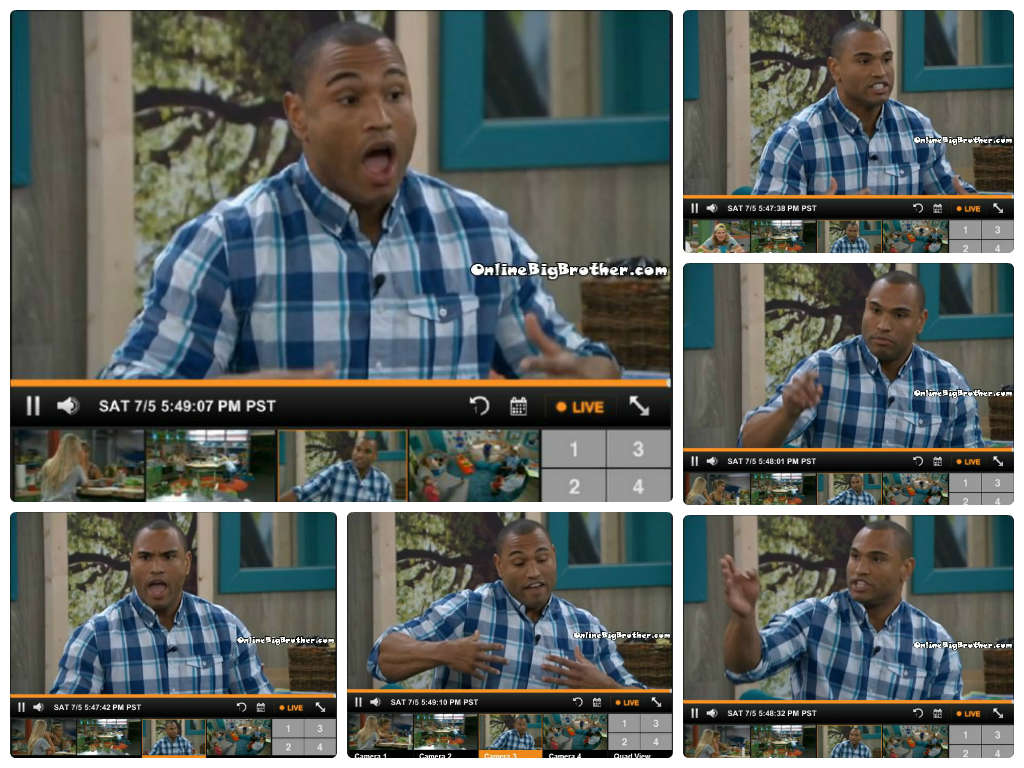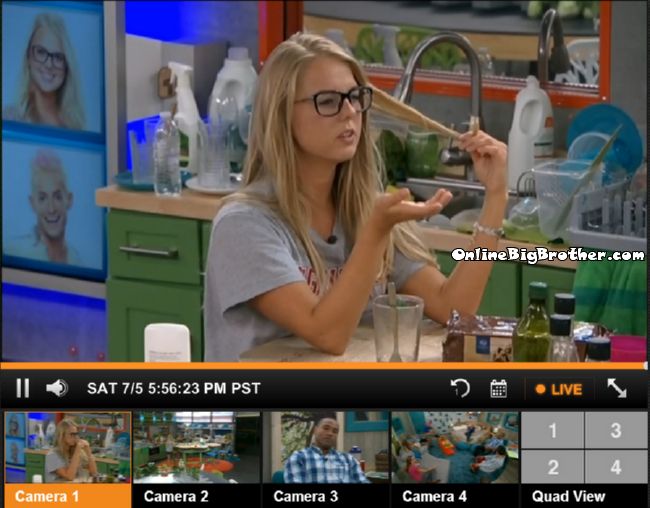 The outsiders chit chatting POWPOW says if she's going to win a competition she'll have to be drunk. POWPOW says when she does finally win a challenge she's going to be so cocky. hayden say the POV challenge is coming up Donny's been in the Diary Room for a bit.
6:12pm Jeff on the feeds POV being played
[polldaddy poll=8164185]