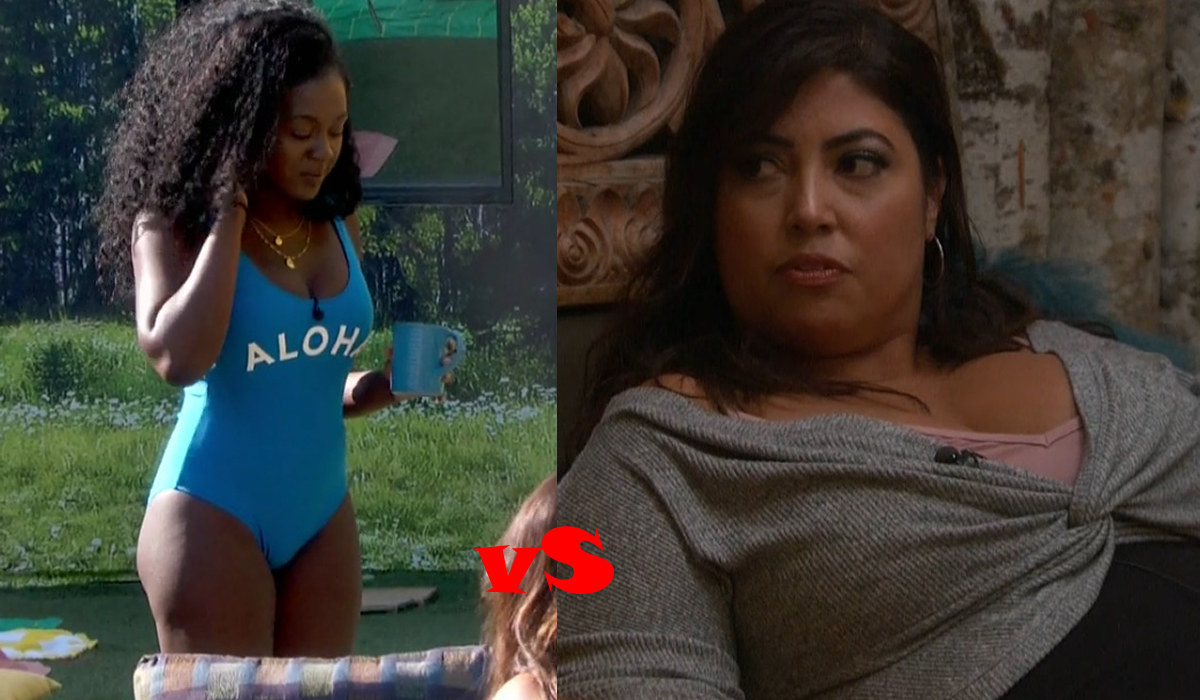 This week could be described as a wrecking ball week (although there was no real drama). A couple of alliances got formed then torn down and a bunch people's game got torpedoed. Jack did handle the power well. I thought for sure he was going to get HOHitus but it didn't seem to be the case. Jack nominated Kemi and Jessica. Sam won the Power of Veto didn't use it, therefore, nominations stayed the same, done. The Garbage bag Slip n' slide was once a Big Brother tradition but has seemed to be dormant these last few Years came out in full force.  Nice to see that. If you don't have the feeds give them a shot you can flash back to all the conversations we cover and can miss out on the farts and burps.
Stream Big Brother live Try it FREE!


Big Brother 21 Rankings
When we started the week Bella was 4th, 6 days later she's at 16th Now that's a drop! On the flip side, David who started off the week at 13th now finds himself 4th. It's obvious 6shooters and anyone that touches 6shooters  takes a major hit in popularity. Tommy is the last member of 6shooters not in the bottom 6 he's 7th and dropping. Generally, everyone but ZIING and Camp Comeback isn't super popular. LOL
Rank the BB21 houseguests here
Fall of The Black Widows
Bella tells Jack about the girl's alliance called the Black Widows says Jess made it up. Bella went on to explain why she did this but it makes little sense.
Rise and Fall of the Fellowship of the ZIING
The fellowship AKA fellowship of the zing is formed  Everyone is happy like a pig in sh1t. Until… Cliff gets caught chatting to the live feeders. Something he does in the boatroom most mornings.  Christie hears him first and proceeded to tell everyone in/out of gr8tful. He was then heard the following two days by Jackson. The ZIING alliance is found out.
Rise and Fall of Gr8tful
The gr8tful eight at the peak of their "togetherness".  Bella tells Sam about gr8tful and how he's the 9th person in it. Jack follows this up by slipping up while talking to Sam and mentioning the gr8tful 8 to him. Jackson and Holly planning their departure from gr8tful Nick and Bella have been unofficial removed from the 8 unbeknownst to them they are now main targets. Out of the gr8tful ashes comes the 6 shooters.
Showmances Barf
Jackson cut if off with Kat but is now hooking up with Holly.
Jack and Sis hooked up "played" as he puts it. Sis gets all flustered while describing Jack's schlong. Jack and Sis decide to pump the brakes. (But not really)
Nick and Bella under the covers still hugging. Nick still obsessed about Sis, Bella crazy pants wild card.
A possible Flip / I don't want to ruffle any feathers 
A possible flip happens Wednesday morning. Sam suggests they should take out Jessica, He rallies Nick, Bella, and Nicole. Christie seems positive about it and so does Jack. Holly and Sis, on the other hand, are dead set against it. After some talks in the HOH room, they decide to stick with the plan to evict Kemi. The rest of the house hearing this get weak knees. Flip Fizzles.
Predictions of results
Kemi getting sent to camp comeback.
Results from the Live Episode
Kemi: thank you CBS, so happy to spend the last 3 weeks it's been amazing. I think we all know what is going on in the house.. there are things that are going on on the house Nick and Bella you guys are running around.. The writing it on the BB walls.
Jessica: Thanks God and everybody, CBS, the production team. I love you guys each and every one of you.. I want to be here I am proud for who I am and what I stand here I love diversity. I'm loyal I want to fight.
Jackson Votes to Evict Jessica
Holly Votes to Evict Kemi
Nicole Votes to Evict Kemi
Tommy Votes to Evict Kemi
Christie Votes to Evict
Kat Votes to Evict Kemi
Cliff Votes to Evict Kemi
Nick Votes to Evict Kemi
Jack Votes to Evict Kemi
Sam Votes to Evict Kemi
Sis Votes to Evict Kemi
Bella Votes to Evict Kemi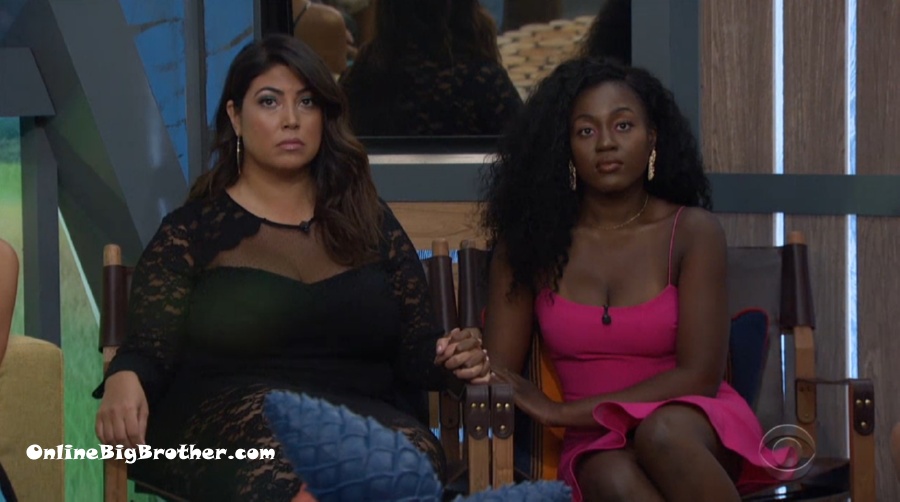 Kemi is evicted. 10-1
Head of Household Competitions called Power Shot
If you don't want to be HOH you can go for the safety or cash prize $5
Sis – 50
Jessica – 5
Christie – 65
Nick – 90
Sam – 70
Michie – 70
Tommy – 35
Cliff – 15
Bella – 75
kat – 0
Nicole – 15
Holly – 0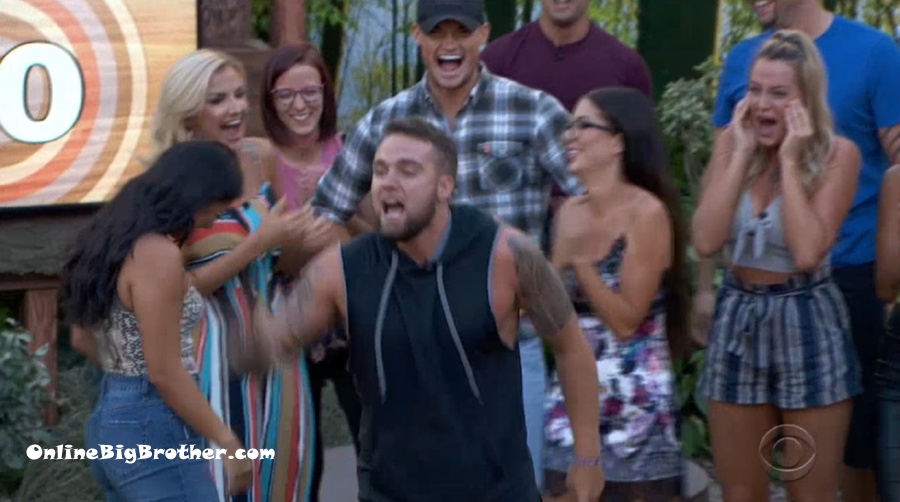 Nick is the new HOH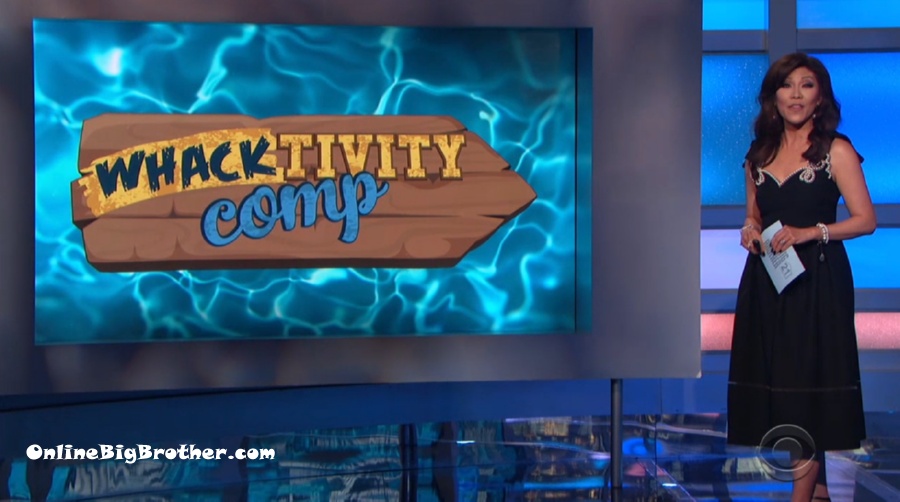 Classic BB power is returning to the game. (I'm thinking the Coup d'état)
Sis, Christie, Jess, and Nick will be playing for this.
7:13 pm feeds are back. Christie and Holly are mildly trashing Kemi to Nick. Tommy is with them to.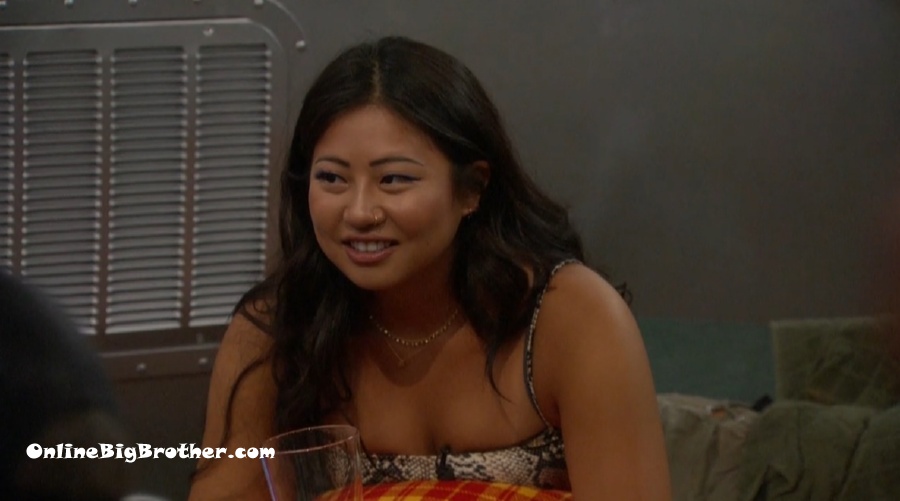 7:17 pm on Mildy trashing Kemi
7:19 pm Nick and tommy
Nick is so hurt by what Kemi said. Says he'll still go up to the camp come back to comfort her
7:20 pm Dawg.. DAWG
Jackson trying to pin the vote on Nicole. He says Bella thinks it's Nicole. adds that the things Nicole is saying tare the same things someone who thought they were voting with the house and then got busted would say.
Nick – I'm thinking Cliff and jess and then Nicole as an option maybe now it'll change.
Jackson says the way Nicole was acting is weird
Christie/Jack enter they all start hammering to have Nicole and Cliff put up saying Jessica isn't a threat.
7:24 pm Bella and Kemi fight (hard to make sense they are talking over each other)
Bella – the kinda game I'm playing is being nice to people and chill out
Bell a- the only reason I knew about your personal problems because I was your friend
Bella – you don't need to stand this close to me .. goodbye
Kemi – don't touch me
Kemi – you're doing a whole lotta talking behind my back and when sh1t hits the fan you get mad
Bella – ok well go talk behind my back in camp comeback with all of your two friends.. ohh wait you are forced to live there.. ..
Kemi – everything you had to say you wouldn't say to my face
Bella – you don't need to stand this close to me .. goodbye
Kemi – don't touch me #BB21 pic.twitter.com/b7srBtfXhj

— OnlineBigBrother.com (@bigbspoilers) July 12, 2019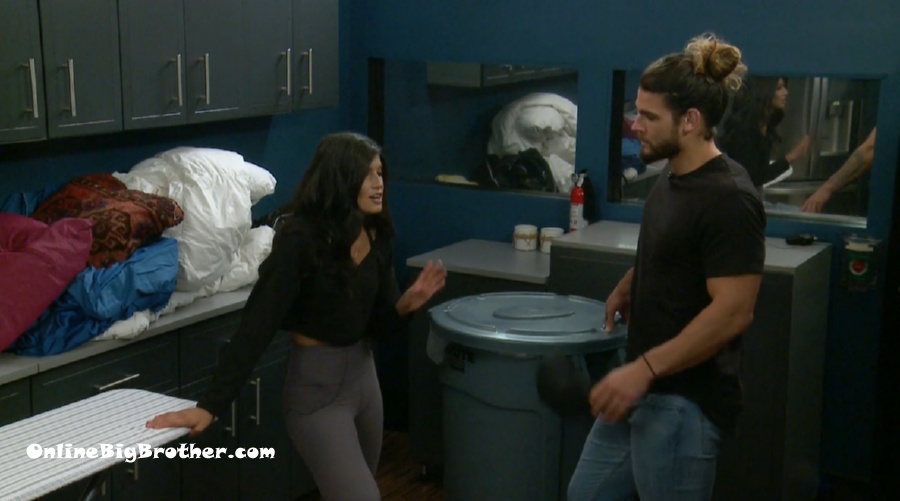 7:34 pm Sis and Jack
Sis – I'm annoyed after every like .. every competition or like something crazy that happens you always call Christie .. you like to talk a lot of game with Christie which is really fine I know your stuff is totally separate Whatever. (Sigh)
Sis – it just annoys me at the end of the day I'm the one.. You and me talk game but not as much as you and CHristie i'm the one that's gettign teh sh1t end of teh stick you know getting associated with you because of what we are
Sis – we don't talk that much game it's more you and Christie that do it. it's f*ing annoys me
Jack – Okay ..
Sis – Okay
Jack – is there something you like me to do
Sis – no, I'm just telling you
Jack – Christie's and I's relationship existed before ours
7:40 pm Holly and Jackson
(Grab a Kraken.. go Grab two..)