Big Brother Spoilers
Jack wins the Head of Household.
Jack has nominated Jessica and Kemi
Power of Veto Players: Jessica, JAck, Kemi, JAckson, Sam, Bella.
Sam won the veto & the Fiji trip.
Jack won the whackdooel power can opt for a POV player redraw.
Jessica is the pawn and Kemi is the target.
Power of Veto Ceremony results = Sam did not use the Veto nominations stay the same.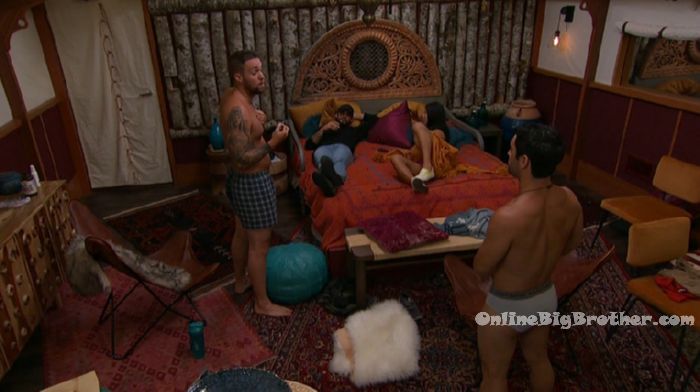 8pm HOH room. Nick, Tommy, Analyse and Jack.
Nick – When he (Cliff) with me he always talks about how he's good with you (Jack). Tommy – Didn't he ..Cliff .. earlier? Nick – I can't believe you don't have the power. I can't believe Nicole has it. (She doesn't, Jack does) Tommy – I just don't trust him… all along. Nick – he's sketchy. Bella – I said it the minute we came out of the competition .. Nicole has the power. Nick – Yeah and I didn't believe it. Tommy – she does? Nick – it has to be! No one else has it. Jack – Unless it was where Ovi .. Nick – don't you think he leveraged that before he went out? Jack – unless it lasts a long time like it goes till week 8 or something. Nick – didn't he (Ovi) say anything to you .. like he trusted you. Jack – he didn't say anything to me or Cliff. Nick – it only leaves Nicole.. there's no f**king way. Unless Isabella is an absolute power beast. Realistically Jess is the only one that said she would put me up. At the same time you have multiple people coming after you, and I think Cliff has a better chance of winning than Jess. But if I put Nicole up .. we're voting her out.. I'm just letting you know that. I'm not putting her up and not voting her out. I Love Nicole and I wouldn't put her up if she wasn't in an alliance gunning for us. Jack – whatever the team wants to do, I'm good with. I really think that Nicole would put Holly up. It would be an easy target without taking a shot at us. Also if I put them UP I am airing their alliance out to.. because I need a reason. Jack – that's the deal putting up Cliff and Nicole. Nick – that's what I'm doing. Thanks for the boat room update!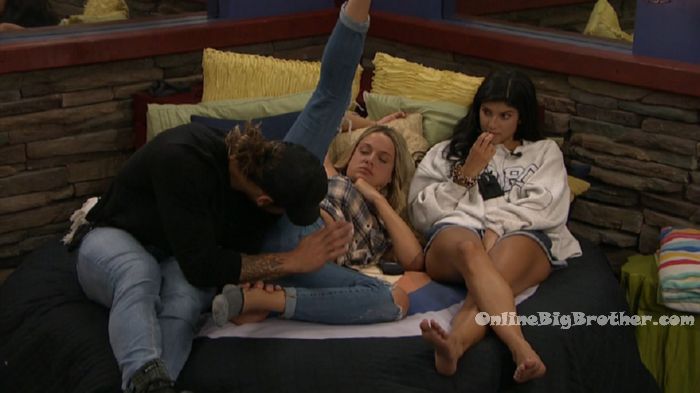 8:30pm Boat room. Nick and Nicole.
Nicole talks about separating herself from the game today. She says sometime she just needs time to herself. Nick – Self care. I just don't know where you're at in the game. I feel like you're just out on a limb. So either you're doing a really good job and you're brilliant or you're just not putting yourself with the right people. I have no idea who you stand with. I literally have no idea …like if you won this next HOH would you make a move or would you just do what people wanted you to do? But I don't know who you're close with so its weird. ..which is fine. I've never heard you talk game. I just assume you're close with Ovi and Cliff because that's who I see you with the most. Nicole – yeah, I know but I just kind of talk to everybody. I think that's part of my thing ..like I don't even know. You know what I mean? Nick – well shouldn't you? Nicole – I guess I should. Start talking to people because there are definitely numbers and I don't want you on the wrong side of that. Nicole – I know but I don't want to force myself.. Nick – I don't even know who you vibe with. We've connected. Nicole – I definitely trust you, Bella and Sam.. but I guess I feel weird integrating in.. Nick – I always talk about how cute you are. I love nugget! I would love to work with you. Nicole – I would work with you too. Can I be the fourth wheel? What was a little upsetting the other day was I walked into the bathroom and the three of you stopped talking. Nick – I think its either you or Cliff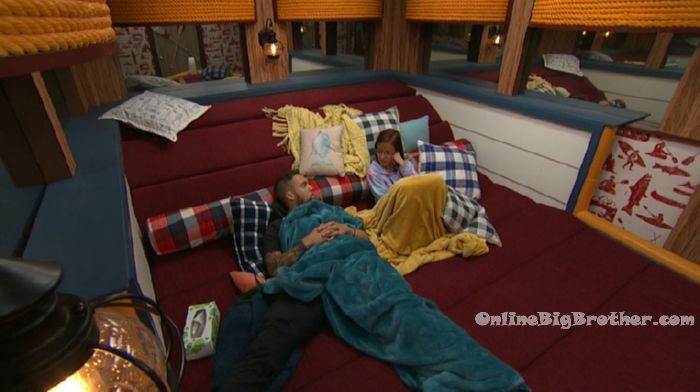 9:09pm HOH room. Bella and Sam.
Bella – I was in an alliance .. it basically already existed.. and Christie came up with the name. It's Gr8ful with an 8 because there's eight of us. But at the time Jack was like .. its going to be 6 core members and then two on the outside. So its supposed to be Jack, Jackson, Nick, me, Christie and Holly.. and Sis and Tommy were going to be on this outside side of it. It was the 6 and then the 8 but its mainly 8 people. But then last week when Christie was HOH and all that sh*t went down with Kemi and how Jack went crazy because he thought everyone was turning against him.. so it kind of drifted. So it wasn't solid .. we only meet like 1 time prior to that. Last week it kind of disbursed and now this week its solid again… The decision to put Kemi and Jess on the block.. me and Nick are like yes, yes, yes.. do Kemi. Do whatever's best for your game so now we're trying to gain back Jack's trust and solidify this 8. But you have been in pretty much all the conversations .. there was one night that you came up. And it was supposed to be a "meeting" which was fine.. we talk about the same stuff. You're just kind of on the outside. I also think that Jack isn't crazy to bring you on because you're a definitely number for me and Nick and not really for the rest of them. Sam – yeah. Bella – so that strategy to get me and Nick out first is probably something they have to think about. I don't think Nick has told you because there's no reason to worry. You are the last person of the floaters to go. I was going to bring it up that you be with us but I don't want to say it because they would be suspicious. I think its okay because you're already a vote for us anyway. I wanted to tell you because I didn't know if Nick had told you yet. I'm not sure why Nick hasn't told you yet. Sam – well it is his game.. there are alliances. I am just worried because I always call out bottom feeders.. so am I a bottom feeder? Bella – no. Sam – so how is Christie sitting here telling me that she wants Jack to go. Jack told me that he trusts Mickie. Because he's in stage five with me and Mickie. So now going further if I go to vote out Kemi ..well maybe we shouldn't vote out Kemi because she's on my side. I wouldn't want her to go. Bella – that's the thing… every time they said I'm so gr8tful. Sam – there is no room for me to weasel in. If I won HOH, I probably wouldn't up Cliff like everyone wants.

10pm Storage room. Holly and David. Holly – I feel like you know a lot and I don't know if its just intuition or not. Or you have theories. What do you think is going on in the game? David – I think I am going to come back and have a good time with you guys. Holly – okay that's bland. What do you think is happening in the house? David – I think right now I am showing myself as a committed house member and I am going to pay my dues ..I'm not going to come in here and just ride the wave of who cooks and cleans. I don't want to be that person. I have receipts for days. Holly – you have what for days? David – receipts. That I will slowing bring in .. can't overload the kitchen. Play nice, beat the box with you. Play my cards right .. maybe in a few days the house will be like lets vote David in. Holly – I don't think it will be up to the house. I think it will be a competition. David – we could have traded. Holly – that's not ground breaking information. David – you could have traded information for something that's going to be known anyways. Holly – what information do you have? What value is it who your new roommate is going to be? David – I don't now. Holly – to be fair .. who friggin knows.
10:35pm – 10:45pm HOH room. Tommy, Christie, Sam, Nick, Bella. Sam – I just want Jess to go. Christie – she is annoying. Whatever we decide to do we will do it as a team as long as we trust each other. I think I am just a little bit paranoid with my hormones, I am glad that I heard it (Cliff talking about his alliance / game plan) and we will just know what to do going forward. Sam – you could even make up sh*t and just chuckle. Nick – I had an alliance name.. I don't know if its insensitive though.. Flammin Five. Tommy – that's perfect!
Nicole to Kemi – how are you feeling? Kemi – like I'm getting evicted. Nicole – I'm sorry. Jack said one things for sure, I can't play in the HOH but I can play in the veto. They just said the consensus is that everyone is voting out Kemi. Should we have a talk with Bella. Kemi – No she'll just deflect and then run to Nick and it might put a target on your back because I'm already out this week. My analogy is that there are different life boats and I'm not on either of them .. I'm on a raft ..like if you're going to be evicted and I'm just out on the ocean alone so I am trying to figure out which ship to jump on ..and I'm horrified. I feel like its Jack, Christie, me, Holly and then the Nick, Sam, Bella. Kemi – I would say the Jack, Christie because Bella is just so untrustworthy. She thinks she is playing both sides of the house .. and I think everyone sees that now. Jack really thinks everyone will put him up. Nicole – I am on a raft by myself.. maybe just let them take shots at each other.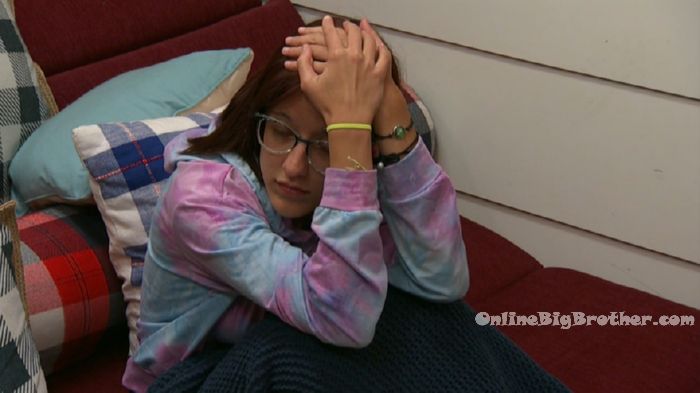 12:05am Nick and Bella. Nick – so we throw up Cliff and then get rid of Cliff. F**king put up Jess with him and tell Cliff that he's the pawn and then if we want to blindside Cliff we blindside Cliff. Then we will get down to five and then you be six. So you, me and Sam make six. And then Christie and Tommy be the last ones to go. Bella – yeah. Nick – he (Cliff) is picking from biggest targets, showmances first. People that look physical will always get hit and number 2, I f**King sucked in the physical comp. which is perfect because that might have been god helping me out. Bella – I love Nicole. Nick – yeah and I don't think she would ever put us up. Nicole joins them. Bella – we were just talking about you … we weren't talking sh*t.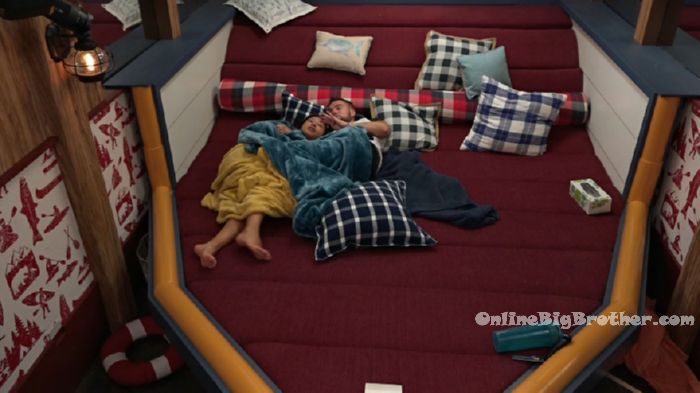 12:30am All the house guests are looking for the Owl. No one knows where it is. They're looking everywhere for it. Analyse – why are you guys still looking? I hid it and you b***hes aren't going to find it. Sam – its got to be part of a task. Like keeping us up for 24 hours. The whole house is looking for it. Nick – there is no way its in the house right now.
12:53am Tommy and Nicole. Nicole – why are people interrogating me? Tommy – because everyone is so loud and vocal and your game is more quiet and people fear the unknown. That's all it is. You just keep doing what you're doing. You're an amazing person. You're an amazing player. I think you're killing it and I promise you if I ever hear of something happening I will give you a warning. Nicole – likewise. Tommy – I have your back. I love you. Nicole – I don't want to seem like a big baby.. this is a game and I'm a big girl but I would never compromise my integrity. I would never interrogate someone like who would you put up. Tommy – I don't think think they mean it in a bad way, its just their style. Tommy – I am sorry that, that made you uncomfortable. I didn't even have to hear what was going on to know you were uncomfortable. I have your back. Even those two have your back .. they said so upstairs. Nicole – I know that's why I was like ..don't. Tommy – don't worry. Its a crazy day because we've been locked inside. Go win HOH. You have nothing to worry about. I think you're amazing. I love you. I have your back. Tommy and Nicole hug.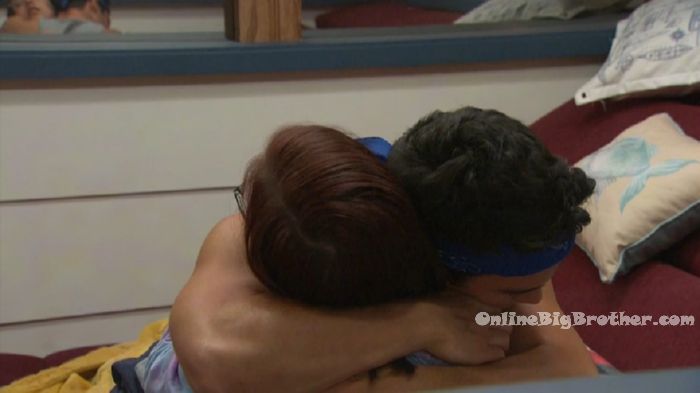 1:34am Kat and David. Kat – do you have the Owl? David – you'll find out at like 5:30am. Kat – no really? Why? David – because that's when the flames are the best. Kat – wait, do you have the owl? Swear to god. David – yes. Kat – I won't tell anyone. David – I can't tell anyone. David – no. Kat – blind once if yes. Twice if no. David – Puh PoW! Kat – where is he? David – I only told Sam. Sam is sleeping. Sam is my friend. Kat – SHHhhhhh! Where did you put the owl? David – its in camp comeback. Kat – is he? WHere because I looked. David – yeah but you didn't look everywhere. He's in one of the bags in camp comeback.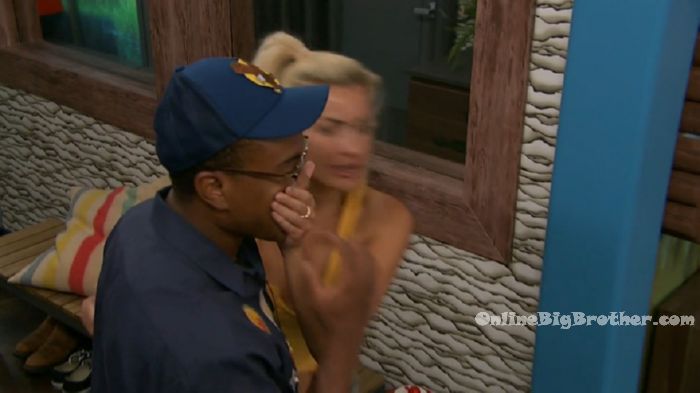 3:10am Kemi, Nicole and Jess in the bathroom chatting about Nicole's hair color. They all head to bed. Jess and Kemi hug. Kemi – I love you girl.