Big Brother Spoilers
Jack wins the Head of Household. Nominated Jessica and Kemi.
Power of Veto Players: Jessica, Jack, Kemi, Jackson, Sam, Bella.
Power of Veto Winner:  Sam and wins Fiji trip.
Jack won the whacktivity power can opt for a POV player redraw.
Jessica is the pawn and Kemi is the target.
Power of Veto Ceremony results = Sam did not use the Veto nominations stay the same.
2:13 pm Jackson and Holly
Jackson is rehashing his conversation with Jack earlier today where he told him to cool his penis jets. "if you go down there and break things off. She's 22 years old and significantly more immature than you.. if you break things off it's like tearing an Achilles it will coil up and back into the corner.. we went from 11 to gr8tful we lost Ovi, Cliff and kat now we lost Nick and Bella. we went from 12 to 6 now 5 (If jack breaks up with SIS)
Jackson – If Sis breaks off and it causes sh1t with Christie it could cause four and if one of us is HOH now we're down to 3 and we're the black widows (LOL black widows.. had big hopes for those girls)
Jackson goes on about making sure if he breaks it off with Sis it'll affect all their games.
Jackson – you can't go down there and handle this like real life
Jackson goes on about Sis not being mature enough to handle a break up with Jack. he doesn't want their couples alliance to implode.
Holly – we need to stick together I don't necessarily trust everybody in gr8tful even 6 shooters (6 shooters = jack, Jackson, Holly, sis, Christie, Tommy)
Holly – we have no choice we have to stick together
Jackson – it's not week 3 we can't restart on alliances
Holly – gr8tful is f* because Nick and Bella are not with us at all ..
Holly – even in the six it's not like I don't trust them I'm worried about their competency. Jack, what is he doing he so overconfident and says whatever he f*ing wants to. Christie is over here studying with everyone in the house.
Holly – telling everyone what we talk about without specifying.. WHO are you working with what world they have such loose lips it's blowing my mind
Jackson – hey lets study.. ahh no
Holly – if you want to study how about the 6 of us together.
Holly goes on about Christie studying with Kat and if it results in Christie losing a veto against kat over it "Oh my god I will lose my mind. She's turning incompetent people into competent people"
Holly – they just blabs a lot
Jackson – jack and Christie are the same person
Holly – overconfident
Jackson – overconfident and putting confidence in things
Holly – wreckless
Jackson – I understand being in tune with the universe .. this is not real life this is a game that is designed to bring out flaws in people's characters it is made to split people up and it' ignorant to think everything will go your way guess what it's not
Holly – I'm a lot more savage than I'm letting on .. I don't want to show my savage side than become a target but I also don't want to be this weakling girl
Jackson says she doesn't want to show her cards.
Jackson – how quickly things change in this game.
Jackson – Jack is handling this very poorly. Sitting there with his hat on crying in the living room. You can't let people see your emotions
Holly – he's crying to Bella good job jack
Jackson – all that takes is Bella running to Nick, Hey JAck upset about him and sis let's split them up.
Jackson – if we break them up Jack is going to crumble
Jackson – you can't let emotions show in this game.
Holly – sis gets hot headed.. umm no lets not..
Jackson – what did she do when she heard of Jack's dream? Why did Christie tell her (jack's dream was about his ex and how he was crying out for her but she never answered. He cried earlier about this)
Holly – Christie also told her that every single time Cgrsutie comes up here (in HOH) to Shower Jack follows her up still and Christie goes and tells SIS that I was like Why in the world are you planting all these little seed.
Holly – she's like BUT trust me even if Jack has feelings for me like I don't have feelings for him so SIS you don't need to worry
Jackson – what the f**. Christie is like manipulating her from the inside out
They agree Christie is slowly trying to drive a wedge between those two.
Jackson suggests she doesn't win the next HOH, "Don't throw it until it's us left.. try and win it"
Holly – what if Nicole wins it.. I had a good talk with her
Jackson – What if I talked to Cliff and told him I heard him this morning and use that as a hey let's work together.
They agree Cliff still wants to work with them.
Jackson – I'm his side piece using me as protection against us six
Jackson will tell Clff he's not coming for him but Tommy, Sis, JAck Christie he's not sure about them.
Jackson – whoever gets to him first is likely not in the crosshairs
Holly – should you say that you heard him or should you say that Christie heard him and ran back and told us
Jackson – I don't want to involve Christie in case Cliff goes to Christie to try and smooth things over
Holly says she can see Christie devising a plan kinda the same thing. Holly thinks he should say, Christie, told him.
Jackson will find out if Cliff knows Ovi has the power and use that. tell Ovi, Cliff and Nicole and Jackson and Nicole are not coming after them.
Holly – we can talk to Nicole and say Christie ran back in (f* I'll take it ZIING plus holly/Jackson)
Jackson says they can tell Cliff they recognize the power in Nick, Bella, jack and Christie.
Jackson – ti's a bold move all it takes is cliff going to Nick and Bella
Holly – risky as f* have us betraying our alliance..
Jackson – it could blow up in our face or save our a$$
Holly – maybe we only have to worry about getting to him if he had power
Jackson – doesn't look like we're genuine… if we come to him with without power it looks genuine
Jackson will drop the hint to Cliff that never think when he's talking it's just to the feeds.
Jackson – look I know it's you three and you are looking for numbers. jack, Sis and Christie are powerful they will pick you all off one by one we can work together behind the scenes we got your back and you back out
Jackson – Bella is a savage she will use you all and kill you just like a black widow
Jackson – I'm going to grab cliff right now and play some chess.
Jackson wants them to get to Cliff before Nick and Bella does. They need those numbers.
Holly – can we get to him without showing all our cards
Jackson – I don't know I'll try
After some back and forth they decide to not tell Cliff he was heard they'll use that information to feed it back to Cliff "If I were you I would look out for the duos on this house. Guess what I see the same people in power and the same people with control in this house that you do. I meant everything I said when I wanted to work with you and get to him before anyone else does.. "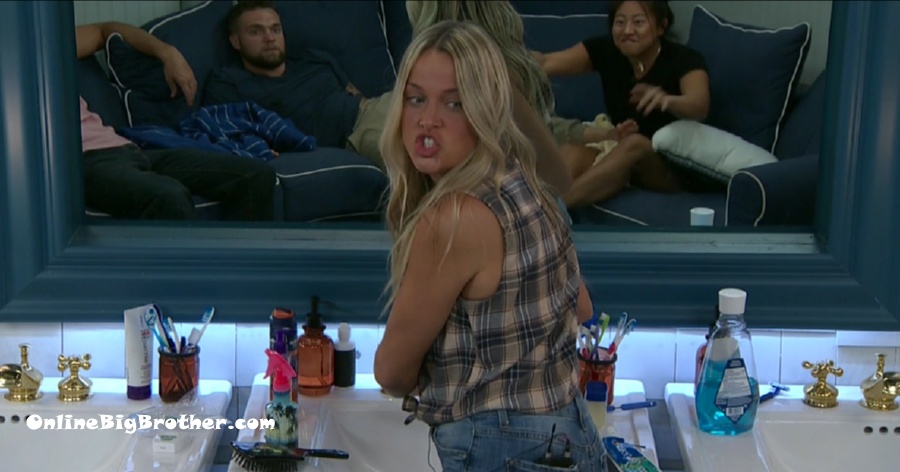 3:00 pm Christie, Sam and Nick
CHrsitie telling them that she heard everything about Cliff's game he spilled it all his alliance name. Goes on to explain about it in the morning but doesn't give specifics.
CHrsitie – it'll be tonight in the HOH room casual. Be cool everyone be cool
Christie says Cliff needs to go next week before Jess.
3:22 pm Bella doing Nick's nail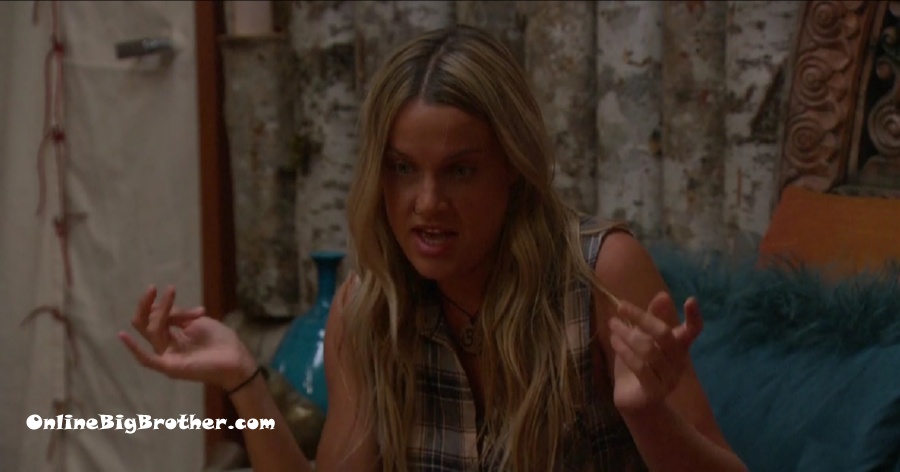 3:50 pm Jack, Christie, Sam, Nick
Christie – ok I'll tell the short version
Christie starts going on about Cliff…. "he's public enemy number one he's playing a smooth social game"
Christie calls out the ZIING alliance with "Nicole, Cliff and Ovi"
They agree Cliff has no power.
Christie goes on about all the couple Cliff has pointed out
Christie – I stepped in sh1t today
Christie – that leaves Sam, Sam is a free agent first step in line is to get Sam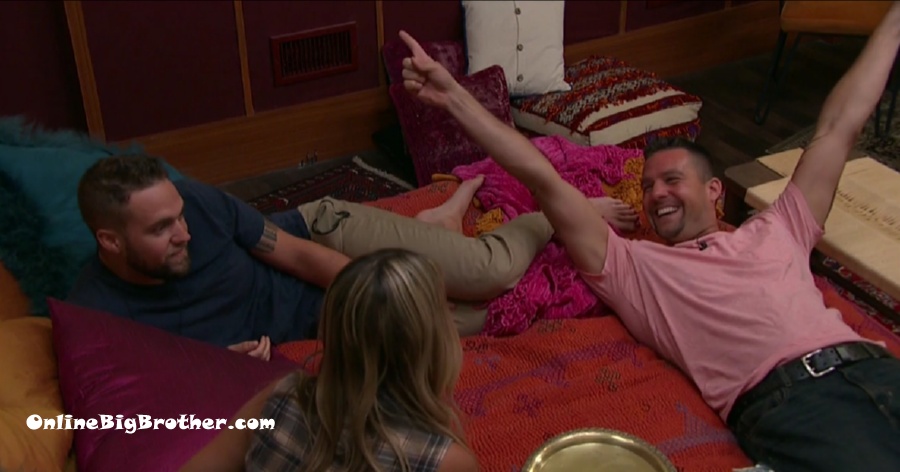 Sam – ohh cool .. ZIING (you have no idea the greatness you are close to unleashing)
Christie goes on about how Cliff wants to join the ZIING with Sam and Nick form a 5 person they will keep Bella around for "info"
Christie – as if you wouldn't tell Bella.. you're first hit will be against Jack and SIS. your second hit is Michie and Holly..
Christie adds that cliff is pegging her and Tommy as a couple
Christie – Cliff has to go up before anyone else now.. to be honest Cliff or Jess.. but I think Cliff has more of a chance to win over Cliff. I'm scared of Cliff. he's got the whole game figured out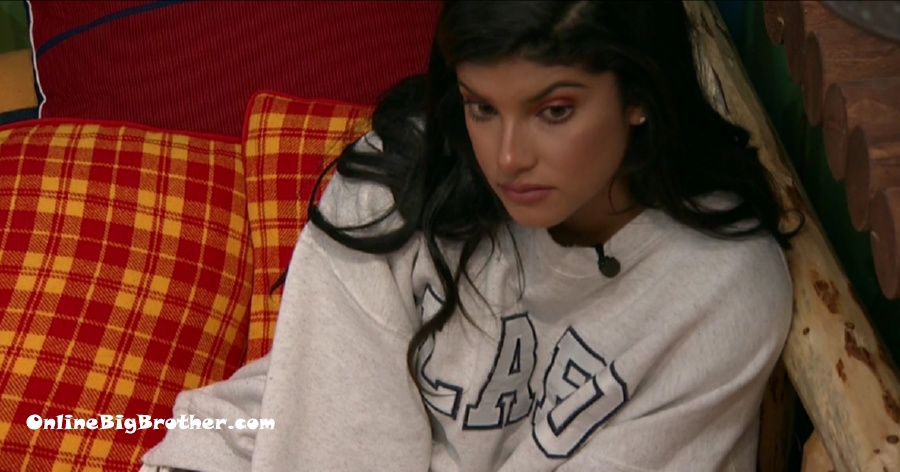 4:02 pm Holly and Sis
Sis says if she wins HOH she'll backdoor cliff. "that's what I'm going to do"
Sis – people think they are running sh1t and I can never get a F*ing word in
holly – I know
Sis – everything I said today Christie and Jack will be up there and be like ohh I think we should do this.. I'm so sick of it I'm playing for my f*ing self
Holly – I feel the same.
Sis – obviously I'm not going to let them know
Holly – Christie, and Jack think they are running the show let them
Sis – I was so embarrassed today when Jack said WOW sis good one like wow.. I'm f*ing smart I know so much about this game I just don't say f*ing sh1t
Sis doesn't trust anyone in their alliance "there's only one winner"
Holly again "Christie and Jack think they are running this entire house and they think they are running gr*tful FINE let them think that"
Sis – but the target is still only on us it's never on f*ing her or never on him
Holly – until someone else is in power we don't f*ing know
Sis – I need to win this HOH I need to
Holly – their overconfidence is going to create targets on their backs.. yeah people are name dropping us right now but when it comes down to it I think they will cut the head off the snake-like we are saying that about other people. We're not the head of the snake.
Bella comes by and mentions Christie hearing Cliff says she's going up to the HOH to be debriefed. After she leaves Holly an Sis are wondering why Christie is doing this now.
Holly – why the f* is Sam up there are you f*ing kidding me, Christie.. that's the stupidest gameplay .. Christie does not know how to kep her mouth shut
Sis – I'm not telling her shit
Sis – her and Jack talk about it and they make the decision..
Holly – we need to keep playing their game
Sis – I'm fed up ..
Holly – what do we do at this point
Sis – don't say anything don't agree with anything we need to BACK OFF we need to back away from jack and Jackson
Sis – we're not even going to make it to f*ing jury before those guys.. it has to go back to it being us two
holly – I'm worried about Christie
Sis has realized giving jack Handies is "F**ing up my own game"
Holly – how is she won HOH for two weeks and she's running around ruling the whole thing She's got Jack wrapped around her finger
Sis – we haven't done shit we've p[layed in 1 competition
Holly – yeah .. we've done jack shit (Join ZIING smash the house Become BB gods)
They agree they don't want to throw Christie under the bus because "I love her"
Sis – we're at the bottom of the totem pole for gr8tful they're all running sh1t and talking
Sis – F8 all you guys I'm playing for myself a
They are planning on going upstairs after some complaining about never being asked to go upstairs
Holly – throw on some mascara.. f* it (you are the makeup queen)
Sis decides to go up first allowing Holly to dump on makeup. Sis goes on about having to win the HOH and she's so mad at Jack/Chrsitie but it sounds like she wants to take pout Cliff. (reals)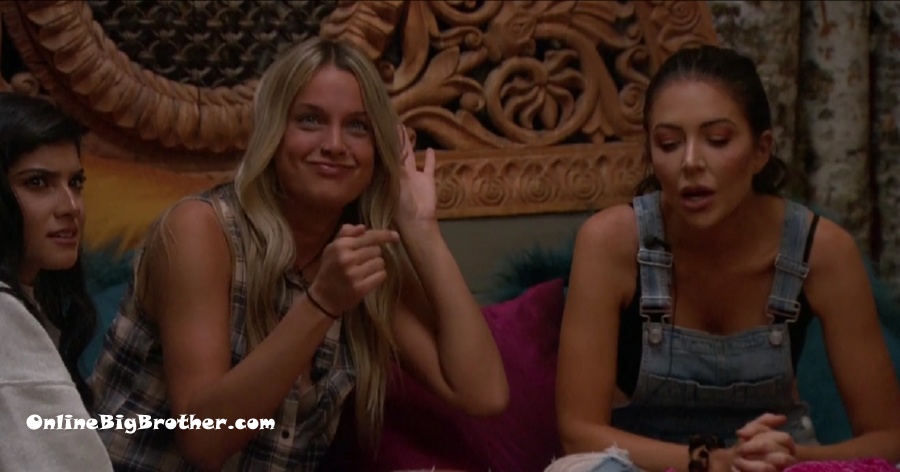 4:20 pm Christie, Jack, Bella, Nick, Sam,
Christie pushing to put Cliff and Jessica up and take Cliff out. Christie goes on about taking ZIING out FIRST (ouch)
Christie – he had a free run to Jury and he just ruined that just to play up to the cameras but listen he got this experience he's 54 he killed it he got some friends outta it
Christie says if Cliff comes back from camp comeback he'll be alone because Nicole and Ovi will be gone "he doesn't have the power it's confirmed"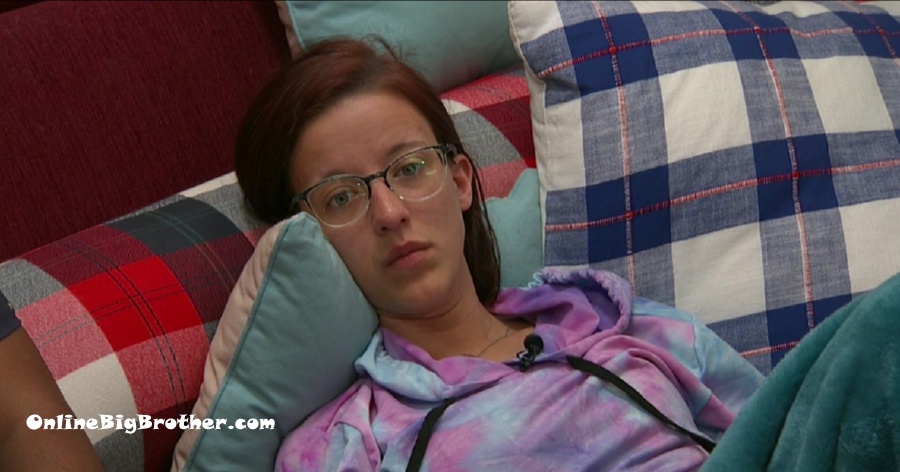 5:09 pm Nicole and Ovi
Ovi – if Nick falls Bella will become a target quickly and Sam will be a loose end that we can pick up but I don't think that will happen as long as Nick is in the game. They have a three as long as we have a three
Ovi – if Nick didn't want to be the 6th man on the totem pole we could potentially be 6 with them together
Nicole thinks if Bella goes they might be able to pull in Nick
Ovi – he might ingratiate himself completely with Michie and Jack. I think they trust him to an extent
Ovi – us three if we can get Sam and Tommy. That's 5 strong right there.. (Ohh Ovi… )
Ovi – CHrsitie is the one person that put me up and got me out but maybe Christie is the one person.. she's smart too.. she'll see the people paired up
Nicole – she's number six and Tommy's number 7
Ovi – she's 5 and he's six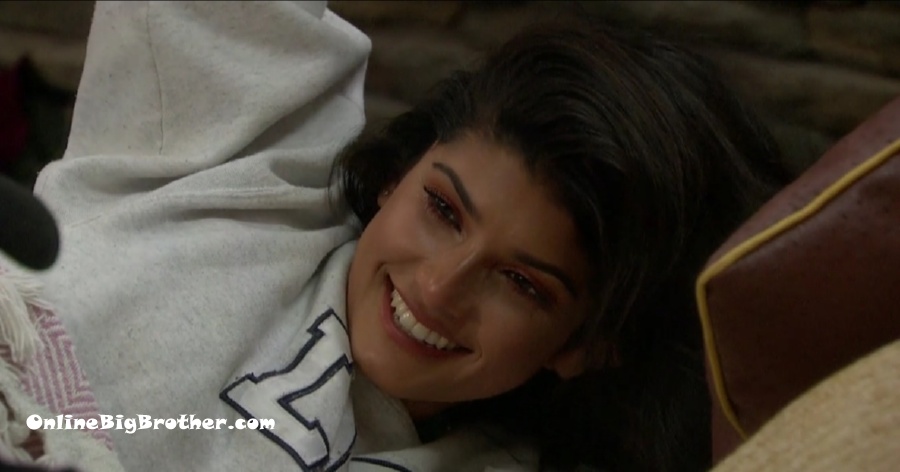 5:17 pm Jack and Sis
Jack – I'm worried about us and you and our game… I don't want to stop spending time with you and stop spending time with you
Sis – I don't want you to think you have to .. I don't get sad or weirded out it's a game I get it.. I understand
Jack – I don't want you to walk away we need to figure out our game and what's best for it. I want to protect you. I know you don't need to be protected because you are a badass..
Sis – I'm strong
Jack – we're the strongest couple here
Jack says they rushed things on his birthday..
Sis – I'm not really good with my words.. I'm really ba with words.. I don't want to put a target on you. I'm trying to think how to word this but I still want to hang out ( with your giant c***k)
Jack – I think you are sporty and sexy and interesting as f*
Sis – thank you
Jack – I can't wait to get to the deeper layers of you like Christie speaks so highly about like you are when you are with her
Jack says there are two other couples that need to go before they go
Sis – totally we're stronger
Jack – Christie and I are a friendship it's an incredibly close friendship I would like that with you as well ours is something more than that I think it has the possibility to be more than that
Jack – I'm not going to lie I do have a connection with Christie I love that broad. I really do enjoy you and when you walk into that room it's really f*ing awesome
Sis – ohh you're so nice you're going to make me cry (ugh)
Jack – if you won HOH wi would mind spending a couple of nights but when we're down here common area maybe we need to pump the breaks a little bit
Sis – ok
jack – and if people are asleep I would love to spend time with you (aka hand j**) lay with you for a while and stuff
Sis – ok
jack likens them in the house as being "celebrities, you're going to have as many haters .. two lovers for every hater"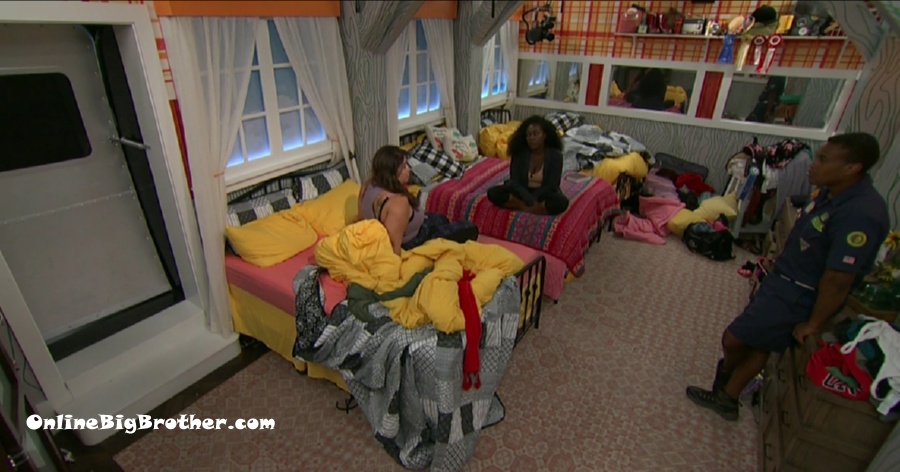 6:05 pm Kemi, and jess have spent the last hour chatting. David joins them in a little bit. (why bother chatting to people that have votes when you can chat with people that don't have votes)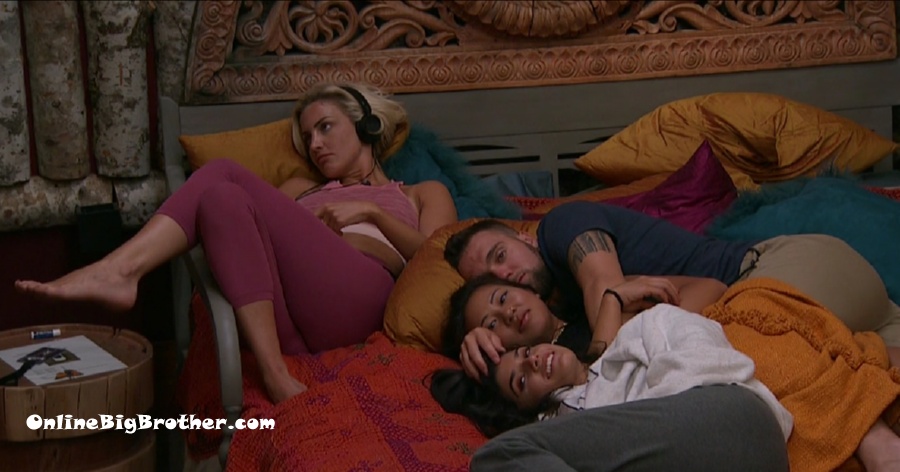 6:14 pm Bella – I wish I had a big shlong to cuddle with
6:37 Michie cooking meat ..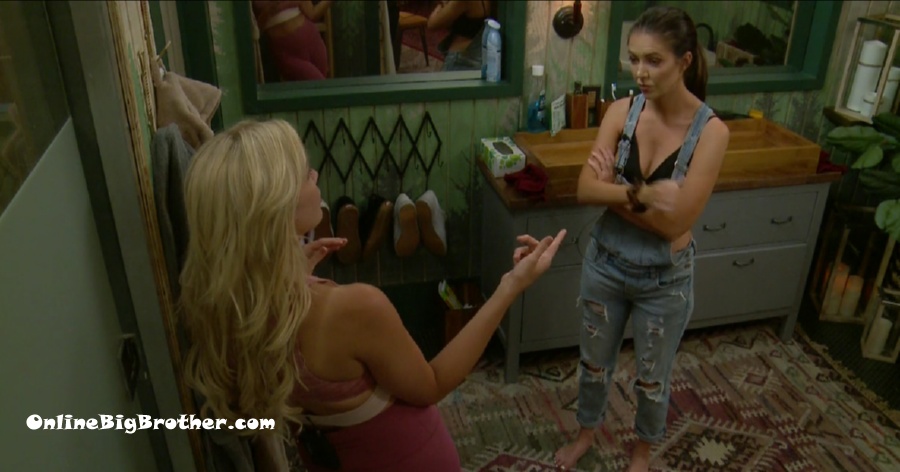 6:37 pm Kat and holly
Kat says Holly doesn't need to stop hanging out with Jackson.
Holly – that is sis is trying to do with whole back off of Jack stuff
kat – I think it's stupid
Holly – should i back off with the Jackson stuff, I haven't even kissed the guy or anything that's what crazy. We haven't even kissed or held hands or anything
Kat – I wish y'all did, who cares
Kat – why don't you send Jackson to flirt with Bella
Holly – that would be way too obvious and Ewww like what
Kat laughs "he use to"
Holly says she was hoping Jackson getting injured would have taken some of the heat off her but it did the opposite
Holly – people see us together but they don't see him as a threat they see me as a threat. A game threat
Holly hints that Jack and Sis are not together anymore
kat – are they not going to last long
Kat – SIS is scaring me
holly – me too
Kat – she is visibly upset.. I try to be nice to her but she comes off like a b1tch .. I don't mean that in a bad way .. she shows it on her face.
Kat – all the girls that are already not jealous of you are going to think you are a b1tch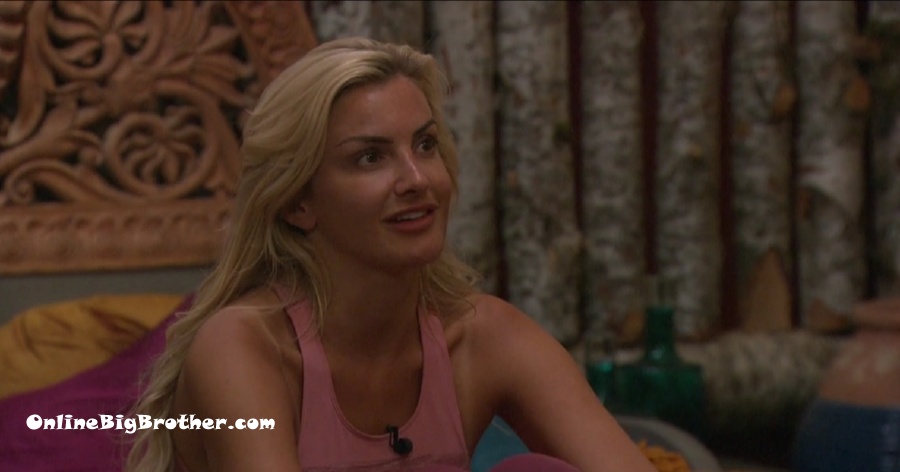 7:00 pm feeds were down for a bit when we come back Holly is saying she doesn't think anyone would suspect the two of them working together.
Kat – Bella has to go. who would have the balls to put Bella up? other than me
Kat says the only way she can pull it off and not blow her cover will be to put Bella and someone like JAck.
They talk about Kemi always asking them how to look like them. It makes them feel weird.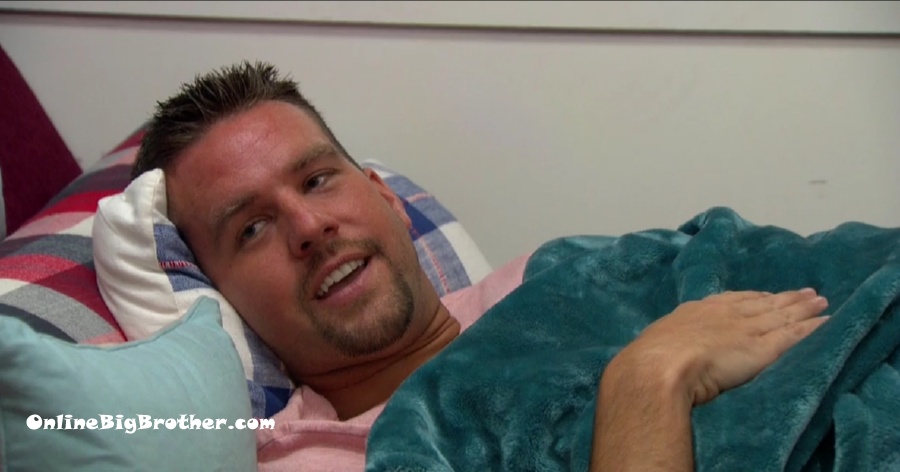 6:48 pm Bella and Sam
Belle – there's an 8 and you're the ninth.. you know who everyone is
Sam – yeah yeah yeah
Bella – Me and Nick are waiting to figure out how to ….
Sam – why am I the ninth why am I not in it?
Bella – it was way made way earlier..
Ovi comes in .
7:18 pm Jessica and Ovi like the food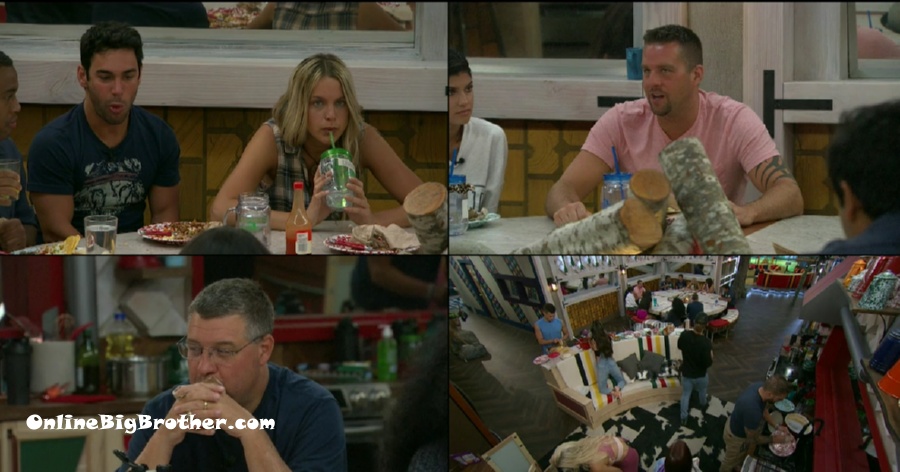 7:30 pm everyone enjoying the tacos