Big Brother Spoilers
Jack wins the Head of Household. Nominated Jessica and Kemi.
Power of Veto Players: Jessica, Jack, Kemi, Jackson, Sam, Bella.
Power of Veto Winner: Sam and wins Fiji trip.
Jack won the whacktivity power can opt for a POV player redraw.
Jessica is the pawn and Kemi is the target.
Power of Veto Ceremony results = Sam did not use the Veto nominations stay the same.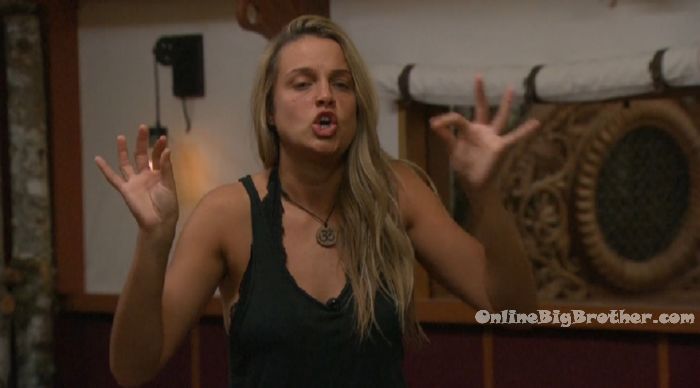 8:05pm HOH room. Christie and Analyse. Analyse – I want to sleep down there. Christie – you need a good nights sleep. Analyse – yeah working out too much over there. (She points at the HOH bed.) Christie laughs. Analyse – I feel like she does really trust us. Christie – I think that Jess is going to go next week. Because of the battle back, I don't think Nick should go yet. He will battle back. Analyse – if America votes, America isn't voting for Nick. Christie – yeah but I don't know if its a vote. We'll see how it goes and who wins HOH. Analyse – one of us has to win that. Christie – has to, has to… I'm going to win it. Or you!
Its going to be eating. I'm going to try and F**K with Nick before the competition too. I'm going to make him eat something nasty. I'm going to make him eat stuff that's going to mess with his stomach. Analyse – he is really scared of you. Christie – he should be. Look at how he was running his mouth. I've got Nicole. Analyse – did you see how he told Nicole, I've got everyone up there in the HOH wrapped around my finger. Like f**k you! You ain't got me. Christie – no sorry, we've got you. Sorry. He is .. hell no! And he is getting on everyone's nerves. Its corny. Analyse- I just want to see what Kemi is saying about him. I'm going to try and get information from her before we send her out.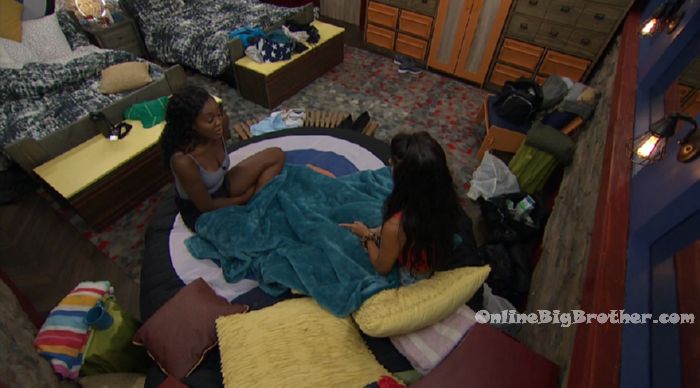 8:09pm Bedroom. Kemi and Analyse. Analyse – I am still trying to figure things out. Kemi – I would never come after you. Analyse – I did hear though that my name was coming out of your mouth in the beginning, I don't know if its changed now. In the beginning I did hear that you were going to put me up if you put up Jack or you know. Kemi – no. I've been very vocal about putting Jack up because I heard that he wanted to put me up. I would have never put you up. I guess its easy to say because you and Jack are close that it would make sense to put you two up. I don't really have a reason to. For my game it would make sense to put up two people that one was assured to go home. And I don't know if Jack would go home if I did put Jack up. It never crossed my mind. I literally don't have anything against you. Analyse – I was just confused because I was like I've ever even done anything to Kemi. So what other thoughts do you have on this game? I think we could work together. Analyse – the person I am keeping is the person that can further my game. Kemi – I have no intention of coming after you. I don't think I am a threat to your game.
8:18pm – 8:50pm Christie screams – IT'S THE OWL COMPETITION!! Big Brother blocks the feeds. Everyone heading out of the HOH room. Jack – thanks for all staying in my HOH room. Jess -thanks Jack. Thanks for hosting. Nick to Jack – I can't wait to send Jess home.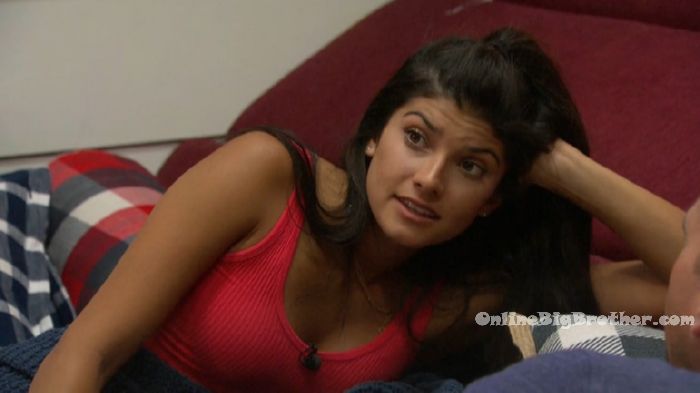 Boat room. Analyse – I don't want you caught in their crossfire. Sam – that's the thing that sucks with couples. Analyse – out of the couples, Nick and Bella are the strongest. Sam – oh definitely. Analyse – and if you were to get Nick out .. Bella wouldn't know what the f**k to do. If you were to get Bella out Nick wouldn't know what the f**k to do. Whereas if you were to get Holly out, Jackson wouldn't give a f**k. If you were to get me out, Jack wouldn't give a f**k. If Jack went out, yeah I would be sad but I am f**king here playing my own game. I don't rely on Jack. Sam – we're supposed to make it to majority .. what the hell. Analyse – how can we?! With him (Nick) f**king scheming behind our back. Or not our back but at least our back. Like how can I trust the majority when I hear one of them saying my name. You know what I mean? And then I get scared for you. I just don't want people to associate you with them (Nick and Bella) and think you're in on it. Sam – as long as you guys know the truth, that's all that matters. Analyse – if Nick and Bella were to do something drastic like.. Sam – I don't think I would let that happen. Analyse – if someone does get me out next week, I will come back from camp comeback.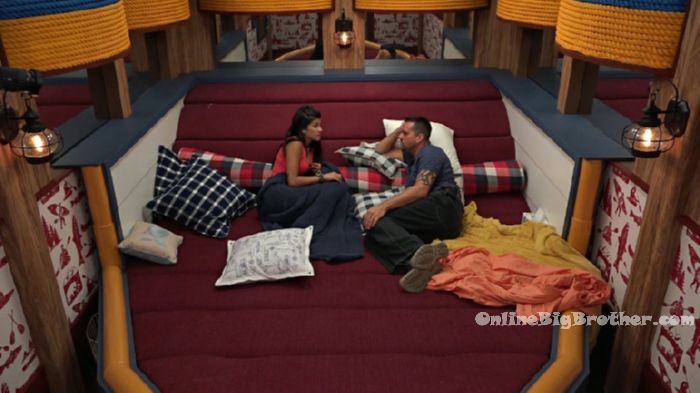 9:10pm – 9:40pm Bedroom. Holly, Jack and Jackson. Holly – she (Nicole) was really pissed that he (Nick) called me a b***h. Jackson – wait what?! Holly – Nick called me a b***h. Jackson – when, to who? Holly – last night to Nicole. When people were calling Kat a basic b***h. He said that I was a real b***H. Jackson – can we just stop for a minute and realize that regardless of who it is we shouldn't even be considering anyone that the other half of the house wants to keep. Holly – she is convinced that Nick and Bella are only trying to flip the votes to piss you guys 2019. Jackson – Nick and Bella have to go! They have to go.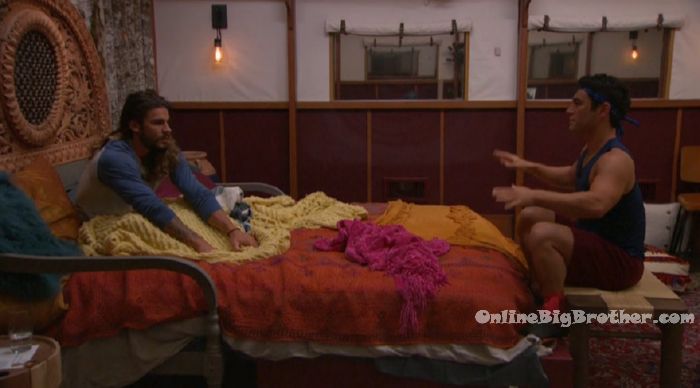 10:13pm – 10:20pm Jack and Tommy in the HOH room. Tommy – I feel like Nick and Bella are the only ones that are planting seeds that these showmances. NO one f**king cares! Nobody! Jack – well Cliff.. but who the f**k cares about Cliff. Tommy – Cliff cares, Jess cares… who the f**k cares! We can beat them in any competition. Jack – every time. Tommy – we have a team. We don't need to worry about you and Sis sleeping in the same bed. Who gives a f**k. Jack – I am all about the 6, I'm all about you. And Christie of course and our final 3. Tommy – yes, I would love that. I think she's amazing. Jack – I agree completely with you about Sam jumping ship holding that alliance. I don't fault you for saying yes. I am just glad that you told me. Tommy – it happened last night.. I don't even think that Nick is that much of a threat… especially the way he is playing.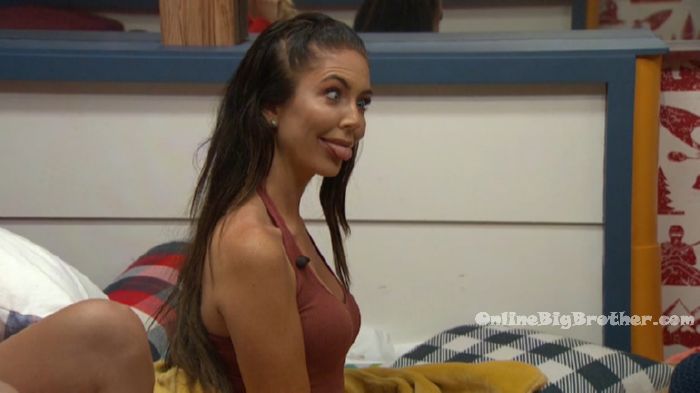 10:40pm – 11:08am HOH room. Jackson, Jack, Christie, Analyse.
Jack – Sis your play is well warranted and I know you don't like Nick right now and I know you don't like Bella right now .. they are backdoor players. They are too competitive to play for the their own veto.. so you have to backdoor them. Analyse – obviously. Christie – and they're also the type of people that if given another week or even given two days in this house they will throw our alliance out. They will drop the name. They will drop the numbers, everything. Analyse – It just makes me nervous because he keeps saying my name to Nicole. Christie – its cowardly, he is going after the girls because he is a f**king coward. You want to make a big move then put the boys up. Its a b***h move. Did you come to play or did you come to pick on girls because you're jealous. Jackson – big d*ck energy because you're going after girls.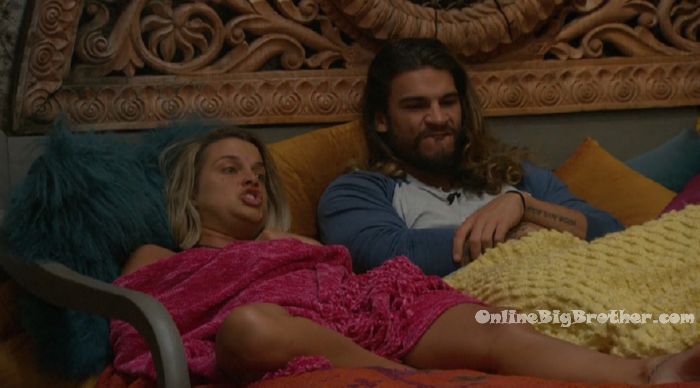 12am Tommy and Christie.
Tommy – this is our excuse to get Sam out. We put Sam and Nick up together and then Bella is the backup. Christie agrees. Analyse joins them. Christie – I dont trust Nicole. Because Bella and Nicole were cozy whispering in the bathroom. When we walked in she was grilling me with dirty looks and then she said alright I have to go to bed. I have an HOH to win. And then said it again when we were in the kitchen. Analyse – and then she just called me over and asked we're still voting Kemi out right/! And I was like yeah that's what I'm doing. Christie – it was me, Sis, Holly, and Nicole … and talked for awhile. Nicole as trying to convince us that Kemi is really mad at them and against them and we should keep her. I don't buy that. They're all plotting to get numbers. Nick and Bella told them and they want to flip the whole house. I am telling you, I don't trust Nicole. Jackson joins them .
12:40am HOH room. Jack and Analyse. Kemi – is going to try and get votes. We're fine. She is just doing drama drama stuff. I talked to Nick for a long time and everything still goes as follows. They'll never put us bot us. There is no way. If they were to win HOH. We are backdoor possibilities. Analyse – why is saying my name? Jack – because he sucks. Analyse – oh f**k I am going to win this. Sam is flying the coop. Analyse – he is so smart. Jack – he is probably the smartest person in this house. Its good for us.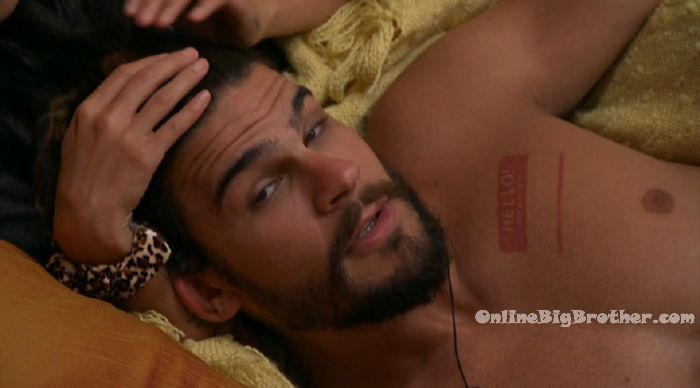 1:38pm HOH room. Analyse and Jack.. Jack – I think you should shoot for the HOH. I think you'll get immunity. Analyse – Nicole f**king sketches me out. Jack – she has no idea what is going on.