Big Brother Spoilers Jack wins the Head of Household. A new twist called CAMP COMEBACK allows the first four evicted houseguests stay in the house. They do not play in competitions or take part in ceremonies but one of them will be given the chance to come back in the house.
They got to see a commercial for the Power of Veto it will include a trip to Fiji. Jack has nominated Jessica & Kemi up. Jessica is the pawn and Kemi is the target. Sam won the veto and does not plan to use it.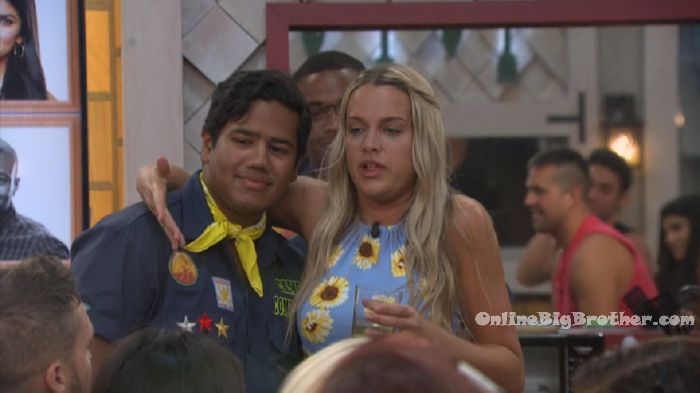 8:50pm All the house guests are in the kitchen Christie – Ovi is my self-proclaimed brown flame. He called it so I .. Big Brother blocks the feeds. Jackson is back from the DR. They comment on how his foot is doing better. They grill him about needing have ice on it, 20 minutes on 20 minutes off. Jack – we could just cut it off?!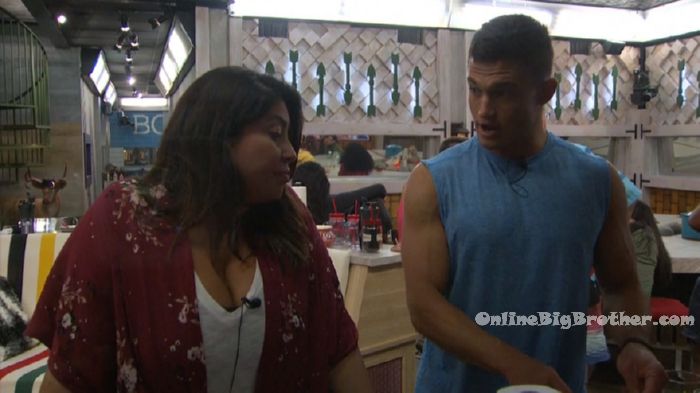 9:05pm Kitchen. Jessica talking to Jackson. Jess – I am just grateful that I got to compete with some power players. Like there's not many times I would get to compete with people like you and Jack and Sam and Bella. Jackson – Sam could have very well won three things already. And he's beaten Jack two maybe three times. And he's beaten me once, maybe twice. Sam is showing out! Jess – yeah. Jackson – and very early at that. He did well. Jess – I know I need to talk to him. Jackson – yeah you do because he does not like Kemi. Jess – he doesn't?! Jackson – maybe he does, I don't know. I don't talk game with him. Jess – well if you don't talk game with him, I wouldn't know.
Cliff – I really don't think Sam will use it. Kat – I heard that he wouldn't. Cliff – then its kind of just letting them.. I don't want to see Jessica go home. Kat – I don't think anyone does. I think she is kind of unfortunately .. digging a grave for herself but she's dragging Bella .. which doesn't bode will. Its kind of creating some friction. Cliff – all because of Nick and his connection? Kat – I don't know… its getting messy. From what I've heard everyone wants Kemi out this week and Jess out next week. Cliff – I was thinking is everyone thinking get Jess out this week just because Kemi is an easy target next week.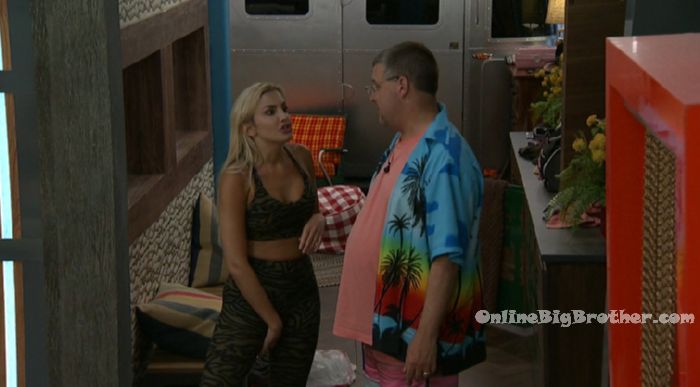 9:10pm – 9:45pm Boat room. Ovi, Jessica, Kat, Nick, Sam, Christie, Bella, Analyse. The conversation turns to talking about the Bachelor / Bachelorette. Kat says that her ex-boyfriend was on Desiree season. He was the guy that wore the dental coat. She says that production made him wear it. She says that he got grilled online about it because he was a dental student and people were bothered by him wearing the dental coat.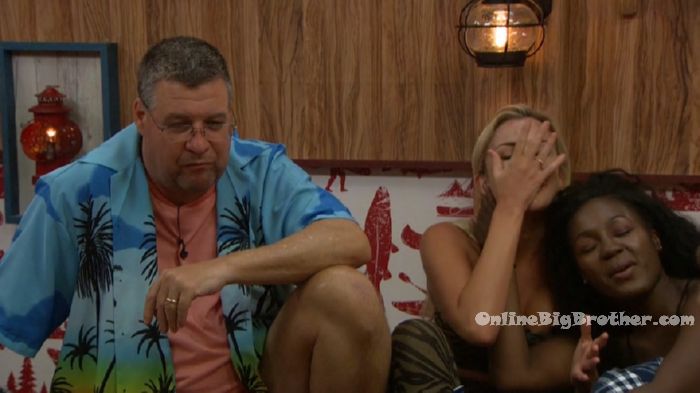 9:56pm – 10:25pm Boat room. Nick – Jess is spiraling. Sam- I know, you should say sh*t to keep her spiraling. I've heard her name way more than yours. Nick – she is just running her mouth. Sam – what was it that she talked to Jack about? Nick – she said I was a mole or something. Sam – that's offensive to my mole. Nick – what the f**k, I don't even talk game to Jess. The only people I talk to is Bella, Michie and Christie. Nick – the only mole is Ovi. Kemi – yeah Ovi had a final two with everyone. Nick – every person in the house. The conversation turns to talking about random things and Bella talking about her roommate and all the passive aggressive things he would do to her.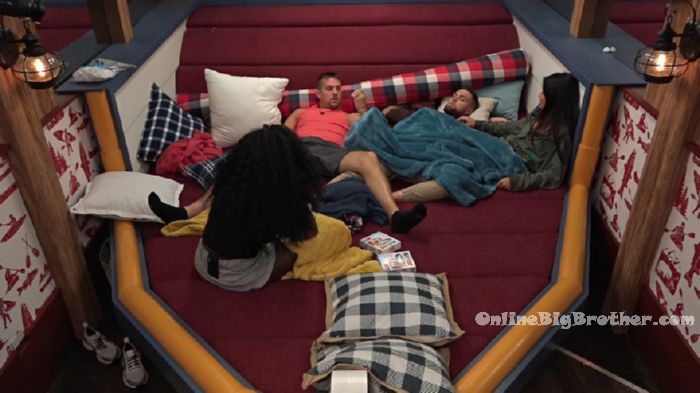 Cliff being Cliff #BB21 @bigbspoilers pic.twitter.com/cptuVaAF1b

— Dawg (@DawgsBigBrother) July 7, 2019
10:55pm – 11:10pm HOH room. Jack, Jackson, Analyse, Holly and Christie. Jack – I don't want to make any decision this week. It's a gr8ful decision and not a Jack decision. Its up for discussion. Jackson – I think that Kemi needs to go this week. She has blatantly clear that without question she is taking shots at us. Jessica on the other hand is less of a threat in competitions and two may or may not take a shot at two of us. Jack – she came in second in both the HOH and POV this week. Jackson – Jess would probably take a shot at Nick and Bella. We can protect them with the votes. I think we need to protect ourselves from someone who has made it clear that she is coming after us. Kemi needs to go first, the sooner the better. If she stays in this game she will win something and she will f**k up our game. She almost won today.
They all agree they're voting Kemi out. Christie – Nick and Bella said they're voting out Kemi too. (All the Gr8ful 8 are voting out Kemi at this point.)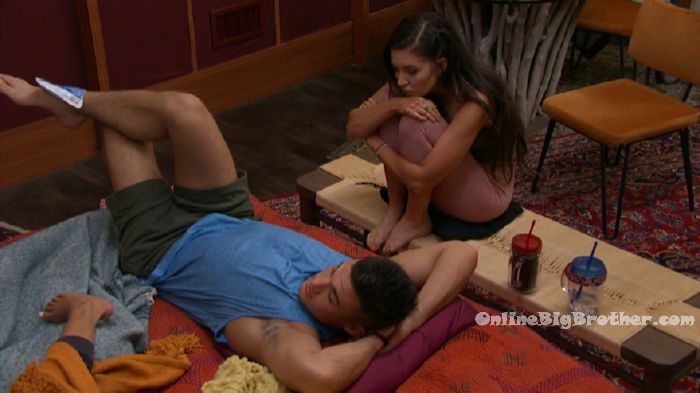 11:37pm Ovi and Nicole using the backgammon chips to studying.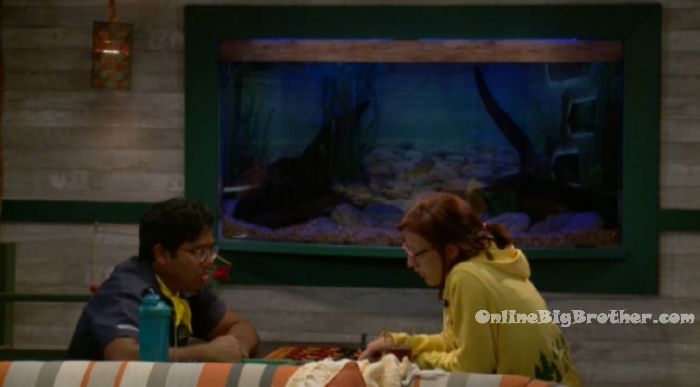 11:40pm Jack laying with the lights off. Analyse joins him..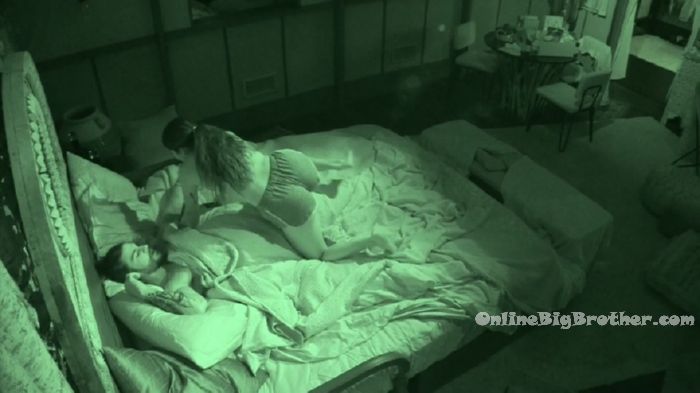 11:43pm Bathroom. Jackson and Holly. Jackson – keep him down. What? You ain't got to ask me twice. Holly – yeah, I know. Jackson – f**k off. Don't throw that in my face. (Jackson & Kat hooking up) I was weak, I was vulnerable, I made a mistake. I came to my senses. Holly – right.. what a life characteristic. I was weak. Jackson – I was pressured. I was a victim. Jackson – I will say that she really was the instigator. holly – I believe that .. I got the behind the scenes. I mean I talked to both of you. Jackson – I have no doubt she went rambling.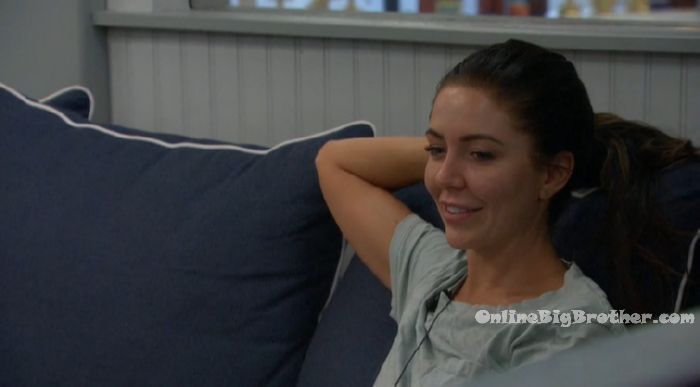 HOH room. Analyse goes in to kiss Jack. He pulls the covers over as they make out..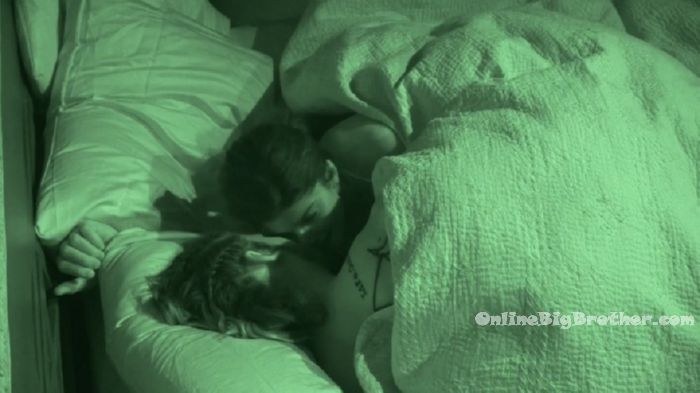 Analyse goes in to kiss Jack.. #BB21 @bigbspoilers pic.twitter.com/TgibTPFfga

— Dawg (@DawgsBigBrother) July 7, 2019
11:55pm Big Brother opens up the backyard.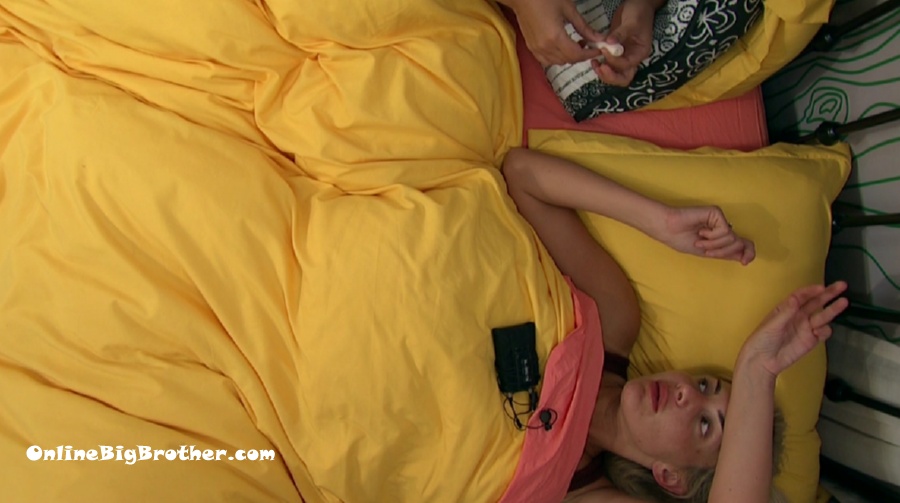 12:10 am Kat and Jessica
Kat – CHrsitie, Tommy, Sam, Nick think Kemi's the problem
Kat – JAck, JAcksonm, Sis, HOlly think Bella is the problem they need to get rid of her minions before they get rid of her.
Kat – they want to get rid of Kemi but their target is Bella
Kat – so that's already 8 people that want Kemi out, Your fine
as long as you lay low
Jessica – I think I'm doing a good job if it's my time to go it's my time to go
Kat says Kemi still hasn't washed a dish "she still walks around like she owns the place. She's walking around like she's got nothing to lose"
Kat – she doesn't pull her weight around here.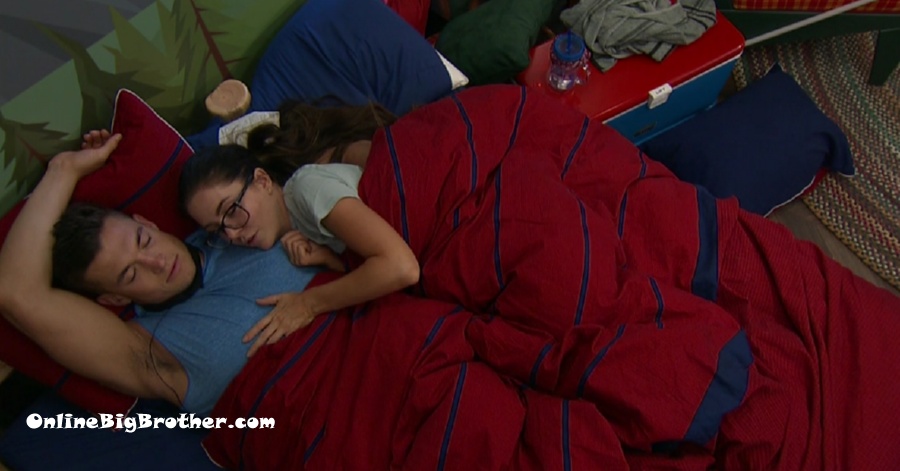 1:28 am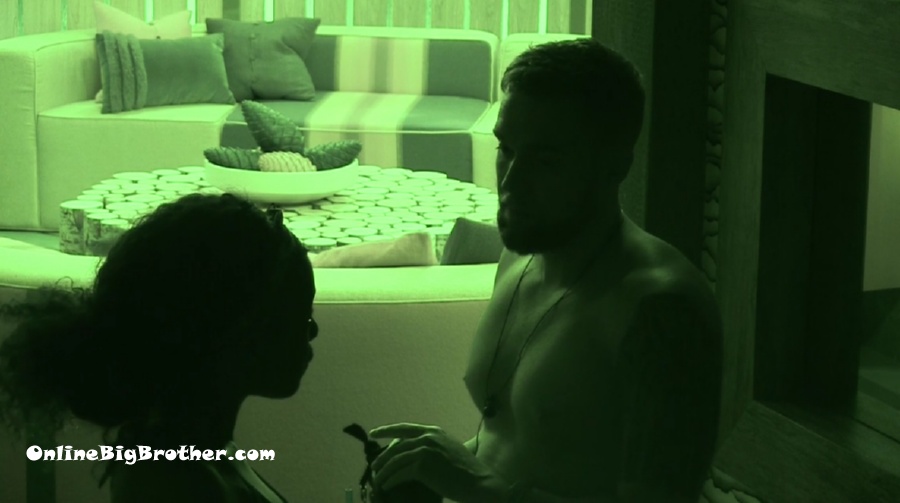 1:53 am Kemi and Nick (hard to hear)
Talking about Getting Jessica out. Nick saying how Jessica is going to implode.
Kemi – do you think Jack will still want me out. Regardless who of us stays it's not like we won't put him up
Kemi – she'll put up Jack and Jackson 100%
Nick tells her she needs to find out for sure
Kemi – that's what she's been saying for the last week and a half like cut off the head of the snake Michie will do whatever Jack says.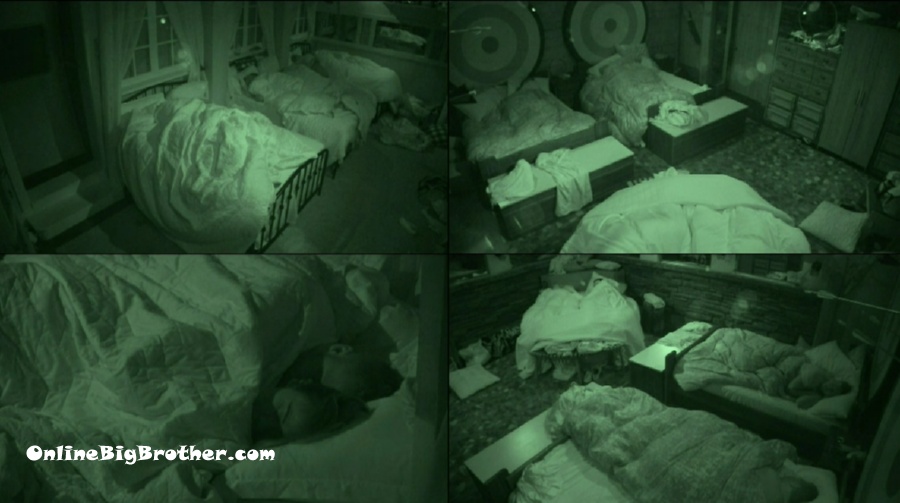 7:34 am Sleeping