Big Brother Spoilers Jack wins the Head of Household. A new twist called CAMP COMEBACK allows the first four evicted houseguests stay in the house. They do not play in competitions or take part in ceremonies but one of them will be given the chance to come back in the house.
They got to see a commercial for the Power of Veto. Brett will host and it will include a trip to Fiji.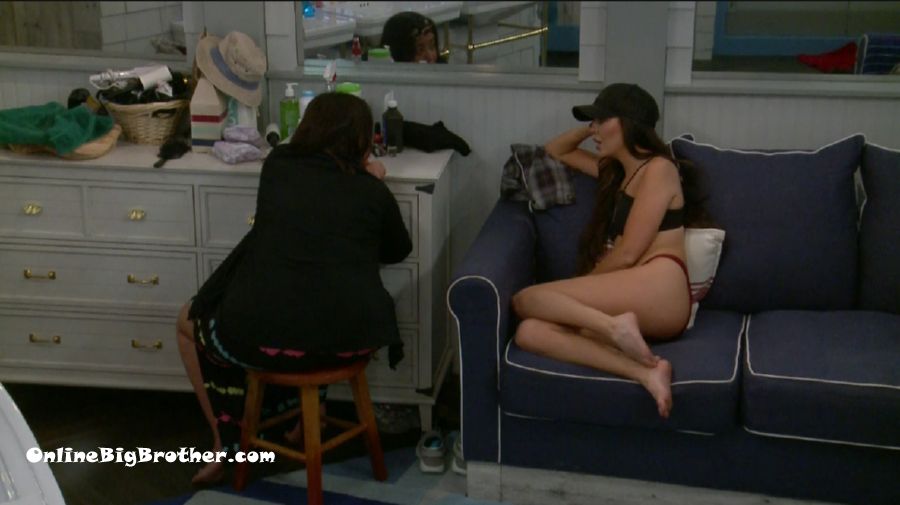 1:47 pm Holly and Jessica
Jessica is worried about being portrayed as boring or a b1tch because she's not half the person in the house than she is outside.
@ 2:00 pm Holy starts going on about working so hard to keep kat safe but being so paranoid, "I've exerted so much energy for you (kat) I'm not leaving any for me"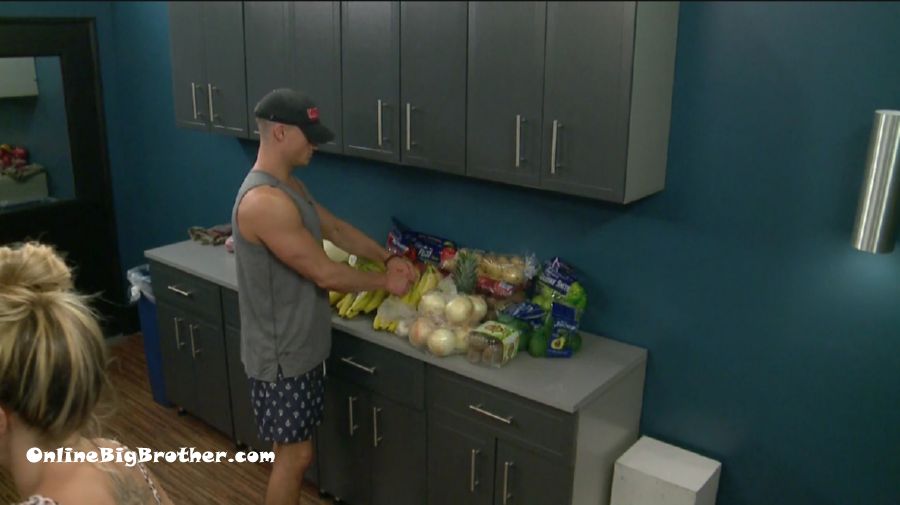 1:49 pm the storage room was filled. Jackson is happy.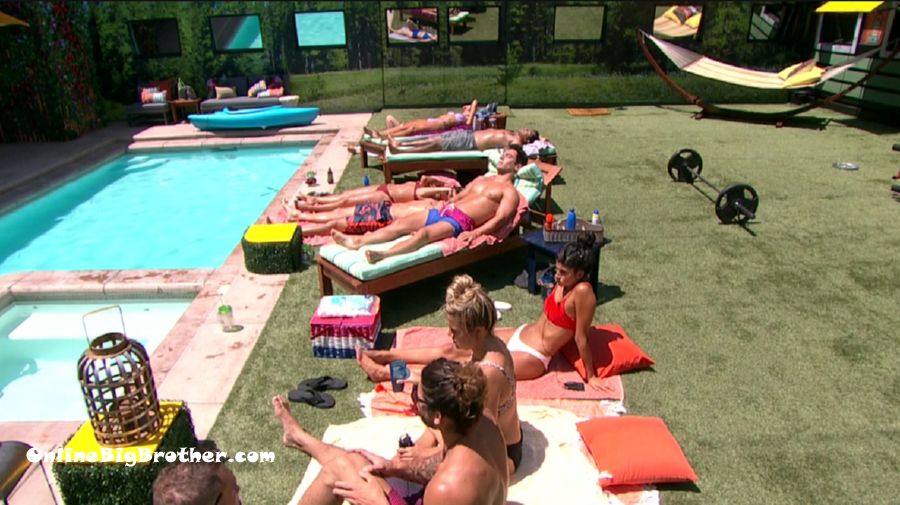 2:15 pm Backyard chunk of people
Jack talking to Christie.
Jack – I quoted Sam's quote from last year. Sam had a quote from last year where she was saying she was talking about JC it's all good all the fans would understand I was just quoting that.
Jack – they (Diary room) said you should probably not say that again and I was rightfully so
(This was for Jack saying he wants to "Stomp a mudhole through her (Kemi's) chest"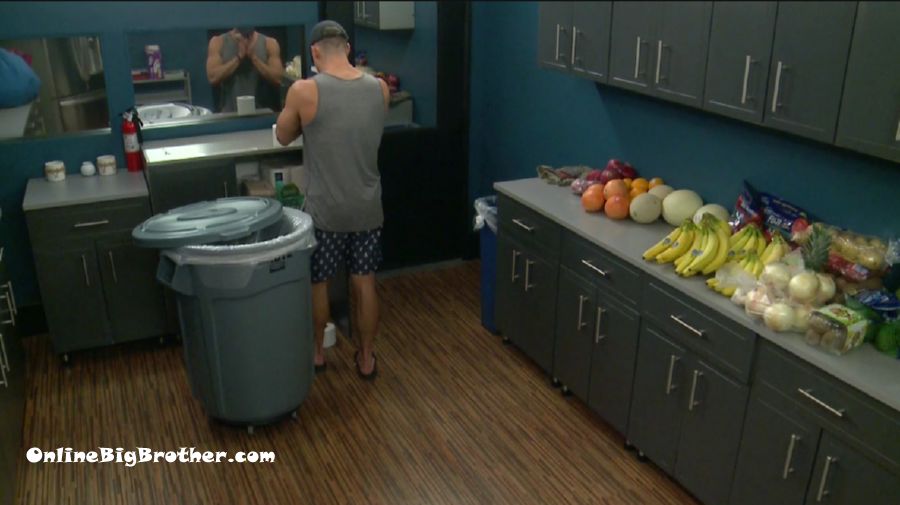 2:23 pm
Jackson comes out of the Diary room looks like he was crying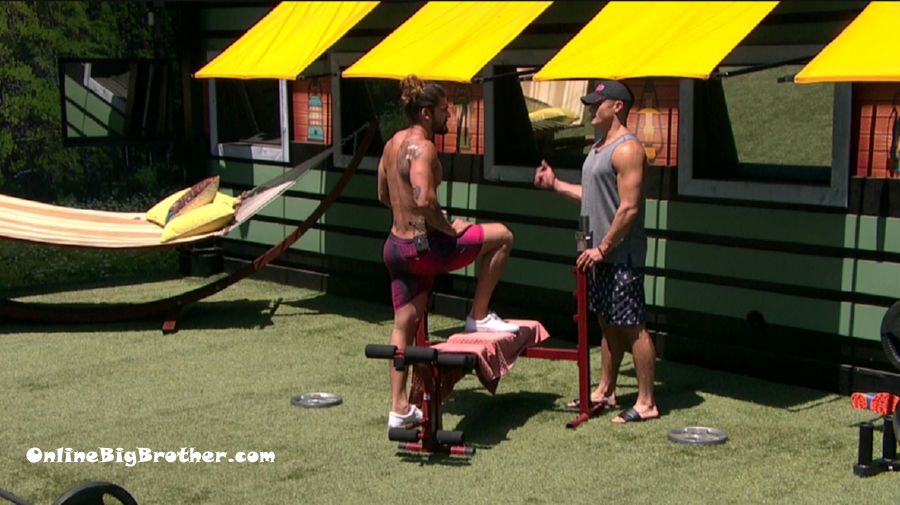 Jackson tells Jack they can't talk about what he said otherwise on the feeds they will go back and look.
(Jackson got a warning for saying he wants to "mule kick, kick in teeth" David for the comment David made to Jackson about reading a book)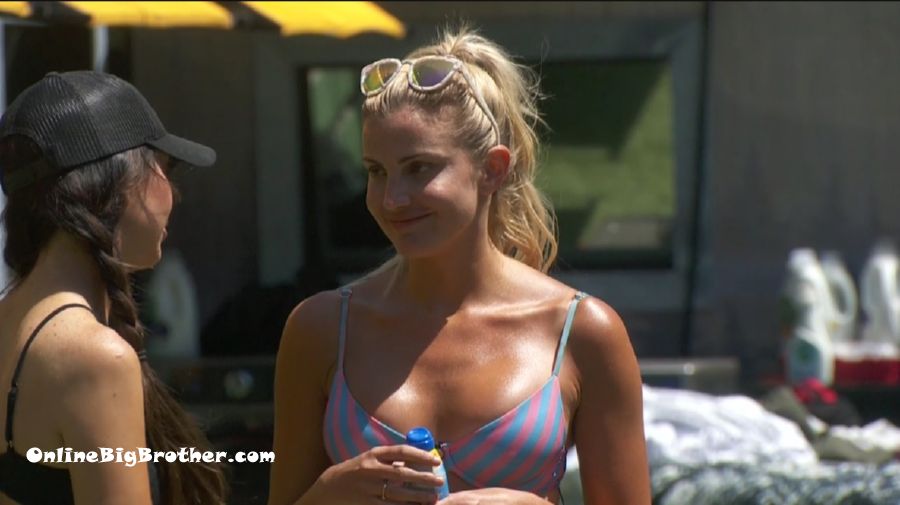 2:29 pm Backyard Kat and Holly
Kat – Hi my love can we talk for a second
Holly – I don't have the energy
kat – no it's fine it's not game
Holly – I know but if it's anything remotely serious I don't have the energy
Holly – I just had a breakdown today and I don't want to exert any more energy
Holly – I'm just depleted
kat – have you been taking your daily vitamin
Holly – yeah, it's not kicking in
Kat – and your electrolytes.
Holly – I just took them
Kat – love you, you're my girl
Holly – thank you, I have nothing left.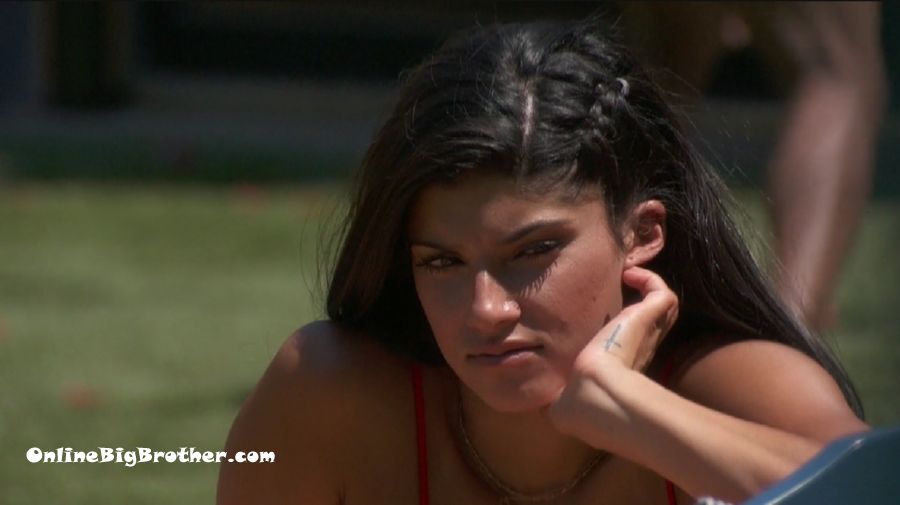 2:30 pm Sis, Holly, Christie
(David was trying to organize a cornhole competition)
Christie is suspicious of this says the only reason he's doing it is to see who pairs up (cliff was telling everyone about David bragging he was an expert at reading body language)
Christie brings up asking David "when are we playing" and he replied "whenever everyone has their partner picked"
Christie – it was like weird.. so I said as a joke are you trying to incept us and he goes I already incepted you 5 minutes ago
Sis – what does that mean
Christie – f* with your mind
Sis – he's a weirdo a F*ing weirdo I don't like it
Sis – I just want to be in a bathing suit all day (same)
Christie – Everyone is weird today something happened with actions I can tell.. He probably got confronted about something. we can't talk about it
Holly – he's really upset
Christie – yeah I can tell
Holly – David being here is really f*ing with his head.. I wish it didn't get to him but at the same time, I wish I didn't let Kat get to me yet here we are. All those people infiltrate our peace
Christie says the same happened to her for 2 days she just hated Jack.
Sis – I'm trying to think of things I can do to switch up this energy right now, I don't like it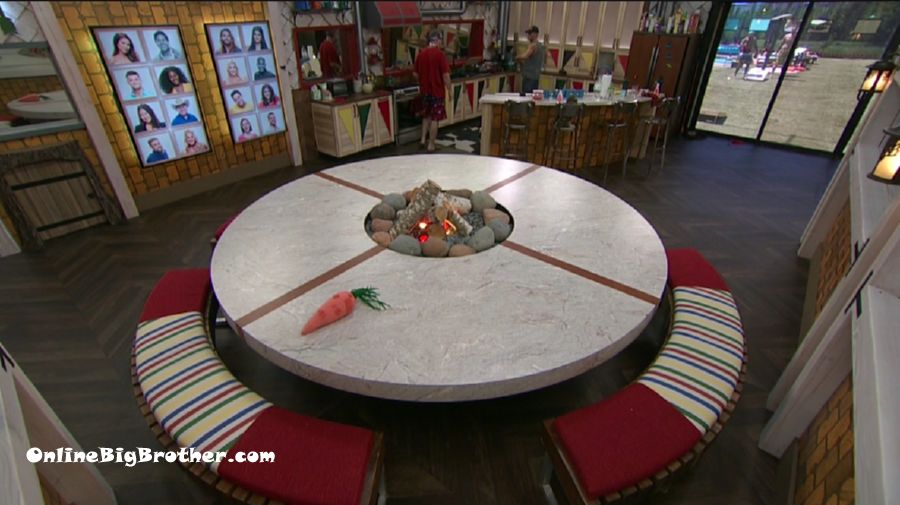 Cliff – Jackson you're OK I see a lot of whispering going on
Jackson – I've been better
Jackson starts saying he was in the Diary room and the feeds flip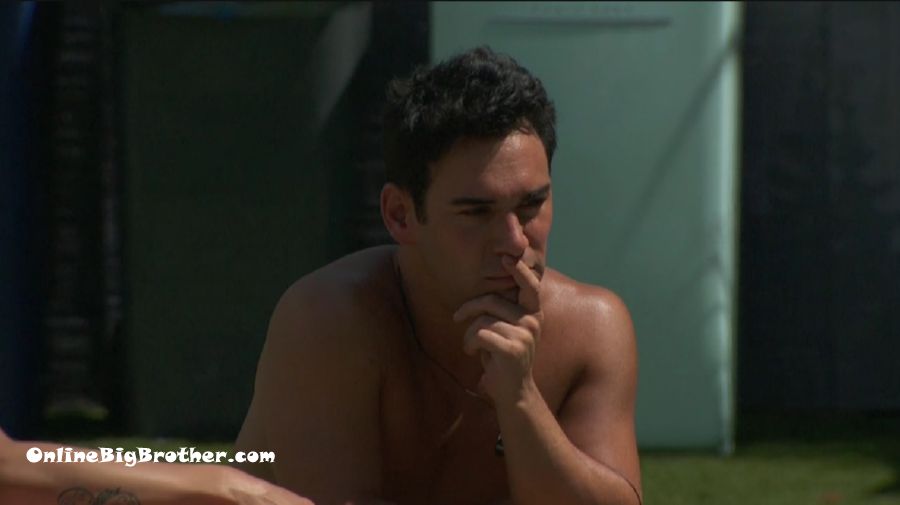 3:01 pm Tommy, Holly and Sis
Holly says Cliff is the same mindset as they are. he wants Kemi and Jessica
They talk about Kat being "one of the four"
Holly – self evicting will go down in history she'll get more followers..
Sis about the evicted houseguests "I do hate they get to stay though.. I'm sorry. I wanted it to start to dwindle down
Tommy – right
Holly – I feel bad saying that but I'm not glad they are back"
Sis – I wasn't excited when we found out I was just cheering
Holly – in a few weeks we'll have 3 gone
Tommy – I think it's a cool twist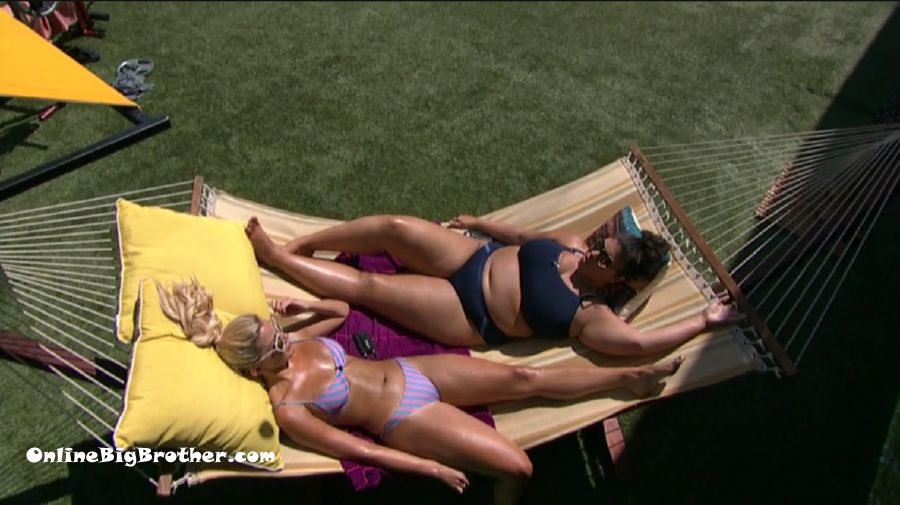 3:16 pm Jessica and Kat
Jessica says the first HOH was her chance to prove herself "I was the first one off on that HOH comp"
Kat – you fought yourself back from banishment that day give yourself some credit
Jess – true true
Jess – to leave without ever winning HOH I would die. I would want at least a HOH or Veto before I left
kat – maybe you'll compete in the veto.. wait that would mean you're on the block or picked.. so I don't want you to compete in the veto (Jackson dumps Kat and she turns into this quirky hot gir)
Kat brings up how the house was telling her and Ovi the same thing they were both fine so that is why she was asking people if she was fine.
Jessica – yeah, but there's only so much you can ask that question before they get upset with you. you keep asking them so much they get paranoid you don't trust them so they don't trust you
kat – true true
Jessica – I honestly do feel like the girls have each other's back
Kat – I do too
Jess – at least right now it would make so much sense
Kat says "they" made her believe she was part of "their thing" (they are Jack, Christie, Jackson, Holly)
kat – and today Jackson is like I have to separate myself from you
Kat – I don't have an alliance right now. Of course, I got the girls backs. I'm loyal to those that are loyal to me
Jess brings up that maybe kat will be used as a pawn and that is why Jackson said that to her earlier today.
Kat – momma no raised no pawn..
Jessica – this whole thing kinda put a target on my back because it makes everyone feel awkward
jess – yup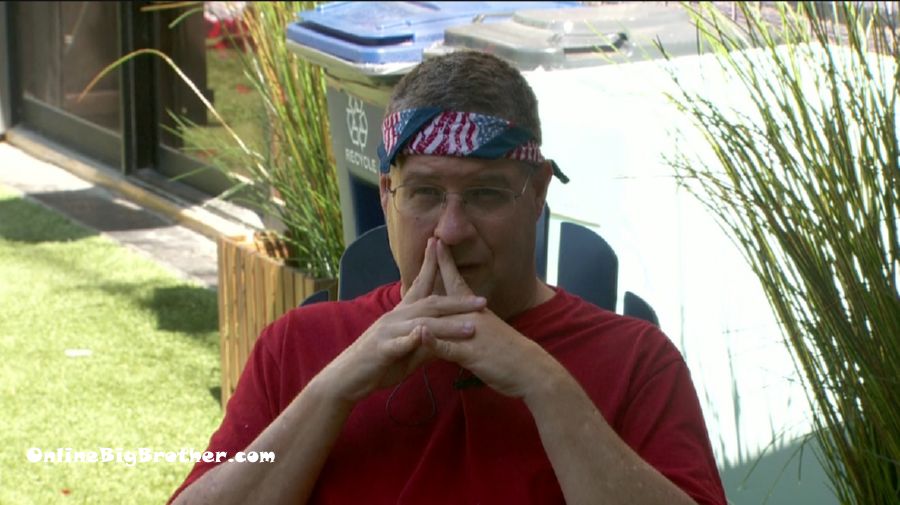 3:45 pm Cliff, Jack, Christie
Christie mentions the weird energy that is in the house today. She wonders if it has something to do with David coming back or the bit twist or maybe it's fourth of July and they're not with their family and friends
Cliff – part of it is that part of it is David
Christie – it's weird
Cliff – he rubs me the wrong way. I don't want to be alone anymore because I fell like he wants to talk and I don't want to have to blow him off on all these questions. Just trying too hard.
Christie going on about David and his cornhole reading body language tournament
Cliff – I came inside I don't want to do that. He already said he wants to see whose close. I just don't trust the guy
Cliff – he's been here so short and he's already organizing activities for the day. It's just the way he said it
Christie – calculating
Cliff – he didn't even come and say HEY guys wouldn't it be fun to do a cornhole tournament. He came out and said HEY we're doing a cornhole tournament and we're going to have 8 teams of 2
Cliff – that's a little forward to someone that's brand new to the family so to speak
Christie mentions that he said to her in the pool he's not a fan of the show he's just heard to "boost his career more"
Nick joins them
Cliff mentions David cornering him this morning
Cliff – I'm like Ghosh you haven't been here long enough to be asking this
Christie – you don't even know anyone. why not spend the first week getting to know us
Christie – he's got two weeks guarantee safe so just choose that time to lay low and be social and not try to mess with anybody
Cliff talks about how much he likes to talk to Ovi
Christie – Ovi wouldn't put pressure on anybody he's a good soul (so you send him home)
Cliff – I don't have anything to do with David this game or socially. I mean I'll be friendly. I'm not going to yell at him but
Christie – he's not even being friendly
Cliff – He intimidates me every time I talk to him
Christie – me too, I feel like he's looking into my soul and poisoning it. the way he talks about inception he's putting thoughts in our heads and I'm like what the f
Cliff – he's a good ball
Christie – he's just different in a weird way
Cliff – very much so
Random Kat
Brought to you by the Letter K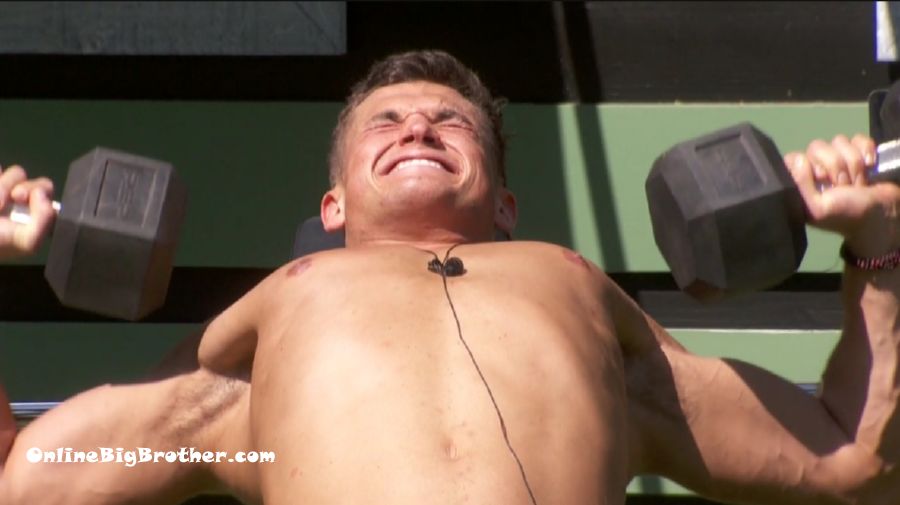 4:00 pm Jackson pumping up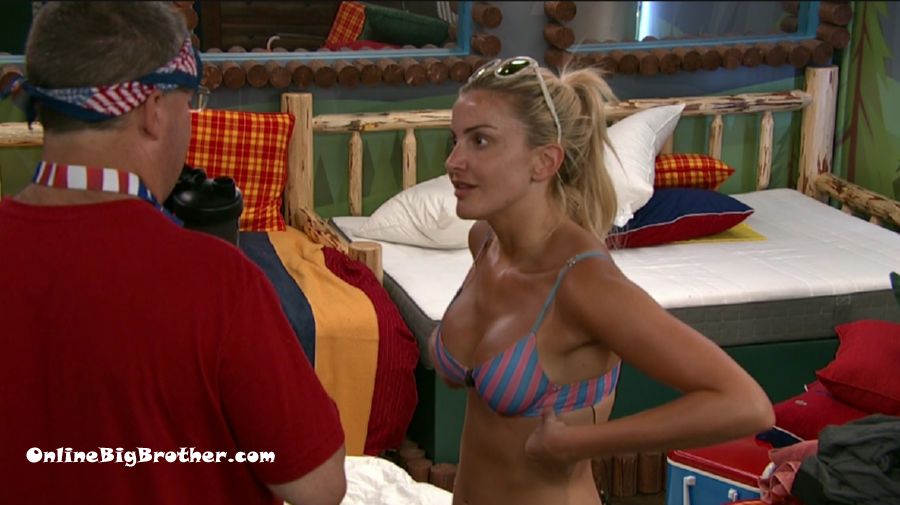 4:35 pm Kat and Cliff
Kat is telling CLiff that today Jackson told her they need to dissociate themselves.
Kat – Last I heard it's me and Kemi going up. it's going to split up the girls..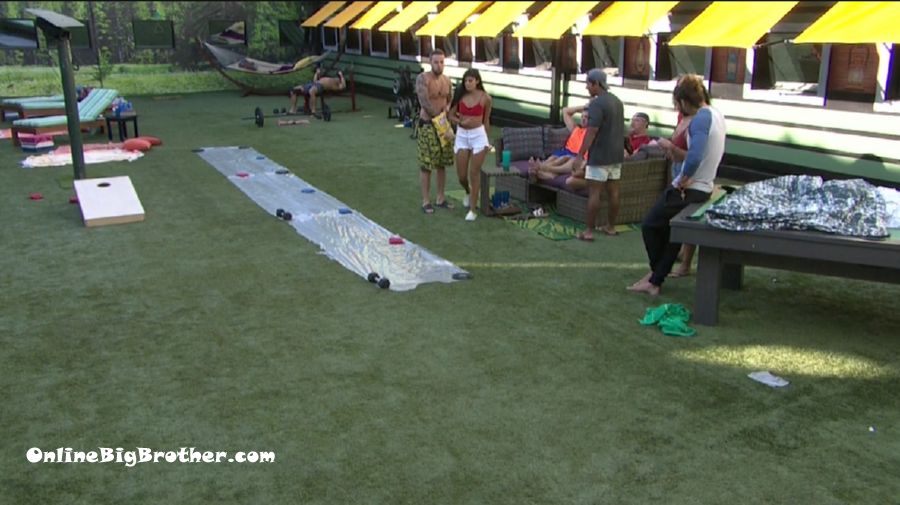 6:02pm Slip n slide (WOW what a treat it's been a long time since a season did a slip n slide. this use to be a Big Brother tradition Died around BB12? )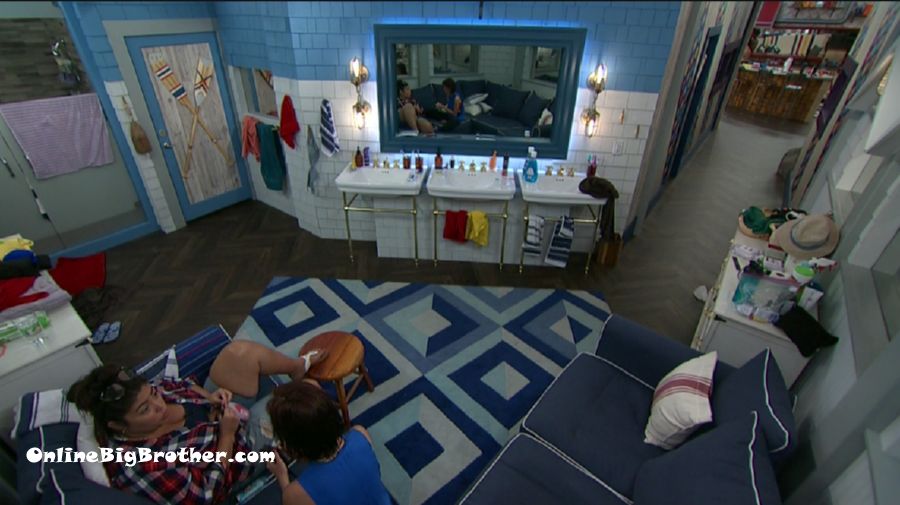 6:10 pmJessica and Nicole
Jess says that she loves Kat but she'll be forever the pawn
Jess – she's not playing this game in a good way
Jess – kat came up to me and she asked for a final 2 .. thank god someone walked in and I walked out
Jess – I wasn't going to say no or yes. I love her
Jess says if Kat isn't going to play a good game she can't be associated to that "She's a massive target right now not because she's a target because she's a pawn"
Jess – right now you know Kemi's HOT
Kat joins them.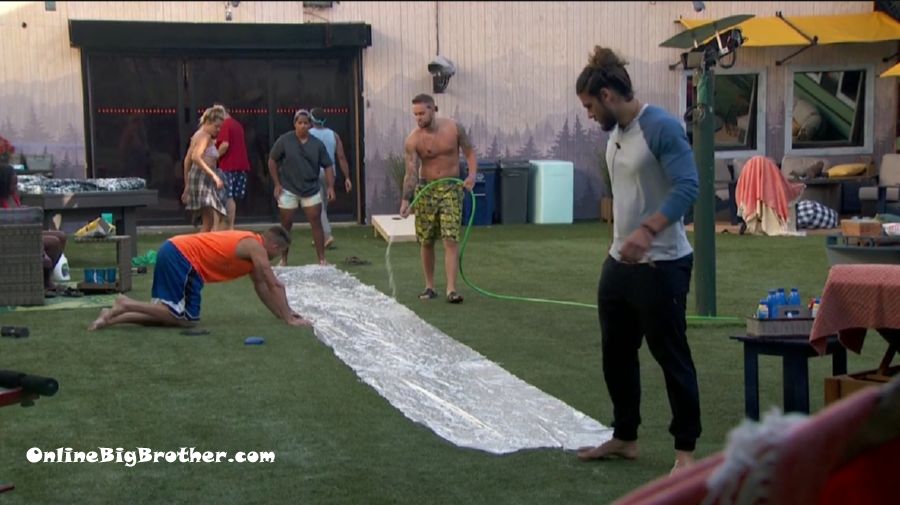 6:20 pm it's getting soaped up
6:30 pm Slip n slide time. Sis was the first one down.
6:55 pm Feeds go to pound puppies.
cliff power slides #BB21 pic.twitter.com/82DBXEBGTX

— OnlineBigBrother.com (@bigbspoilers) July 5, 2019
busted #BB21 pic.twitter.com/PpC1QYZAhQ

— OnlineBigBrother.com (@bigbspoilers) July 5, 2019