Big Brother Spoilers Jack wins the Head of Household. A new twist called CAMP COMEBACK allows the first four evicted houseguests stay in the house. They do not play in competitions or take part in ceremonies but one of them will be given the chance to come back in the house.
They got to see a commercial for the Power of Veto it will include a trip to Fiji. Jack intent is to put Jessica and Kemi up. Tell Jessica she's the pawn and send Kemi out.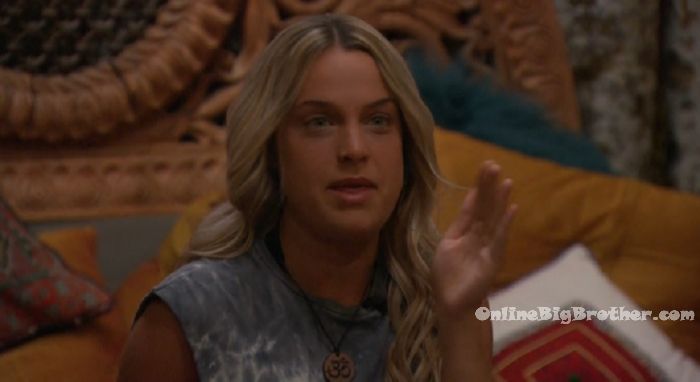 HOH room. Jack and Christie. Jack – what is your gut telling you? Christie – my initial reaction what that it was Jackson. Jack – because he's a wrangler. A snake guy. Christie – but the more I talk one on one with everyone I think Sam. Jack – I think he is outright telling the truth to everyone… like I f**king won this thing and all he is saying is .. I got a red light. Christie – I think we are over speculating about it because it works out for us. It will expire before it gets down to that anyway. Jackson joins them. Jackson – what are you talking about.. Tommy, Sam? Christie – no Sam, I actually thought it was you. But then I figured you would just say it. Jackson – I would say it especially knowing. Christie – I was just theorizing downstairs about if I did win it … I would either not tell a soul or if I did win it what's to stop anyone from yeah its me I won it. I ain't telling you what it is but watch your step. I would wait and see what it was but I would instill a little fear in people not to mess with you because you don't know what I'm capable of.. I could wreck your HOH. Jack – them calling Sam in first… I was like he doesn't have it. They wouldn't have called him in first. Big Brother blocks the feeds. Christie – I don't see anyone straight up saying they have it. Cliff has joined them. Jack – I told Jess that she is going up as the pawn, however I did tell her if I win it (veto) I would take her off, however that last part was a white lie. The conversation was like I respect you… it wasn't like you're caught red handed b***h! Cliff explains how David knows about season 2 where Justin pulled a knife on Krista. He said he's only watched one season so how does he know that. Cliff says that Kat said she's been talking to David and he hasn't said anything bad about anyone. Christie – I heard he cried. Cliff – he did, that's what they say. I was a sleep but they tried to console him. He was saying that he feels lost in this house. Whatever??! Jack – Cliff has no compassion for that guy. Get f**ked! Not dealing with it. Cliff – I told Jack, this guy just rubs me the wrong way. Its nothing personal. You know what rubs me the wrong way more than anything else and it goes against how I play this game. He talked about how he couldn't sleep so I gave him a bandanna that he could use. He didn't say thank you. Jackson – he also said something else about it.. Cliff – oh what? That word came up again. Kat – I hit him. Christie – no but it was even worse. Big Brother blocks the feeds..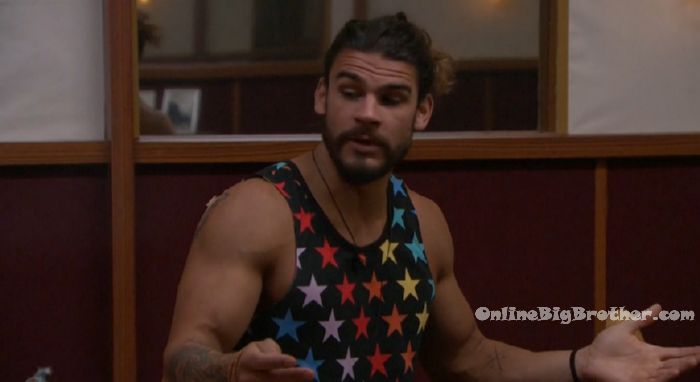 Christie impersonating David #BB21 @bigbspoilers pic.twitter.com/BERM8DaInZ

— Dawg (@DawgsBigBrother) July 6, 2019
5pm Bedroom. Jessica is crying. Holly and Analyse ask her what's wrong and comfort her. Jessica – spoke with Jack. Holly – oh know. holy sh*t! They both say I'm so sorry. Jessica – he didn't give me the okay that it wasn't going to happen. I don't want to make it a big deal. The thing is, its based on a total lie. Holly – what happened? Jessica – someone told him I'm the mastermind of trying to start an all girls alliance. Analyse – a mastermind?! Jess – yeah me, a mastermind. They laugh. Analyse – they get scared of how close us girls are. Nick and Sam join them and the conversation turns to talking about the competition.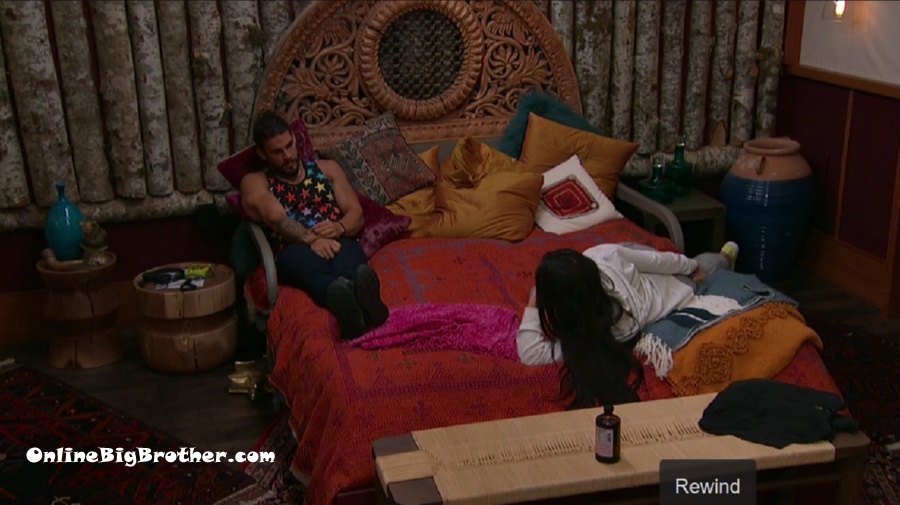 5:23pm Bella and Jack
Bella tells Jack three nights ago Jessica told her Nicole and Kemi who all sleep in the same room she wants to start an alliance. Bella – It's called the black widows.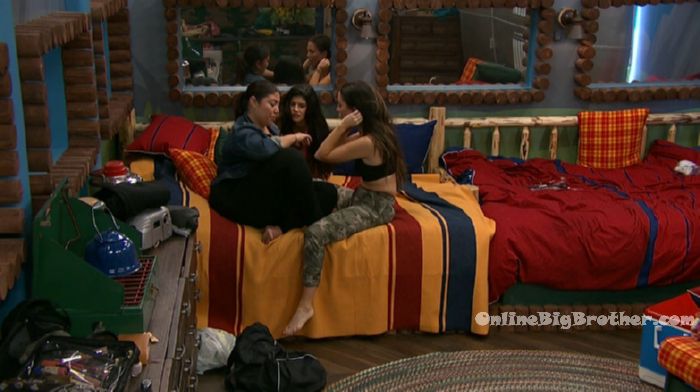 5:20pm Kitchen. Jess tells Nicole and Kemi about how Jack told her she is going up because he thinks I am a mastermind trying to create a woman's alliance. Nicole – did you talk to him about it? Jess – I told him it was an utter lie. Kemi – that's why I feel like he's going to put two women up. It will either be me and you or Kat. Jess – I don't want us to be all caught together.
In the bedroom. Jess talks to Cliff and Ovi about why Jack said he was putting her up. Cliff – if its you and I then you do what you do and I'll do what I do and if I'm not up then you have my support. Ovi – if you do go up, go out and win the veto. Cliff – don't feel that you're alone.
5:27pm HOH room. Bella and Jack are chatting when Nick bust into the HOH room in a new outfit. Jack tells him to get up on his bed and dance. Nick starts dropping it low.. Jack – I want to see you pop some bottles! Tommy joins them. Nick – would you f**k me? Tommy – feeds, feeds, feeds!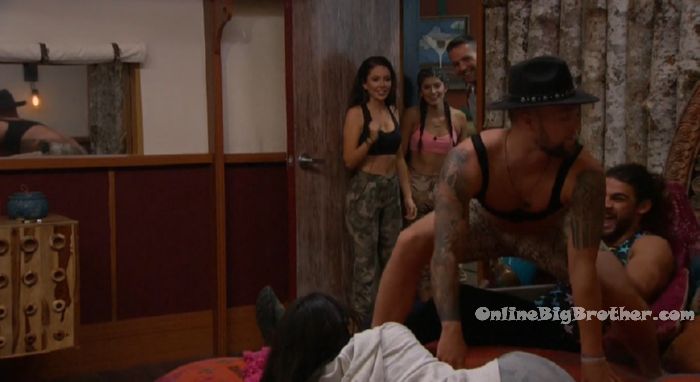 There's a new house guest in the #BB21 house! @bigbspoilers pic.twitter.com/cVepqIqEeY

— Dawg (@DawgsBigBrother) July 6, 2019
6:10pm Big Brother switches the feeds to kitties … the nomination ceremony is happening now. Kemi and Jessica are going up on the block.