Big Brother Spoilers
Jack wins the Head of Household. Nominated Jessica and Kemi.
Power of Veto Players: Jessica, Jack, Kemi, Jackson, Sam, Bella.
Power of Veto Winner: Sam and wins Fiji trip.
Jack won the whacktivity power can opt for a POV player redraw.
Jessica is the pawn and Kemi is the target.
Power of Veto Ceremony results = Sam did not use the Veto nominations stay the same.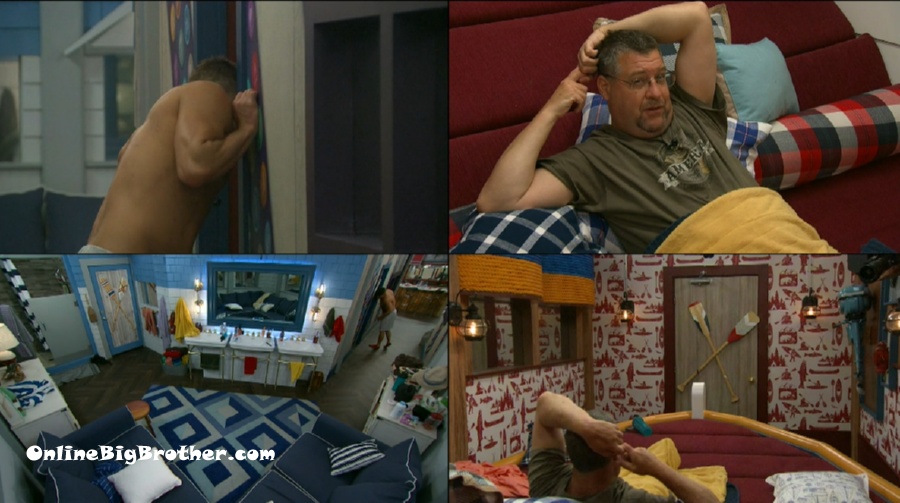 9:30 am Caught again …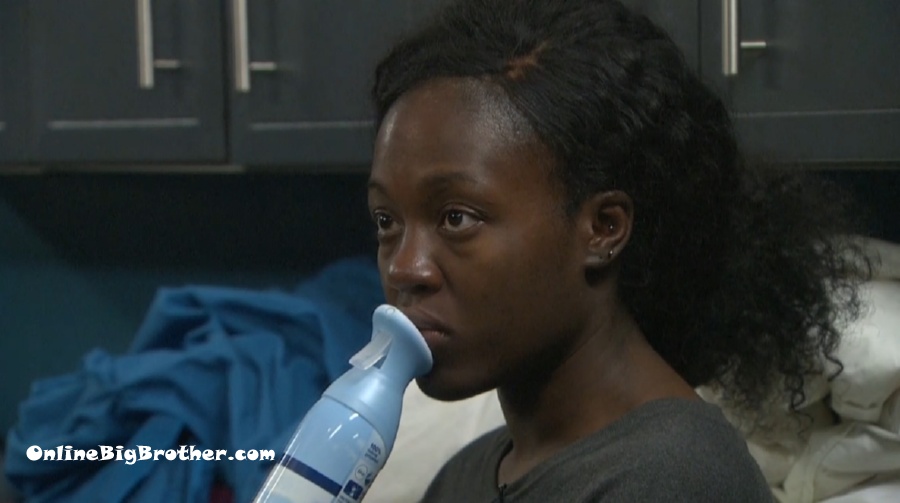 10:55 am Storage room Sam and Kemi
Sam – originally I thought I would go with the house but I've been hearing little things .. where now I want to talk to other people today and see if we can get this vote to sway if this vote away .. I would rather work with you I know your targets..
Kemi – I don't want Michie.. I don't have an issue with Michie they are so close (jack/Jackson)
Kemi -0 jack threw me up and obviously wants me out .
Sam – why would I vote you out when you have bigger targets that would help[ me out
Sam – I heard that Jack sweet talked to Jess that she's only a pawn but in like reality again why am I doing Jack's dirty work almost like what Christie was saying in her HOH..
Sam – you staying helps me, we talked to each other we have no issues with each other why would I do what the majority
Sam – I want to talk to people today
Sam – last I heard people were like 50 / 50, we only need what 6 votes?
Sam – Kat is going to keep Jess so Kat's out
Kemi – what do you think about Cliff
Sam – I could go to cliff since I used the veto on him I'm pretty sure Cliff wants to work with me to we just haven't talked about it (LOL thanks to Christie)
Sam – I'll talk to Nick, Bella, Cliff, Nicole, Christie and Tommy, That be six
Kemi – do you know where Tommy's head is in the game he seems really close to Jack
Sam – I don't know I really don't talk to Tommy.
Sam says Michie has the whacktivity power.
Kemi – Michie told me that you have the power
Sam – because he has it and he's trying to shift around
Kemi and Sam both saying they "think" Michie has it.
Sam mentions that Michie really overplayed how he screwed up in the competitions. It was very out of character for Michie to be like that when he's explaining something he did he's always giving out glowing praise about his performance
Sam – the people they are going to keep safe are Jack and Sis, Michie and Holly, Nick and Bella maybe .. I know Nick and Jack had beef before
Sam – I don't know where Christie or Tommy would be. I will be the expendable one. Why am I getting someone out that wants to take out Jack
Sam points out that Jessica was a runner up in the last HOH.
Sam – I gotta be careful I don't know if Tom/Christie, Nick/Bella are in alliances that I don't know about because that will expose myself
Sam mentions that a day ago Jack told him it doesn't matter who goes home so if it really doesn't matter he won't take it to heart when it's a 6 – 5 vote.
Kemi says the reason JAck wanted her out was he heard she wanted him out "I'm not sure what the root of that is. when did this beef start it started for me when I found out you wanted me out"
Sam reminds her that Kemi was just reacting and targeting JAck whereas Jessica was targeting all the guys "you got nothing to lose either, Jess needs to go"
Sam – paint Jess as a bigger target.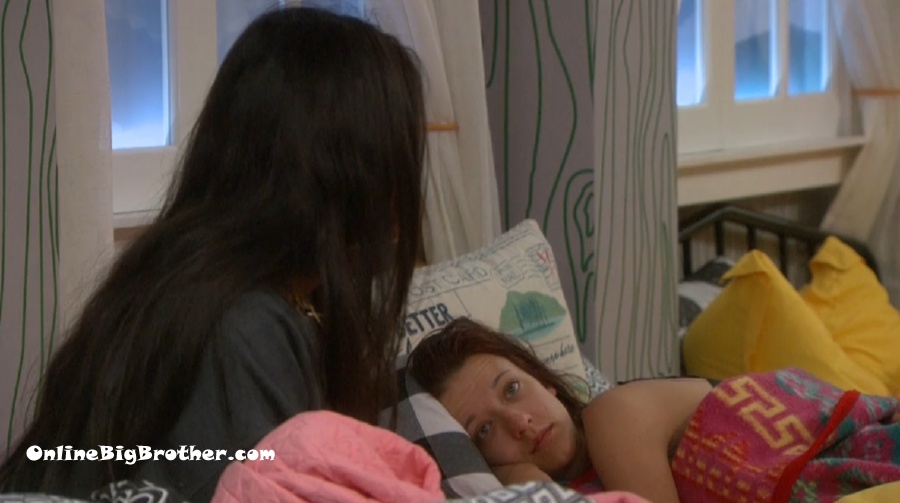 11:10 am Nicole, Bella, Nick, Sam
Nick – I'm scared of ruffling feathers so early
Sam – Jess is a better target for all of us
Sam says Kemi isn't going after any of them "So why are we doing this"
Nick – because it's easy man
Sam – Screws us in the long run. Jess made it perfectly clear that guys will always be on the block
Bella – there's less guys right now
Nick – Jess has been crazier on the block Kemi has been chill
Nick – alright I'm down
Sam – what about Christie and Tommy
Nick – Christie is down not sure Tommy
Nicole – I agree
Bella – we can't tell Kat
Sam – cliff will vote out jess right
Nicole thinks he will "he'll go with us we become the majority we become the house"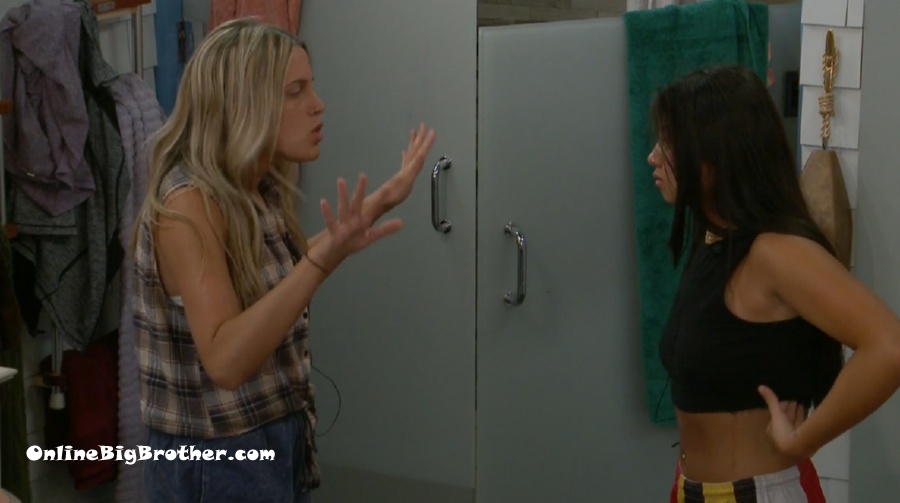 11:21 am Christie, Bella, and Nick
Christie going on about hearing Jackson this morning saying to Holly that they need to head up to teh HOH and catch up
Christie – it's fine obviously the four of them together that's fine.. they don't have my back
Sam joins them
Christie – when they are down to six I'll be the first one to go .. I'm serious
Christie – if you think this is going to flip please let me know
Bella says they are not sure about Tommy
Christie feels like Tommy will "because who else would vote"
They count votes with Christie and Tommy they have 7 they only need 6.
Christie – that like (makes a chopping sign)
Sam says he'll talk to Jack.
Christie – as much as I love the four of them (JJ showmances)
Kemi walks in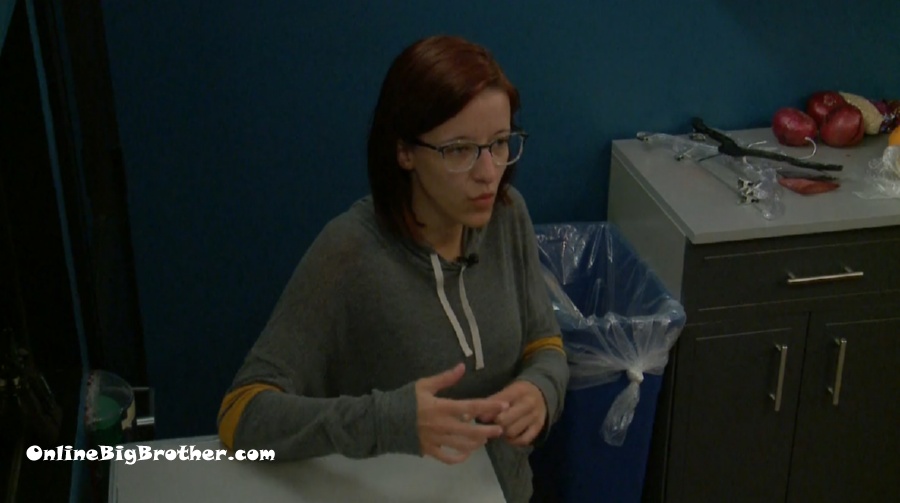 11:48 am Storage room, Nicole and Holly
Nicole – at this point in the game I have never said who I would put up I never said your name.. I had people say to me ohh Nicole you'll probably put up this person
Holly says Nick told Tommy, Christie "a lot of people that you want to put me up, he's telling people that I'm close to and trying to put a target on your back"
Holly – you weren't a target before and sure as sh1t not know
Nicole wonders what his motive was
Holly warns that she's seen this before from Nick and Bella, point out she's seen them align with every single person in the house separately
Holly – If I were to win I wouldn't put you up not at all
Holly says she's worried Nick is trying to rally people against her.
They talk about how Nick "interrogates" both of them
Holly says Nick "threw jit back into my face" about her anxiety. She opened up to him early in the season
11:50 am Bella and Kemi
(cause talking game with Bella is such a good idea)
Bella says Christie told her she overheard Jackson talking to Holly saying the four of them have to get into the HOH and catch up
Bell a- Jack, Sis, Holly, Jackson
Bella – the four of them had a meeting this morning
Bella – I don't care anymore we need to flip this
Bella says with Christie and Tommy they'll have 7 votes
Bella – Christie found out yesterday that Nicole, Ovi, Cliff are in an alliance called the ZIING
Bella – they were trying to split off all the couples and pull Nick and Sam
Nick joins them.. Conversation changes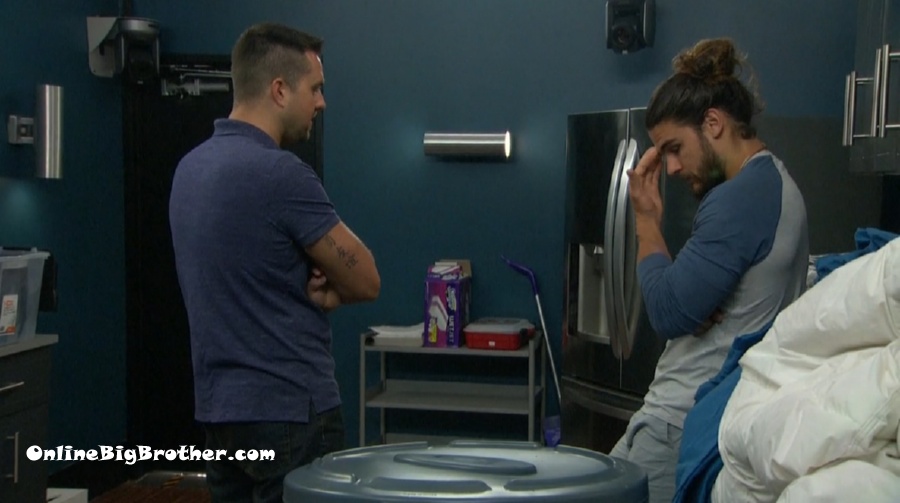 Noon Sam and jack
Sam is presenting his arguments to get Jessica out this week Says Jessica is after the guys point blank and next week put up Kemi and Cliff.
Jack – I've made it really clear whatever is best for gr8tful.. I mean for our nine (LOL)
Jack – It's not about me it's about what's good for our 9 (Jack keeps highlighting the nine now)
Sam says even if Kemi did win HO hand put him up they would all vote to keep Jack, "If she doesn't she'll go up against Cliff"
Jack – so you send Cliff next week?
Sam – right, past that it's whoever is left we take a stab at
Jack – since we've put up the noms this ain't about me .. K
Sam goes on about Jessica after the guys she'll put up 2 guys and she came in second the last HOH.
Jack says Jessica said she would put up Nick and Bella because Bella spilled the beans about the black widows
Jack – I agree with you completely and totally.
Jack doesn't think other people will agree with it though.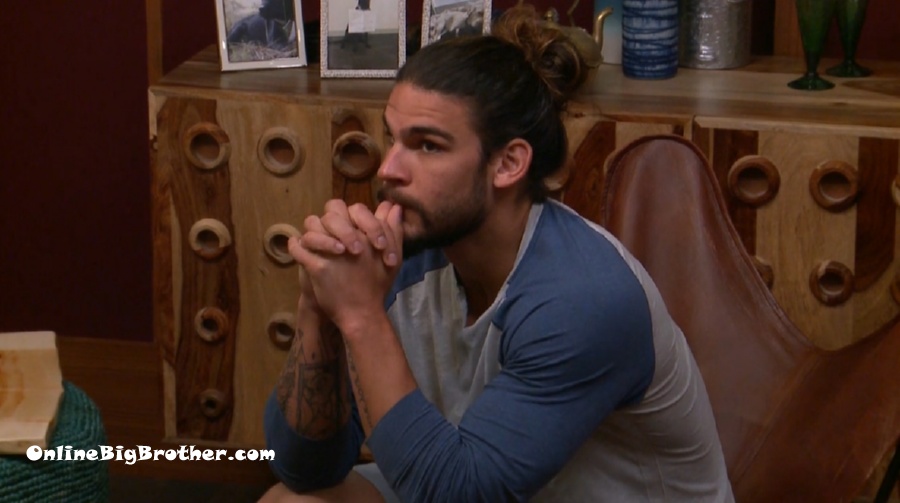 12:21 pm HOH Holly, Sis, Christie, Jack
Sis is really mad at Nick "It's really hard for me to hide my emotions"
Holly says that she spoke with Nicole in the storage room and the from her the two names that Nick has brought up were Sis and Holly, He wants Nicole to go after take your pick one of us
Jack says Sam wants Jessica to go home this week
Sis – no f*ing way
Jack – she's more of a threat to the guys
Sis says she's not switching her vote
Jack – I clearly said for the nine of us whatever is best for the nine
CHrsitie says she voting with whatever they decide
Holy – that's not smart at all they are trying to build an alliance against us and they are trying to keep Kemi
Jack – they said they would put Kemi and Cliff up next week and Cliff would go and KLemi would stay here 3 more weeks.
Holly says she's walked into Sam, Bella, Kemi constantly still
Jack – so we send Kemi out
Holly – Kemi and Nicole are SUPER close
Jack – they hang out all the time
Holly – Jess is a floater and an easy number
Holly and Sis want to keep Jessica say they've been working "really hard' building a relationship with her, "so does jackson".
Sis – I don't f*uing trust Nick and them they are up to something (GAME)
Holly says they can pull in Jessica, Kemi no way
Jack – Okay it stays the way it is and takes the risk of the vote flipping but we still have the numbers
Holly – they are trying to build an army and Kemi is their number and Nick is working hard to get Nicol
jack – he won't though he's strong-arming her
Jack – Sam pulled me aside and tried to talk me into Jess.
holly – that's a really stupid move, this is officially where the house divides.
Christie – it begins
Christie leaves.. jack tells them he said gr8tful in front of Sam.. but it's ok he doubled back.

12:52 pm Christie and Sam
Christie can't flip it's too early and she's sure Michie or JAck have the power and if she turns on them this early she's in trouble.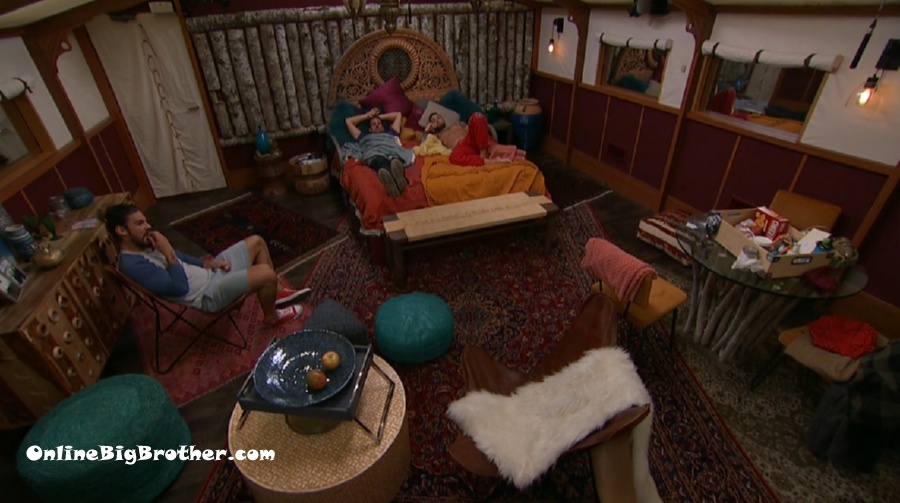 1:54 pm
Flip is over..