POV Holder:
JohnnyMac
Next POV
July 11th
POV Used
?
POV Ceremony
July 13th
HOH Winner Team 1:
Vanessa
HOH Winner Team 2:
Austin
Nominations 1 :
James & Johnny Mac
Nominations 2:
Jason & Meg
Battle of the Block Winner
Jason and Meg
Next HOH/ Next BOB
July 16th / July17th
Original Nominations:
?
Current Nominations:
?
Have Nots
No HAve nots this week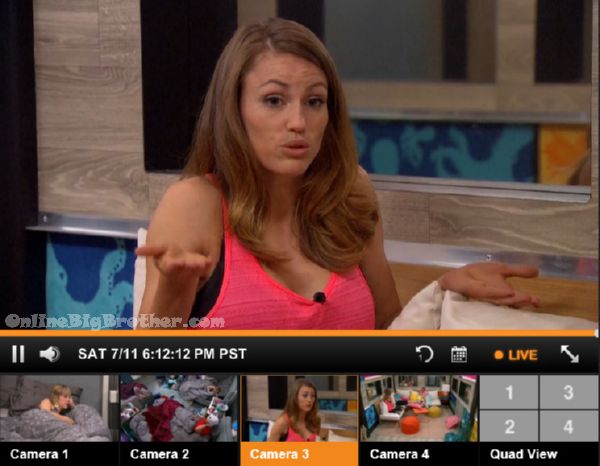 6:13pm Clay, Shelli and Becky
Becky saying she doesn't talk any game with jackie. Tells them nobody in the house talk game with her.
Becky knew the other side of the house wanted her out week one. She's never talked game to Jeff. He's always coming to her talking about the twins.
Shelli asks if Jeff is someone she could see taking out.
Jackie says she's she's not with anyone so she doesn't have targets it would just be her leading the charge.
Becky – I like JohnnyMac we don't talk excessive.. we're on the outside.. we don't spread the gossip we don't constantly talk game.
Becky says Vanessa seems like a trustworthy person. She's not sure how close Vanesa is with Austin and Liz.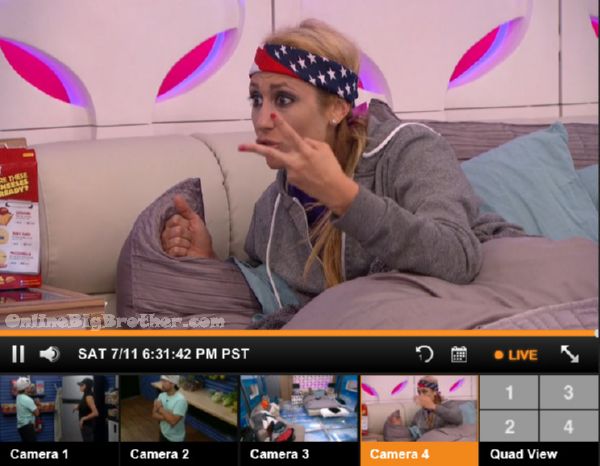 6:23pm HOH Vanessa and Audrey
Audrey "how long do we continue the charade that people avoid me"
VAnessa says pretty soon it's all coming out. She's pissed at Austin for not trying as hard as he could have.
Audrey – I don't think there's a logical reason to put Jeff up.. It sounds like he pulled an oprah and give everyone the same deal.
VAnessa – Austin wants Jeff up more than anyone
Audrey – tell him it's not personal her target is james
Audrey – do we then vote James out
Vanessa – I do think Jeff is the bigger threat
Vanessa says Jeff has two strategic alliances where both of them are strong in competitions.
Audrey says she feels defeated on a human level, she walks in a room and no one will talk to her.
Vanessa – you kidding me this should make you feel good.
Vanessa tells her she's the best person in the house for strategy she needs to figure out a reason for them to put up Jeff to minimize the blood on her hands.
(Vanessa is essentially using Audrey as a mentat it's hilarious)
Vanessa asks where the votes will sit if it's James and Jeff on the block.
Audrey counts the votes – Audrey, Austin, Clay, Shelli, liz, Steve and maybe Johnn
Vanessa is begging her "I need something good.. I need a plan help me come up with it"
Audrey – I'm going to take the blame for this
Vanessa – they are going to hate me to for this.. roll the dice.. ohh well there is some risk we're doing our best to minimize it
Audrey says she feels like JAce people avoid her. She cannot start anymore fights
JohnnyMac comes in Vanessa asks him to leave they have to think about things and make a tough decision.
[envira-gallery id="120649″]
6:44pm Shelli, Vanessa and Audrey
Audrey saying her main target is Jason. If she wins HOH she'll put up two weak people Meg for sure.
Audrey starts to list off all the things Jason has been saying. "He called steve homophobic, he called becky a racist, he's talked shit about every single person in this house and blamed it on me.. saying I voted to keep Da like why the f*** would I keep her" (LOL)
Vanessa tells them they have to come up with a reason to not put Audrey up and a reason to put Jeff up .
Audrey says the obvious reason to put Jeff up is to take a vote away from James.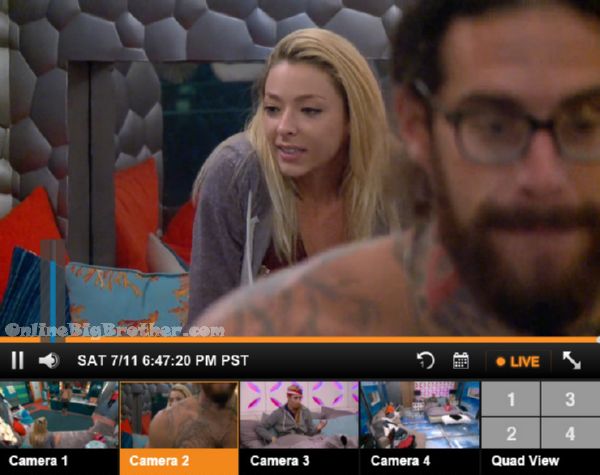 6:48pm Bathroom Julia and Austin
Austin saying he wasn't trying to screw her up.. he was going slow and Vanessa knows that. Complains that he had a lot of things going on in his head at the time .He's scared of showing he's strong in competitions
Julia – You did so good
Austin – Thank you
6:54pm HOH Austin, Audrey, Vanessa and Shelli
Austin saying that while he was in the storage room early Becky slipped up and told him JAckie is in a group of people.
Austin says he trust Becky she is looking for people to trust.
Austin says Jeff has said a lot of thing to a lot of different people they can use those as reason for putting Jeff up.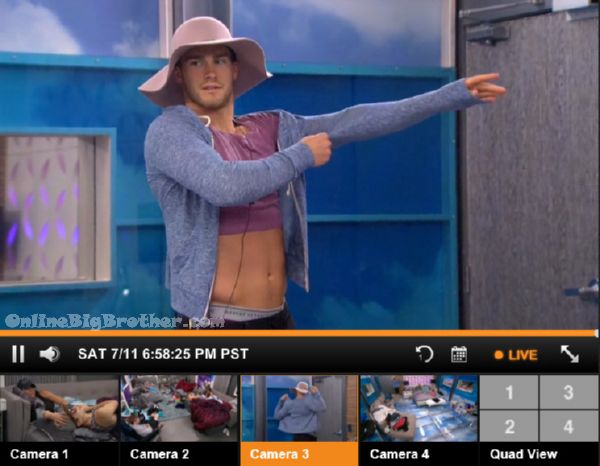 Clay and James come in Audrey quickly runs to the HOH bathroom to hide.
Vanessa asks him what's the outfit he's wearing.
Clay – It's normal outfit
James – I'm going to find me a cute outfit to
The guys leave. Audrey comes out of hiding..
Vanessa whistles for her.
Audrey – "After this week can we not avoid me.. I'm getting lonely I don't want to feel like Jace"
Vanessa – you're never getting backdoored
Shelli – you have a team here
Vanessa – I'm trying to make it work without it being obvious we're working together
Vanessa says next week they'll have a "we'll make a political campaign next week no more pariah"
Audrey – OK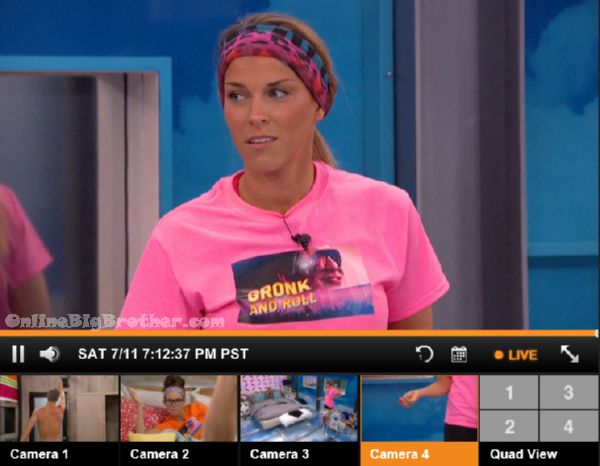 7:03pm HOH Sheli and Vanessa
Shelli saying she talked to Becky and she's nervous about Jeff because he wants to get her out next week. Becky is wanting to find a group to work with.
Shelli fills her in that Becky feels good about JohnnyMac and Vanessa
Shelli thinks Becky is being truthful.
Shelli says the votes Vanessa can count on to get Jeff out are, Shelli, Austin, Clay, Becky, Steve. Liz (Julia)
James will be left with Jason and Meg.
VAnessa – I have something huge to tell you… Have you noticed anything about Clay.. I think he's a twin.. I would bet a large sum of money
Vanessa – the hair is different..
Shelli – there are differences on his face .. when did you decide to tell me this.
They go off and a tangent speculating hes a twin.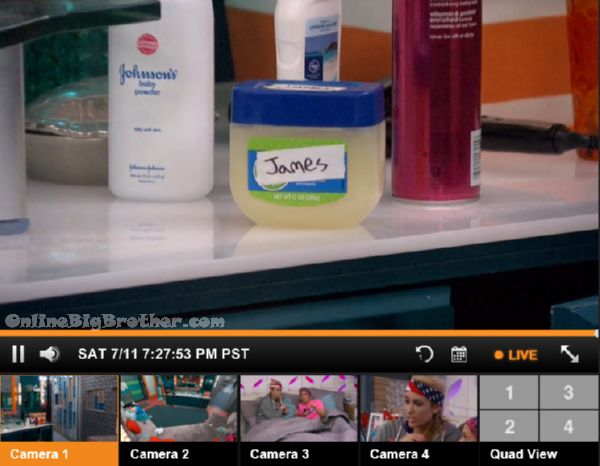 7:27pm Jeff and Clay
Jeff says this liz (Julia) is the one that liked Jace and she likes Austin more than the other liz.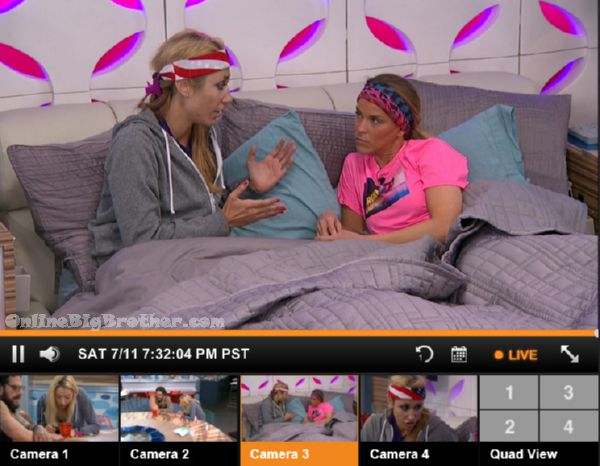 7:35pm HOH Vanessa and Shelli
Vanessa – It's going to be a blood bath for me
Shelli says her and Clay have Vanessa's back she never has to question that.
Vanessa says what Austin did in the POV rocked her trust with him.
Vanessa admit she threw the POV to Audrey. She didn't try her 100%.
Shelli brings up some concerns she has with Becky. Points out that Becky has told her, Clay and Vanessa all the same story. Vanessa doesn't think it was her fault
Shelli is worried Becky is working with Jeff. Vanessa doesn't thinks so. She thinks Becky is making a legitimate attempt to get in with their side.
Vanessa says to get Jeff "A really big smoking gun.. I need him to do something really stupid these next two days.
Vanessa suggests she should make Jame think she's Suspicious of him. Jeff will find out and freak out.
Shelli thinks she needs to lay low right now and make people think it's Audrey.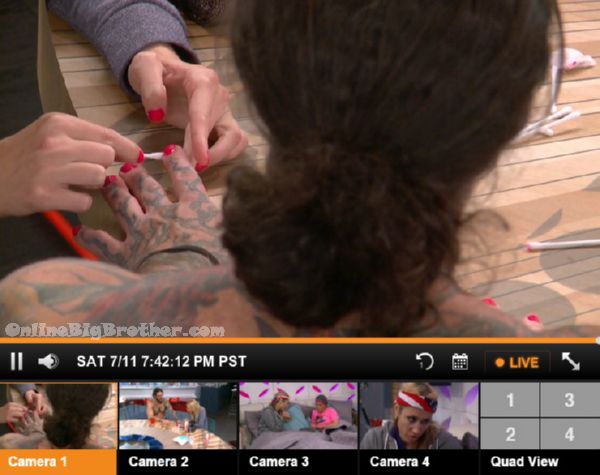 7:41pm Austin and Julia
Austin thinks if Jeff goes up he might have to go. Julia tells him they can work with Jeff James they can't. Austin "hey… It should probably be james" Julia says James should go first.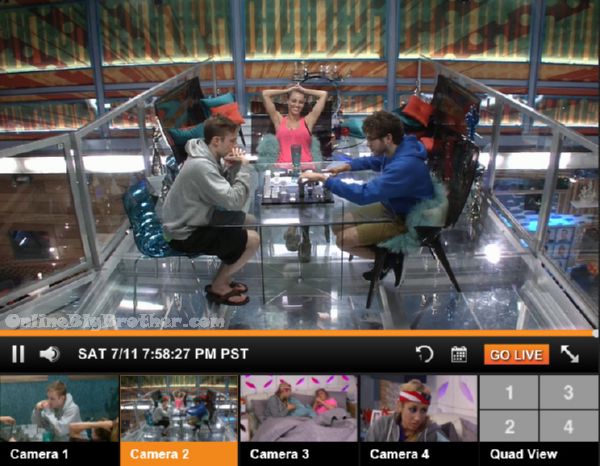 7:58pm Chess…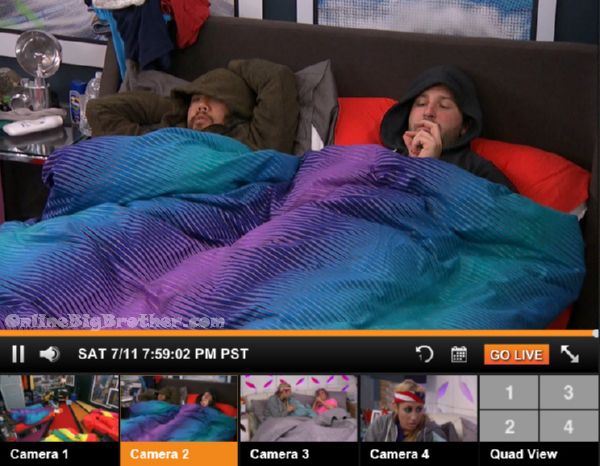 8:00pm Jeff and James
Jeff – Dude you're going to be fine this week bro
James – Hey I feel good.. I just hope she doesn't put someone up that conflicts with our group.. Shelli or Clay .. something crazy…
James – Supposed to be a easy week.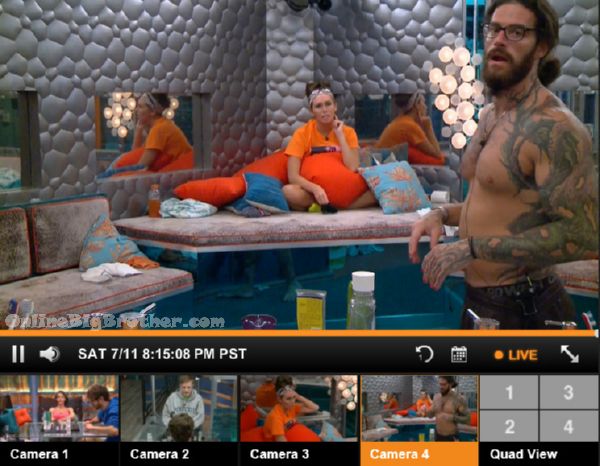 8:13pm Austin, Clay and Audrey
Austin says Vanessa was pissed about him not winning the POV. He thinks it was good for them leaves Austin and Clay open to grab the outside people. He brign sup how conflicted he was but did what was best.
Austin – they are all going to fall.. once Jeff leaves it'll be a domino effect.. POW POW POW POW.
They agree the other side will have a collective F*** you then they will start turning on each other.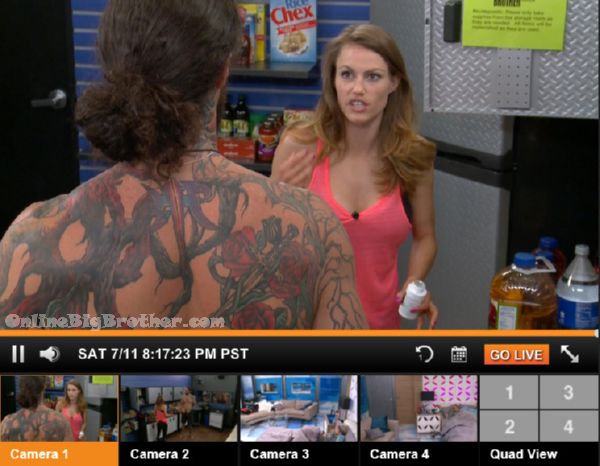 8:18pm Storage room Austin and Becky
Austin's wonder if Jackie likes him because he's getting mixed signals and he doesn't want to be rude and make her uncomfortable. If she is interested he'll continue flirting.
Austin – I'm being pretty authentic
Becky points out he has a girl friend he needs to address that with Jackie.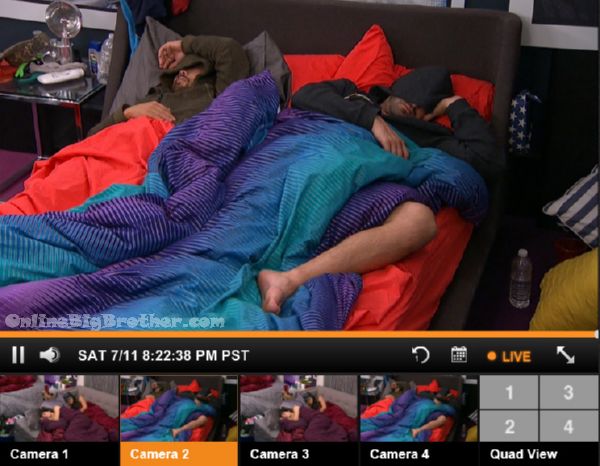 8:23pm
Never miss out with the feeds :)
Live Feed subscription gives you CBS All Access thousands of archived shows. Live Shows like Big Brother, all the Big Brother Seasons, and 24/7 coverage of what is happening inside the Big Brother House. Plus there's flashback that lets you go back to any second of the feeds and rewatch what happened. Simon and Dawg will index the season just watch the parts worth watching. All this for $5.99 a month try it out 1 week free. Support our efforts and get your feeds via a link on this site. Live feed subscription Sign up
[polldaddy poll=8972565]
Share it YO!!
Tweet