POV Holder:
JohnnyMac
Next POV
July 11th
POV Used
?
POV Ceremony
July 13th
HOH Winner Team 1:
Vanessa
HOH Winner Team 2:
Austin
Nominations 1 :
James & Johnny Mac
Nominations 2:
Jason & Meg
Battle of the Block Winner
Jason and Meg
Next HOH/ Next BOB
July 16th / July17th
Original Nominations:
James & Johnny Mac
Current Nominations:
?
Have Nots
No HAve nots this week
TRY the Big Brother 17 Live Feeds FREE for 1 WEEK:
Click here to ensure your live feed subscription supports OnlineBigBrother.com at no extra cost to you.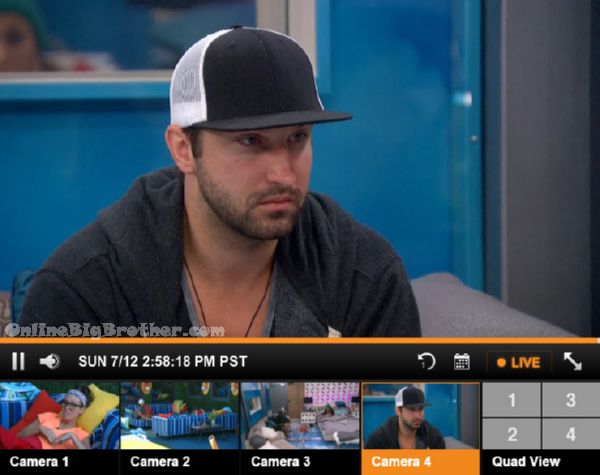 2:51pm HOH Jeff and Vanessa
Tells him he's been talking with everyone and it's impossible for him to be loyal to everyone.
Vanessa – "You have to be selective who you give your loyalty to"
Jeff says Week one he had just as big of a shot going home as Jace.
Vanessa after what you did down there .. yes you are my number one target.. I don't need friends like that .. Theres a limit and you crossed it
Vanessa – you made a poor decision in regards to me.,. I'm not going to mislead you it's pretty much clear as day what I have to do at this point..
Vanessa says Jackie is his number one advocate she's sticking by him.
Jeff – With all that happened. just so you can understand my reasoning.. this game does cause people to have paranoia
Vanessa- totally
Jeff – "I never once .. I always gave audrey the benefit of the doubt.. Audrey knows 100% her staying in this house has a lot to do with Clay, shelli and myself … maybe other people want to drag her around but that's not my intentions.. "
Jeff – I was excited about you and I potentially working together..
He adds it wasn't until Vanessa started talking to clay the having the same conversation she was having with him. Jeff thought Vanessa was playing him and Clay.
Vanessa brings up what Jeff was doing last night.
Jeff says he felt hurt and slapped in the face.
Jeff – My games is at your mercy.. I want you to know Jeff's not a bad guy
Jeff explains trying to get people to convince VAnessa to put Audrey up. Jeff says he's been team Austin. "I've been basically telling him I want Vanessa to not be a target"
Jeff explains he wanted to work with Vanessa and he thought Vanessa not putting Audrey up would hurt her game. Goes on and on about how much he trusts Austin.
Jeff – I've been very team Austin and I wanted to be team Vanessa too until I heard about Clay that scared me
Vanessa will never trust Audrey again.
"I have zero evidence that she's personally wronged me and I have zero evidence that she's ever been caught in an actual lie .. as a gay person who cares about wanting someone who's transgender to do well in the game for reason bigger than the game what they mean on a bigger platform.. That matters to me"
Vanessa tells him not to Blame Audrey, blame her for doing her due diligence.
"or you can blame yourself for paranoia and jumping the gun and putting a target on yourself that wasn't there"
Jeff – right
Vanessa – "I'm not a dumb girl.. you got that.. you attempted to throw me under the bus for something you did.. you know that's wrong everyone outside this house knows it's wrong"
Jeff – I never created an alliance.. am I working with people.. YES ,… but did I Jeff personally create an alliance absolutely not
Jeff won't tell her the people he's working with.
Jeff says Austin was a huge target for him but not now.
Jeff – Austin now is one of the people I trust most in the house
Vanessa says she won't be able to build trust with Jeff she would be a idiot if she did.
She tells him there was no plan to target Jeff prior to late last night, "No one ever said anything about you.. until what you did downstairs.. "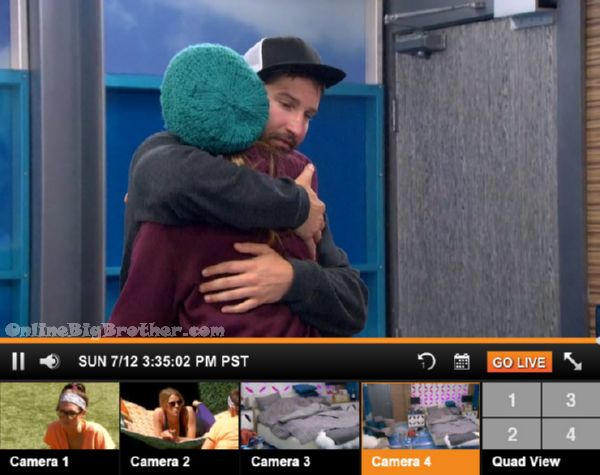 Jeff – The only reason I did it i had to protect a situation that was about to blow up
He was protecting people he works with.
Vanessa – I get why you did it but at the end of the day, The math is I can't trust you in this game right now you threw me under the bus in a public way..
Jeff tells her at the end of the day she has to be able to answer who will protect Vanessa Jeff or Audrey
Vanessa – Audrey at this moment isn't gunning for me.. and after what you did you just might be
Jeff – absolutely not
Vanessa – Stop lying.. there's no need for it.. we both know it wasn't your back against the wall you tried to save your ass by throwing me under the bus and I heard about it.
Vanessa – you go campaign do what you have to do.. my hands are tied in this situation
Jeff – there's a good chance I'm going to continue playing in this game.. it's going to be very interesting to see what happens..
Jeff says it's not going to be unanimous
Jeff says he still thinks she's a trustworthy person in the game and he hopes he can rebuild trust, "I would love for another opportunity if it's something you feel will benefit your game play"
Vanessa – it will take quite a bit to get to that point.. it's going to take a lot to recover from last night .. It could happen.. it could happen
Vanessa – I'm not rooting against you .. I don't do that.. will we regain trust.. there's work that needs to be done
You are one of the few people with Austin that I can trust.. the people I'm with I can't trust.. I have a great feeling about you and Austin.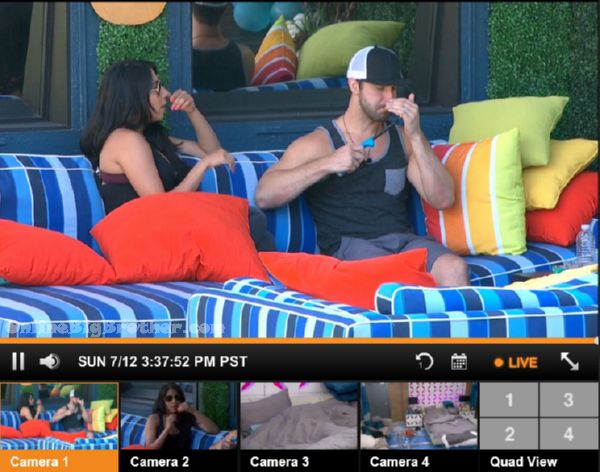 3:37pm Jeff and Jackie
Jackie – how do you feel
Jeff – Umm because of the Lesbian, the gay, the transgender stuff she's not going to out her (Audrey) up.. She doesn't even want her hand on that. I knew this was going to be a issues.. So Basically 99% sure I'm going up.. so this might be my last week here.. we'll see..
Jeff – we saw this one coming it's not a complete shock
Jackie- if you go up it's not good
yeah I know it's not good.. the thing is at the end of the day… UHHHH her wanting to create an alliance with me.. i should have just went with it that put a huge target on me.
Jackie – that sucks
Jeff – she's not going to put up Audrey.. she basically told me she's putting me up
Jackie – I can't believe it..
Jeff – here's the question can I beat James in a campaign
JAckie – everyone saying it's not looking good.. you have my vote
Jeff – are people talking about votes
They're unsure about Meg and Jason's vote.
They think Clay and Shelli will vote against Jeff. Jackie brings up talking to Shelli in the bathroom asns she said it's not looking good.
Jeff says he was trying his best to work up emotions during the conversation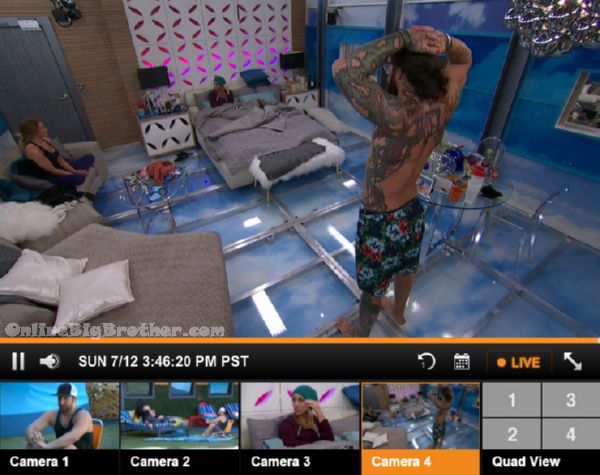 3:46pm HOH Austin, Shelli and Vanessa
Going over the numbers to evict Jeff.
Steve, Austin, liz, Shelli, Clay, Becky, Meg,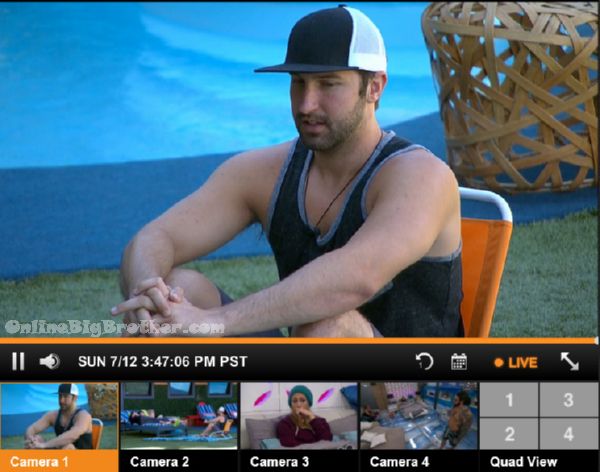 3:49pm Jeff, Meg, Jackie, Jason
Jeff explains the reasons Vanessa was giving him for Audrey to not go up and Jeff to go up.
Jeff brings up her saying "As a gay person I cannot pull the trigger"
Jason – I'm a gay person I don't have a problem with that..
Meg – that's the problem with the rold
Jason says it's a hot button topic right now in 3 years nobody will care.
Meg says the house is pissed that Audrey isn't going up this week
Jackie – she needs to talk to us
Jef – I'm not asking you guys to save me I need to campaign against james..
Meg – I don't even want her in the house this week
Jeff thinks this was teh game plan all along
JAson doesn't think so he thinks it was Jam all along but James tugged on her heartstrings.. he apologized said he's here for his daughter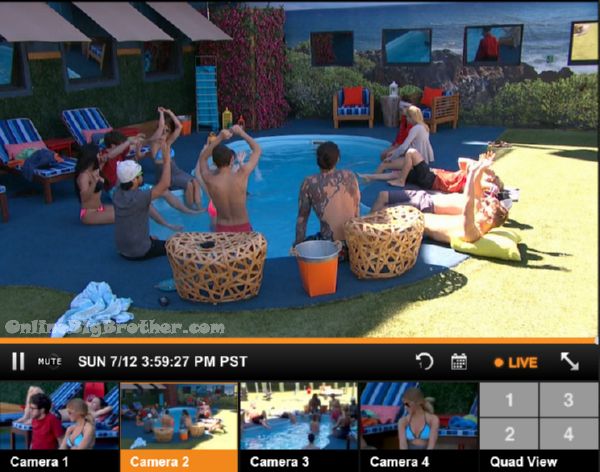 Gronk Party Starts
Like all pool parties this one was a flop
[envira-gallery id="120919″]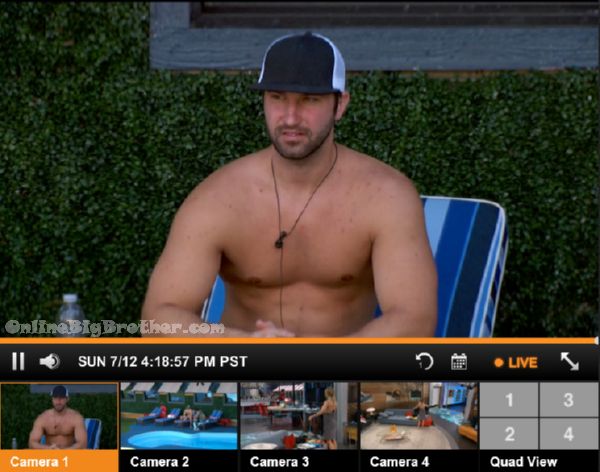 4:18pm Austin and Jeff backyard working out
Jeff – A lot of things you came at me dude
Austin – you weren't targeting me at all
Jeff – I never mentioned your name
They move to they move to the Cabana room too hot outside.
Jeff says ever since they started the podcasts he's been pro Austin. Austin says that's the favorite thing he's done in the house.
(Goes over many of the points he told Vanessa above)
Jeff warns that Audrey is spending a lot of time with Vanessa and it's been noticed it's put a lot of doubt in people's mind.
Austin says he's not liking Audrey spending so much time in the HOH. He's moved his stuff downstairs he doesn't want part of it. Claims if he was HOH Audrey would be going home this week.
Jeff – Dude Bro..
Jeff says Vanessa has lost all credibility for not putting Audrey up
Austin – Dude I wasn't game for this
Jeff says he's positive Vanessa is going to put him up. Thinks Vanessa is making a mistake the entire house is going to be pissed. Adds that Vanessa had a easy HOH take out the person everyone wants out.
Jeff – Dude.. I told you my agenda, my line up .. Dude if I leave this house dude a lot of people have that line up to
Jeff – Dude.. she thinks if she puts up Audrey the votes aren't there.
Jeff – Dude.. Vanessa was looking for ANYONE else.. any reason to put someone up.. Austin I do like you as a guy man..
Austin – I like you to
Jeff – I can't tell you who I'm working with
Austin – hopefully you can tell me by the end of the week
Jeff – yeah
Austin asks if he has the votes.
Jeff says he does with Austin
Jeff – the people I run around with are not the people I'm working with..
Austin plays it up that he cannot control Vanessa's decision
Jeff now claiming that Vanessa and Austin'g names have been pulled in to his side. They don't want liz because of the twins.
Jeff adds that Vanessa thinks Audrey is a scapegoat that is why she's not going up.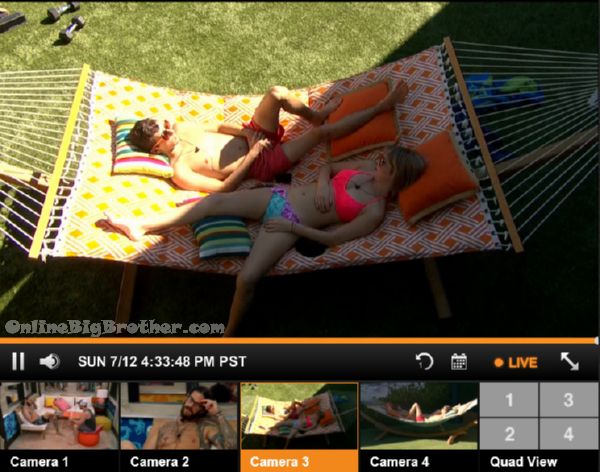 4:34pm Meg and Jason
Meg – can't wait for the twins to come in
Jason – oh yeah that will be a thrill.. can't wait to jam it in these hoes faces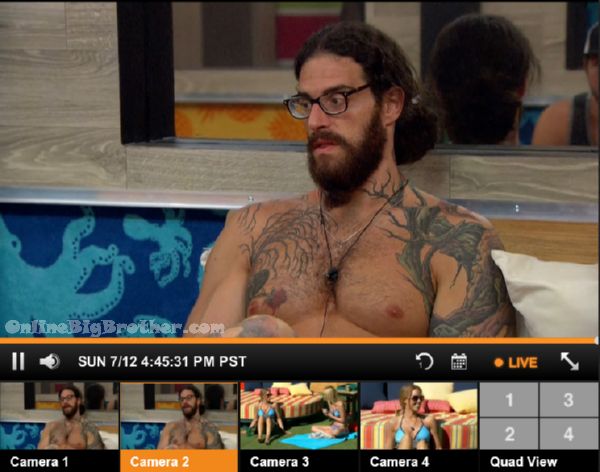 4:43pm Austin telling him he doesn't want Jeff to leave. The house won't be fun without him and Austin wants to have fun.
Jeff – Basically Vanessa is sending me home or James home because she's being out manipulated by Audrey
Austin wants to know about the alliance's on Jeff side. shits hitting the fan and he needs to be safe next week.
Jeff asks him about Audrey spending so much time with Vanessa in the HOH.
Ausitn – She's moved in I've moved out
Jeff apologizes not giving him the answers Austin wanted last night.
Austin says Vanessa's head is deep into the game.
Jeff – the thing is Dude.. was that all orchestrated last night dude
Austin – if it was I got played dude
Austin thinks all the domino's fell.
Jeff – look at actions more than words.. I'll fill you in a little bit more
Jeff – Dude I have some serious damage control Vanessa wants me gone.. for reasons that are not valid.. Vanessa needs to know the house wants Audrey to go.
Jeff – I have Austin, Clay and Shelli
Live Feed subscription gives you CBS All Access thousands of archived shows. Live Shows like Big Brother, all the Big Brother Seasons, and 24/7 coverage of what is happening inside the Big Brother House. Plus there's flashback that lets you go back to any second of the feeds and rewatch what happened. Simon and Dawg will index the season just watch the parts worth watching. All this for $5.99 a month try it out 1 week free. Support our efforts and get your feeds via a link on this site. Live feed subscription Sign up
[polldaddy poll=8972565]
Share it YO!!
Tweet