POV Holder:
?
Next POV
July 11th
POV Used
?
POV Ceremony
July 13th
HOH Winner Team 1:
Vanessa
HOH Winner Team 2:
Austin
Nominations 1 :
James & Johnny Mac
Nominations 2:
Jason & Meg
Battle of the Block Winner
Jason and Meg
Next HOH/ Next BOB
July 16th / July17th
Original Nominations:
?
Current Nominations:
?
Have Nots
?
TRY the Big Brother 17 Live Feeds FREE for 1 WEEK:
Click here to ensure your live feed subscription supports OnlineBigBrother.com at no extra cost to you.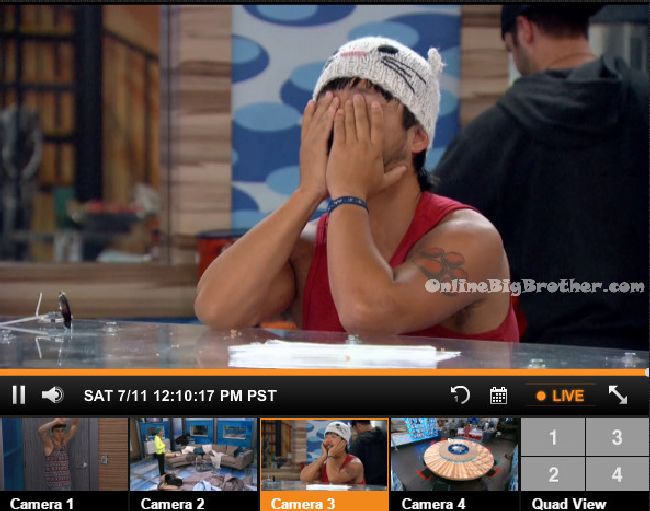 11:50am – 12:05pm
Big Brother blocks the feeds for the house guests to pick players for the power of veto competition.
Power of Veto Competition Players: Vanessa, James, Johnny Mac, Audrey, Austin, Shelli
Veto Host: BECKY
12:05pm In the kitchen – James is annoyed that he picked Audrey's name in the veto pick.
In the bedroom – Johnny tells Jeff I didn't want to pick anyone from the group. I didn't want it to be obvious. Austin is the only one I thought I could pick. Jeff says no its good. Johnny says Austin said he's going to throw it too.
12:15pm – 12:30pm Up in the HOH room – Austin says how did that happen. Now they need to set us up with a competition that she can win. All three of us! Even if James wins its perfect. Vanessa says Johnny Mac can't think that we want Audrey to win it. You, Me, Shelli and Audrey. Shelli joins them. Vanessa says I almost laughed when James pulled Aurey's name. Shelli says if she (Audrey) wins everyone is safe. We're golden. Worst is if James wins, second is if Johnny Mac wins. Best case Audrey wins. Shelli says I cannot win the veto. Austin says no you would use it on Johnny Mac. Ideal situation is Audrey wins. They wonder if it might be a prize veto. Vanessa says the game is more important than 5K. They talk about how it is a perfect line up. Vanessa says we could not have asked the gods for a more perfect line up. Shelli asks what should I tell people if the ask me what you said to do. Vanessa says tell them I told you to win it. Johnny comes up and says I'm ready to go hard in the yard! Vanessa says 1000% you are not going home. Austin says we will use it on you. It was a great draw. Johnny leaves. Vanessa tells Austin if you win you almost have to use it on Johnny because he picked you. Vanessa asks what if its a knock out comp what do we do. Austin says you pick Audrey but then lose to her. You can manipulate the outcome. I'm a wrestler that's what I do. Vanessa says we literally just got a royal flush! That's insane I can't believe it! Austin talks about how perfect it will be to be able to blind side Jeff.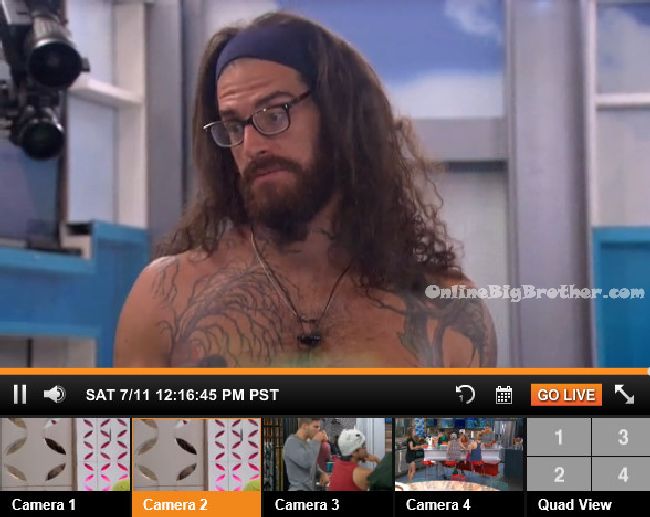 12:30pm Clay comes up to the HOH room and says that couldn't have gone any better. Vanessa says that she literally almost started laughing when James pulled Audrey's name. If she wins that would be perfect. Then we keep the noms the same. Vanessa best to worst case: Audrey wins, Austin wins, I win, Shelli wins, Johnny Mac wins, James wins. Vanessa says that sleeper cell has cast a spell over the whole house and little do they know when they wake up one of their own will be gone! Clay says that's awesome!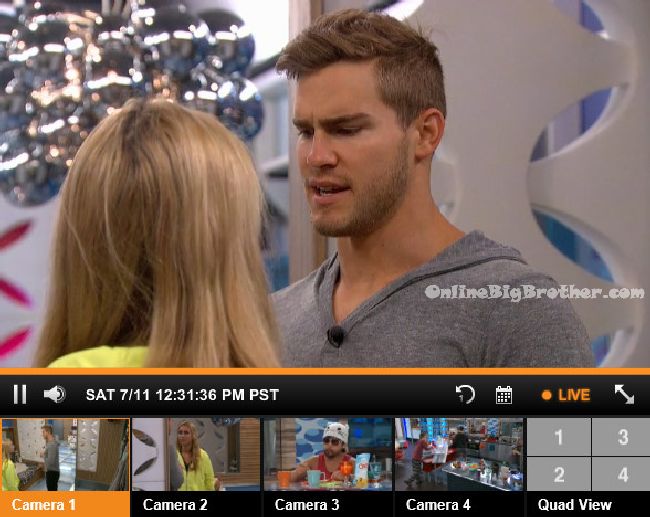 In the storage room –
Austin and Jeff talk. Austin says what if its a prize comp. Jeff asks would you throw it for 10K. Austin says yeah. Jeff asks did Johnny Mac ask you to throw it? Austin says no, he just asked if he could pick me. Jeff says he asked me if I would throw it if he picked me. Does he like being on the block? Austin says he likes just rocking out on the block. They head to the kitchen. Jeff says I don't think Johnny Mac will win today. I think you're going to win today James. You were so lost and confused yesterday. Jeff comments to Clay, James, Austin that he thinks there was a swapperaroo. Jeff tells Clay and Jason this one is different. This one is mean, you can't change mean. Jason says now that they think we're on to them they're going to switch more and more and more.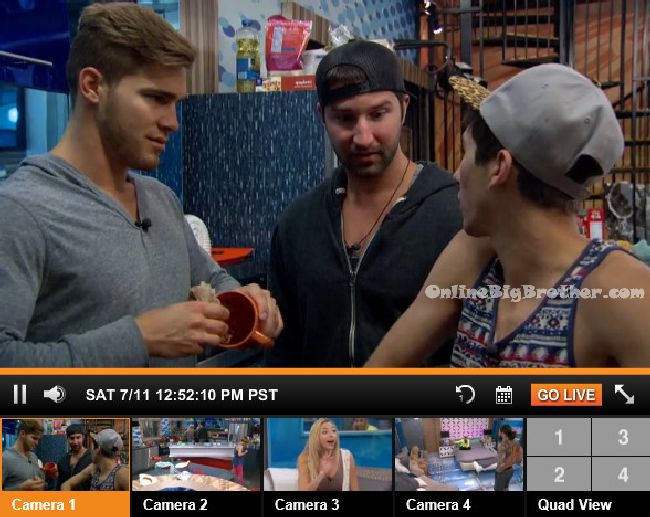 1pm HOH room –
Vanessa fills Julia in on how yesterday Liz was wearing Jason's leopard hat. Just in case he asks you. Vanessa tells Julia to stay away from Jason because he is on to you. Julia says that she has a cold sore. Vanessa asks if she is taking anything to make it go away faster. Julia says she out of it. Vanessa says its because you're so stressed. Austin comes up and tells them that he knows you guys switched. They talk about how Julia should show off the mole on her back. He's looking for it and it'll make him less suspicious if he sees it.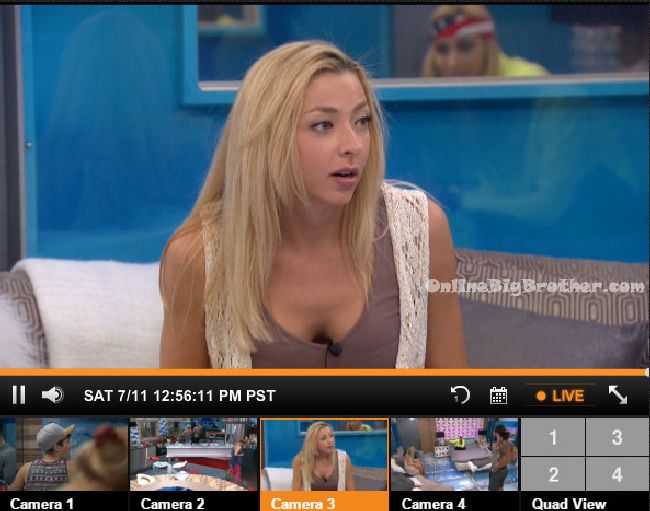 Audrey asks what's the plan if Johnny Mac wins? Vanessa says If he comes off I could put up Jeff. I will never put you up. Audrey asks are you sure Jeff is the right person to put up. Vanessa says Anyone else I put up could go home. Audrey says so for sure if I use it, don't use it. Vanessa says I don't want any more blood on my hands. If I can avoid it that would be nice. Vanessa says if James wins then 100% Jeff is going up. Vanessa tells Audrey to go get Meg so they can clear the air and get to the bottom of the rumor. Meg said that you (Audrey) said I was trying to flip the house. Vanessa tells Audrey if you can clear this up for me so that I can trust you even more. Audrey goes to get Meg. Audrey says I just want to clear something up because I think theres been a misunderstanding. I never said that Austin, Vanessa, .. Meg says you said Austin, Vanessa, Liz and Becky. Meg says I feel like you did because otherwise I would never have gone up to those people to campaign. Audrey says I never said those names. Meg says Becky I didn't think I had to worry about her until you said her name. Audrey says I told you to step up your social game. Vanessa says may the problem is that you (Audrey) said it MIGHT happen and Meg you thought she said it IS happening. Meg starts crying and says I don't know how else I would have come up with those names. I don't know what else to say. Audrey says I did not tell you who. Meg says you did!! Vanessa tells Meg I'm really not mad. I just really wanted to get to the bottom of this. Audrey starts crying and says I know in my heart what I did and didn't say.. I am sick and tired of people taking my words and twisting them. Meg leaves.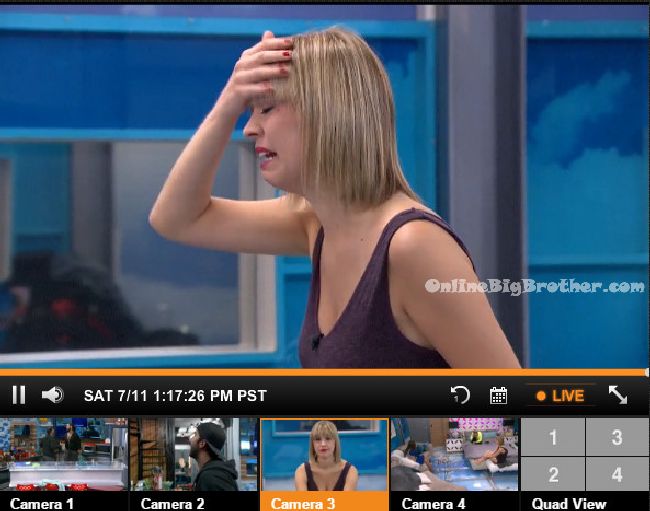 1:25pm In the kitchen –
Jeff talks about Liz possibly switching in and out. He says that he wants to talk to Jason to see if its better for us for her to be in here or not. Jeff says maybe we should stop investigating it. This week its Audrey and next week we step up how annoying Steve is. They call Johnny Mac over and talks about how one has a crown on her front teeth. Jeff asks if he looked at the one here today. Johnny says he hasn't been able to because she's been keeping her mouth closed. Jeff says that Jason needs to let the Day thing go. Jeff says Steve has to, has to go! He creeped Liz out big time last night. He was jumping on her in bed and tickling her. Meg comes through the kitchen and says she's lying, she's lying again! Meg heads to the bedroom and tells Jason about the confrontation with Audrey in the HOH room.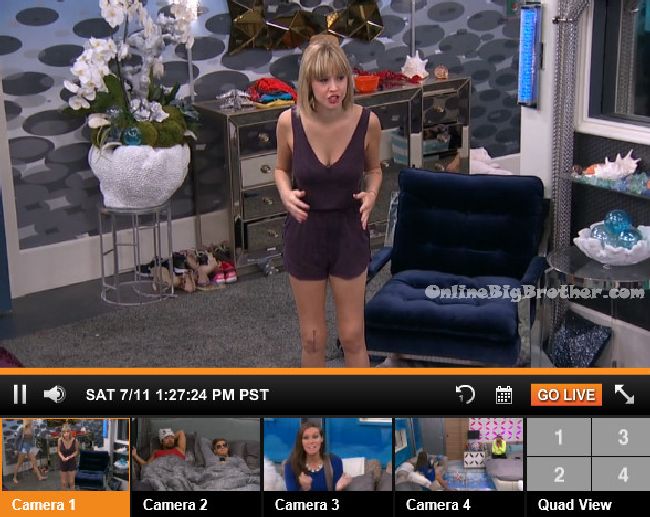 1:30pm Shelli, Meg, Jeff, Clay, Jason and James
Meg is pissed about her conversation in the HOH with Vanessa and Audrey. Says she was called a liar she's worried Audrey isn't going up.
Jeff is worried that Vanessa doesn't have it in her to pull the trigger. Jeff says Austin was telling him that VAnessa doesn't want to be HOH she doesn't want to make a move.
Meg – I haven't had a girl fight like that for a long time
Jeff – God she's terrible
Vanessa – I'm telling you right now VAnessa is trying to get out of it (Backdooring Audrey)
Jeff – I told you guys
James – Why is everyone so chicken shit to pull the trigger
Meg says Audrey was telling vanessa it was Jeff, Clay and Jason that knew about Da'vonne flipping the house.
James I'm telling ya she's gotta go guys (Audrey)
Jeff and James say Liz has switched this morning.
Jeff "This one hasn't said a peep to me.. yesterday she was straddling me"
Jason – this is cruella
Jeff wonders if they have to be aggressive with VAnessa. Jeff, james and Jason suggest they march up to the HOH and give her an ultimatum to get Audrey nominated.
Meg starts complaining about Audrey and her conversation/fight in the HOH.
Meg – She cannot win. James jokes "I'm tempted to get disqualified Kick her out the rink or something"Jason says Audrey is America's player she got a task to save Da. Jason tells them that it was Audrey that voted to keep Da'Vonne. Da told him Audrey went up to her and tried to made a deal the night before eviction. Audrey comes in lays down..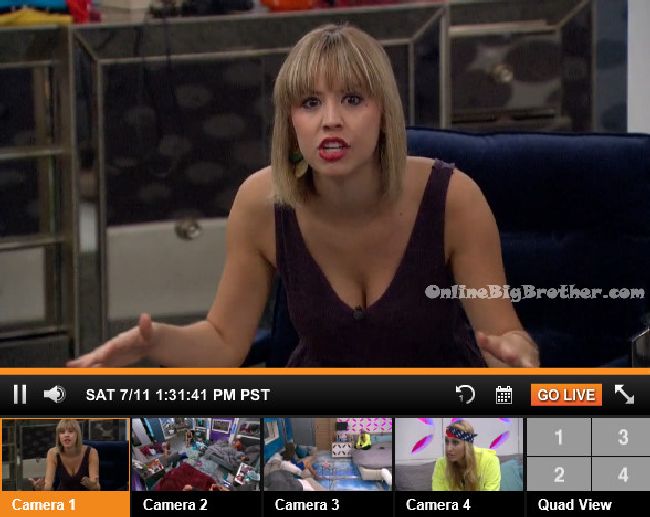 1:30pm – 1:50pm HOH room –
Vanessa and Audrey continue to talk. Audrey says I didn't use names. I told her she needed to check in with the people outside her alliance. Vanessa asks what do you think of her energy right there? Audrey says she was defensive. And only started to cry as soon as I called out the group. She's a theatre student. Vanessa says her energy was even off to me. I could not have been more diplomatic. Vanessa reiterates the conversation to Austin. Meg was crying and I didn't really understand why. Austin says a reaction when you're lying. Austin asks what was the end of that conversation. Vanessa says its very possible they're both telling the truth. Liz says its kind of like a misunderstanding. Vanessa says what I don't like is that Meg took it personally. Vanessa wonders if James threw the BOB for Meg. So that he could be the hero. He thinks Audrey's going up and home anyways. That was not the James I've seen before. Vanessa says no that I just did that with Meg she probably hates me. I'm sure I blew up my game with her. Vanessa plans to call James out about how he said Audrey was the one that Jace was the one that was targeting him and thats why he decided to put him up. Once I do that it will be the perfect smoking gun to not have to put up Audrey because I will have caught him in a lie and a good explanation as to what Meg came to me with. Audrey heads down stairs. Austin tells them that Jeff knows about the scar on her arm and now its gone. He knows that she switched out this morning. She also had no idea James cut Clay's hair. Austin says they think they can't confront her because of season 5 rules. So they're never going to confront her. Their plan is that a week before jury they will eliminate her. Vanessa says we just need to protect her that week. Austin says that Jeff doesn't want to do it but that Jason will. Austin fills Julia in on the things the others are look for as evidence they're switching.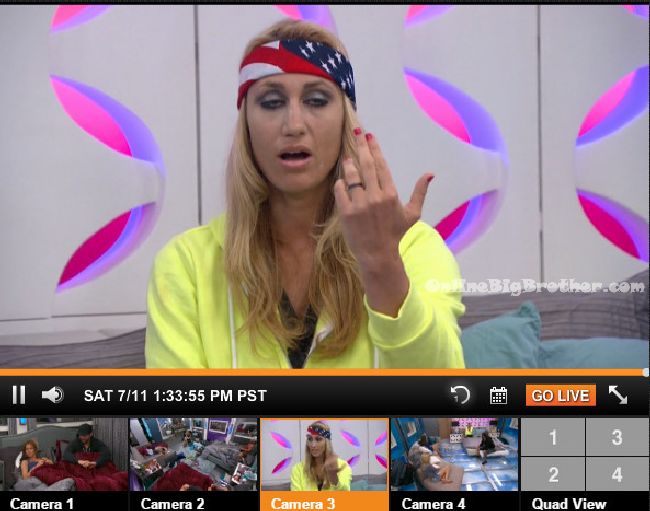 Julia "WHATEVER BRO! F**k!" @bigbspoilers #bb17 pic.twitter.com/FlJSnGp72V

— Dawg (@DawgsBigBrother) July 11, 2015
1:55pm HOH room – Austin and Julia are talking. Austin is filling her in on more information she's missed. Austin says I honestly don't want to win this. I'm obviously not going to let the wrong people win it. I want Audrey to win it so that Jeff keeps trusting me and giving me information.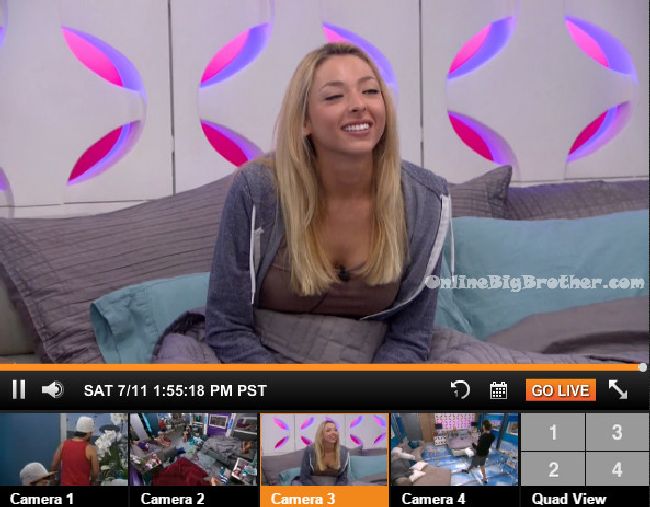 Live Feed subscription gives you CBS All Access thousands of archived shows. Live Shows like Big Brother, all the Big Brother Seasons, and 24/7 coverage of what is happening inside the Big Brother House. Plus there's flashback that lets you go back to any second of the feeds and rewatch what happened. Simon and Dawg will index the season just watch the parts worth watching. All this for $5.99 a month try it out 1 week free. Support our efforts and get your feeds via a link on this site. Live feed subscription Sign up
[polldaddy poll=8972565]
Share it YO!!
Tweet