POV Holder:
JohnnyMac
Next POV
July 11th
POV Used
Yes
POV Ceremony
July 13th
HOH Winner Team 1:
Vanessa
HOH Winner Team 2:
Austin
Nominations 1 :
James & Johnny Mac
Nominations 2:
Jason & Meg
Battle of the Block Winner
Jason and Meg
Next HOH/ Next BOB
July 16th / July17th
Original Nominations:
James & Johnny Mac
Current Nominations:
Jeff & James
Have Nots
No HAve nots this week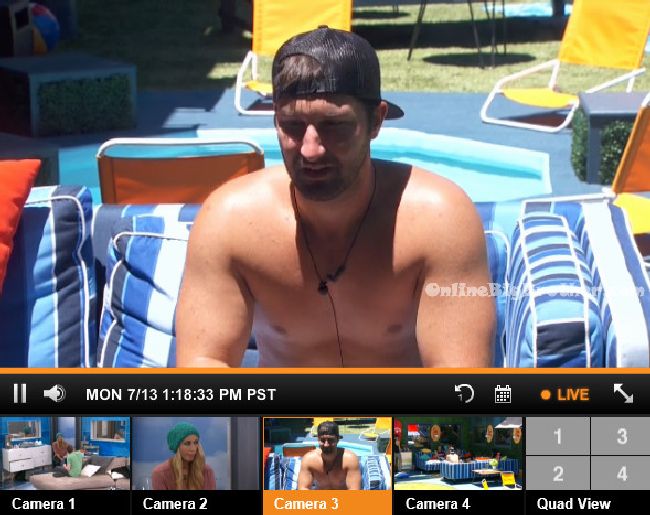 TRY the Big Brother 17 Live Feeds FREE for 7 Days!:
Click here to ensure your live feed subscription supports OnlineBigBrother.com at no extra cost to you.
12:05pm – 1:05pm Big Brother blocks the live feeds for the Power Of Veto ceremony. As the winner of the power of veto competition Johnny used the veto to remove himself from the block. Vanessa then nominated Jeff as the replacement nominee. As it stands, Jeff is going to need a miracle to escape eviction this coming Thursday.
Jeff says the lie was about .. she tried to say that I wanted to.. A long time ago she came to me on the hammock about working with people. I told her I would come to her later.. and I never did that. She looks at it like I initiated the alliance talk. She's annoying dude! She's f**king annoying! You know I love you dude. James says I'm just sad I'm up against you. Jeff says I am tired of having wet dreams in this house. I looked down and wondered did I pee my pants? Clay says I don't get random bones but I do get wet dreams in here. Jeff says she just said that James and I are bigger threats to her game. Meg says this week is going to be so hard. The way that I look at it and I was trying to work my way into an alliance that big I probably wouldn't attack like she did. But whatever everyone has their own strategy. She is just trying to justify. She says she doesn't want to send home an innocent person but at the end of the day that's exactly what she's doing. Jackie says that wasn't a good speech for her to go up and say stuff like that. Meg asks who do you think you have? Jeff says I don't know who I have yet. I haven't really campaigned yet. Better question is who does James have? It comes down to who people would rather keep in the game me or James. The thing is they ruined some trust before putting me up. Meg says that she thinks people are torn and to not draw lines I think they'll not go against the house. Jackie says I don't like how she sad that speech in front of everyone because it makes you look like the bad guy.
Vanessa tells Johnny I didn't want to come off too mean. I truly believe its better if he goes. I am very aware that having Audrey in the house is dangerous. Everyone knows not to trust her. Jeff is dangerous. Vanessa says that Jeff only told the truth because I was HOH. That shows a lack of integrity. Johnny says he didn't throw my name under the bus but if someone comes to me and says he does I will change my mind. Vanessa says I hope that doesn't happen so that he at least has 1 vote for him.
Jeff tells Austin for your game dude …its better to have me here. Because everyone is looking at you like you were involved. Jeff says that I told Liz that day in the storage room when she was crying.. that I would help her and I did. So she owes me now. I'm going to ask her if she will do it for me. I don't know how much I can fight for Liz but I can fight for you. Dude just think about it. Austin says I will think about it just keep reporting back to me because if things are flipping I need to know. Jeff says I have You, Jackie, Johnny Mac… for sure. Jason and Meg are torn. I will probably have Becky. I will have Clay and Shelli. Austin says well you're over the top you already have 6. It just sucks that Audrey is just scooting by. Jeff says dude the only thing that pisses me off is that she doesn't want to send an innocent person home .. its just so hypocritical. Jeff says whoever helps me I am going to be forever indebted. And if I get past this I will probably be here for awhile. Jeff says you, Liz and Vanessa are all going to be targeted next week. Austin says that's what I was thinking. And its not that I want to go where the numbers are.. I want to go where its best for me.
1:35pm In the havenot room – Shelli tells Clay that Steve is the mole for her (Audrey). When she was in bed he kept going to her. We really need to stay on the good side of both of them. Clay says Jason came to me in the bathroom and said that he thinks we can trust James more. Meg was thinking no one can beat James at the end. Everyone could beat Jeff because of what he's done. Shelli says that makes me think that Jeff and Meg have talked about that. Shelli says that Vanessa isn't happy that Austin is making it look like he had nothing to do with it. Clay says Austin isn't ride or die. Jackie joins them. Shelli says I feel really bad for you. Clay asks who do you think helped your game the most? Jackie says Jeff. I am going to vote that way regardless. I have to. Shelli says James will understand. Jackie says James is a great guy. Jackie says one of us to win HOH. If two of us win ..we can go guns blazing.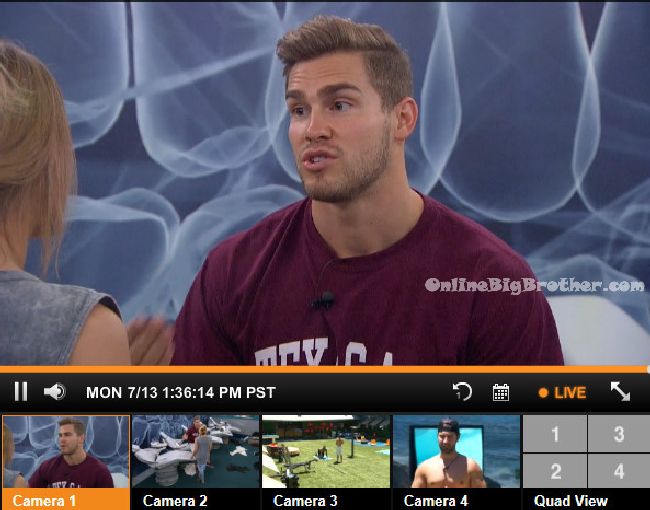 1:55pm – 2:30pm HOH room –
Vanessa, Johnny, Julia are talking. Audrey joins them. Vanessa says I don't want to be the reason why anyone is on the block. At the end of the day I had to pick him! But I had the most compelling reasons. Never saw it coming but then there is was. If that man blames anyone but himself than he is sorely self diluting.
Audrey says I am still playing innocent. I take accountability for the things that I did do and I've talk to and apologized to those people. I think he's ruthless in his campaign. I think its totally hypocritical. I've been discredited because of all the events that have occurred. Vanessa says I am officially taking 4 days to relax. Masks, pedicures, tanning, working out. I feel like the last 4 days I've aged 10 years. Vanessa talks about how she understands and thinks Jeff did the thinks he did because he went into survival mode. Vanessa tells Audrey about how Jeff threw Audrey's name under the bus as to who she can't trust. He wasn't telling me anything that I didn't already know. I know that I can't fully trust you. We worked our issues out. Part of me knows that I need to sit back and let people do what they want to do. Vanessa says everything he paints you as …he is! The way he manipulates people is crazy. I am just on to him. I know what he is capable of. James is about to take a big image hit. Audrey says that the most serial killers are Cancers. They're the worst. Vanessa says if he convinces them. Audrey says my mind would be blown. Jackie has said she knows he wouldn't take her to final 2. Audrey says some times he looks at her like there is a relationship there. Vanessa says he gave me the reason and I think people understand why.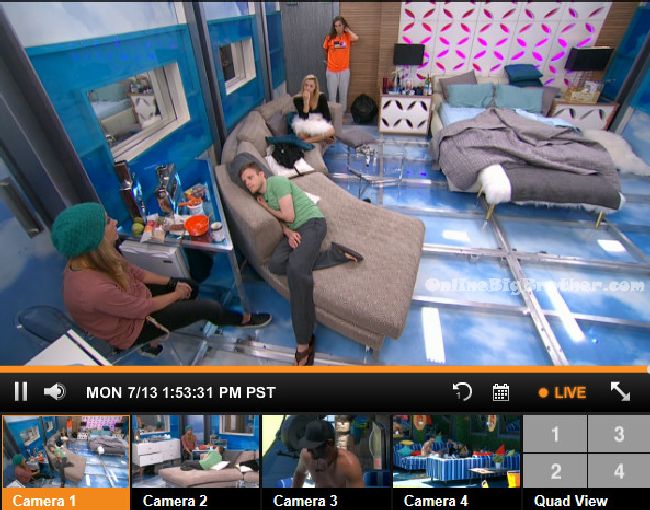 2:30pm In the bedroom – James, Meg talk about how Jeff and a wet dream today. Meg says he had to change his pants. James tells Austin that Jeff splodged on Meg. Jeff joins them and she tells him that he stained the sheets. Jeff jumps in bed with her again and asks what would you do if I had been wearing underwear and you woke up and it was all over you. Meg says EWWWW!! Jeff asks Liz when can I have my second shot?! Meg already got my first shot. James says she really did. Jeff then jumps on Liz. Jeff says I've been backed up for weeks.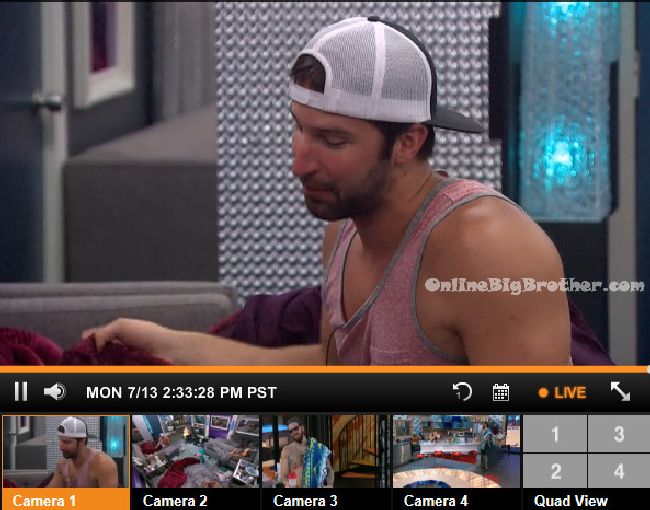 2:50pm Backyard – Austin is talking to Jason about how he is still trying to figure out who to trust. Jason says the main thing I don't trust about Jeff is that I think him and Jackie are here for more than what they're saying. They're not just here because they're two beautiful people from the amazing race. There are a lot of beautiful people they could have picked from the amazing race. Jason says I've already made up my mind what I'm going to do but I'm not telling anyone. Austin says Jeff's already said he isn't going to be campaigning till Wednesday. Vanessa joins them. She tells Jason that she hope she will let her tell her what really went down because it should concern everyone.
2:50pm – 3:05pm Audrey tells Shelli that she doesn't feel like she can trust Vanessa. Audrey says that Vanessa claims she is fixing my (Audrey) image but I doesn't see it. Audrey says in my gut, I feel like Vanessa has made a deal on the side with Jason and I think she has also talked with Meg. Audrey says my other concern is that it is going to look more suspicious if Becky and Jackie come into power and they want to put me up or backdoor me. I think if you only then come out of the wood work it will look suspicious and harder for you to campaign for me in that moment. Maybe it would be better for you to subtly hint at it with them now. Shelli says I've been looking out for you all a long. Audrey says you said to him that he is the male Audrey. Shelli says I did not tell him that. I said that to Vanessa and Clay behind closed doors and then now all of a sudden everyone is calling him that. Audrey asks who told you that I wanted to split you and Clay up because I never told you that. It's not Vanessa right. Shelli says no she thinks we're a team. It could have been .. I don't want to say it was Jeff.. I don't remember who it was. Audrey says what's important to me is getting out the person that is making stuff up. Audrey says I want to work with you and go to the final 3 with you and Clay. But Clay hasn't gone to bat for me like I did for him in the beginning. He's made it very evident that you're his priority. I feel like you have looked out for me and I feel indebted to you. Shelli says you don't need to be indebted to me .. just know that I'm loyal to you.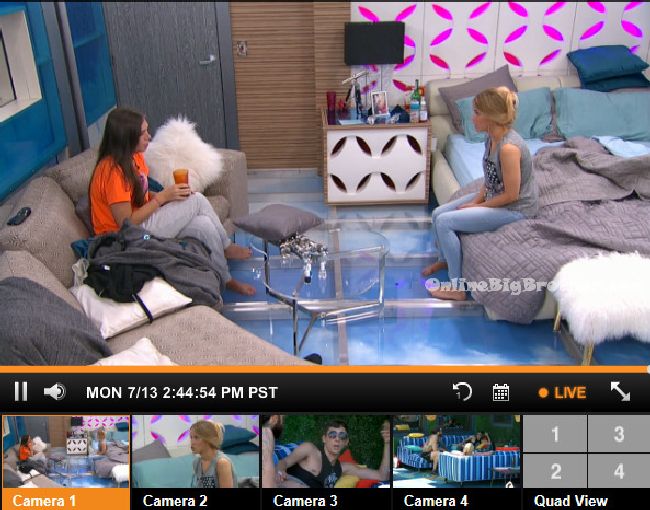 Live Feed subscription gives you CBS All Access thousands of archived shows. Live Shows like Big Brother, all the Big Brother Seasons, and 24/7 coverage of what is happening inside the Big Brother House. Plus there's flashback that lets you go back to any second of the feeds and rewatch what happened. Simon and Dawg will index the season just watch the parts worth watching. All this for $5.99 a month try it out 1 week free. Support our efforts and get your feeds via a link on this site. Live feed subscription Sign up
[polldaddy poll=8972565]
Share it YO!!
Tweet