POV Holder:
?
Next POV
July 18th
POV Used
?
POV Ceremony
July 20th
HOH Winner Team 1:
Liz
HOH Winner Team 2:
Shelli
Nominations 1 :
?
Nominations 2:
?
Battle of the Block Winner
?
Next HOH/ Next BOB
July 23rd / July17th
Original Nominations:
?
Current Nominations:
?
Have Nots
?
7:02pm Austin and Liz
Talking about who the fourth vote was. Austin says Becky, JohnnyMAc, JAckie, and Audrey. They Believe Steve threw the HOH. Liz is glad Austin didn't win the HOH it reducing the target on him and allows him to play in the next HOH competition.
7:13pm Audrey and Jason
Jason is pretty sure there is a twin and Liz will come after him. Audrey says she doesn't know anything about the twins.
Jason thinks the votes were Steve, Becky, Jackie and JOHNNNYMAC.
7:18pm They welcome Vanessa down with the peasants
7:19pm James and Meg storage room
James saying he did not expect 4 votes he thinks it was Audrey, Jackie and JohnnyMac
Meg thinks it was Becky
James – that would be crazy Becky played me, played me like a fiddle
James doesn't think it was Becky.
Meg says Jeff was telling her he had three votes locked in he was looking for 2 swings
James knows it was Audrey that voted to evict him.
James doesn't think it was Clay or Shelli splitting why would they turn on one vote.
James – Steve promised me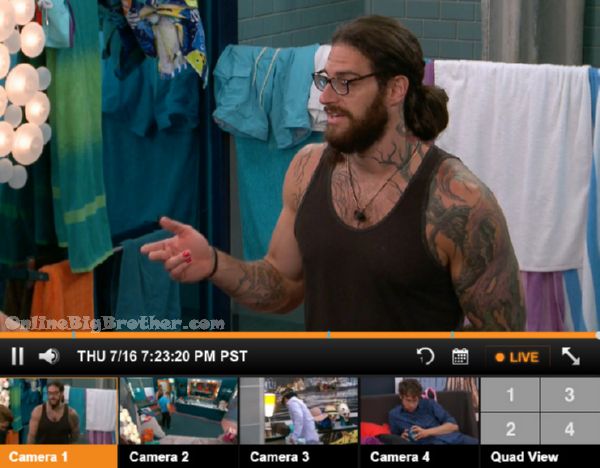 7:21pm Bathroom Austin and Clay
Austin says it was Johnnymac and Becky with america being the fourth vote (Audrey)
Austin wishes Audrey could wink at them that she' america's players, "Fucking sucks.. he (Jeff) was looking for that swing near the end"
Production over the overhead speakers "Clay please put on the microphone"
Austin – Shut up
Austin – we have the power we're good this week and now we all get to play next week
Clay – who's the biggest threat
Austin – we have to tackle those 4 votes…
Clay – Jason
Austin – Jason .. he's targeting Liz
Austin – we got this game dude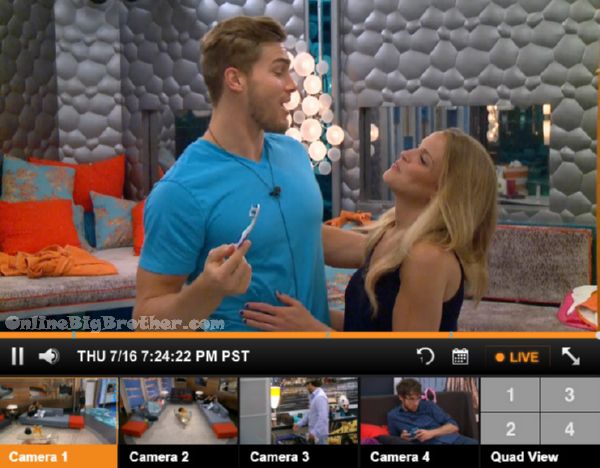 7:24pm Clay and Shelli
Clay saying Audrey is America's player she has to be
Trying to figure out who the fourth votes
[envira-gallery id="121904″]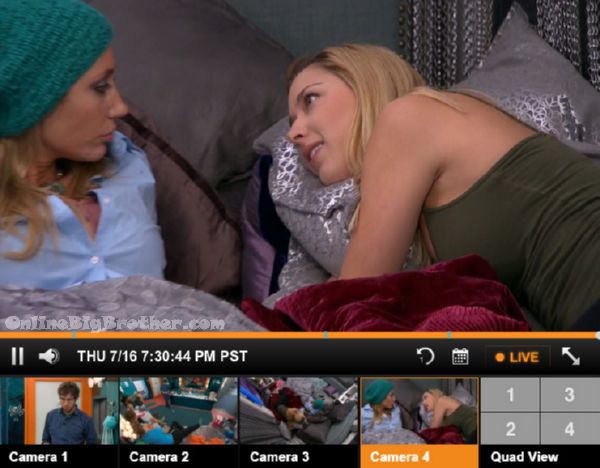 7:31pm Austin, Vanessa and Liz
Vanessa – I have a lot of Ideas.. I know about the vote I'm almost positive Don't make any decisions
Vanessa wants to have meeting with her and Austin once she gets her room
Liz – dude you have no idea how F****g happy I am
Vanessa – so happy
Liz says the reason she yelled so loud she was Thinking 'That's for you Julia"
Liz brings up the book "The Secret" how she was visualizing winning it and it happened. Liz thought when it was a quiz compe that she wasn't going to win it "I'm done I'm done I'm done I'm Done"
Liz – just another day at the office..
Vanessa wanted to jump across the yard
Austin – I wanted to carry you around the yard
Vanessa says the vote was 'Concerning"
Audrey brings up talking to Jason saying it was Steve and Becky.
Vanessa – Could be I don't think it's the most likely
Liz – at least he's gone
Vanessa – "It's disconcerting people lied to my face" (I'm 90% sure they did)
Austin brings up how close the vote really ways apparently Jeff scrambled right before the vote (When the feeds were out) and he almost got the votes. Austin says he almost convinced him 'He's that good"
7:52pm Austin and Jackie
Austin thinks it was America that game Jeff the vote
Jackie says America always votesd against teh house .. they head to the Cabana room
Austin knows Jeff was mad at him these last few days, It Was a tough spot "I wasn't voting alone"
Jackie – absolutely ..
Austin – you were the same situation i Was with Jace .. everyone expect you to vote for him
Jackie – not only vote for him Be there for him
Austin – I don't know what will happen this week I will try to keep you safe. .. I don't want anything to happen to you
Jackie – Why say she;…
Austin – I hope not
Jackie – Shelli is going to put me up… I am going to be one of them ..
Austin – No I don't' know anything about that .. clay has a better ear with them
Austin – these last couple days were kinda awkward
Austin tells her he's going to be up in the HOH listening "I want to talk to you and Keep you in the loop"
Jackie – I'll keep you in the loop as well"
Jackie – at least he went down with a fight … he knew deep down..
Jackie wasn't going to risk her game for him but she's going to be there for him as a friends.
Austin says he worked things out with Jeff and he hopes at the end Jeff doesn';t hold it against him.
Jackie asks him if he knows what is going on. Austin doesn't know doesn't think they are going after Jackie. He thinks at the very worse she'll be used as a pawn but he hopes not.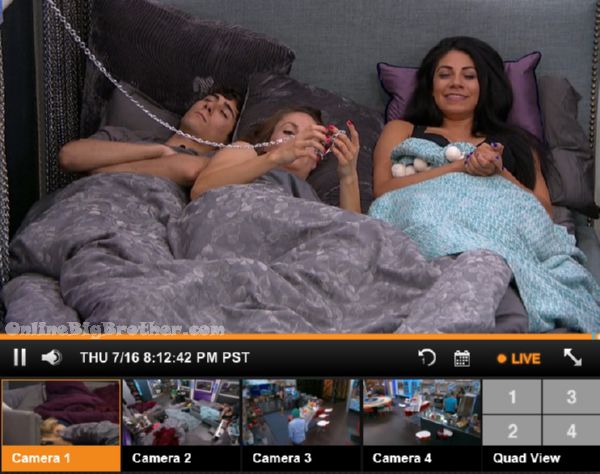 8:11pm Born to be Pawns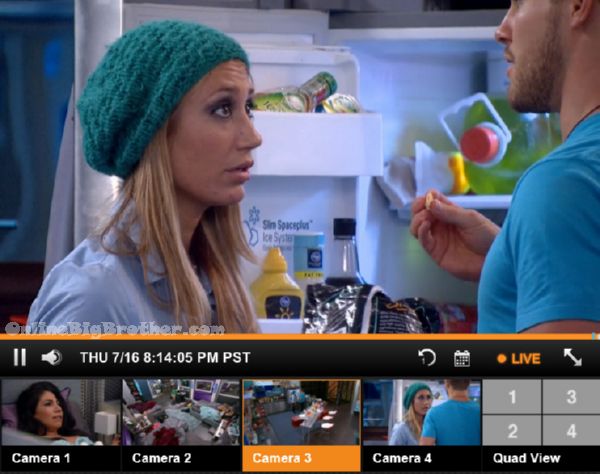 8:15pm
Vanessa says her instinct is telling her the vote was Audrey and Becky or Audrey and Steve.
Audrey joins them says it was Steve and Becky
Audrey – I don't see Meg and Jason not voting together
Audrey – Vanessa … Vanessa I think if you ask them one on one you'll be able to tell.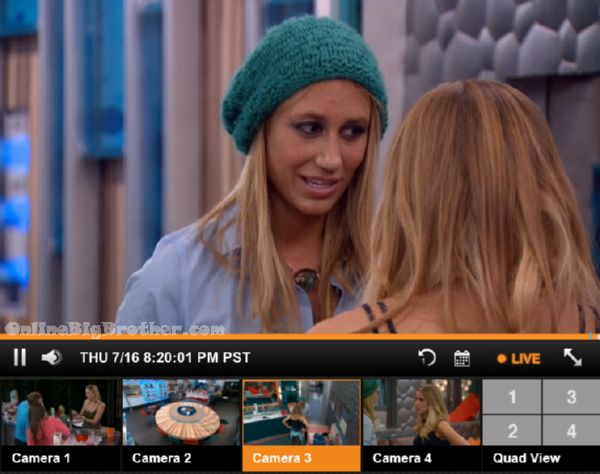 8:20pm Vanessa and Shelli
Vanessa says her gut is saying it was Becky.
Vanessa says she can see the pulse in people necks and can tells when they are lying. When she talked to Steve he was nervous.
Live Feed subscription gives you CBS All Access thousands of archived shows. Live Shows like Big Brother, all the Big Brother Seasons, and 24/7 coverage of what is happening inside the Big Brother House. Plus there's flashback that lets you go back to any second of the feeds and rewatch what happened. Simon and Dawg will index the season just watch the parts worth watching. All this for $5.99 a month try it out 1 week free. Support our efforts and get your feeds via a link on this site. Live feed subscription Sign up
[polldaddy poll=8983592]
Share it YO!!
Tweet