POV Holder:
JohnnyMac
Next POV
July 11th
POV Used
?
POV Ceremony
July 13th
HOH Winner Team 1:
Vanessa
HOH Winner Team 2:
Austin
Nominations 1 :
James & Johnny Mac
Nominations 2:
Jason & Meg
Battle of the Block Winner
Jason and Meg
Next HOH/ Next BOB
July 16th / July17th
Original Nominations:
James & Johnny Mac
Current Nominations:
?
Have Nots
No HAve nots this week
TRY the Big Brother 17 Live Feeds FREE for 1 WEEK:
Click here to ensure your live feed subscription supports OnlineBigBrother.com at no extra cost to you.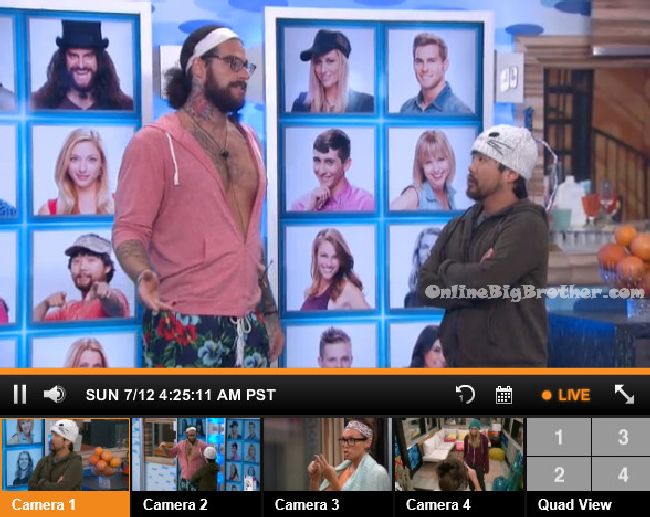 4:25am – 5am
Austin asks James if he can talk to him. He tells James that he has been hearing Jeff throwing my under the bus. I want to save you. I don't want you to go. James says I don't want to go either. After the Jace sh*t I told you, you were good with me. Austin says I am hearing from multiple people that Jeff is telling people not to trust me. Why?! I've been telling people to talk to him, you can trust him. James says the only thing I've heard from him is about the weights thing. I would appreciate it if you can tell Vanessa that you and I are good and I will not target you or her next week. Austin says my target this week was Audrey but I need to trust someone. James says just watch your back with him. I think he might be coming after you next week. Austin then goes and tells Vanessa. She tells him to go confront him in the bathroom. Austin asks Jeff dude have you been throwing me under the bus. I just talked to James and he told me in no uncertain terms watch your back with Jeff. Jeff says obviously James is trying to save himself. His back is against the wall. Jeff says the only person that is skeptical of you is James. Austin says why is my name getting thrown under the bus. Jeff says James thinks you are running this HOH. Austin tells Jeff that he said we need to get Shelli out of the picture. Jeff says I never said that. Austin says who's lying. I feel like ive been played like a fool. Austin says I just want to know what is true and what's not true. Jeff says this is what's true no one is dragging your name through the mud. Vanessa asks have you ever said Austin is a target for you? Jeff says no he's not a target for me.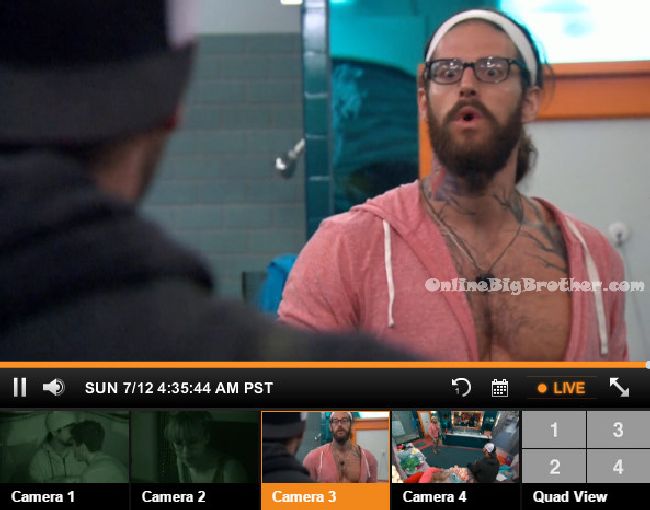 FLASHBACK and watch the fight on the live feeds: TRY them FREE for 7 DAYS! Then ONLY $5.99!
Vanessa asks have you said that you can't work with Shelli and Clay as a couple? You literally said it to me in the HOH yesterday. I said it to me, I will put my hand on the bible right now. I asked you .. you were going to pull me into a meeting about an alliance and your answer was that you didn't want to do it because it involved Shelli. Shelli and Clay can't be trusted together. Jeff says you wanted me to come into your alliance. Vanessa says what did you just say!!! DUDE! I am HOH right now?! ARE YOU TRIPPING!! You are going to f**king say that right now!? YOu must me f**king silly! You just said my alliance! Buddy!! You told me you were going to pull me into into an alliance. Don't you DARE imply it was my idea! Jeff says and I never had the meeting with you correct?! Vanessa says right and that's why I asked you why you never came to me and you said because don't trust Shelli and Clay together. That's it you're a liar!!! Vanessa goes up to the HOH room and reiterates the fight with Audrey. Vanessa then goes down to the kitchen. Vanessa tells James that she really respects the way he handled their conversation and he is now good with her. Vanessa says that Jeff is her target and wants him gone. Vanessa then reiterates the fight with Jeff to the others in the kitchen. Vanessa then pulls Jackie up to the HOH room and tells her everything.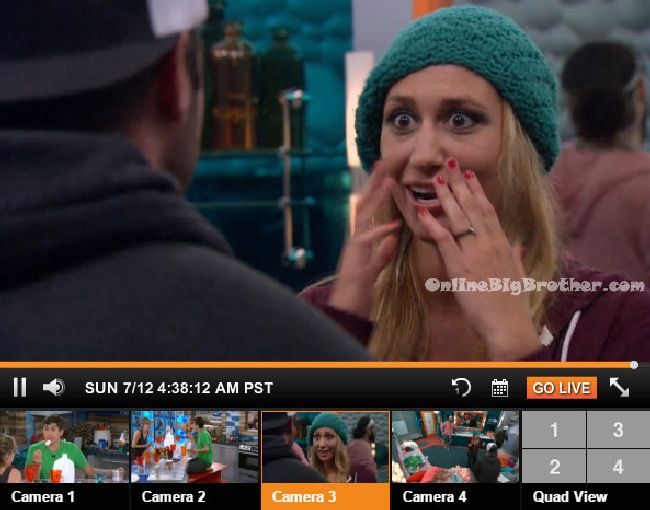 4:40am Bathroom –
Jeff says I told Vanessa that I couldn't trust working with you together because I didn't want to work with her. But I have your back. Bro you have to trust me on that. Right now we have two cowards starting things because they can't pull the trigger on Audrey. Shelli tells Jeff that this has nothing to do with Audrey. Jeff says I had to come up with lies so that she would back off and leave me alone. Clay says that information is irrelevant… you saying you can't trust us. You didn't need to do that. I put a whole lot of trust in you. Jeff says I didn't want them to find out about our alliance. Jeff says I've never given you a reason not to trust me. Clay says you have right now. Jeff asks what am I supposed to do blow up our alliance. Shelli says no. I've had your back since the beginning. I'm the reason why he trusts you. Jeff says how do I tell her without blowing up our alliance. I did lie to her. Jeff says that talk with Austin was a lie. It never happened. Shelli says you have said that you want to get rid of Austin. Jeff says yeah I did up until the podcast. Then were were good. Clay says you just told me in the cabana room that you wanted him out. Jeff says yeah because I just learned he was throwing James under the bus. Jeff says I am not trying to make multiple alliances. Shelli says you have multiple alliances. You've just said the four of us and what about James, Meg and Jason. Jeff says we don't have an alliance ..just an understanding that we won't go after each other.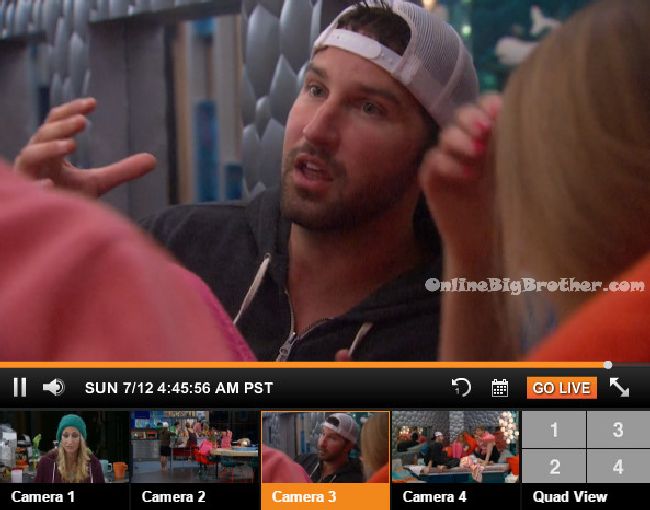 5:10am HOH room – Vanessa says how about what he did to me! That might be the worst move in big brother history!!! Take the HOH who has an open spot for nomination right now and then accuse me of trying to start an alliance that you tried to create!! Smart move! WHAT!?!!? Austin says that Jeff is trying to back peddle right now with Clay and Shelli. Vanessa says that won't work. Austin says I hope not! Austin says why is he talking to Shelli and Clay right now. He should be talking to you the HOH right now! Vanessa says his bridge has been burned with me. Jackie says I have been on the other end of gnarly fights with him yelling at me so I know what that feels like. Austin says how can you trust someone who lies all the time. Vanessa talks about how much she respects the way James handled his conversation with her. It's not looking good for Jeff right now. You think Audrey is bad! I think Jeff is the male Audrey.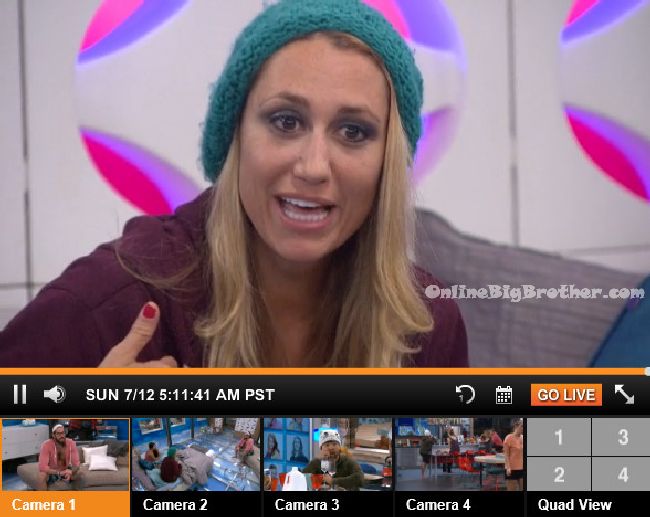 Vanessa GOING OFF ON JEFF https://t.co/ZoTe0DKou6 @bigbspoilers #bb17 pic.twitter.com/ib93brlNOi

— Dawg (@DawgsBigBrother) July 12, 2015

5:20am – 5:35am In the cabana room – Jeff continues to talk to Clay and Shelli. Jeff tells then we just need to get everything out in the open so that we can trust each other. Shelli says when that group didn't trust you I sat in this room and told them they could trust you. I walked in here and saw you and felt I could trust you. Clay says you have to understand that hits us hard. Jeff says I am a man of my word and I gave Clay my word I would have his back day 1. Clay says this game I trust Shelli enough that I don't make a decision without her. I come to you with everything. And I don't see it being reciprocated. Jeff says there has been nothing brought up about you at all. There's nothing to bring to your attention. It's common knowledge that you're a power couple. People in this house will spread whatever. There has been a lot of things said from one person. There is a mastermind here and dude it's Audrey. Any time there's been someone to break up she does it. Their HOH is not about Audrey. Austin has been running that sh*t. Now I have to have a conversation with each of them. Two people are in HOH that have an agenda that don't match ours. James or I are going to leave and it is going to create a weak atmosphere.
5:50am – 6am In the kitchen – Vanessa asks you have something to say? Jeff says yeah I do. Vanessa says yeah I bet you do! Jeff says I had my talk with them and I just feel like you kind of attacked me. Vanessa says I don't know what you said but I'm sure it was just as much lies as what you said when I was there. Jeff says no I said what she (Vanessa) said was 100% true. Vanessa asks what it a lie what you said in there? Yes or no? Jeff says yes. Jeff says Austin just came to me with a bunch of information and I felt attacked. Vanessa says so you lied. Jeff says no. Vanessa asks so you did lie or you didn't lie!? If you don't admit that was a lie I will not talk to you! Jeff says fine it was a lie! Vanessa says that's what I thought! Jeff says you were right all across the boards. Vanessa says if this is your version of apologizing .. then you have much more work to do. Vanessa leaves and heads up to the HOH. Maybe James can give you some tips because that guy is much more a man and can stand up and admit when he makes a mistake. Jeff says I would like to talk to you later. Vanessa goes into the HOH room.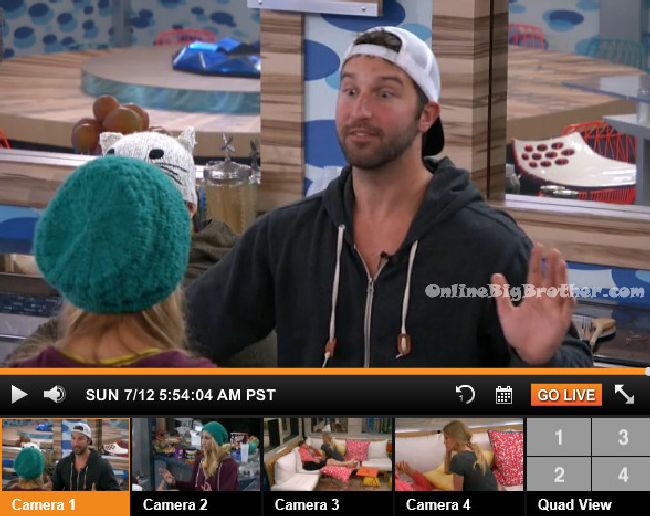 6:05am – 6:35am Backyard – Jeff tells Jason and Meg someone is f**king me right now! Jason says yeah Vanessa and Austin. Jeff says basically guys he is the problem that I have is that I think she is going to put me up. Jason and Meg both say based on that argument.. yeah! Jeff says none of it involved Vanessa. Jeff says they completely f**ked any kind of trust I had with Clay and Shelli. AHHHhh. that f**king d!ck! Jeff says I told SHelli and Clay ..the absolute certainty is that I am not targeting you. You have no concerns with me at all. Someone is stirring stuff up. They're trying to make me look like the d!ckhead because they don't know who to put up. How can we deflect this and get Audrey back in the spotlight. Jason says I don't know. I think if we say anything it will just put more of a spotlight on you. You need to get the proof of the the pudding. Meg says now Audrey is going to slide right through. Jason says we're going to be sitting with her in jury. They tell Jeff he has a lot of damage control now. Everything Vanessa said was true.. but how was I supposed to say I didn't want to be in an alliance with the HOH. Jeff says this is Audrey 101 and now I'm going to have to campaign against James. Jeff says I just want to scream. Jeff says I don't think this is anything I said or did its all part of a bigger plan. Jeff says I knew they were going to put up me or Clay or somebody. I just feel like this is way more than Vanessa. Jason says Vanessa has no idea what is going on in this house. Jason says lets go to bed before there's a party.
6:40am All the house guests are now sleeping..
7:30am The house gusests have a Gronk Hot tub party. After it ends the house guests head back to bed.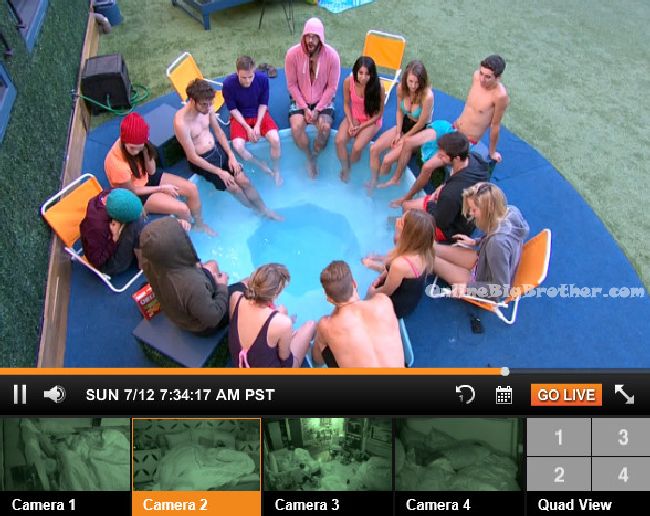 11am The house guests are still sleeping. No wake up call yet.
Live Feed subscription gives you CBS All Access thousands of archived shows. Live Shows like Big Brother, all the Big Brother Seasons, and 24/7 coverage of what is happening inside the Big Brother House. Plus there's flashback that lets you go back to any second of the feeds and rewatch what happened. Simon and Dawg will index the season just watch the parts worth watching. All this for $5.99 a month try it out 1 week free. Support our efforts and get your feeds via a link on this site. Live feed subscription Sign up
[polldaddy poll=8972565]
Share it YO!!
Tweet