POV Holder:
JohnnyMac
Next POV
July 11th
POV Used
Yes
POV Ceremony
July 13th
HOH Winner Team 1:
Vanessa
HOH Winner Team 2:
Austin
Nominations 1 :
James & Johnny Mac
Nominations 2:
Jason & Meg
Battle of the Block Winner
Jason and Meg
Next HOH/ Next BOB
July 16th / July17th
Original Nominations:
James & Johnny Mac
Current Nominations:
Jeff & James
Have Nots
No HAve nots this week
TRY the Big Brother 17 Live Feeds FREE for 7 Days!:
Click here to ensure your live feed subscription supports OnlineBigBrother.com at no extra cost to you.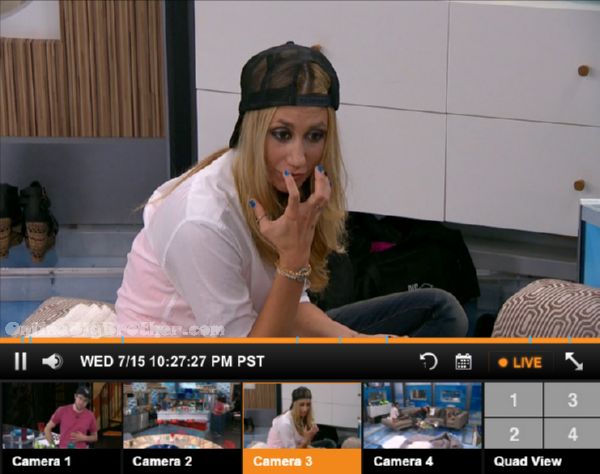 10:19pm HOH Vanessa, Liz and Austin
Vanessa warns them that you can hear everything in the HOH from the chessboard.
Vanessa begins the rant about Clay saying he's 90% sure he's voting Jeff.
Vanessa – he had the audacity to tell me he's 90% voting Jeff out .. 90% are you f****g
Austin – what's his reason
Vanessa – He's friends with Jeff
Vanessa says Shelli and Clay told her that they didn't want Jeff up they were just following the HOH. Vanessa can't believe this says it was 1/3 their idea.
Vanessa says if they are going to f****g cross her she knows way too much about their game she'll out them all. She knows everything about their game.
Vanessa – 1 part of 6 was me the rest was my team
Austin asks what game is he playing if all week he's wanting Jeff out.
Vanessa thinks it wasn't the same Clay, maybe it's a twin (ohh shit)
Austin – ah f***
Vanessa thinks Clay is trying to spin it like he wasn't part of the plan all week and just jumped on board at the last minute.
Vanessa – 90% … 90%… you must have meant 190%
Austin says they are all drunk downstairs points out that James, Meg, Jason,Becky are in a room Audrey, Clay, Shelli, JAckie are in a room it's obvious their working together
Austin says this week Clay and Shelli haven't shown them as good allies.
Production calls Audrey, Shelli, Clay and Jackie out for talking about their Diary room sessions. (See 3 images below)
Austin – If I win HOH I might flip this whole f*** thing put Shelli and Clay up .. make a whole new alliance, James is ready to make an alliance
Austin thinks Production calling that group out is production telling them that's a group working together
Vanessa says they (Clay/Shelli) are pulling Jackie in because she's the perfect second placer
Austin – She's the quintessential second placers
Vanessa says she caught Clay in a lie, He told her Shelli, him and JAckie were talking in the hammock room and he left out Audrey.
VAnessa – That's like me going up to Shelli and saying she's 90% sure she'll vote out Da but she's 10% sure she'll flip the house
Vanessa says she had a talk with Clay says it ended with Clay with his f**** tail between his legs. He confirmed 100% and gave me her a hug.
Steve joins them. Vanessa fills him in on the 90%
Vanessa – "You're f***g me you were 2000% a few days ago"
Audrey comes up. Liz says production called her out twice what was that about
Audrey – oh they were asking .. did you do goodbyes
Vanessa says she's not in the best mood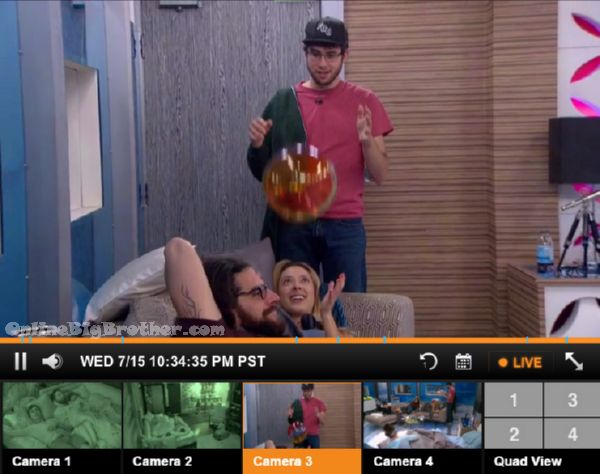 Steve asks them if they want a beachball (LOL) he starts throwing the beach ball around
Austin tells him to stop it's not the best time
Audrey – Social cues
Steve – why everyone loves beach ball
Steve leaves.
Audrey asks if something is wrong
Vanessa fills her in on 90%
Audrey – what does he mean 90%
Vanessa goes on a rant…
Audrey – I was getting a weird vibe from him today
[envira-gallery id="121715″]
10:43pm
Shelli comes up. Tells them not to worry Clay is voting out Jeff.
Austin says Clay was the one coming to him saying lets get Jeff out, "He gave me the idea"
Shelli – Clay told you that
Austin – Yes
Shelli – "Don't be worried he's not voting Jeff to stay here"
Vanessa hopes Shelli would understand why she's so upset she would have felt the same way last week .
Shelli says she was upset when clay said 90% asks Vanessa if she heard what she was saying at the time.
Vanessa – "I was seeing black I don't know what you were saying"
Shelli says Clay is still good friends with Jeff
Audrey wonder why Jeff is throwing them under the bus
Shelli goes to get Clay
While she's gone they all agree Shelli is good she'll vote out Jeff.
[envira-gallery id="121723″]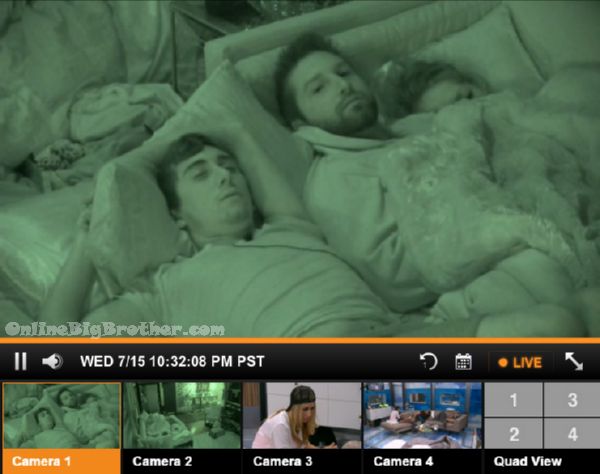 10:32pm Jeff, Jason and Meg
Jason's going to vote with his gut "I've made up my mind everyone else can do whatever they want and let the cards fall were they may"
Jeff wants him to know he wasn't ignoring him.
10:40pm Storage room Jeff and Jackie
Jackie tells him he needs to talk to Shelli. JAckie doesn't know where shelli and Clay will vote, isn't confident. Jeff doesn't think it's worth his time then. Jackie scolds him says he should have talked to Shelli from the beginning like she told him.
10:51pm HOH Clay, VAnessa, Shelli, Liz, Austin
Vanessa wants to make sure they are all 1000% on board with what the plan has been all week "CLay?"
Clay – mmmmhmm
Shelli leaves to talk to Jeff, says the 6 of them together is sketchy she looks at clay asn says, "They're concerned you gave 90%"
Vanessa start ranting asks him what percent he is
Clay – 1000000000%
VAnessa – I just don't know why you said it

Clay – there's no concern.. I don't know why I said 90
Austin – was he making you feel bad
Clay – ya.. i guess.. I don't want him here.. I'm not keeping him here.
Vanessa – you believe me, 10000%
Clay – Yes
Vanessa – you can't scare me 20 hours before a vote
Vanessa is freaking out.. thinks he's laughing at all this.
Vanessa – It's funny for you but I'm not laughing I'm almost crying I'm scared
Clay – I'm not laughing
Vanessa – it's not funny for me
Clay – I don't think it's funny
Vanessa – Cause It's not funny for me.. It looks like you think this is funny
Clay tells her it's not funny
Vanessa – or maybe you haven't seen me angry ,and i'm telling you it's not funny for me.. .
tells him to look how good of a manipulator Jeff is he's got Clay to 90% from 40000%
Austin says if Jeff stays tomorrow he's flipping all the couches
Clay – he's not staying even Jackie knows he's going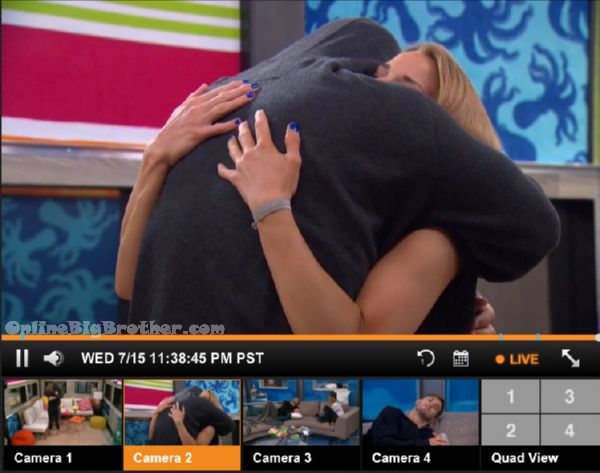 10:53pm Jeff and Shelli
Jeff – I know we're in an alliance..
Jeff says he doesn't know where Clay and her stand he knows he has A Jackie and JohnnyMAc's vote
Shelli – I'll be 100% honest with you.. my feelings on the whole matter are..
Jeff saying that James wants Clay and Shelli split up more than he does it doesn't benefit his game the two of them leaving.
Jeff tells her if her and Clay keep her it will be the best game move they could make.
Jeff – I know it sounds stupid but the reason Jackie is upset she needs me in this game.
Jeff tells her if they keep him it'll be him and Jackie with her and Clay and they will do battle. He's not going to sneak around behind closed doors anymore.
Jeff tells her the game is still early they have a relationship with him already. Jeff says their alliance is like a machine and it's got a bad part it's easier for them to fix the bad part then to go out and find a replacement.
Jeff says he's sorry he knows he messed up he feels it was unfair for Jackie. Jeff starts to cry (We don't see his face but hear the sniffling )
Shelli hugs him says it sucks.
Shelli says she's going to talk to clay
Jeff – let me know if you guys will take the piece and fix it
Jeff – please talk to Jackie.. she's upset… It's all my fault
11:07pm HOH Vanessa and Clay
Vanessa says she was so furious at what he said "I was boiling"
VAnessa – I'm telling you I trust you as much as I trust Shelly
Clay says he doesn't know why he said that
Clay start telling her about Audrey wanting Clay out for SHelli and Jeff wanting Shelli out for Clay.
Between you and I she's not good for any of our games
Vanessa says If that other side wins Power they have to run the most persuasive campaign to get her up
Shelli joins them.
Jeff keeps going on hoe irritated he is about Audrey.
Shelli starts giving them a recap of the conversation with Jeff , "He used my name a lot.. I know that's a sales tactic.. He owned up to a few things"
Shelli says it sucks she likes him on a personal level but for the game it's too late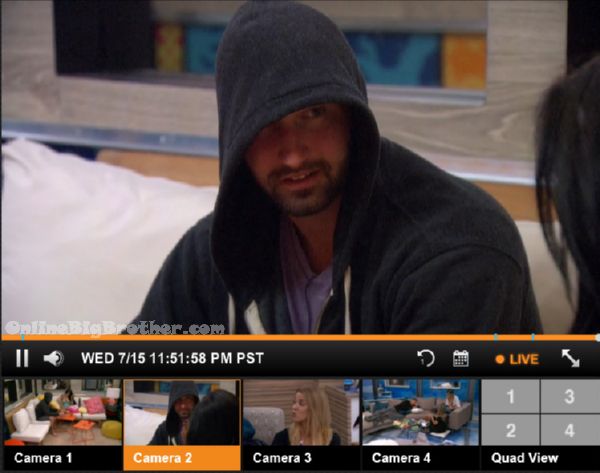 11:50pm Jeff and Jackie
Jeff recaps his conversation with Shelli , She told him he's cute, Says she couldn't have put it any better, and said she's going to talk it over with clay.
Jeff – if I make it past this week I'm not afraid of anything I've seen the exit door
Jeff and JAckie are convince that everything this week was planned by Vanessa and Austin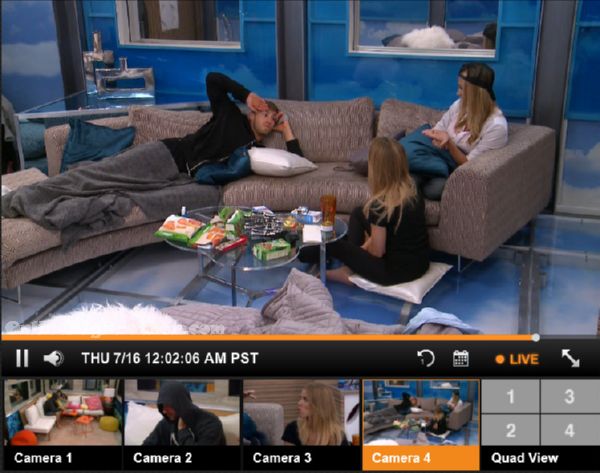 12:02am HOH Clay, Vanessa and Shelli
Shelli saying Audrey keeps telling her that during double eviction people always take out the couples. Shelli wonders if this is a plan of the house. Vanessa thinks the house should make a plan to get Audrey out next
Feeds cut when they come back Audrey is with them. She talking about the Diary room getting in her head. Feeds cut.. when they come back
Audrey is talking about something happening tomorrow and getting her out. Feeds cut.. when they come back Shelli asking her if it was people in the room.
Audrey – no.. maybe it's the wine
Vanessa is going to go confirm with Steve.
Audrey says Steve has a routine like a "Shuttle" he lurks around. Vanessa leaves.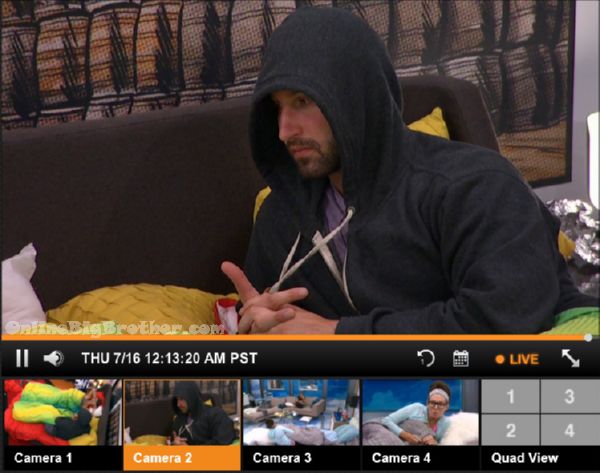 12:13am Jeff and Becky
Jeff says Austin is starting so many rumours about him. Jeff says James is campaigning to Steve right now even after he told Jeff he wouldn't campaign
Jeff about Austin – He's such a jealous f****r to.. he's just weird.. dude I don't want to get into this you're older than Jackie and dude whats about the girlfriend back home
Jeff says Clay wants to keep him but Shelli doesn't , "He runs the show"
Jeff – Meg I have no idea where her heads at
Jeff doesn't know if Shelli and Clay are buying his argument, "I gotta figure out where the hell Shelli and Clay do all their talking"
Becky – the old hammock room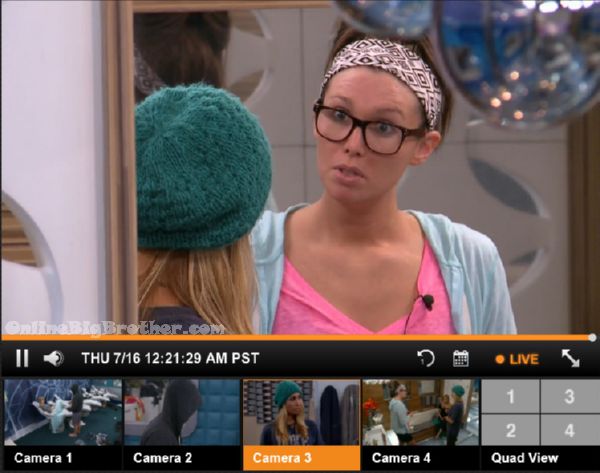 12:21am HOH bathroom Shelli, VAnessa and Audrey
Audrey's main target is Jason, She will put up Steve and Meg and have Steve throw the BOB. She will tell Steve look honestly I'll be doing what the house wants by targeting you. If he throws the BOB he won't be the target. Audrey also thinks about getting Becky out.
Vanessa thinks Jason is the much better target tells her Jason has said he's coming after Audrey if he wins HOH. Adds that Becky is a fringe player that has no numbers. Becky's numbers are their side of the house.
Audrey says James does not want to be HOH so if he wins it he want to be dethroned. Audrey suggested to James he put her and Becky up. Becky will never throw a competition so they can win the BOB. (She's thinking there is big chance of her getting backdoored)
Shelli complains that she's waiting for the feeds to stop showing the HOH so she can shower.
Audrey – "Yeah get naked we're all girls here"
they start to disperse.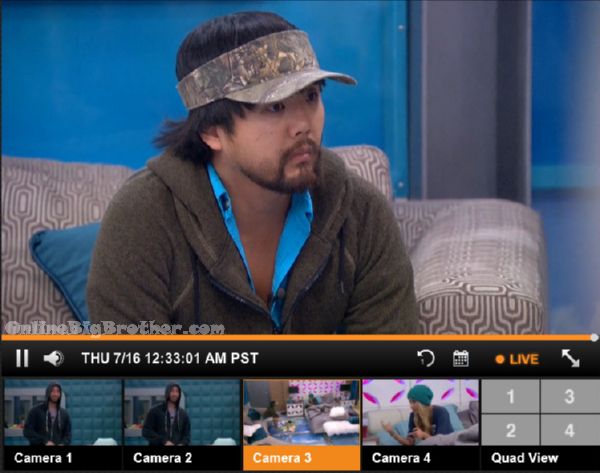 12:33am Vanessa and James
Vanessa says Jeff had a lot of people shaky with their votes. Jeff campaigned hard. She tells him she won't put him on the block of backdoor him if she wins HOH in 2 weeks as long as he doesn't put her up if he wins HOH next week
James agrees.
James knows Jeff was campaigning secretly
Live Feed subscription gives you CBS All Access thousands of archived shows. Live Shows like Big Brother, all the Big Brother Seasons, and 24/7 coverage of what is happening inside the Big Brother House. Plus there's flashback that lets you go back to any second of the feeds and rewatch what happened. Simon and Dawg will index the season just watch the parts worth watching. All this for $5.99 a month try it out 1 week free. Support our efforts and get your feeds via a link on this site. Live feed subscription Sign up
[polldaddy poll=8972565]