POV Holder:
?
Next POV
July 11th
POV Used
?
POV Ceremony
July 13th
HOH Winner Team 1:
Vanessa
HOH Winner Team 2:
Austin
Nominations 1 :
James & Johnny Mac
Nominations 2:
Jason & Meg
Battle of the Block Winner
?
Next HOH/ Next BOB
July 16th / ?
Original Nominations:
?
Current Nominations:
?
Have Nots
?
TRY the Big Brother 17 Live Feeds FREE for 1 WEEK:
Click here to ensure your live feed subscription supports OnlineBigBrother.com at no extra cost to you.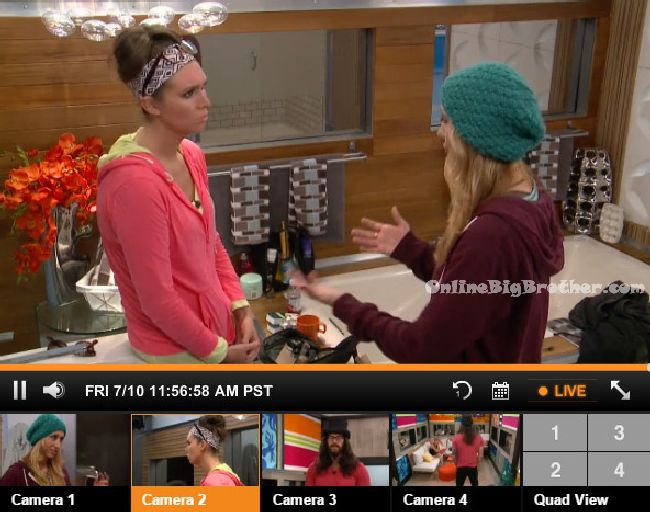 10:10am – 11:45am
Big Brother blocks the live feeds for the nomination ceremony. When the feeds return – Vanessa has nominated James & Johnny Mac. Austin has nominated Meg & Jason. The target is James or Jeff, not Audrey. Although they're trying to make everyone think that Audrey is the target with Steve as the backup which is a lie. Johnny Mac has once again agreed to throw the Battle of the Block to keep Vanessa as HOH and dethrone Austin.
11:45am – 12pm Up in the HOH room – Vanessa is talking to Audrey. Vanessa says I warned James and Jason they might go up. Audrey is crying she says I am just tired of people making stuff up. Vanessa says they're scared of you because you're brilliant. Vanessa tells Audrey to spend as little time up here as possible. They are going to hate me when I do this. I am going to take the fall for it when I put up Jeff. Vanessa says if you breath one word of this at all.. Audrey says I will not. Vanessa says if you want me to remain HOH you can't say at thing. Vanessa says I want to get back to the way we were pre-blow up. Is there anyway you can get close to John and Becky. Audrey says Becky will not say anything to me.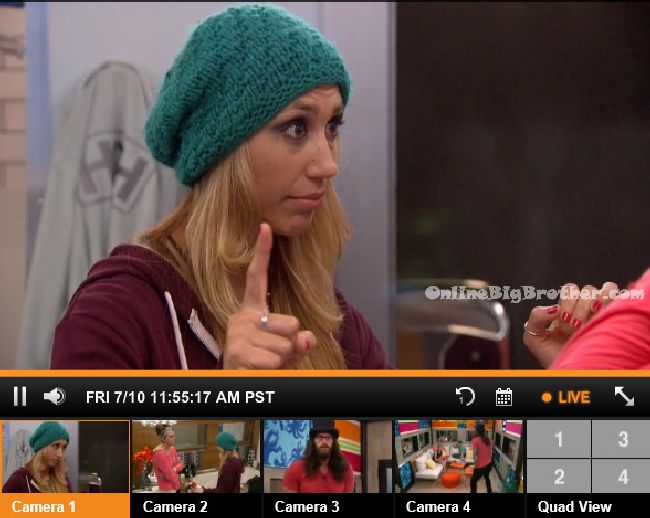 Meg tells Jason that she is sick of it. The new york girl is coming out! Meg pulls Austin into the cabana room with Jason. Austin says the original plan was Audrey or Steve. Hopefully now I can get Steve to use the veto if he wins it. The plan is Audrey or Steve as the back up plan. I really didn't want to put up either of you. Vanessa is on board with getting Audrey out and she wants to be the one to do it. Austin says if I stay HOH and win veto I am taking one of you off. Meg says I am freaking out and no one knows what this week is going to bring. Meg says I'm now know as pawn girl. Jason says now everyone is going to know that me, James, Meg and Johnny are know as the pawns. Jason says next week you will see who was feeding you bullsh*t. Meg says I don't think you're seen as the target in the house and I'm not taking it that way. Jason says we just feel like the bottom of the totem pole. Austin says the plan is Audrey with Steve as the backup plan if Audrey wins veto. Austin says I am rooting for you! Jason says it doesn't look like that when you put us the two weakest people in here against the two strongest people in here. Austin says that's not what I intended. Jason says I had no idea what your poem meant either. Austin says that was more for the camera. Austin says I am going to do whatever I can to make sure one of you doesn't go home. Meg says we're going to play a clean game this week. Austin says after the BOB we will talk.. tell me whats going on down here. Austin says I just don't know when I'm getting played or not. Everyone is saying so much. I don't know who to believe. Jason says the people that are doing that are willing to throw their own grandmother under the bus. Don't buy their bullsh*t!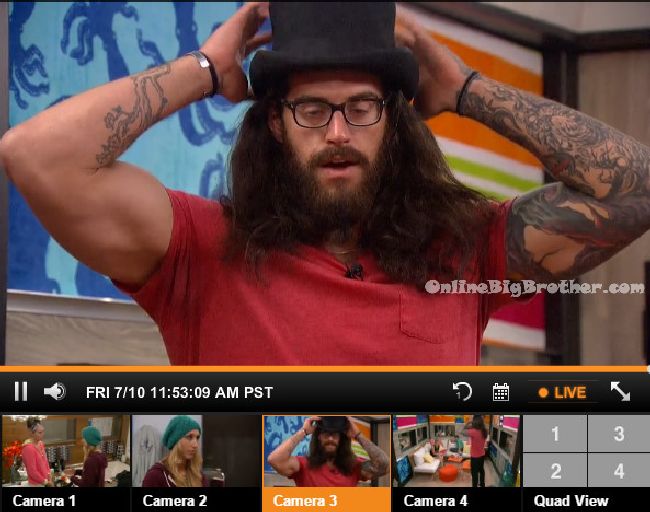 12:10pm In the bathroom – Jeff tells James that plan A is Audrey, plan B is Steve, Plan C and D is you or Jason. Jeff says I am thinking next week I might just volunteer to go up on the block. But when people see you go up they're more likely to put you up again and again. Jeff says they don't want to put up super pawns though because they're more likely to win and dethrone the HOH.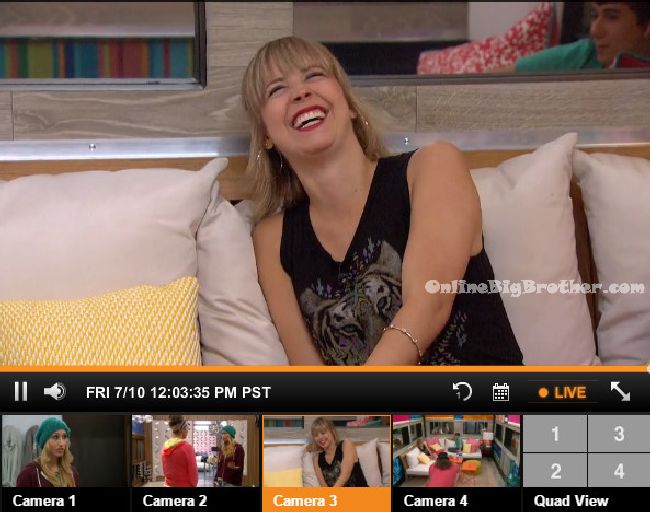 12:15pm – 12:35pm HOH room – Johnny Mac talks to Vanessa. She asks are you still cool with it. Johnny says its going to be hard to throw it against these people. Vanessa says if you can, you can, if you can't, you can't .. just don't bullsh*t me and say you tried if you didn't because I've promised you something really big. Johnny says I'll throw it but it will be really bad. Vanessa says they (Jason and Meg) don't want to lose it. Vanessa says you're never going home. I have the votes. Lock sealed, delivered. A, B, C or D I have a plan. Audrey is the main target. I have a very big target other than her if she wins the veto and it isn't anyone that would affect your game. Johnny says I will throw it. Does he (Austin) know? I need to know who knows. Vanessa says Austin knows and I told him I promised you safety past jury. Vanessa says if anyone says any word against you I will tell you. Johnny says I appreciate that. Austin comes up. He says they're so on board down there. Johnny says it might be tough to make it look like me and James lose. Austin says anything that you have to do to lose it. Fake an injury. Have a brain fart all the way through. Austin says Meg and Jason want to win. James is going to be gunning though it will be tough. And don't worry how it will look we have the numbers. Johnny asks does anyone else know I'm throwing it. Vanessa says me, Austin, Shelli and Clay. Vanessa says there is no one else that I knew would do it and leave me enough votes. Austin says you're the man Johnny. Vanessa says our word is solid. Till one week into jury I will not nominate you, backdoor you or vote against you. Johnny says its like you're saying eventually they're going to run out of targets. Vanessa says I think Steve is a good person and he talks highly of you. Johnny asks he's someone I should trust. Vanessa says yes. Vanessa says if you can throw this comp then we're good and then just go out and win the pov. If you win the pov then Audrey goes up against James. Johnny says it makes sense, I get it. Johnny says I'm going to try and stay in the dentist room to avoid talking to people. Vanessa says our side is more trustworthy. We don't make fake alliances and then stab people in the back like what they did to Jace. I would love to personally work with you and Becky. Vanessa says for veto you should pick Austin. Shelli or Clay. The only thing I am unsure about is how close Clay is to James. Johnny says yeah I would pick Austin. Vanessa says and Austin hates James for what he did to Jace.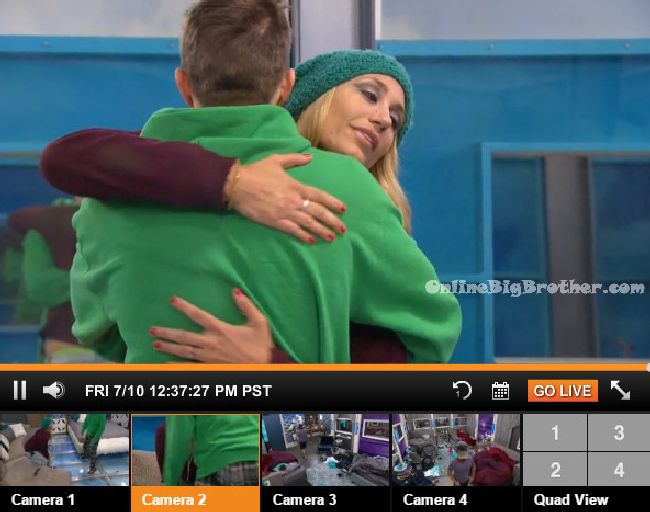 12:50pm – 1:10pm Up in the HOH room – Liz says that Meg is made. Austin says she is mad because she thinks Shelli and Clay are in our ear. Vanessa says that Johnny is going to try and throw it but it will be hard. Vanessa tells Liz that she told only me, Austin, Shelli and Clay know about him throwing it. What we tell you is only because we're together. Liz talks about how how Jeff was questioning how I live with. Vanessa says just know we are going to backdoor his (Jeff) a$$. He said he thinks I'm America's Player. Austin says that's his backup plan. Liz says oh, why didn't I think of that. Austin and Vanessa prep Liz on how to respond if someone confronts her or asks her about being a twin. Liz says I need to deflect it and say I can't believe you guys believe this. This is totally an America's player task. You just made someone 5K richer. Liz says I can't believe he cornered me again. Liz says I just really hope its not Jason and Meg left up on the block because I don't want them to go yet. Liz worries that Steve might tell someone about her being a twin. Vanessa says he won't he is tight lipped. I read people really well. Liz says just so you know I will not tell anyone if it comes out it wasn't me. Vanessa says that Clay actually offered to go up in Johnny's place. Part of me worried that he realized that James was my target and wanted to go up next to him to make sure they win the BOB. Liz says I'm going to win HOH next week and that's that. Austin says Clay and Shelli need to win HOH again. Clay needs to step up. Vanessa says or Johnny Mac, or Audrey because we just saved her. Austin says what are the odds that you and I would have won HOH together. Vanessa calculates it and says its .4% chance. Austin says and then add in that we're in an alliance.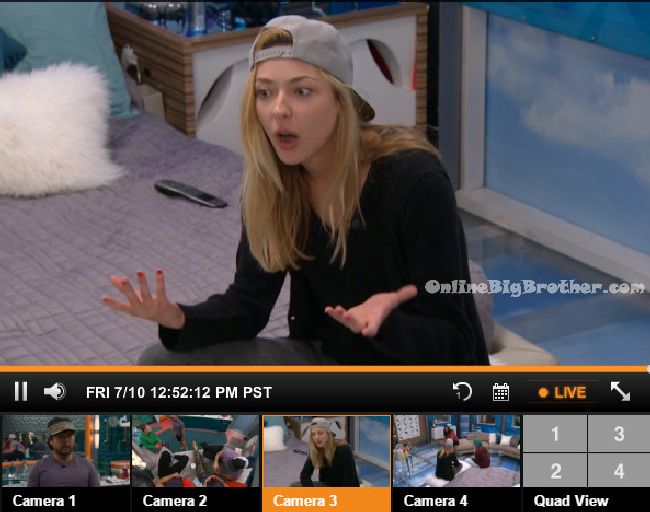 1:15pm
Shelli says that Vanessa is the one with the blood on her hands. We're going to have to protect her next week. Here is the thing with the BOB every plan is to backdoor someone. If they win HOH, they'll backdoor me and I'll only have one chance to get off. Clay says we have a lot of people on our side. Shelli and Clay head up to the HOH room. Vanessa tells Liz before Shelli and Clay come up that Liz can't let anything about the Steve deal slip. Vanessa says that Jason is not alone he has the person that was the second vote. It was probably Audrey. I do trust Jason but I think he has loyalties that are about us. Liz heads downstairs. Austin and Vanessa talk about their alliances Sleeper Cell, Freaks and Geeks, etc. Shelli joins them.
1:25pm In the storage room – Johnny talks to Becky. I have things that I can't tell you. Just like you tell me there are things you can't tell me. There is stuff that is going to happen this week just don't freak out. It might look like its not in our favour but you're not going up. There's a bigger plan. You can freak out .. just don't freak out. That's all I can tell you. Becky says okay.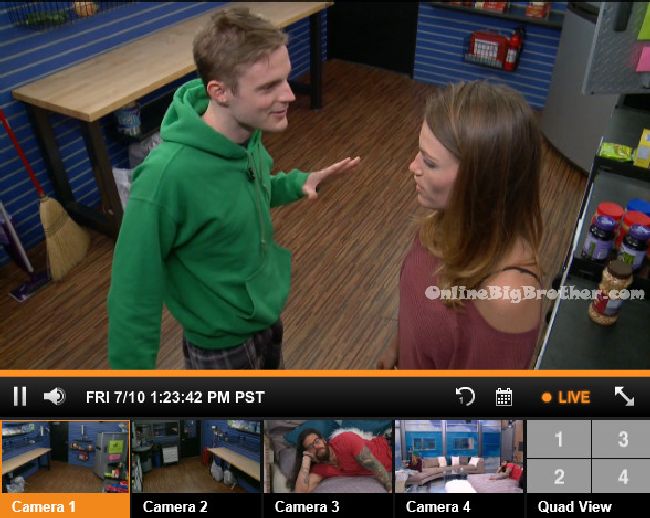 Live Feed subscription gives you CBS All Access thousands of archived shows. Live Shows like Big Brother, all the Big Brother Seasons, and 24/7 coverage of what is happening inside the Big Brother House. Plus there's flashback that lets you go back to any second of the feeds and rewatch what happened. Simon and Dawg will index the season just watch the parts worth watching. All this for $5.99 a month try it out 1 week free. Support our efforts and get your feeds via a link on this site. Live feed subscription Sign up
[polldaddy poll=8972565]
Share it YO!!
Tweet