POV Holder:
JohnnyMac
Next POV
July 11th
POV Used
Yes
POV Ceremony
July 13th
HOH Winner Team 1:
Vanessa

1

HOH Winner Team 2:
Austin
Nominations 1 :
James & Johnny Mac
Nominations 2:
Jason & Meg
Battle of the Block Winner
Jason and Meg
Next HOH/ Next BOB
July 16th / July17th
Original Nominations:
James & Johnny Mac
Current Nominations:
Jeff & James
Have Nots
No HAve nots this week
TRY the Big Brother 17 Live Feeds FREE for 7 Days!:
Click here to ensure your live feed subscription supports OnlineBigBrother.com at no extra cost to you.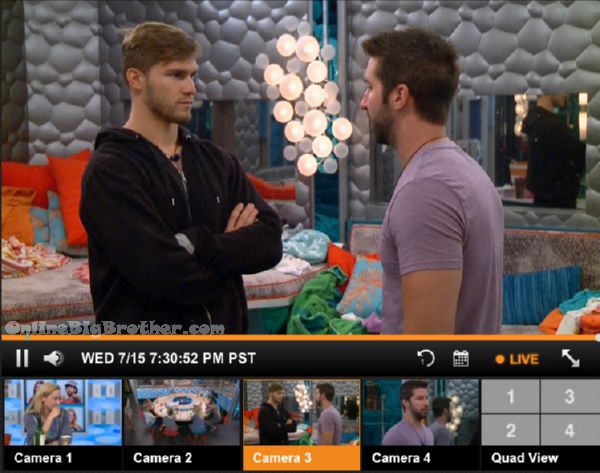 7:30pm Jeff and Clay
Jeff continues to campaign says the only person he's close to beside Jackie is Clay.. Goes on about never going against Clay and Shelli.. He's trustworthy, he's built a relationship with Clay that is more valuable so early in the game. Jeff will roll with Clay and leave Meg and Jason .
(Jeff is repeating the same reasons he's not going to turn Clay's vote but giving it a good shot. Heck even I am feeling a tiny bit sorry for him)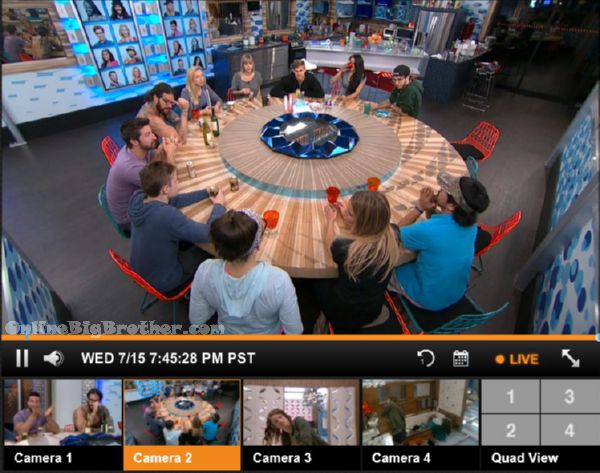 7:40pm
Alcohol 12 beers 3 bottles of wine
Shelli seems the most intoxicated
[envira-gallery id="121666″]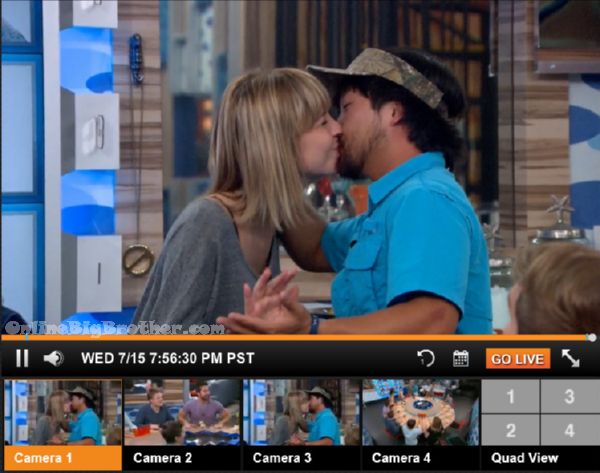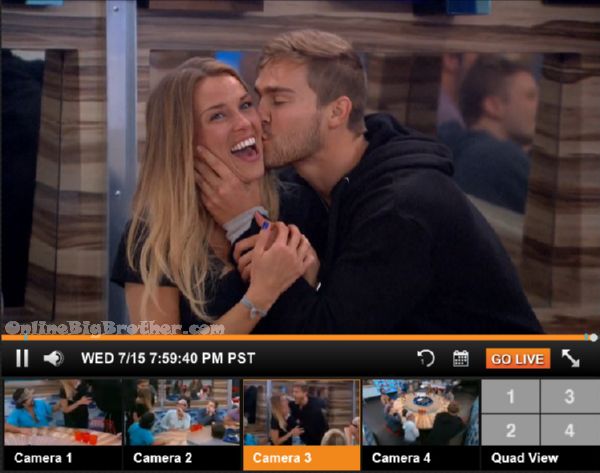 A very short Dare game.
Audrey dares Meg to kiss James Animated gif
James dares Clay to Kiss Shelli. Shelli says they are going to save their first kiss for off camera. Animated gif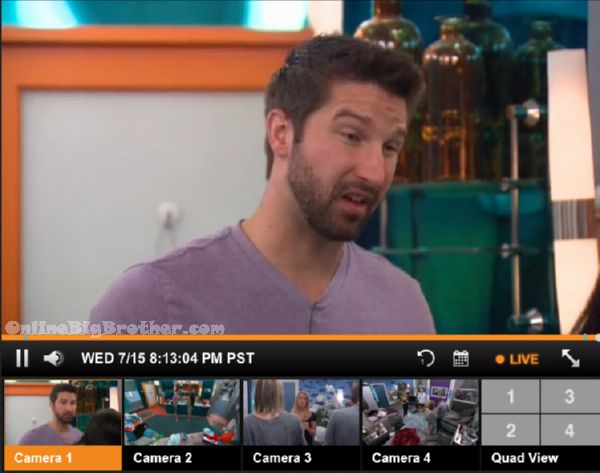 8:13pm Bathroom Jackie and Jeff
Jackie says Vanessa thinks Audrey is america's player
Jeff is pissed says if he stays in this game he's going after Vanessa. Goes on about how she could have put Audrey up but she put him up instead.
Jeff says she should have said "Why didn't you pull the trigger when everyone was telling you this"
Jackie says she was saying that, "Shelli was in the bed with her"
Jeff – you know she made a promise to me she wasn't goign to backdoo rme "
Jackie – If
Jeff I know IF
Jeff – She's a lying piece of sh1t.. She's just as crazy as the other person .. fuc*k her.. Sorry you're a weak player.. you're emotionally unstable weak little piece of sh1t (About Vanessa)
Jackie says Vanessa told her she thinks Jeff is going home unless people are lying to her.
8:20pm Shelli, Audrey, Jason and Meg
Doing their musical. Animated Gif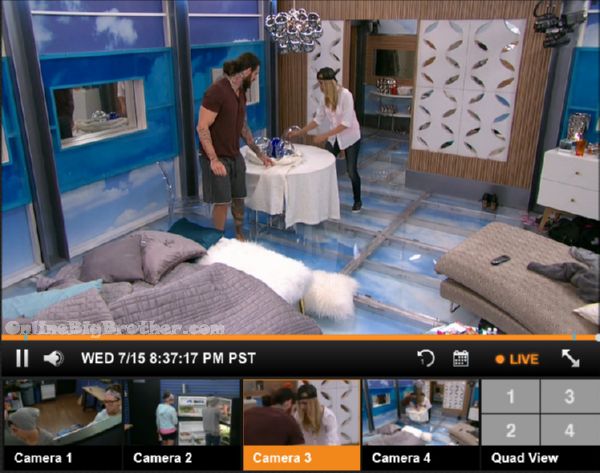 8:39pm HOH Austin and VAnessa
Austin and Liz are making a special dinner and he wants to dress up the HOH so they can have it there.
VAnessa is worried Jeff is fighting to stay. Austin doesn't think so tells her Jeff is done he's just pouting now. Austin wants them to consider James as a guy they can bring in to replace Audrey
Austin says James swears that Becky will vote for him.
Austin – James is a good ally he's a straight shooter.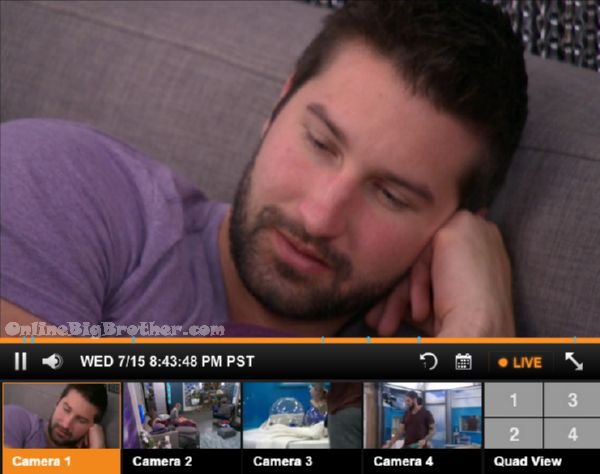 8:43pm Meg is trying to convince Jeff to hang out with the rest of the houseguests
Jeff doesn't want to hang out with a bunch of 'Fake idiots"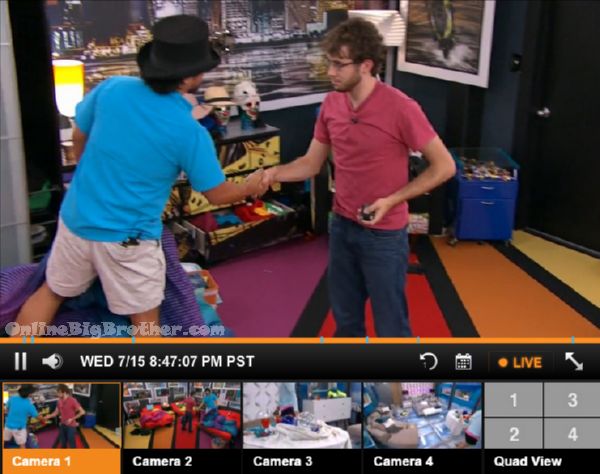 8:47pm Steve and James
Steve says if James will keep him safe for 2 weeks he'll have steve votes.
They Shake.
Steve says Jeff never campaigned to him they had a personal conversation.
Steve and James start to chat about the game. Steve says he's struggling with the social part says he has trouble reading people and reacting.
James give him some pointers tells him to be himself.
James – 50% social, 20% trust the rest is crazy stuff to get you through the game
James adds that Steve needs to give a bit of information to build trust. Steve says that's a fine line Da and Jeff were evicted because they told too much.
James says he's got Austin, Liz vote. He knows Jeff has JohnnyMAc and Jackie possibly Audrey.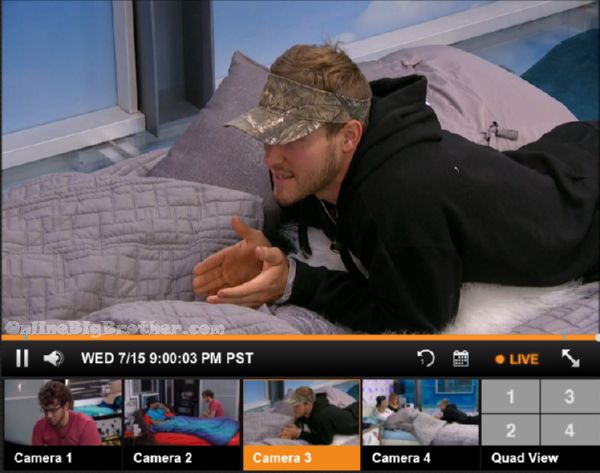 9:00pm HOH Clay, Vanessa and Shelli
Clay goes over his conversation with Jeff. says Jeff thinks he has Becky and Steve's vote and he doesn't. Clay says he hasn't told Jeff about his vote yet. Vanessa wants to know what he's waiting for
Clay – I'm 90% sure I'm voting out Jeff
Vanessa – why aren't you 100%
Clay – Obviously I have to talk to her
Vanessa – I didn't want to put Jeff you y'all wanted me to put Jeff up Austin wanted to put Jeff up.. you absolutely have to vote Jeff out.. I made a enemy if you don't i'll be motherf****g pissed.
Vanessa adds her trust will be blown if they don't vote out Jeff.
Shelli wants to clear up that Austin was the one that wanted Jeff up they were just supporting their team.
Clay says Jeff brings up some good points
Shelli – he lied right to our face that night
Austin joins them tells them Clay was throwing them under the bus. Jeff would tell him they can't trust Clay and they have to get out Shelli.
Vanessa- I was HOH and he was making that argument to me
Shelli getting pissed now raising her voice
9:11pm Jackie and Jeff in the bathroom
Jeff – if they keep me it's going to be a f*** bloodbath
Jackie says they should want to keep a strong player in the game especially early on
Jeff calls Vanessa a pathological liar and a piece of sh1t 'She's almost worse than Audrey"
Jackie says they (Shelli/Vanessa) were talking sh1t about Audrey upstairs then downstairs they are all friendly with her
Jeff – they are fake f***r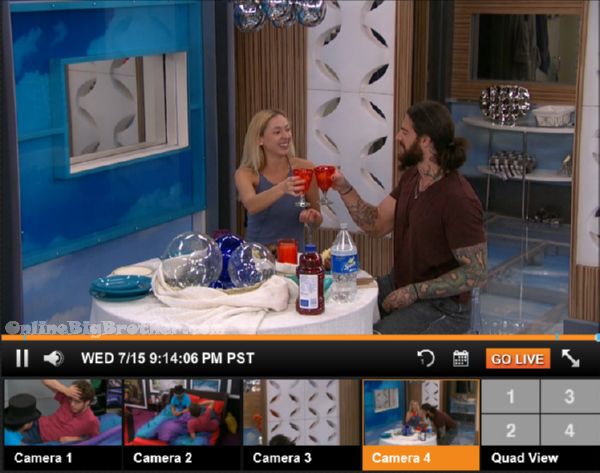 9:18pm Liz and Austin have their Date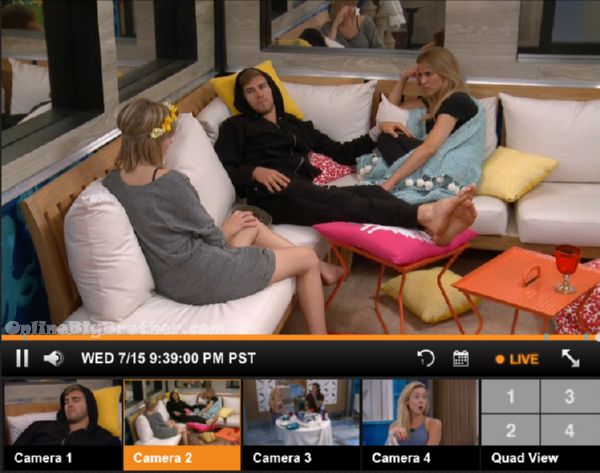 9:26pm -9:42pm Shelli and Clay
Shelli wants him to confirm that he's going to vote out Jeff saying 90% in front of Vanessa makes her not want to trust him.
Meg joins them says she trust Jeff more than James but trust them both. Clay tells her Jeff was toying around with the idea of splitting up him and Shelli.
Shelli – which one cause more drama
Meg – Everything is around Jeff right now
Clay now says Jeff told him Jason, James and meg were teh ones that weer planning on taking out Shelli and Clay. Jeff also said they were trying to recruit him, "Jason was the head of the snake saying we're the power couple"
Meg says that Jason had a conversation with her that Jason respect them and wants to work with them.
Shelli thinks she's Jason's target because she sent da'vonne home
Meg – Shelli, you were never brought up .. I would be absolutely blindsided if he won HOH and put you up.
Meg – Game wise James is smarter for me.
Clay – you voting for James to stay
Meg – that's what my gut is saying
9:55pm the date between Liz and Austin continues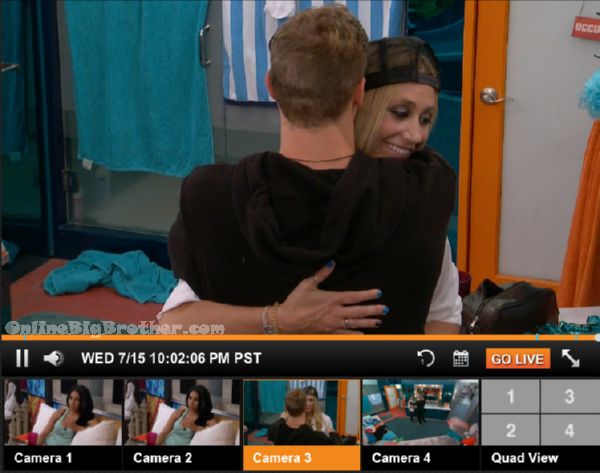 9:52pm Jackie and Shelli cabana room
Jackie says she wants to talk about Jeff. Shelli says Jeff has never come to her for a vote.
Shellie tells her she's heard from multiple people that Jeff was entertaining the thought of getting him out
Feeds switch to..
9:55pm bathroom CLay tells VAnessa he doesn't know what he meant by 90% (Clay said to her and Shelli he was 90% sure he's voting out Jeff. both shelli and Vanessa were pissed at this)
VAnessa says she would never have put Jeff up if she didn't think she had support of her team.
Clay says he doesn't know why he said 90 tells her beside Shelli she's his closest to him.
Vanessa tells him straight up Jeff doesn't have his back.
Vanessa tells him he's not going to find someone like her and Shelli in this game.
Live Feed subscription gives you CBS All Access thousands of archived shows. Live Shows like Big Brother, all the Big Brother Seasons, and 24/7 coverage of what is happening inside the Big Brother House. Plus there's flashback that lets you go back to any second of the feeds and rewatch what happened. Simon and Dawg will index the season just watch the parts worth watching. All this for $5.99 a month try it out 1 week free. Support our efforts and get your feeds via a link on this site. Live feed subscription Sign up
[polldaddy poll=8972565]
Share it YO!!
Tweet