POV Holder:
JohnnyMac
Next POV
July 11th
POV Used
?
POV Ceremony
July 13th
HOH Winner Team 1:
Vanessa
HOH Winner Team 2:
Austin
Nominations 1 :
James & Johnny Mac
Nominations 2:
Jason & Meg
Battle of the Block Winner
Jason and Meg
Next HOH/ Next BOB
July 16th / July17th
Original Nominations:
James & Johnny Mac
Current Nominations:
?
Have Nots
No HAve nots this week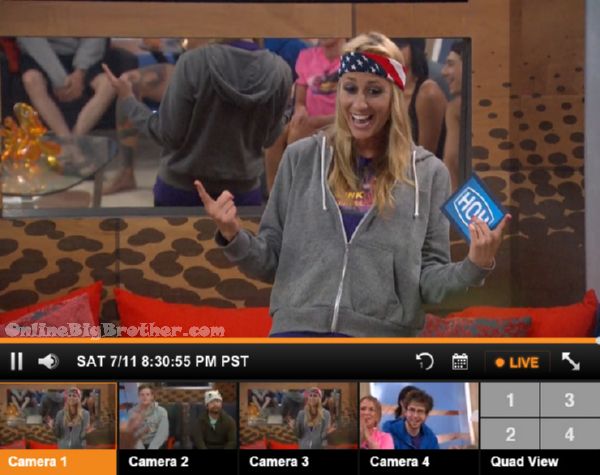 8:30pm VAnessa calls them to the living room
Vanessa has something to read out
"House gues as everyone knows gronk said no have nots this week but the party is about to kick into high gear anytime gronk calls you to a party you must go and do what he says if you don't show up that is a party foul and that will make you a have not for the week so show up and don't disappoint gronk."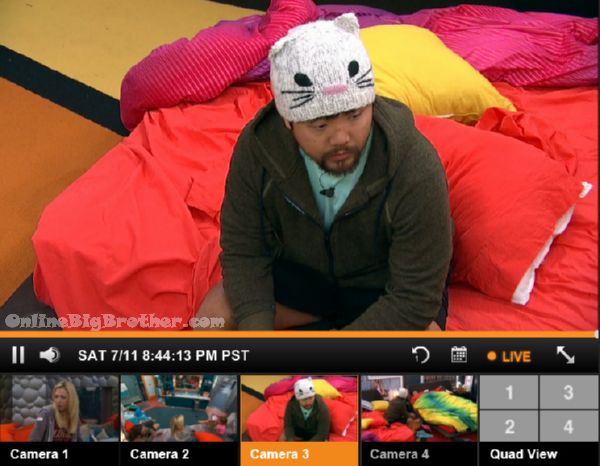 8:44pm Jackie, JAmes and Becky
Becky doesn't think Vanessa is the kind of person to blindside someone.
Becky – The whole house is we need this girl out.. I can't see Vanessa says UMMM no my agenda
Jackie says that would be pissing off the entire house that would be scary
Becky doesn't see her pulling a fast one and going against the house.
James can't see who else she would put up if it's not Audrey.
JAems – It will definitely be a blindside if she doesn't put Audrey up
Becky wonders what kind of deal can Audrey make she doesn't win anything she's just crazy and throws everyone under.
Becky – her deals are sh1t
Clay joins them.
Dozing off
james – Ahhh Meg's such a cutie patootie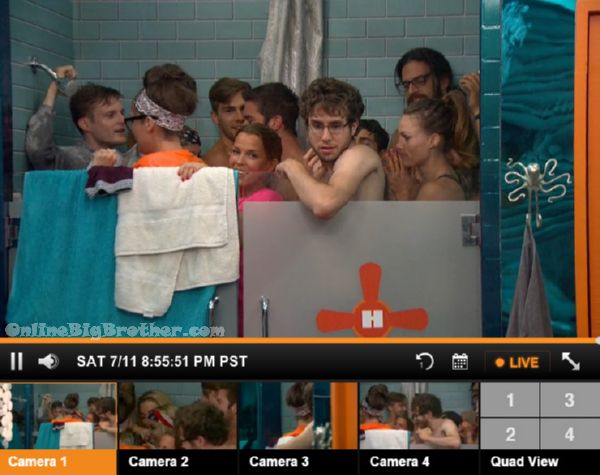 8:54pm People starts screaming .. "In the SHOWER"
First Gronk party is in the shower. Sounds like they got blasts of hot and cold.
[envira-gallery id="120680″]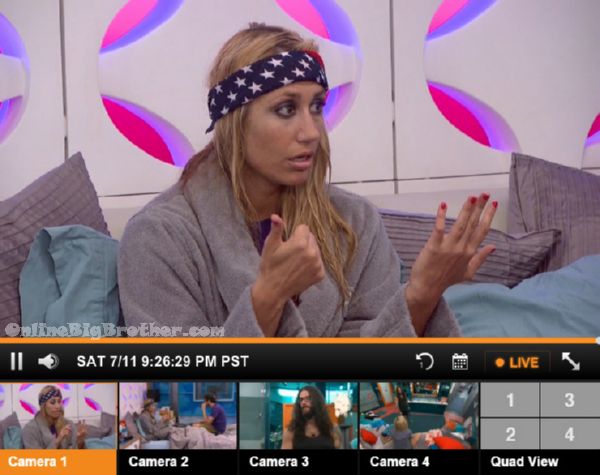 9:04pm HOH Steve, Austin and Vanessa
Steve asks her what happened with her and Meg.
Vanessa tells him they all know they are not getting rid of Audrey so she's trying to figure out if Audrey was lying to her or not. What it proved to Vanessa is Meg was lying other. she knows this because Meg got emotional and irrational so quickly
Vanee s- she runs downstairs crying she slammed the door she slammed the door on me
VAnessa says Jeff was trying to rally the house to come up here and demand Audrey
Steve tells Vanessa to use the excuse that Jeff was trying to rally the house against her and Audrey wan't
Austin wants Jeff's the option.
Steve tells them that Meg cornered people saying that Vanessa is lying

Vanessa – let me tell you She's luck she's safe.. I'm a LIAR
Austin – are you sure they weren't referring to Audrey
Steve – nope, your name was used.
Vanessa says maybe he heard it wrong because she never lied and that would be a big thing for her to make up.
Steve tells him to stop being nice "Keep being rude to me"
Steve – Does Jeff trust you
Austin – he's starting to
Steve – Keep doing that
Austin leaves
Steve asks her if she wants to nominate a Pawn instead.
Vanessa says the only option is Jackie.
Steve – you have more concrete reasons for James over Jeff. Vanessa says if she puts up JAckie she's pissing off Jeff and JAckie but if she pout up sJeff she's only opiussing off Jeff.
She Thinks Jeff is a bigger threat than James in mental competitions she say how James performed today in the POV.
Steve moves to the Memory wall starts going through possible pawns.. Suggests Becky.
Steve asks who would go home Jeff or James
Vanessa – Jeff. I can guarantee it
Vanessa – Becky hates Jeff..
Vanessa says Jeff told her Audrey, Steve and Becky are his pecking order and when she says him she means Jeff, Meg and Jeff
Steve says Jeff is rude to him, Says she was sitting there smiling in the social setting and he said one sentence and Jeff turned around and told him to shut tup.. Says Meg and JAmes were in the room..
Vanessa – he says a lot of sexist comments
Steve says James is pleasant on a daily basis but Jeff isn't
Steve calls Jeff a bully
VAnessa brings up him trying to rally people to force her to put Audrey up
VAnessa – he also makes comments that really bug me
They count the votes to Evict Jeff, Sheli, clay,. Steve, Beck, Liz, Austin
Steve – that's all we need
Steve – JohnnyMAc
Vanessa – Johnnymac is friends with Jeff
They agree it's a tight vote but either one going home is a win. She asks him what should she do to minimize the blood on her hands.
Steve says Audrey will be up here, VAnessa needs that to happen and make the house think that Audrey got to you.
Steve – Audrey's word against anyone… Anyone wins
Vanessa says she might just say "I talked to the majority of the house, Jeff take a seat"
Vanessa – it's the truth.. When Jeff goes home that's the majority of the house
Steve doesn't think the house will believe it. Jeff is going to start raising hell and arguing everyone trying to figure out who the majority is.
Vanessa is going back and forth about what she should say when she puts Jeff up. She thinks maybe she should just call them out for their alliance.
Steve tells her not to call James out because he's staying and she doesn't want to damage thing with him anymore than she can.
Austin, Liz, Clay, Steve, Becky
Meg will vote to keep James
Jason is a unknown
They'll talk to JohnnyMac
Vanessa says JAmes is in love with Meg and he threw the BOB to save Meg. He wanted to be the hero of Meg
Vanessa – wasn't it the most mysterious display every
Steve – the thought never crossed my mind .. you are right.
Vanessa calls is a Caleb move
(She's putting up Jeff but is deciding to talk about it for hours to give us something to type)
[envira-gallery id="120687″]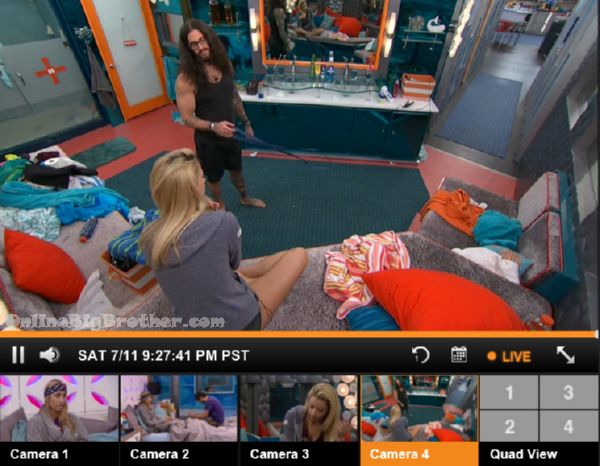 9:26pm Austin and Julia
Talking about playing shocked when jeff is nominated.
They talk about Jace's energy didn't jife with the house. Julia mentions Liz telling her about Jace calling everyone out in the backyard.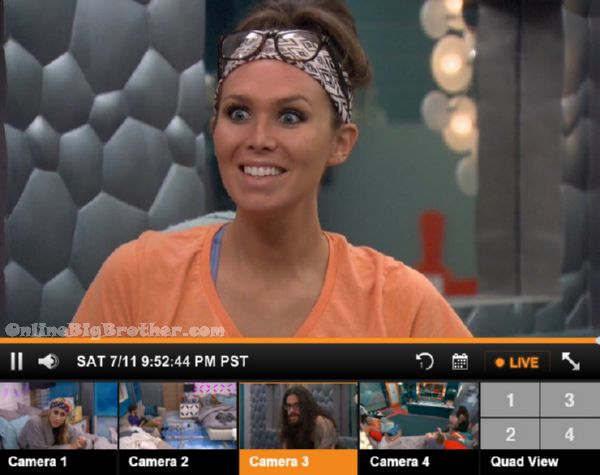 9:45pm Austin, Julia and Audrey
Austin says all week the other side have been saying Audrey steve Audrey Steve
Austin – I'm going to play the shocked card
They chuckle that Jeff is going to flip out
Austin and Julia are going to tell Jeff they have his vote all week and then vote him out on Thursday.
Austin – theya re so close.. Jeff, James and Jason
Audrey – JAckie will freak when he's gone
Austin – I know it's perfect
Austin saying Jeff is suing jackie as a piece of meat to lure Austin away from Liz/Julia. Austin points out Jeff wants to get with Liz he's thinking with his "____" (Points to d1ck) not with his '____" (points ot head)
They agree JAckie and Jeff have some kind of catch. He thinks if they can make it to the end they'll get a million dollars.
Austin says once Jeff goes up watch Jackie she'll show her hand.
Austin says Jeff is very manipulative much better than Jackie, "He's good.. he's really good.. CHeckmate"
They agree Vanessa is scared because it's a big move. Austin is certain the other side of the house is going to go insane.
Austin says him winning the veto and not using is it worse for them as a group it cuts them both off with the other side.
[envira-gallery id="120693″]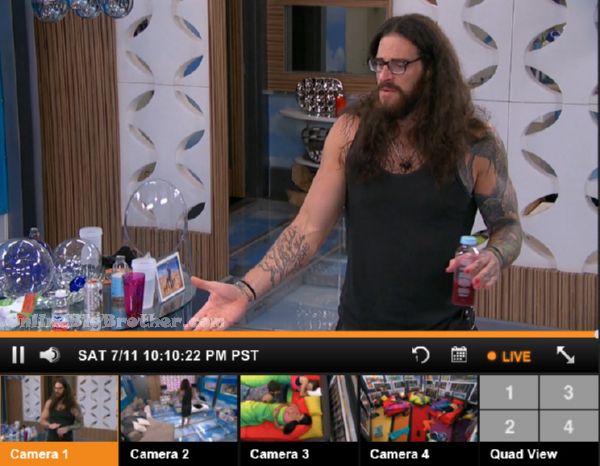 10:08pm HOH Austin, Julia, Vanessa and Steve
Vanessa – today i'm going to tell Shelli and Clay about you.. you need numbers to protect yourself..
They are going to bring Steve in with Sheli and Clay tomorrow. Steve leaves.
Austin – Jeff and Jackie are either together, married, engaged or they get a million dollars.
Austin says jeff is using jackie to get close to him, 'this is the lies and twists season.. there's something fishy about it"
Julia says JAckie and Jeff spelt in the same bed and Audrey heard them kissing.
Austion – They were 7th place on their season why would they be here..
Vanessa says jeff called Jackie dumb.
They agree jackie is going to campaign hard to save jeff
Vanessa's speech – Sometimes the enemy you don't know is worst the enemy you do know.. I want to do what the house wants.. it's come my attention that there's someone in the house that has done really great job of misleading a variety of people.. and uhmm they've really flown under the radar.. there's another target that are already obvious. .
Austin recommends a shorter version. He asks her if they should tell Jeff they have their vote. vanessa wants everyone that is intending to vote out Jeff to tell him.
Austin doesn't seem excited about this says jeff is going to make the house hell for Liz. .
Austin says Jeff and the rest of the house think if they announce she's a twin she has to leave.
Vanessa know that's not true.
Audrey – when everyone realizes he's 9Jeff) the male Audrey they'll want him out
They start talking about the emotional melt down Jackie and Meg will have when their two boys James and Jeff are on the block.
They tell Julia to go to Jeff and tell him Audrey has been spending a lot of time in the HOH.
Vanessa says Becky hates jeff but she doesn't know if it's more than Audrey.
Vanessa asks them if they want her to put up Jeff over Audrey
Austin – Oh my god Yes..
Vanessa needs to ask Clay and Shelli.
Austin- this is a good thing for Jason.. this give him freedom to open up he should his alliance is down to this (show with his finger)
Austin points out Jason will see it as a big game move he'll respect it .
Austin – the whole other side is wiped out if you take out Jeff WIPED OUT
Live Feed subscription gives you CBS All Access thousands of archived shows. Live Shows like Big Brother, all the Big Brother Seasons, and 24/7 coverage of what is happening inside the Big Brother House. Plus there's flashback that lets you go back to any second of the feeds and rewatch what happened. Simon and Dawg will index the season just watch the parts worth watching. All this for $5.99 a month try it out 1 week free. Support our efforts and get your feeds via a link on this site. Live feed subscription Sign up
[polldaddy poll=8972565]
Share it YO!!
Tweet