POV Holder:
?
Next POV
July 11th
POV Used
?
POV Ceremony
July 13th
HOH Winner Team 1:
Vanessa
HOH Winner Team 2:
Austin
Nominations 1 :
James & Johnny Mac
Nominations 2:
Jason & Meg
Battle of the Block Winner
Jason and Meg
Next HOH/ Next BOB
July 16th / July17th
Original Nominations:
?
Current Nominations:
?
Have Nots
?
Summary of what is going on in the House.
Austin and Vanessa won the HOH. Their nominees were Austin = Jason/Meg, Vanessa = James/JOHNNYMAC. The plan is for Austin's nominations to win the Battle of the block leaving Vanessa as the Head of Household. The primary target is Jeff, Secondary is James Tertiary is Jackie.
Jeff's side of the house believes that Audrey is the backdoor plan. JohnnyMac has agreed to throw the Battle of the block to ensure Vanessa is the HOH. The reason behind this is Vanessa has fewer connections with the other side so her taking out Jeff won't bee seen as a HUGE betrayal. Vanessa has also gotten closer with Jason so once that side collapses she'll peel Jason off and Austin will peel Jackie (Or at least try).
Vanessa is the HOH Jason and Meg won the BOB Austin is dethroned.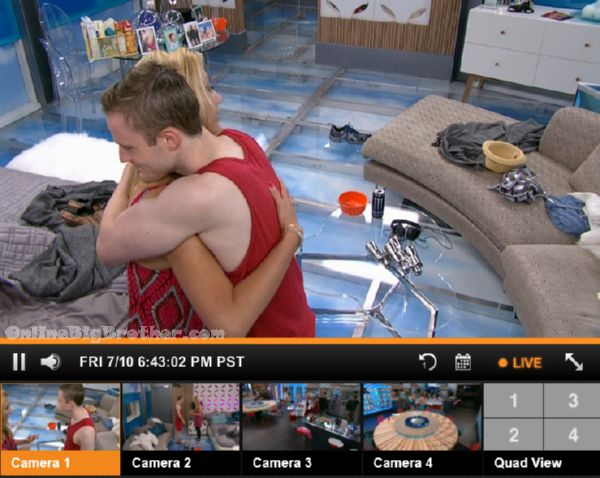 6:42pm HOH Vanessa and Austin.
Austin in the Shower
Vanessa – Jeff's freaking out
Austin says Meg and James are acting shady with Jeff he told him before the BOB
JohnnyMac comes int.
Vanessa doesn't think James threw it says it's teh worst COmpetition for James.
Vanessa reassure him if the nominations stay the same John has the votes to stay
John Leaves.
Vanessa says he needs to watch Liz to make sure she doesn't tell anyone she has a twin
Vanessa – this isn't Amateur hour
Austin thinks the house is going to know liz has a twin "We gotta think of Plan be"
Vanessa says Liz is making way too many mistake points out she's been smiling a lot showing her teeth. (johnnyMac noticed Julia had a crown)
Vanessa says if Liz isn't able to hide her twin She's out Vanessa isn't sacrificing her game
Austin – She's going to trust me forever.. I told shit"
Austin starts saying he thinks Clay has a twin in the game. Points out the difference moles on this forearm says Clay stays shredded and never works out.
Austin – Maybe I'm getting paranoid
Austin – I heard the IQ's from last year was really low.. someone slipped that.. there's no easy targets nobody's a idiot
They agree Audrey winning the POV is perfect.
Austin and Vanessa do not trust Liz downstairs they thinks she's going to get found out because she's not doing a good enough job at hiding it.
Austin – It's Jeff or James
Austin – If James or Johnnymac win the veto it's Jeff if someone else we'll talk
Vanessa doesn't want to have two big competitors on the block
Austin doesn't think Jeff is a big Competitor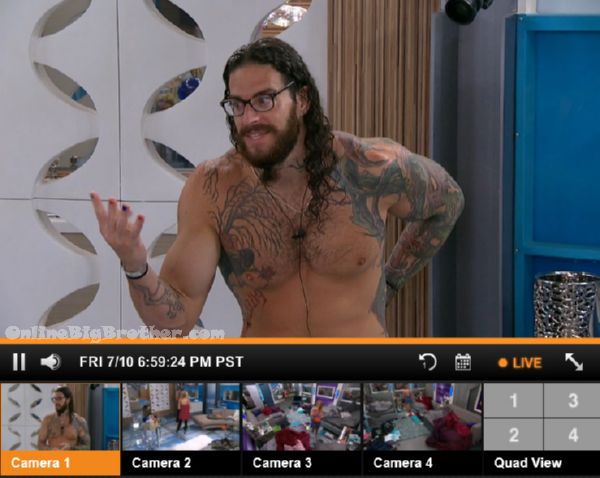 7:02pm HOH Austin and Vanessa
Austin – if we can take Jeff out this week we take Jeff out this week.. Plus I can compete in the next HOH.. We gotta start studying sh1t.
They agree they can flip Jason. Austin points out Jason is targeting Clay and Shelli. Austin says Jeff staying give them some more options if James stays he's pretty much coming after them.
Vanessa thinks Clay and Shelli are going after Meg, Becky and JohnyMac
Austin thinks he has a connection with Becky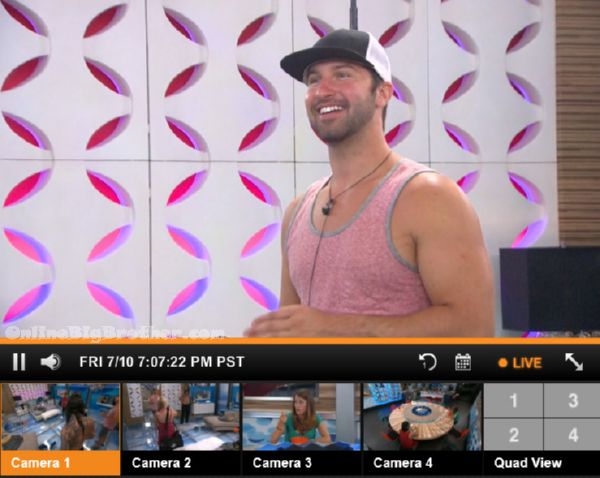 7:05pm Jeff, Austin and Vanessa HOH
Austin asks him what happened with James
Jeff – He choked
Austin – Too many beef cakes (CBS workers or extras in the comp)
Austin says if they get Houseguests choice they need to pick Austin. Says as long as Ausdrey doesn't get a chance to play they're good.
Austin tells him they can run this shit, Jeff, Austin, Clay, James
Jeff – I love Clay but Shelli is f****g annoying
Jeff says they will need someone to get Shelli out.
Jeff says they should team up with Becky, Jackie, James.
Jeff – What do you think of Vanessa
Austin – I trust her
Jeff – I trust her to.. but
Austin – Jackie would be key to have in the alliance dude.. there's never been a vampiremance
Jeff says something is different from there liz today
Austin – she's acting totally different..
Jeff – her a$$ looks fatter
Jeff says this Liz is called Helga the other one cruella deville
Jeff – we like Helga
Austin starts saying Clay might have a twin. Starts listing off his theories.
Jeff says he doesn't want to axe Meg but he wants Jason gone
Austin – Jason is gooood
Jeff thinks jason is going to take out Clay and Shelli because he's so bitter about Da going home.
Jeff says he wants to take out Audrey this week and next week Steve or maybe Jason.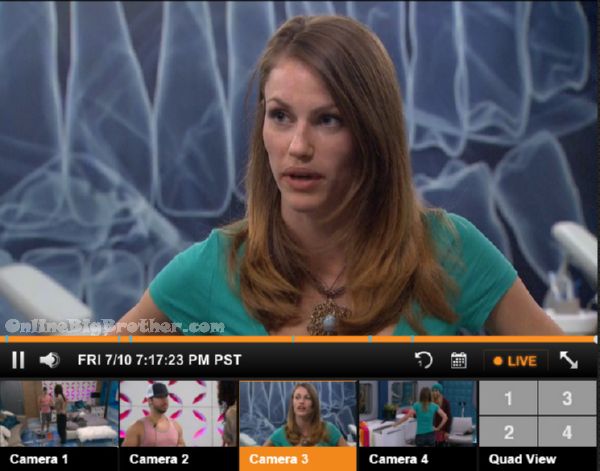 7:15pm Becky and Vanessa
Vanessa says she's suspicious that JohnnyMac threw the BOB. Becky says Jeff told Austin today they need to get "Becky out"
Becky says she was cast because she's a strong women admits she's boring.
Becky says Meg and Jackie can be manipulated. Adds she doesn't trust Clay.
7:26pm Door bell rings
Everything thinks it's a "Takeover" but it turns out to be nothing.
Live Feed subscription gives you CBS All Access thousands of archived shows. Live Shows like Big Brother, all the Big Brother Seasons, and 24/7 coverage of what is happening inside the Big Brother House. Plus there's flashback that lets you go back to any second of the feeds and rewatch what happened. Simon and Dawg will index the season just watch the parts worth watching. All this for $5.99 a month try it out 1 week free. Support our efforts and get your feeds via a link on this site. Live feed subscription Sign up
[polldaddy poll=8972565]