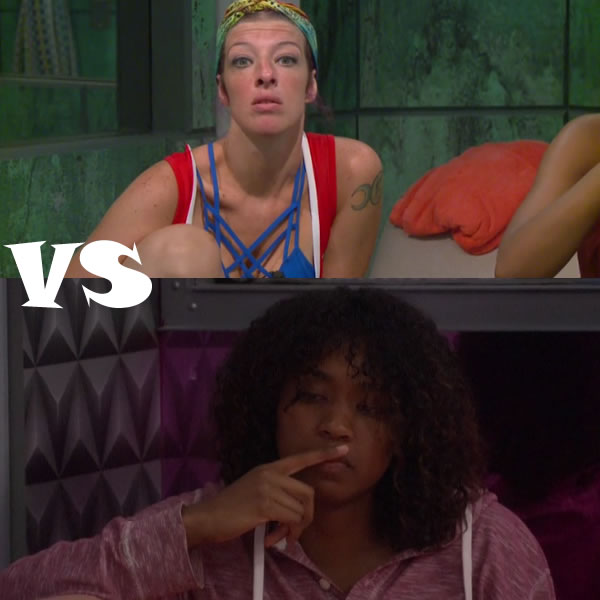 Big Brother Spoilers – The week definitely had it's ups and downs. We had the first house meeting with expected blow up! There was standard HIVE f* ups that we've all gotten use to by now. There was also some punishments given out along with the Hacker power. In what could be the funniest thing this season the HIVE still doesn't know the vote flips and I never think they will.. lol..   "Rockstar thinks it was Scottie, Scottie thinks it was Haleigh, Haleigh thinks it was fes.. "
Weeks posts
Part 1 Catch Up From the previous Week + any new powers
Another Blindside last week with Rachel leaving in what was a colossal shock to her.  Angela goes on to win the Head of Household competition. Second place was Rocks. There was no have nots this week as  punishments were given out during the power of veto competition. A new competition was played on Friday called the Hacker. The winner of the Hacker comp gets to replace one nomination, cancel out one players vote and pick a person to play in the veto. There's also Bayleigh's power up app and Tyler's cloud power up in play. Lot's of potential for game moves.
Part 2 Nominations
The plan for Angela and Level 6 is to get Bayleigh out so she doesn't use her power. From the jump they wanted to make Bayleigh feel calm and relaxed. Angela nominates Rocks and Scottie, Angela tells LEvel6 that Bayleigh will be the renom. At this point THe hive  thinks Scottie is the target. The Hacker competition is played and Haleigh wins it. Haleigh takes Scottie down and nominates Tyler.
Part 3 Power of Veto
Angela wins the power of veto. Level 6 has the necessary wins this week to backdoor Bayleigh before she pops her power.  During the Veto competition there were prizes and punishments doled out. Kaycee got a peanut costume with over sized fake dumbbells. She has to perform a workout song whenever Production start playing the peanut music. ROCKS has to wear a spandex outfit and bake various foods for the house. During the baking she is given fitness tasks to complete.

Part 4 Power of Veto Ceremony
The night before the power of Veto Ceremony the HIVE is all excited about the prospect of Angela putting Scottie on the block and taking Tyler down. They seem to think this is a reasonable thing to hope for happening calling it "the biggest move in BB history" and Saying Angela will be a "BB legend" if she does it. (This is super ridiculous)  Angela uses the power of Veto on Tyler, Nominating Bayleigh in his place. Everyone was expecting a blow up but instead Bayleigh and Rocks stick to name calling "
"Classless.. Trashy a$$.. spoiled a$$, rich a$$ kids .. I've never broke a pinky swear"
Part 5 Pre eviction
Haleigh called a housemeeting to tell everyone she was the Hacker. She didn't like everyone blaming it on Bayleigh and treating Bayleigh like trash. During the housemeeting Bayleigh flips out on Tyler. The housemeeting does little for the HIVE game wise but was sure exciting to watch.
A couple hours before the live eviction Sam has a conversation with Kaycee where it sounds like she's leaning to keep Bayleigh.
Where does this leave us?
Bayleigh is getting evicted. Rumour has it that Sam is trying to quit… HAHAHHA
Head of Household and Eviction results
Speeches
Rocks- hey there… I love being here ..
Bayleigh – Swaggy
Hacker hacks Tyler's vote..
Kaycee votes to evict Bayleigh
Brett  votes to evict  Bayleigh
Fes  votes to evict  Bayleigh
Scottie  votes to evict Bayleigh
Haleigh votes to evict Bayleigh
Sam  votes to evict Rockstar
JC  votes to evict Bayleigh

Bayleigh evicted…
Bayleigh – I'm not longer a scary black lady…
Baylegih says telling Rachel she had a power was the biggest mistake but it was an accident.. blames it on Rachel crying every 2 seconds and she wanted to shut her up.. The audience groans..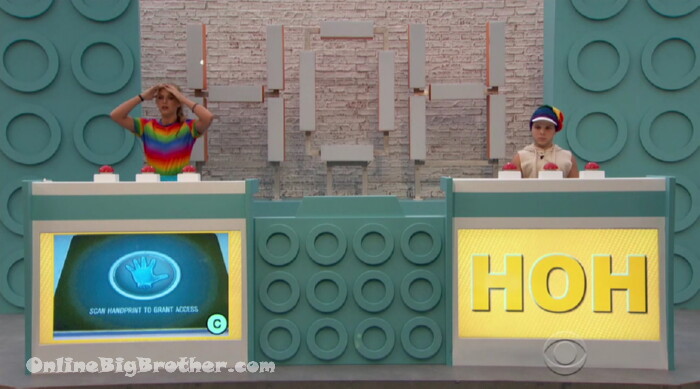 HOH Competition.. Knockout #Hashtagtoolong
Sam vs JC = Jc wins picks RS vs Tyler
ROCKS vs Tyler = Tyler gets it wrong eliminated Rocks picks Kaycee and Brett
Kaycee vs Brett = Kaycee is wrong Brett picks Haleigh and Fes
Haleigh vs Fes = fes is wrong haleigh picks Scottie and BRett
SCottie vs brett = Brett is correct picks Rocks and Haleigh
Haleigh vs ROCKS = Haleigh is correct JC and Brett
JC vs Brett = Brett is wrong
Haleigh vs JC = Haleigh wins…
New head of household is Haleigh
A real easy way to support the site if you are an amazon shopper is to make your purchases through our link. You pay the exact same thing but we get a small % commission. It doesn't cost you anything and helps us out.
Amazon Canada
Amazon USA
Rank the houseguests!
Easiest way to Rank the house guests use link below