| | | | |
| --- | --- | --- | --- |
| POV: | Angela | Next POV: | Aug 4th |
| POV Used | YES | POV Ceremony | Aug 6th |
| HOH: | Angela | Next HOH: | Aug 9nd |
| Noms: | ROCKS and Scottie Tyler Bayleigh | Have Nots | |
Big Brother Spoilers WOW so much fun this season.. make sure to check back I'll add it all.
If you're an amazon Shopper..
A real easy way to support the site if you are an amazon shopper is to make your purchases through our link. You pay the exact same thing but we get a small % commission. It doesn't cost you anything and helps us out.
Amazon Canada
Amazon USA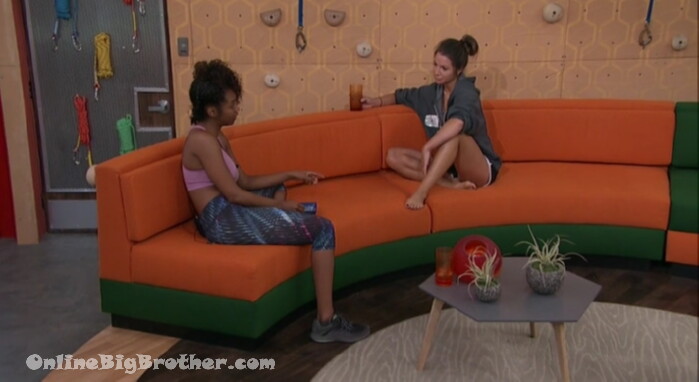 10:45am Angela and Bay
Angeal says she meant it when she said she wanted Bayleigh to be the first blkack person to win this game..
Angela – I didn't want this week to go down like it did.. you were never my target I did what I have to in order for my game and to ensure my safety and that's why i
bay – taht's fine but you are wrong i'm not the hacker and you lost a really good friend I've been your number 1 cheerleader and when everyone on my side wanted to get you out I protected you
Bay – treat me like trash these last few days and have me walking around here like a idiot hurt me to the core
Angea – can I ask you a question .. remember when we have that conversation day 2 and it went into the HOH competition.. you were the person taht got me out.. you put the dot in my thing
Bay 0- I didn't ,know that Angela you put a dot in mine first. you were like Sorry bay I was like what the heck
They argue over who put the Balls where
bay tells her she should have come talked to Bayleigh about all this stuff.
Bay – you held on to grudges and you embarrassed me in front of everyone
Angela – if you feel like that I'm sorry.. I did what I have to do
Bay – you are going to feel real stupid
Bay storms into the pink room tells Haleigh what Angela said calls her a "F***ING B1tch"
Bay runs into the geometry room barricades herself in ..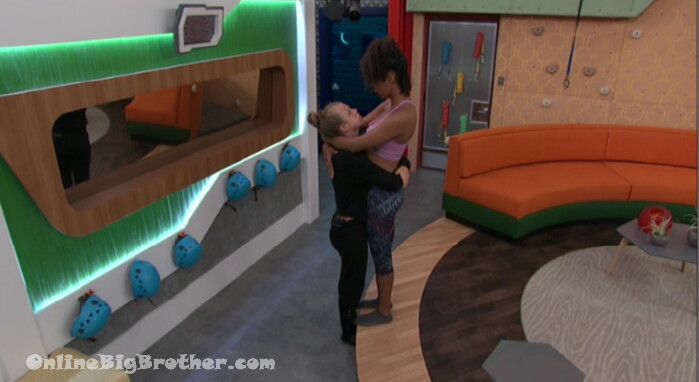 11:41am haleigh and Bay
They agree they have 2 votes to keep Bayleigh.
Haleigh – I think we'll have Kaycee after this and Brett for sure..
Haleigh says Scottie said he'll vote and so did JC..
Haleigh – I can get to Tyler..
Bayleigh – o k
(LOL bless them they are trying)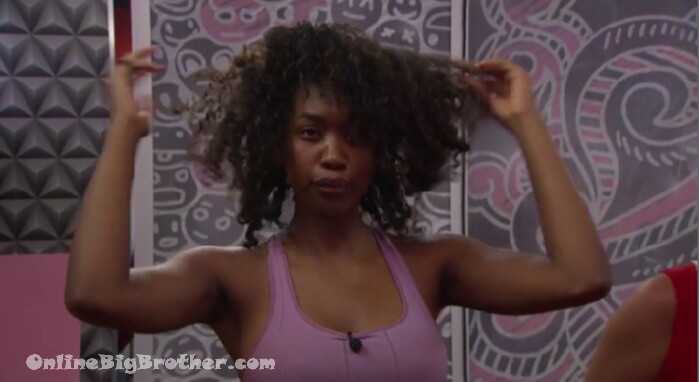 11:42pm Rocks and Bayleigh
Bay – deep breaths Bayleigh.. you love people.. you are so nice you don't hurt people you are not angry.. everything is fine..
Rocks – you are loved.. you are beautiful.. you are unshakable.. untouchable..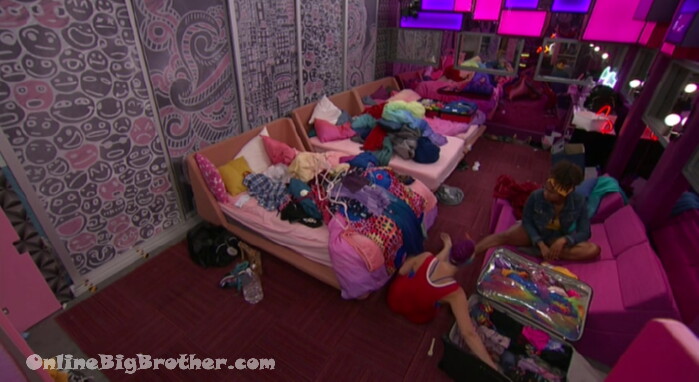 Noon Rocks packing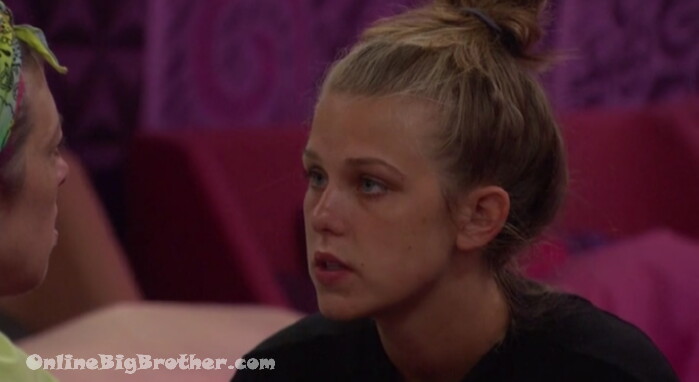 12:05pm Haleigh and ROCKS
Haleigh tells Rocks she's the Hacker.
Rocks – you should have put Brett up
H – I didn't know what to do.. I didn't have anyone to talk to
H – If I could go back I would have taken you down and put Brett up
H – I cannot have them look at her and tell her.. you did that..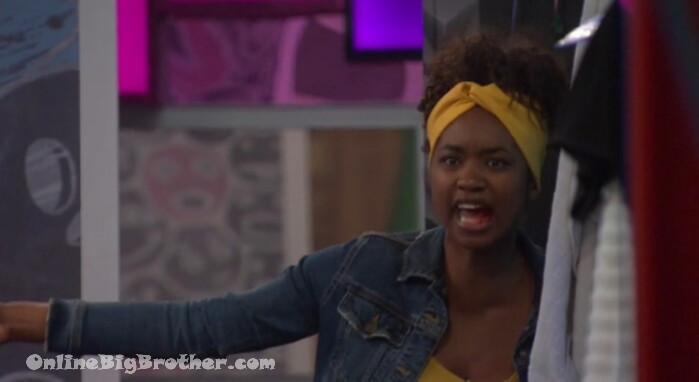 12:25pm HOUSEMEETING (bayleigh is screaming so loud she losses her voice.. )
Angela and kaycee in the HOH get called down for the house meeting
Angela – if she's the Hacker I'll be like umm OK
Kaycee – walk away
H – guys I'm going to start out with I love everyone in this room
H – there's several people in this room that owe bayleigh an apology including myself.. LAst Thursday I won the hacker competition
H – Tyler I didn't put you up for personal reasons when Kailtyn was in this game she told me several comments that there isn't one person that would put you up in this house
H – So that combined with your 4 comp wins makes you a choice
H – Angela – I never wanted to steal you power, never wanted to take something away from you.. I had a chance to make a move so I took it.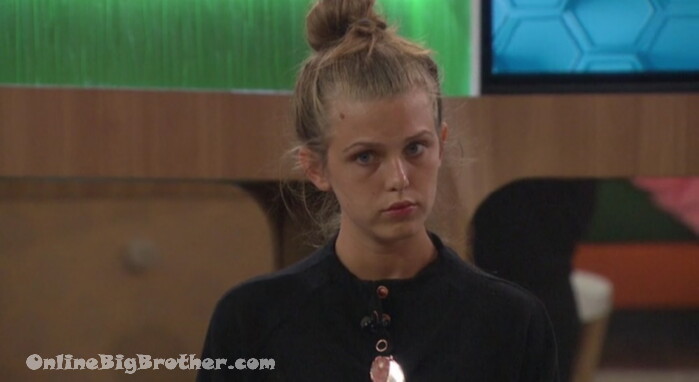 H – the reason I am telling you all this the way bayleigh has been treated and the way she' been spoken too is not fair. I'm not about to let her take the fall for something I did So I would like to add that last week Tyler came to Byaaleigh and asked for Angela to be backdoored..
Tyler – That is hilarious dude .. that is a lie..
Bay accuses him of throwing her under the bus call;s what he is doing "Vicious"
Bay – why are you treating me like trash when I'm not coming after you how about an apology in stead of treating me like f*ing trash
T – own it .. why would I lie about that
Tyler explains he said "If some kinda power is used"
Bay – you said Angela is the replacement RIGHT .. I said probably one of them is going up.. one of them out of the three.. but I have already mad a deal with Angela and I already told Kaycee she's ok its not my point to tell you who I am protecting and not..
Bay says Tyler threw Angela's name under the bus claims he just admitted it
T – I did not .. by you saying there's four and you would target them would Angela be the replacement and you said YES
Bay – no i didn't
t- yes you did
Bay – no I didn't
T – 1 million percent on my life
Bay – you're caught the way you've been treating me this week was trash.. are you kidding me you with your sunglasses here at the table saying I'm nominating (she means vote) you for sure
Bay – how dare you talk to me like that when I've been trying to protect you
T – what have I've been doing.. I've done what I've said I was going to do..
T – did I throw you under the bus
Bay – yes you said you were voting me out for something I didn't do.. you can't be a man and apologize..
T- It's irrelevant
B – you treated me like trash this whole week and you are still a little boy because you cannot apologize
Rocks jumps in "She's not the hacker"
T – Ok congratz
B – I could have used my power this week I felt safe with you I felt like we were friends. Angela told her not to use her power so she didn't
T – Congratz I'm still voting you out you have a power
Bay – SHUT UP .. JUST SHUT UP
T – OK respect thats what you want
bay – wow you're such a child
T – you are screaming at me and she's the one that did this to you she's the one that set you up
Baty – she was trying to set you up sweet heart..
T – ohh it didn't work sweetheart..
bay – you are acting crazy to me and I literally did nothing to you Tyler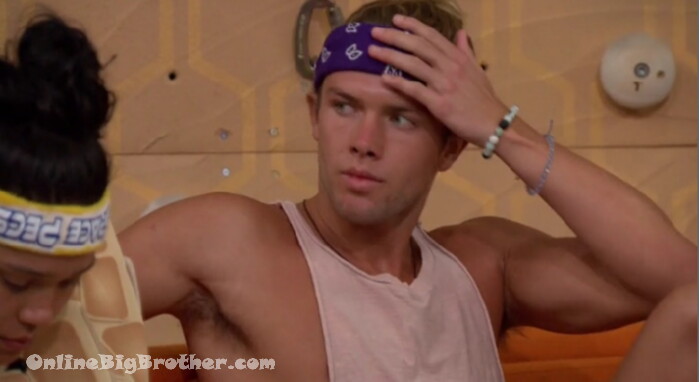 T – what would I apologize for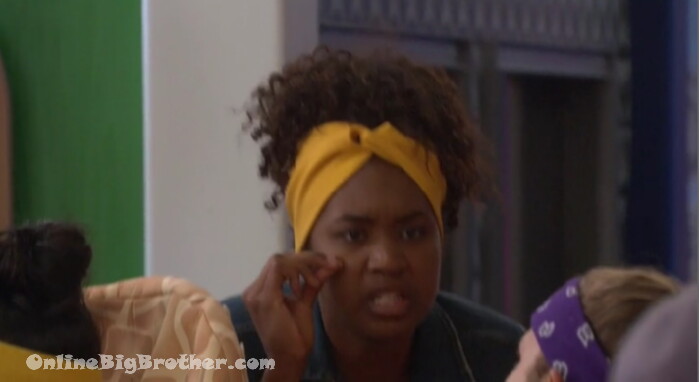 B – were you not there at the counter putting on the thing I said Tyler do you want to talk to me you said Absolutely not I'm not on the block sweetheart.. you areon the block now
T – I never threw Angela's name out
B – yes you did .. it's on tape and OI hope she watches it
T – just because you are screaming doesn't make it true
B – Shut up
T – you can scream loud all day
B – you are such a child I would have forgiven you
T – Why would I say sorry
B – After I've done nothing to nobody and everyone has been treating me like trash you still can't apologize
T – the more you scream
B – you are out of control.. SHUT UP … just SHUT UP
T – there's no reason for me to throw Angela under the bus Bayleigh and yo know it.. I don't care how much you want to scream and yell and personal shot at me I did not do that everyone knows I did not do that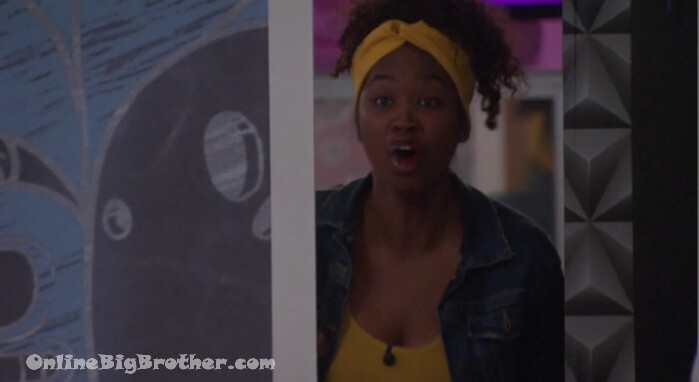 T – You are the one that lied about not having a power and got called out about it
B – I just didn't tell people because I didn't want to use it on anybody i had no problems with anybody
B – my power is almost expired and I have to walk around with people treating me differently because I am after them
T – you got set up by the Hacker
Bay – swaggy got backdoored and I got left in this house by myself.. that is why I got a power
T – Bay you are taking this too far
Bay – you are terrible you have med my life in this house hell.. you are f***ing terrible
T oh my god how did that get so far..
Bay – you can't apologize…
T – that was taken way too far dude
Rocks jumps in "it wasn't swaggu would have never gotten backdoor. " (can't stand ROCKS)
housemeeting #BB20 @DawgsBigBrother pic.twitter.com/2ZdgU2OQ4o

— OnlineBigBrother.com (@bigbspoilers) August 8, 2018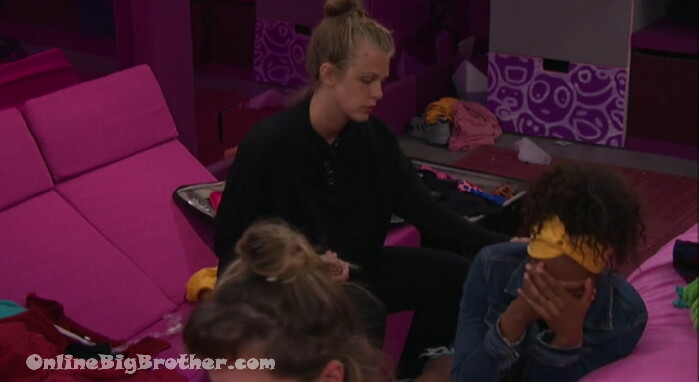 Feeds cut to Haleigh and Sam comforting Bayleigh.
Bayleigh saying how she hates Tyler. Bayleigh bit her lip.
Rocks brings a ice cube "I think you bit yourself"
Sam grabs a box of tissues..
Bay – oh my god…
Bay says she thinks a tooth.. she heads into the teh Diary room (she bit her mouth while screaming)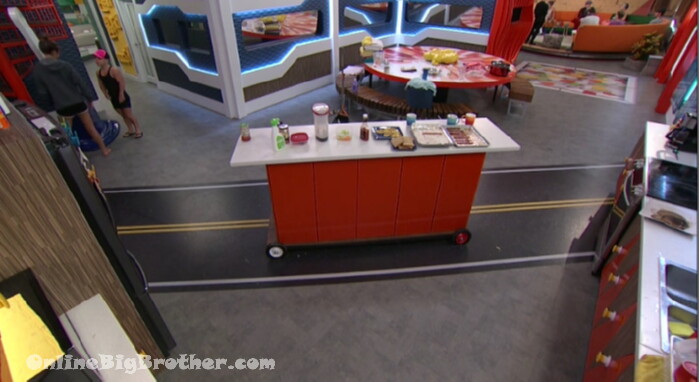 12:29pm Angela walks away with JC..
Angela – why do we get dressed up for this..
Angela – regardless you still have a pwoer you are gone..
Jc – let them have good TV..
JC – they have no idea we are working together that is why they think ohh if I say this to Angela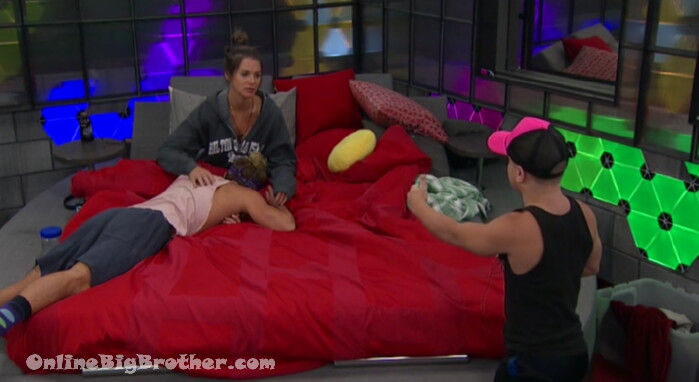 12:31pm Tyler, JC and Angela
T – that is takes way too far .. this is a game dude why would I do that shit I'm not like that .. .
JC – you need to calm down..
t – I'm fine now I look like such jerk.. I would never do that man..
Angela tells him she knows he wasn't trying to backdoor her
JC – no one will think you are a villain.. that is what she does makes a big spectacle out of sh1t (Bingo)
Jc – that's what she does you know.. I don't believe her..
Angela – no one believes her
JC – She lost control.. she got together her little minions to create all this crap;./.
A – this has been planned for the last three days
JC – that is why sh's been so quiet and calm and sh1t
A – haleigh you've done sh1t in this game why not step up and she's like now this is my chance to shine
JC – I believe that..
JC says bayleigh screamed at him in the kitchen and he never did anything to her. Bring sup that Bayleigh always takes things out of context "make a big show and start crying to make me look like a villain too.. that's what she does she cries and plays victim.
JC – you should not let her get you like that I know it feels bad because of all the screaming she's doing down there don't let her get to you liek that
JC – she is NOT A F*ING victim in this game
Angela – whatever or not she's the hacker or not it was always my plan to get out Bayleigh she has the power..
JC – she's no friend of anyone here..
T – there's no reason for her to scream at me
JC says that is what she does she makes something a big deal and she starts to scream and cry
JC says bayleighs side doesn't know how to play the game.
JC wishes he could just get rid of ROCKS right now.. "but I can't.. we've been working since day one and we've been playing an amazing game.. "
JC If I see her screaming I'm going ot step up to her and be like you need to calm your t1tt1es down
JC hates people playing the victim in the house. Says that there's been times in his life where he was teh victim but he kept his mouth shut "not going around screaming and crying saying I'M the VICTIM "
They all agree Bayleigh has to go she's got the power.
Angela thinks the other side convinced haleigh to out this
T – Haleigh is a idiot..
A – now this give me a reason to target Haleigh
T – good job Haleigh
JC says Rockstar is his number 1 to get out of the house
Kaycee joins them "we can hear everything you are saying down there.. loud and clear"
Jc – let me go do Damage control..
JC runs downstairs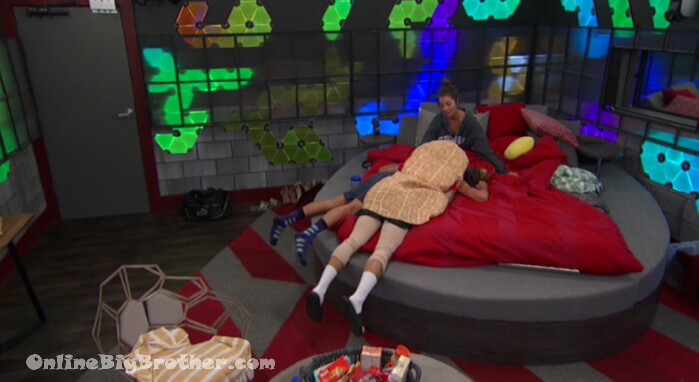 12:41pm Kaycee, Angela and wounded bird
Angela thinks that BAyleigh still has the power and they convinced Haleigh to say she did. she believes the other side was trying to make Tyler look bad so they can safe Bayleigh somehow.
A – if Haleigh really was the hacker why would she make herself the target. I now have a reason to gun for her whie before there was no reason to get her out
They agree how stupid the other side will look when they find out they've all been working together since day 3.
1:18pm Haleigh and Bayleigh
Haleigh – lets be honest you and Swaggy came in here the only 2 black people in a house full of white people
H – you lose him you are completely isolated you have no idea what it's like to be the only person living in a house of white people
B – They have no reason to flip on me (you have a power)
H – they completely isolate you completely turn their backs on you
B – girl I'm blown away.. i came into this house trying to be respectful top everyone ..
Haleigh thinks they have Brett, Scottie, Fes and Haleigh's vote. "that's all we need"
Bay – if I go home at least people got to see who I am .. literally could you imagine my family right now you go from HOH thinking I'm good.. me getting thrown on the block by somebody who was supposed to be my friend people have been treating me like trash all week
Bay – and I spazz out this whole entire episode will be Bayleigh losing her minds..
H – If one of those f*s win I will be pissed… I have to win Thursday
Wounded lamb pic.twitter.com/6l6UXsvd1X

— OnlineBigBrother.com (@bigbspoilers) August 8, 2018
If you like our content please consider a donation
Rank the houseguests!
Easiest way to Rank the house guests use link below