POV:
?
Next POV:
Aug 4th
POV Used
?
POV Ceremony
Aug 6th
HOH:
Angela
Next HOH:
Aug 9nd
Noms:
ROCKS and Scottie
Tyler
Have Nots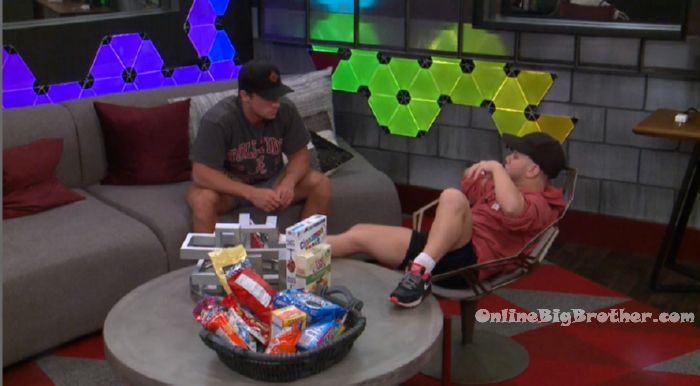 Try the Live Feeds FREE for 7 DAYS! Click here for your: FREE Trial

8:33pm HOH room. Brett and JC. Brett – when I was changing into my workout clothes Bay and Rockstar were laugh. JC – really? Do you think Rockstar know? Brett – yes. JC – if that's the case then I don't care. But if it is one of us trying to do some sh*tty move. Brett – who do you think it would be? JC – hopefully none of us. Brett – if the numbers break down we don't work. JC – if she (Bay) has the power app and the hacker thing .. she is too powerful. Brett – if we get the opportunity, she has to go. Brett – I am telling you its 100%. The only reason I think she didn't do it to me is because it would be too obvious. Second .. I think she thinks I am enough people's target already. JC – what is she trying to do? Brett – what do you mean? She is trying to get Tyler out. I think that she wants to get Tyler out but she is aligned with Tyler. She doesn't trust him. JC – I want her gone this week. Be sides of hacker / no hacker sh*t! I've already peed on my territory of Scottie and Fess. There is no more game talk to do. Brett – to be honest I thought I was going up for sure. JC – she (Bay) has to go home this week. Brett – the only way that happens is if someone wins the veto and uses it. JC – that would be really f**king bad to go home with all these powers.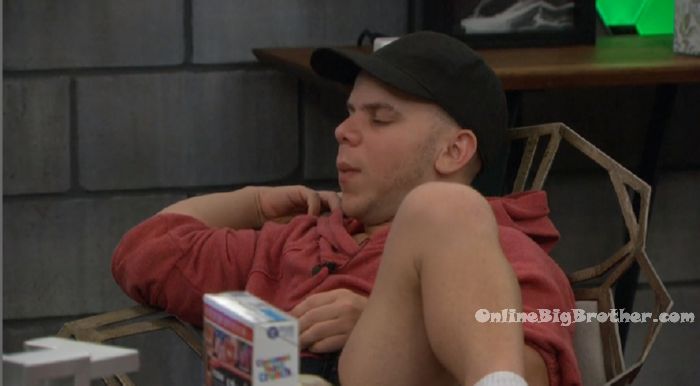 8:33pm Bathroom. Tyler – She's back on her power trip again. Kaycee – yup. Tyler – she tried to say that JC's been acting weird.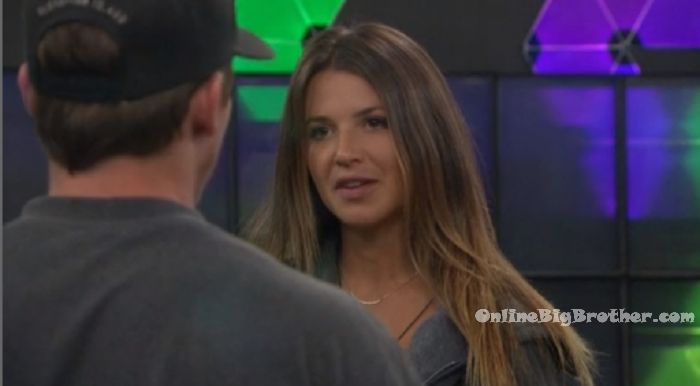 8:47pm HOH room. Brett and Angela. Brett – so Haleigh comes to me and is like who the f**k do you think it is?! She essentially narrows it ..the only name she doesn't say is Bayleigh. Angela – really!? Brett – then she starts saying I don't know maybe it was Angela. Like she made the speech about how the hacker has all the control and there's no blood on her hands. Think about how perfect that would be. Angela – are you playing into this? Brett – sure. As long as Bayleigh has no clue that we're going to backdoor her .. then yeah sure. Angela – do you think Haleigh knows its Bayleigh? Brett – I don't know if Haleigh knows but Rockstar knows. Angela – because after when you were all on the couch I was changing into my clothes and the started laughing.. no one was laughing after that scenario. Angela – I need to keep telling everyone that Rockstar is my target one and Tyler is the second target. And that I am not going to change the noms if I win. Brett – I was talking to Kaycee and she said if anyone asks we should say that we are leaning towards Tyler going. Like he's a good competitor why wouldn't we get him out. So that they don't know which person to pin the vote on. Brett – it makes too much sense.. its Bayleigh. Kaycee knows how to read her the best. She acted the same after the power app. Angela – its so obvious its Bayleigh. Brett – I am 85% sure its Bayleigh and 15% sure its Scottie .. either way they're both in on it.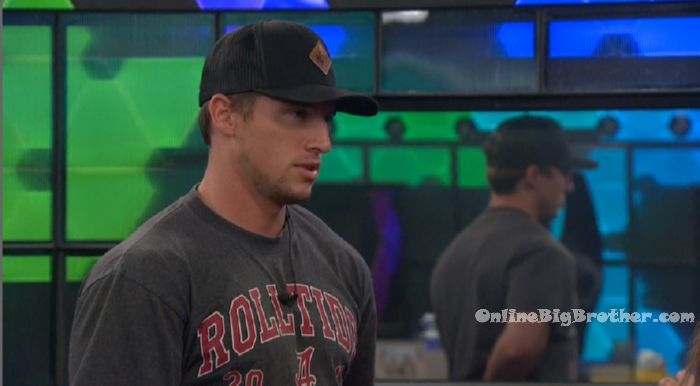 9:10pm Havenot room. JC and Fess. JC – I am very pissed! I am very very very mad! Whoever is doing this hacker sh*t is a very nasty dirty person. Because they are trying to dirty Scottie. They are trying to make Scottie and Tyler get in a fight or something to come at each other. They will probably send Tyler home because they know we have possibilities of working with him. Tyler has never ever said anything about sending me or you home. Whoever is doing this .. I don't know what their plan is but we have to out smart that person. Fes – I told Angela that I want to get picked to play and win it. JC – she will be very grateful. The only thing I need you to do is keep your mouth shut.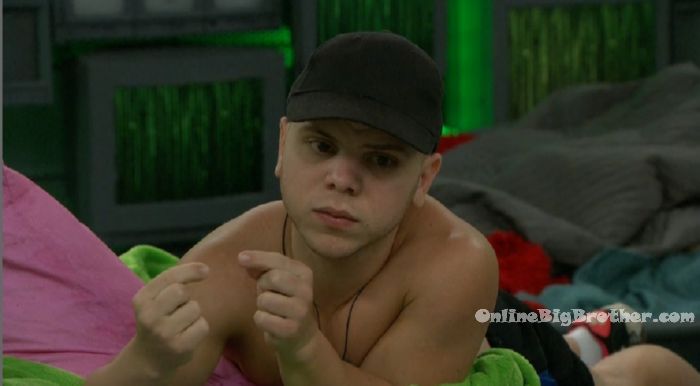 9:25pm Bathroom. Angela – guess what the hashtag is? #BackdoorBayleigh Kaycee laughs.
9:40pm The house guests are in the kitchen eating chocolate bacon
10pm HOH room. Tyler, Angela and Kaycee. Angela – Bayleigh mad a bold move assuming Tyler or I aren't going to win the veto. Kaycee – she (Bayleigh) did make bold move and now she is trusting them to keep their mouth shut. That's putting her game in jeopardy. You changed your nominations. Put someone up that is a competitor. And you tell the whole other side like its not going to get out.. you're digging yourself your own f**king grave at this point. Angela – she is the biggest target right now. Idiot! Idiot! Tyler – we were so fine with out this hacker bullsh*t! If I go home because of a twist… Angela – you won't. Tyler – I am winning this veto. Kaycee – we're winning this veto and her a$$ is getting backdoored!
10:17pm Havenot room. Fes and Haliegh. Haleigh – I don't know what is going on Fes. Fes – I know you didn't win but I feel like you did win because you're so good at that stuff. Haleigh – I didn't win. Fes – you're good with words and computer / communications / college. Haliegh – I freakin wish!! Fes – you've got people in this game until it's save your own a$$ time.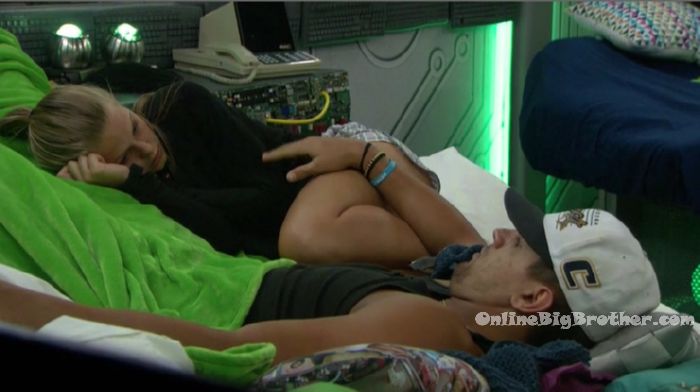 10:47pm Brett and JC. Brett – thank god we have the HOH on our side to help with who we replace.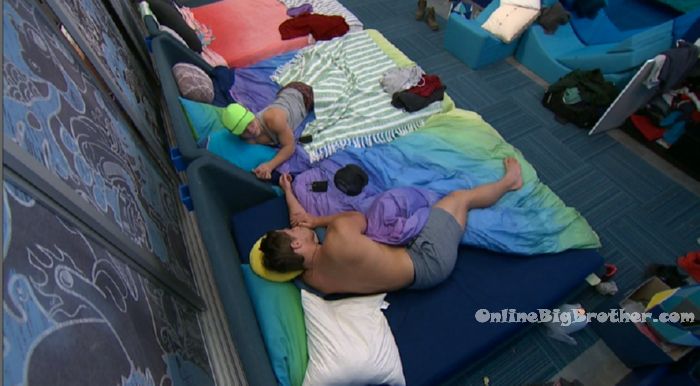 11:05pm HOH room. Kaycee, Bay and Angelas. Angela – I don't want to put up anyone eles up. This was such a b***h thing.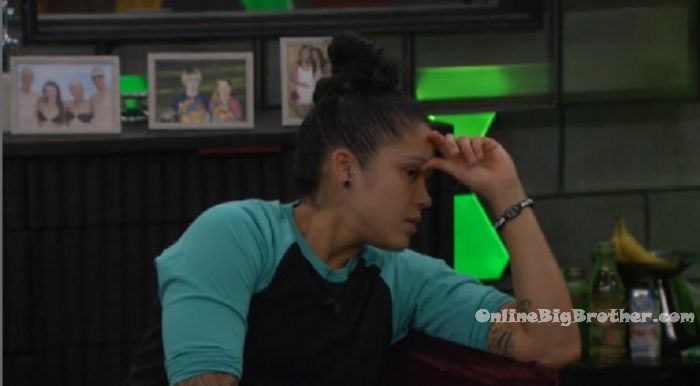 11:20pm HOH room. Bay, Kaycee and Angela. Kaycee – I really want to play in the veto. Bay – Want to play too and I hope its the luxury one. I'll take that trip, I'll take the money! Kaycee – what if it was 20G's? Angela – I will take the 20G's… you guys can battle it out. 10G is questionable. Kaycee – what do you think tomorrow it will be? Angela – It would make sense if its the hacker thing.
Fes, JC and Rockstar talking in the bedroom.
They talk about how third place now gets 10G's plus the weekly stipend.
11:36pm HOH room. Fes comes up to tell Angela – if I get picked to play and I win I will do whatever you want. I know you don't have a lot of control this week with this stuff. So I want to respect the fact that you're HOH and do whatever you want. Angela – right now I don't want to say for sure but I am leaning towards leaving it the same. Fes – and it doesn't matter. Its whatever you want. I am just happy that you and me were able to get on the same page. I'll do whatever you want. I will respect it. Angela – it is almost a blessing in disguise where I don't have to get any blood on my hands. I am leaning towards not wanting the noms to change. I don't want that getting back to Rockstar or Tyler. Fes agrees and leaves. After he's left Angela looks at the camera and says idiot! This is going to be a lot easier than expected.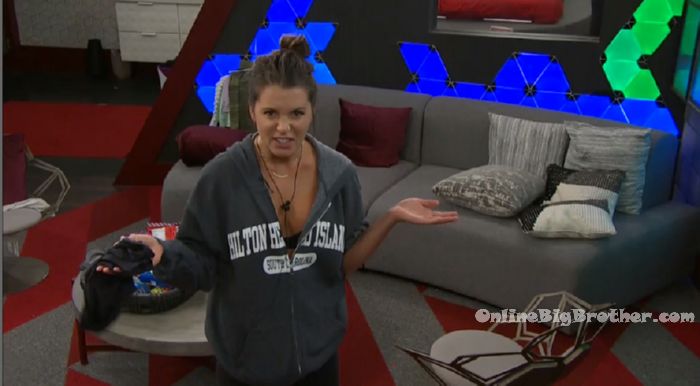 12am Most of the house guests are now sleeping. Fes is praying in the lounge room. Rockstar is in the kitchen looking at the memory wall.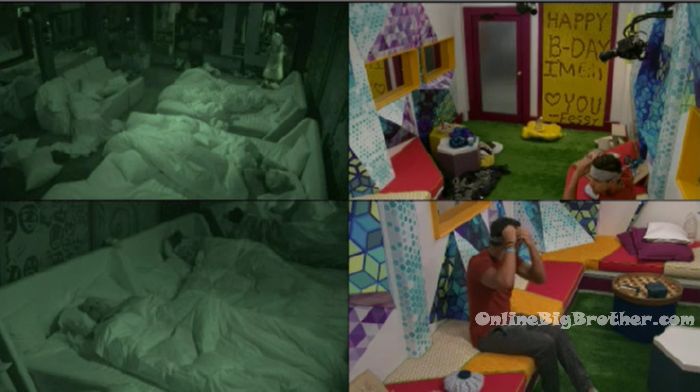 12:11am FEs and Rockstar
Fes says it's cool that they were told they've all hit Jury.
Fers – will I find a wifey when I get out of here… This show gets a lot of attention?
ROCKS – 10 million
They talk about jury member returning and how they can't believe they've made it this far. Fes is surprised. Rocks always thought if she made the first eviction she would stay for while.
Rocks says she's seen season 6 through 16 hasn't seen 17, 18, 19. "they were all on youtube"
Rocks brings up not wanting Brett or Angela make it to 1 or second place.
Fes points out that Tyler is playing a good game
rocks agrees says Scottie and Sam are playing a good game.

12:44am fes heads to bed..
12:47am Sam is up prepping the coffee for the morning. Sam mentions how the milk goes bad the day after her brothers birthday.
Sam – I don't wanna miss my brothers birthday but I'm gonna
Sam to rocks "you OK"
Rocks – I'm alright..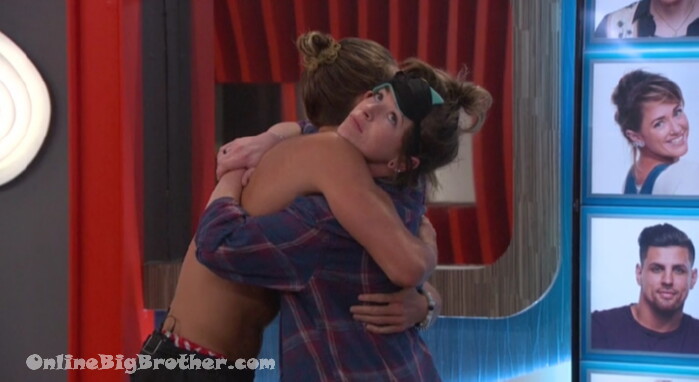 Tyler walks through the kitchen.. heads to bed hugs Sam..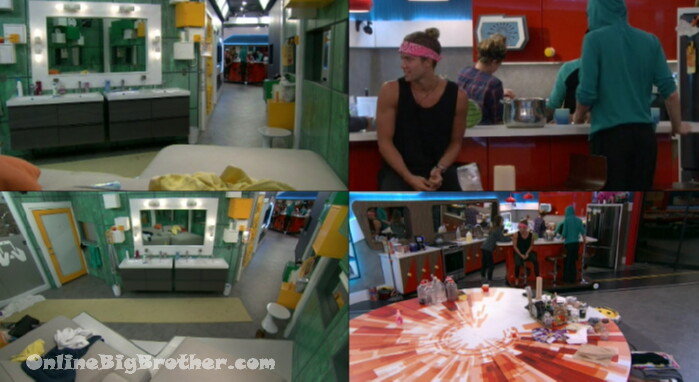 8:33am Hosueguests up early for POV picks
If you've enjoyed our live feed updates so far this season, please consider donating.
Any amount is greatly appreciated! Your donations go directly to paying the fees required to run this site.
Rank the houseguests!
Easiest way to Rank the house guests use link below