| | | | |
| --- | --- | --- | --- |
| POV: | Angela | Next POV: | Aug 4th |
| POV Used | YES | POV Ceremony | Aug 6th |
| HOH: | Angela | Next HOH: | Aug 9nd |
| Noms: | ROCKS and Scottie Tyler Bayleigh | Have Nots | |
Big Brother Spoilers Angela used the power of Veto on Tyler. Angela nominated Bayleigh in his place.
Rocks all messed up..
Rocks in the morning #BB20 @DawgsBigBrother pic.twitter.com/BKfO5NB6ie

— OnlineBigBrother.com (@bigbspoilers) August 6, 2018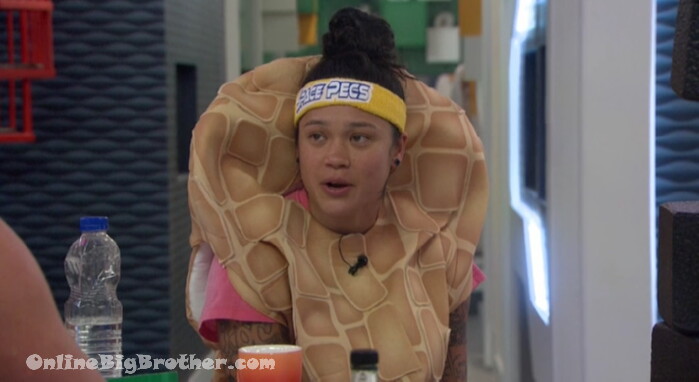 10:14am Kaycee and Brett
Brett wonders why they are making them do the veto ceremony so early today
Brett mentions hwo there are no have nots
KAycee says it's because of punishments from the veto.
Kaycee brings up the "cloud" that came up "it probably has something to do with the veto ceremony"
BRett – right.. I think JC has it
Kaycee – I think he does
Brett – do yo think he used it thinking he would .. I mean we just don't know nothing happened.
Brett – was it the veto or the noms the day it popped up
KAycee – I don't know it's all a blur.. what day is it
Brett – Day 48 August 6
Brett – I was just bullshitting with Scottie.. Scottie can yo imagine the most rogue move ever leave Tyler up pull ROCKSTAR off,. put you on
They laugh..
Kaycee – she's going to be pissed..
Brett – one of 2 things is going to to happen she'll wither freak the f* out or she'll shut down.. She's smart girl.. she's Actually a really smart girl . Every time I think she is going to freak out she doesn't
Kaycee says Bayleigh has told her that she always bites her tongue because she doesn't want to be seen as a target. Maybe if she knows the votes aren't going her way she's go out guns blazing.
KAycee – I told Angela I have her back 100% if she starts yelling don't yell .. DOn't let her do that stand up for yourself..
They aren't sure how Angela will take Bayleigh yelling at her all day. Brett says he can handle it.
Kaycee is gong to be pissed off if Bayleigh starts yelling at Angela/
KAycee – you are going to die hearing her speech it's epic…
Kayce – she's going to campaign to me hardcore what do I say
Brett – just say you'll vote for her to stay..
kaycee – but for Jury.. me and Bayleigh are like REALLY close I don't want to fu* it ip
11:00am Brett's made Breakfast for everyone..
Check out Sam's tattoo..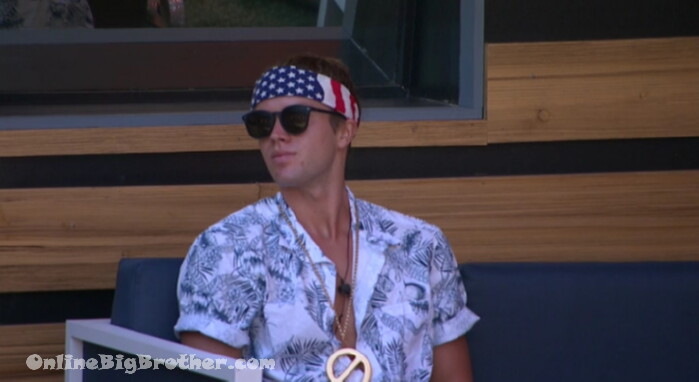 Feeds come back. Angela used the power of veto on Tyler .. Angela placed Bayleigh on the block as the replacement.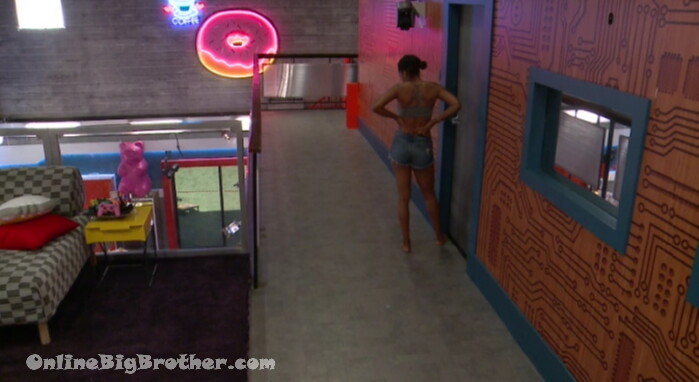 Bayleigh rings the HOH bell..
Angela – I don't want to talk right now
Bayleigh – OK ..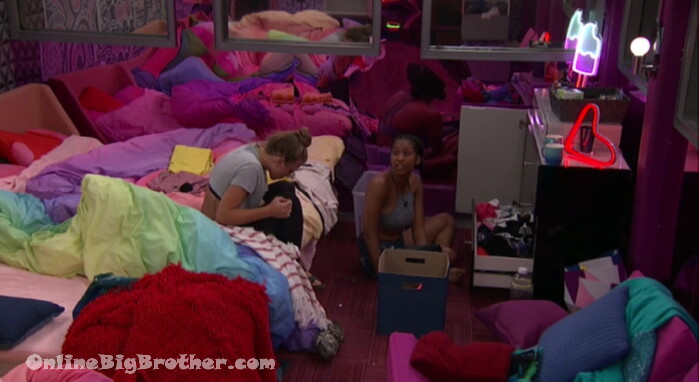 12:16pm Bayleigh and Hayleigh
Bayleigh – this is what I get for sticking my next out for Rockstar.. I literally got one question right..
Hayleigh – doesn't make sense for you to be the hacker you've been trying to work with them all week
Bayleigh – for Tyler to be so rude and Cocky. I protected him it makes no sense that he's treating me like trash.. Tyler is going to feel like a idiot when he watches this
Bayleigh – for her to make a speech like I'm hijacking her HOH that's a joke..
Bayleigh – I don't want to stay with you crazy a$$ white people.. I'm done..
Bay – this whole entire time I've been fighting for people I this game.
BAy – I don't know what to do
H – Don't give up .. did she give you any hints that's what she was thinking..
H – I think she was going to say Scottie..
B – She paused like she was going to say Scottie
Bayleigh thinks Kaycee knew the entire time..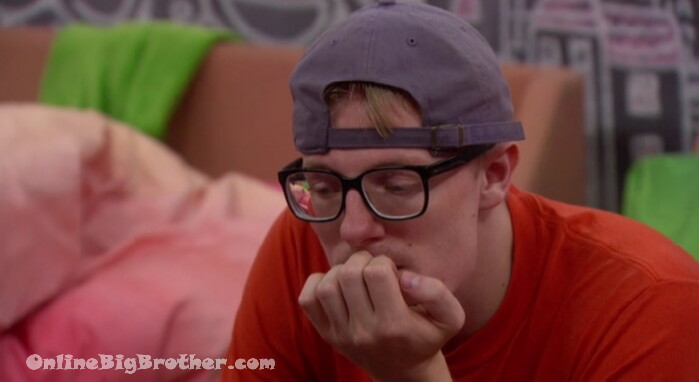 12:31pm Scottie and Bayleigh Later joined by Haleigh and The rocks
B – did you know that was the plan
SCottie — why the f* would I know that
B – I don't know scottie i'm just confused.. You and Tyler have had one on ones
Bayleigh accuses Scottie of having planned this with Tyler to make her look dumb
Bayleigh says Tyler went off on her and made it look like she's the hacker this whole time..
Bayleigh – I hope you guys enjoy watching me suffer for no reason
Bay – I'm just confused..
Bay the hacker is going to cancel Tyler's vote.. Make me look even worse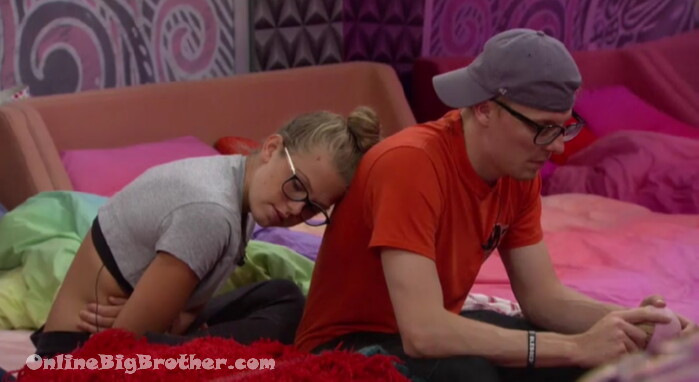 Angela – I trust Bayleigh I don't think she's the hacker..
Haleigh – me too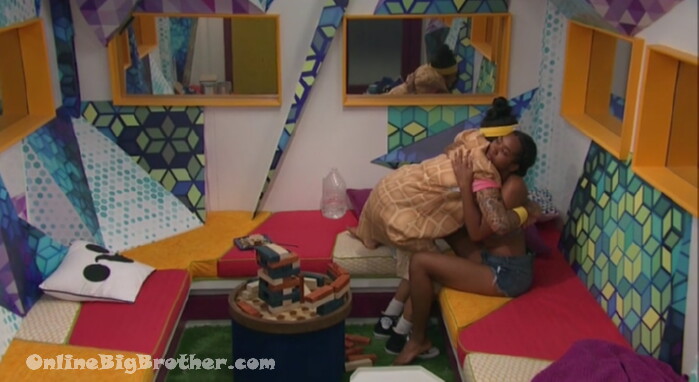 12:49pm KAycee crying..
Bayleigh comes in they cry and hug..
Bayleigh says she purposefully didn't use her power this week because Angela told her she wanted some power..
Bayleig – I look dumb as hell..
Bayleigh says Angela just told her during her speech "get over your power trip honey"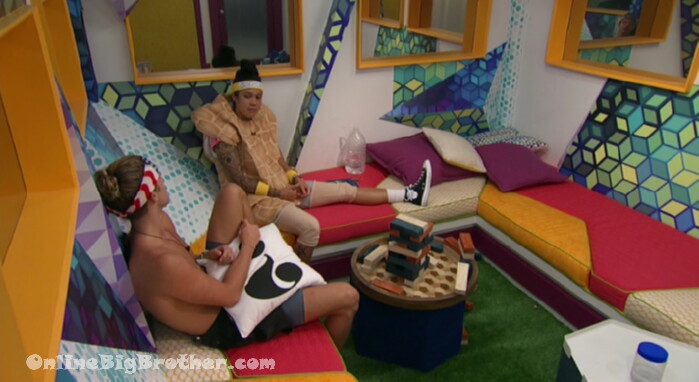 1:31pm Tyler and Kaycee
Kaycee thinks that Bayleigh is the hacker.
They agree they got each other and the 3 of them (Angela) are 1000 percent.
Kaycee asks who the next target
Tyler says put up Rockstar and haleigh to backdoor fes
Kaycee – same
Kaycee – this is the big move.. Angela made a Big move.. cut the head of the snake..
Tyler- Scottie won't want to win an HOH.. he feels like he's good with that other side and he's good with us..
Kaycee – hopefully .
Kaycee leaves.. Tyler has a conversation with Rocks in the geometry room. He tells her she's got his vote.
An easy way to support the site if you are an Amazon shopper is to make your purchases through our link. You pay the exact same thing but we get a small % commission. It doesn't cost you anything and helps us out.
Amazon Canada
Amazon USA
Rank the houseguests!
Easiest way to Rank the house guests use link below