| | | | |
| --- | --- | --- | --- |
| POV: | Angela | Next POV: | Aug 11th |
| POV Used | ? | POV Ceremony | Aug 6th |
| HOH: | Angela | Next HOH: | Aug 9nd |
| Noms: | ROCKS and Tyler | Have Nots | |
Big Brother Spoilers – Bayleigh, Haleigh and FEs … are cutting Scottie loose but instead Bayleigh is going up. Poor sweet wounded bird lamb thrown in the lions den…
11:55pm – Rocks delivers cupcakes to Haleigh and Angela..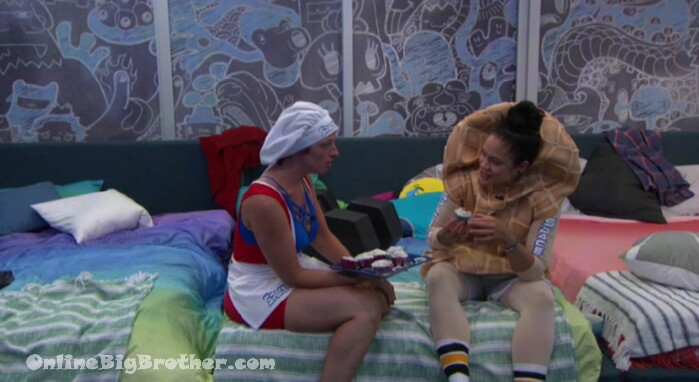 midnight – Rocks delivers a cupcakes to Kaycee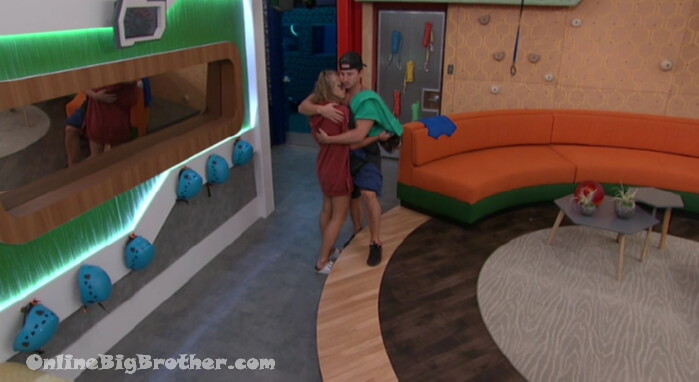 12:00am Brett and Hayleigh hug ..
haleigh – I like your smell.. I DOlike that.. (wait )
Brett has just worked out.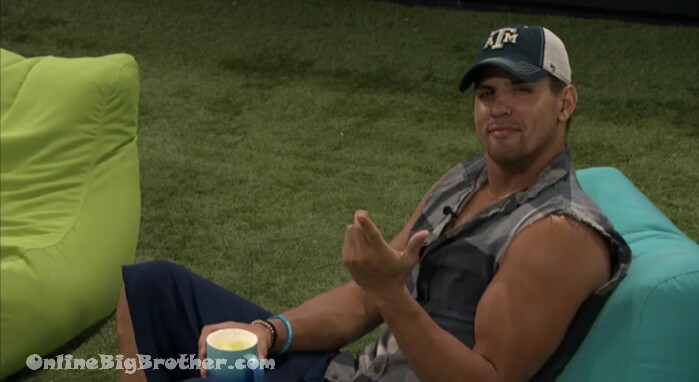 12:03am Backyard Fes and Haleigh
Haleigh says she's talked to Angela and everything is fine as of right now. Haleigh – and as of right now you and I are not going up.
Fes – she sad that
H – yes… FINE don't believe me..
Fes – come over here
H – no that would look suspicious
Fes – what .. talking to me is suspicious
H – You're suspicious
Fes – should I talk to her ..
H – no
Fes – who do you think will go up
H – hard to say
H – Fes just trust me
fes – Monday comes nad I'm on teh block
H – you're not going on the block
Haleigh tells him to put attentions into Angela tomorrow but not an odd amount, "At some point I'm going to tell you to come upstairs and we'll have a conversation"
H – Basically .. long story short she just needs to feel like she's protected
Fes – by me
H – by a couple people.. if sh'es going to make a move
Fes – my thing is and I don't know … if she keeps Scottie Tyler safe.. Why would she take someone else shot for them if me Scottie and Tyler are comp beasts why is she going to take their shot..
H – what if the two comp beats are sitting next to each other .. what happens then
Fes – you think she would pull Rockstar off and Pull Scottie up on the block … get the f* outta here.. that would be the biggest move in big brother history ..
Fes – after you promise them both safety and .. the biggest f*ing move, 20 seasons ever f*ing done (he's only seen like 4 seasons)
H – I know..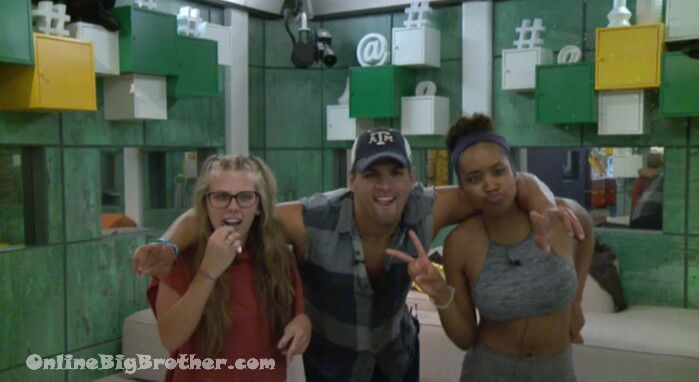 12:16pm HIVE
Haleigh tells baylegih about her conversation with Anglea in the HOH "basically she wanted reassurance about Fes"
Bay – of course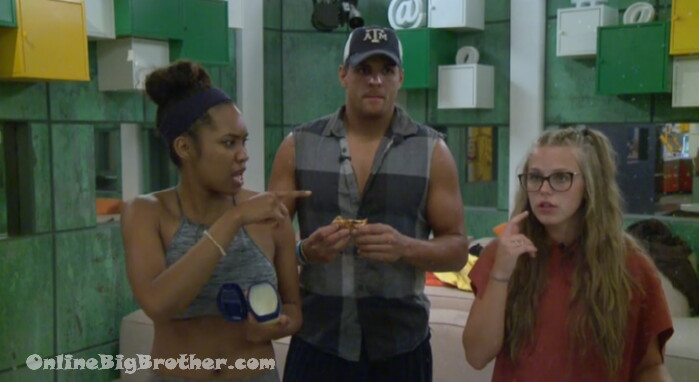 Fes joins them "Should we go talk to her .. That's the biggest move in Big brother history"
Bay – do you think he should talk to her before she lays down
H – I think it's too obvious
Fes – I looked her in the eyes and said even-thought we haven't talked game we are playing the same game straight forward.. "
Haleigh says Angela is either going to upset 3 people or make 6 very happy… she needs to know that..
Bay tells him he needs to bring up to Angela those people coming for her (I don'rt know what people they are talking about
Fes – I hate throwing people under the bus
Bay – you've decided who you are rocking with and it's not them
Fes – look at these arms though.. (LOL)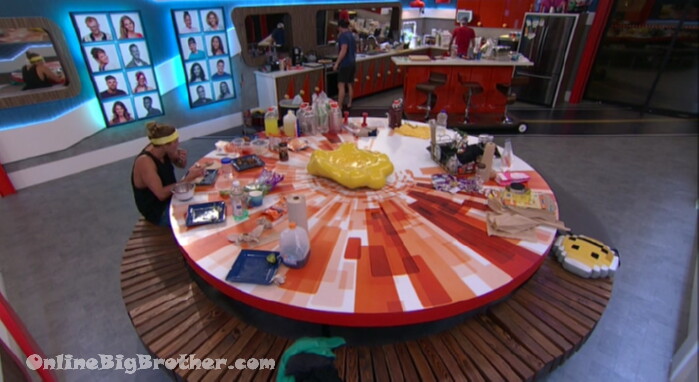 12:47pm have nots eat..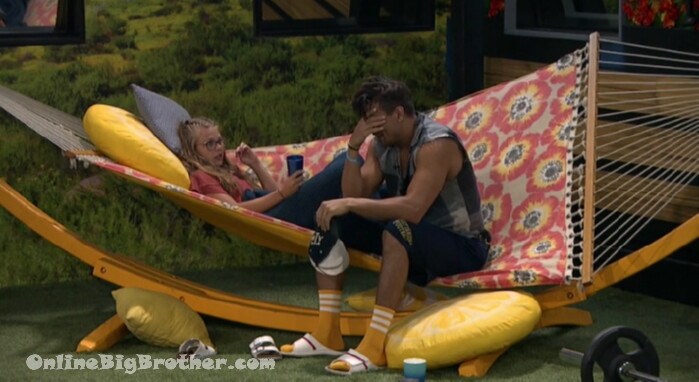 12:30am Fes and HAleigh
fes is getting all excited about Angela pulling ROCKS down and putting up Scottie.. thinks it's the biggest move in the universe.
Fes – She'll be sitting pretty for 3 or 4 weeks
H – you, me, ROCKS, Bayleigh, KAycee..
Fes – Sam
H – Yeah Sam is definitely not putting her up
H – she says she's going to cut a deal with Brett and make Brett thinks she's backdooring him but she's not so he doesn't put her up
Fes – why would he put her up I thought they were best buddies
H – they are but she wanted to cut a deal so it's like it
Fes – writing
H – firm yea..
Fes – like a pinky promise right
H – Yeah
Haleigh says it would be stupid for Angela to not use the veto on rocks because at this point she's been promise 6 people's loyalty.
H – ME, you, Bayleigh, ROCKS, SAM, BRETT… that would be6 people
Fes – Kaycee
H – That's 7 not coming after her and are going to protect her from making the move…
H – JC is the only person left..
Fes/H – JC won't put her up
H – For her to risk that safety that she is being promised and the loyalty that she is being offered for two people is stupid
Fes says Angela has floated this whole time…
Haleigh coaches him to go to Angela and say "you're a bombshell.. no one expects you to make a move in this game"
Fes – not only promised safety…
H – count them out for her..
Fes – you're a bombshell.. you come on this show and people don't know what to expect.. and you are giving this opportunity where you are presented on a golden platter
Haleigh tells him to Stress that Scottie and Tyler are working together
FEs – what happens if I go up I go home
H – You won't go home I won't allow it.. Neither will JC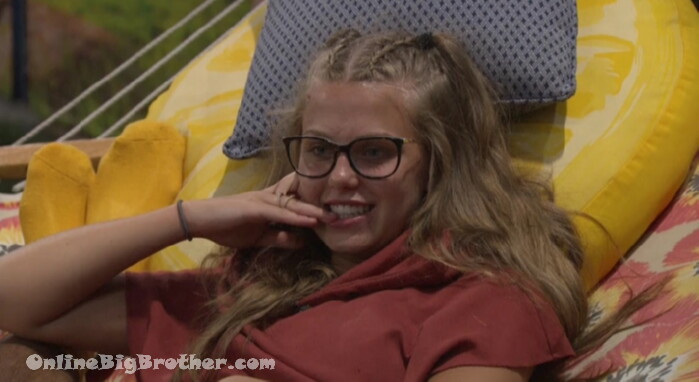 Haleigh tells him he needs to get JC to stop saying things like they are having s$x because her uncle could be watching it.. it'll be al over the live feeds and she doesn't want anybody in her family reading it.. (UNCLE! look at this)
H – I don't like how you acted today.. you were standoffish..
Fes – lets see if we can pull this shit off Monday if she does this
H – the safer bet is to get rid of Scottie.. Tyler is weak minded and can be "The safer bet is to get rid of Scottie.. Tyler is weak minded and can be persuaded " obviously (ZOMG ZOMG ZOMG)
Fes says on Thursday it was chess to checkers between Haleigh and Angela. Haleigh looks so much better. "she looks like a butterface"
Haleigh – he's a innocent little lamb thrown in a lions den.. (ZOMG ZOMG ZOMG>> ZOMG ZOM)
(They're so dumb at what's going on.. I so hope they last)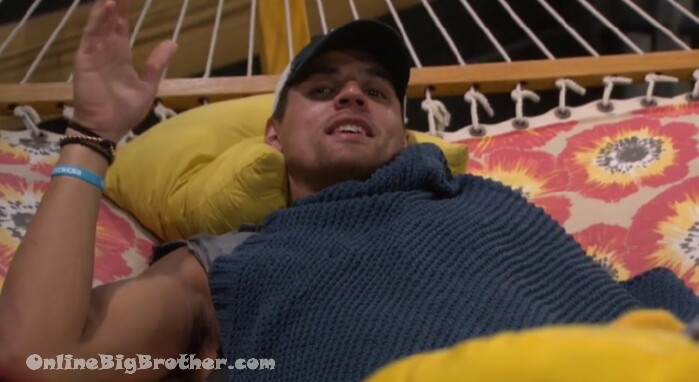 1:01am Fes talking to himself in the Hammock.. still blown away.. completely away at being witness to what he thinks is the biggest move every.. like 2 pinky promises..
F – if Angela does this on Monday this is going to be the biggest move in Big brother history .. she pinky promised Tyler and Scottie that they were 100% safe (OMFG really?)
F – Ones on the block (omg)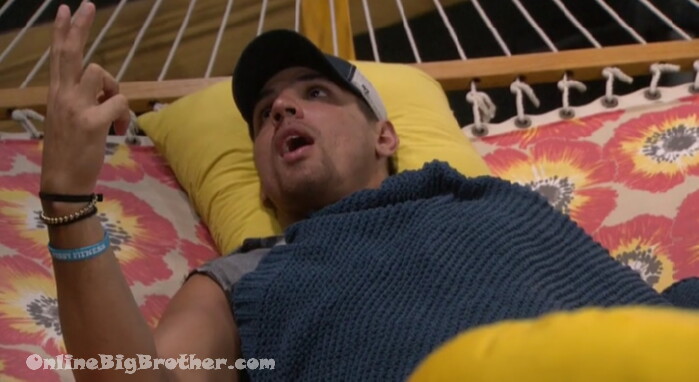 F- the other was just on the block
F – not 1 but 2 people have a chance for 100% safety and they take a pinky promise instead are you… what…
F – you have a chance for a veto and you take a pinky promise instead not one but 2 people
F – if Angela does this she's the biggest G in Big Brother History BAR NONE (no)
F – lets hope she does it..
F – if Ang does this .. Ang come clutch..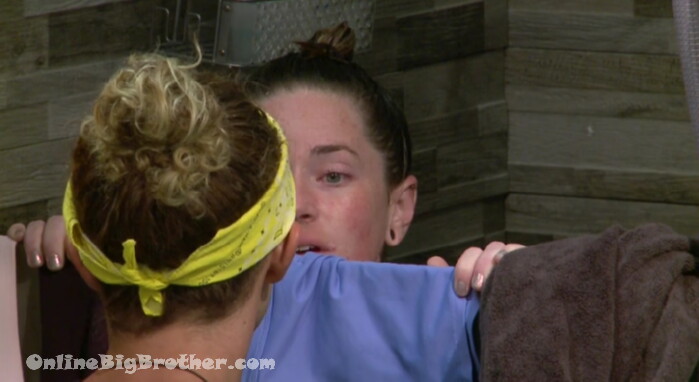 1:12am Tyler and Sam..
Keep her thinking she's safe in case she can use her power and change nominations
Brett's playing up that's he's pissed off and stuff…
Tyler says Bayleign is spending the night wth Angela tomorrow so she thinks she's safe.. but the plan is to take bayeligh out..
She goes up.. nobody else is supposed to know that..
Tyler tells Sam the plan to nominate Bayleigh this week "She goes up.. nobody else is supposed to know that.. " #BB20 pic.twitter.com/Rglfadjm1f

— OnlineBigBrother.com (@bigbspoilers) August 5, 2018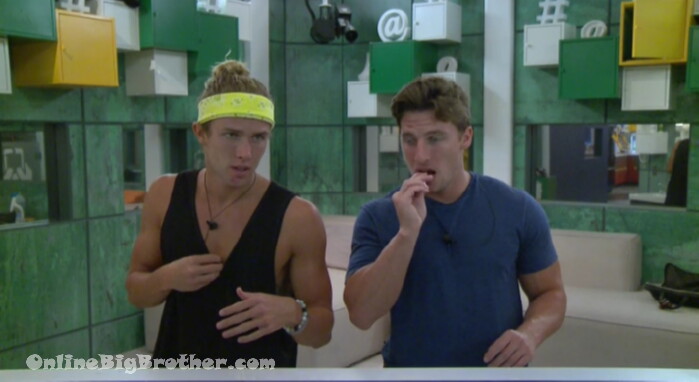 1:21am Tyler and Brett
Tyler says they are unclear about the power Bay has so they are going to make her feel safe. Angela will then use the veto on Tyler and slap Bayleigh on the block
Tyler – keep her calm.. .
Brett says SCottie thinks he's going up
T – he'll be so relieved .
1:44am Fes, Rocks and Haleigh
I'm becoming stupider than I already am listening to this conversation.
Rocks start wondering what America thinks of them.
Rocks – I think they really like our cast because we're so competitive..
Fes – and we for the most part get along with people (Yes)
(This Canadian loves you never stop being dumb)
Fes – I can't wait to tan tomorrow and run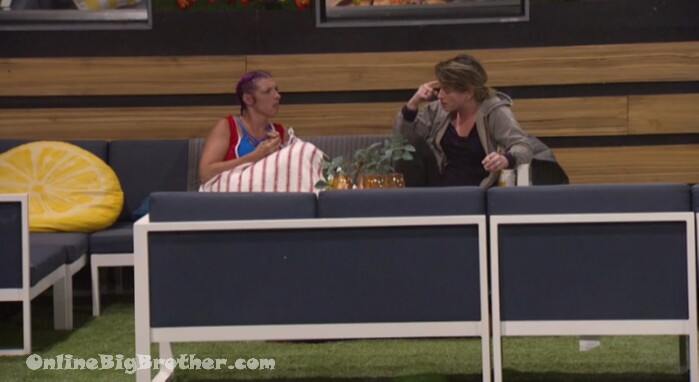 1:49am Sam and Rocks..
Sam we have a friendship that goes above what we have here..
Sam – I genuinely click with you I genuinelylike you
Rocks – yeah .. it's a game.. a game..
ROCKS – did you vote to keep Rachel
Sam – I love Rachel.. I love RAchel…
Rocks – I voted Rachel
2:03am Sam going on about how she's working with everyone in the house and is her ally of everyone.. (She's playing with what I assume is a spider)
2:18am Fer and Haleigh
FEs – i'm just glad to be part of this season if that move happens. (Seriously is he this dumb? I love fes but C'mon )
They are talking about how crazy it will be if Scottie goes up "I has to happen.. oh my god "
Fes – such a big move .. it will set her up man"
Fes – she promised them.. but like what is a promise
Fes – I can believe Tyler but Scottie fell for it too..
H – he's a idiot
Fes says if he was in the POV he would "Smoke their f*ing a$$es "
h – I would have done well..
Fes – Brett was struggling..
H – he doesn't do cardio
Fes – he's a big beefcake.. (that's the way we like him leave him alone)
Fes – Sleep with me..
ha – what
Fes – sleep with me
H – I can't .. there's gremlin in your bed (JC)
Fes says JC is a "Smooth criminal" he shy's away from ROCKSTAR because she talks a lot
Haleigh says she's gettign tired needs to go to bed.
Fes whimpers don't leave me .. Haleigh don't leave me
Haleigh says she can't do this anymore she's falling asleep..
They start heading to bed..
"Can I have a Fess hug.. thanks Fes.. you make me feel like a little precious princess.. you're so big.. a big sweet heart.. what a sweet pea you are" #BB20 pic.twitter.com/fn3KWJKkd2

— OnlineBigBrother.com (@bigbspoilers) August 5, 2018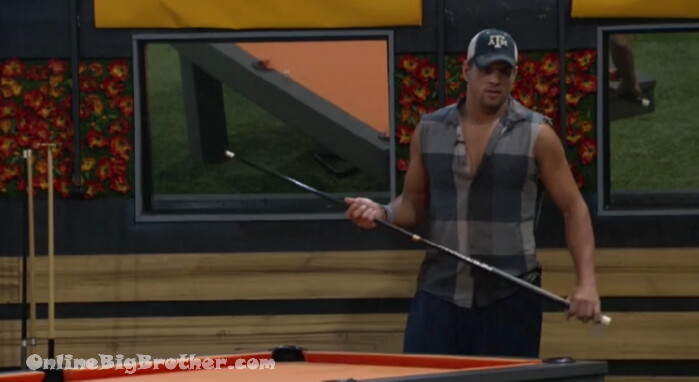 Fes alone – "And she leaves Tyler and Scottie on teh block.. OH MY GOD"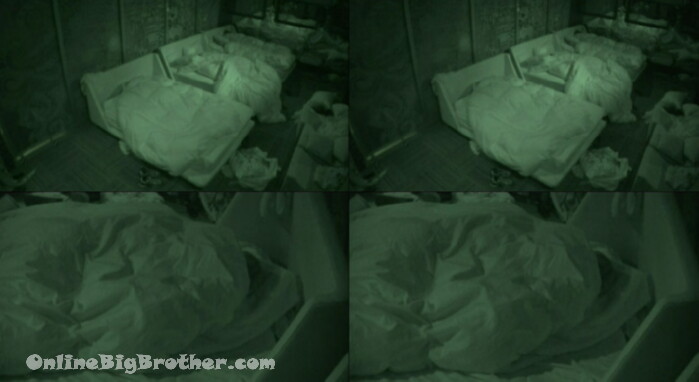 2:55am night…. (fes and Sam are still up on CAm 3-4)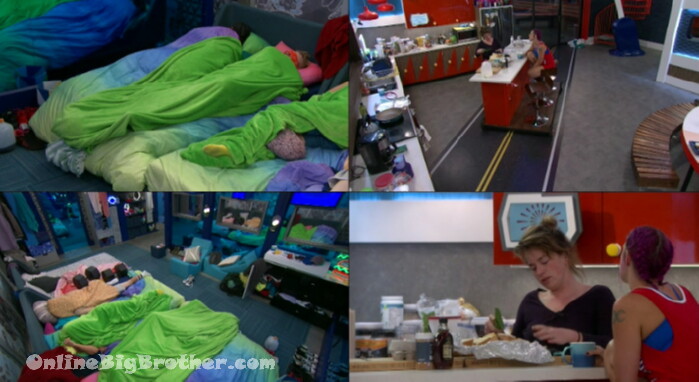 9:26AM Rocks and Sam are up chit chatting..
Kaycee gets called to work out..
Get your morning workout in.. #BB20 pic.twitter.com/YsRc18ptcx

— OnlineBigBrother.com (@bigbspoilers) August 5, 2018
10:03AM Rocks has to flaxjacks and do jumping jacks in between making them..
Rocks – doesn't look bad.. looks
Rocks used olive oil to fry the pancake up..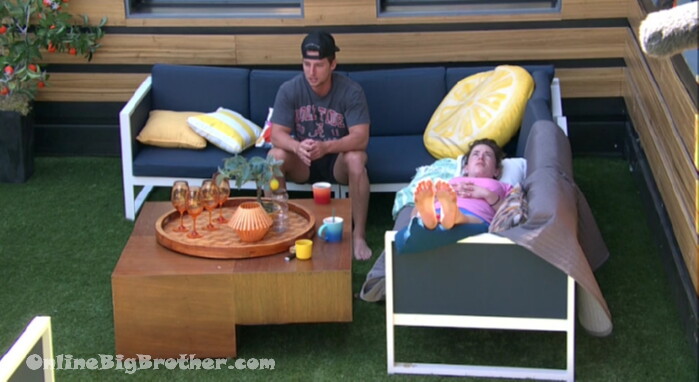 11:15am Sam and BRett
Sam – is the man eater club thing is that a real thing.. Rockstar asked me last night if I voted Rachel and I didn't answer I said I loved Rachel..
Sam – was it Angela too..
Brett – I don't think it was something that was real
SAm – they were going to exclude me.. I always refuse to involve myself in that..
Brett – it's just something we had to use it's not something that is real.
Sam goes on about how she loves men and she has a brother.
11:41am Getting Down…
savage #BB20 @DawgsBigBrother pic.twitter.com/j5thXFZgwE

— OnlineBigBrother.com (@bigbspoilers) August 5, 2018
If you like the content here at OBB please consider a donation.