| | | | |
| --- | --- | --- | --- |
| POV: | ? | Next POV: | Aug 11th |
| POV Used | ? | POV Ceremony | Aug 13th |
| HOH: | ? | Next HOH: | Aug 16th |
| Noms: | ?? | Have Nots | |
7:08pm Tyler and Kaycee Storage room
Tyler- I'm over Sam
kaycee – i am to
Kaycee – it's personal.. she's risking our game .. she might put Sam out
Tyler – maybe not because of that
KAycee – i'm over her
Tyler- Dude..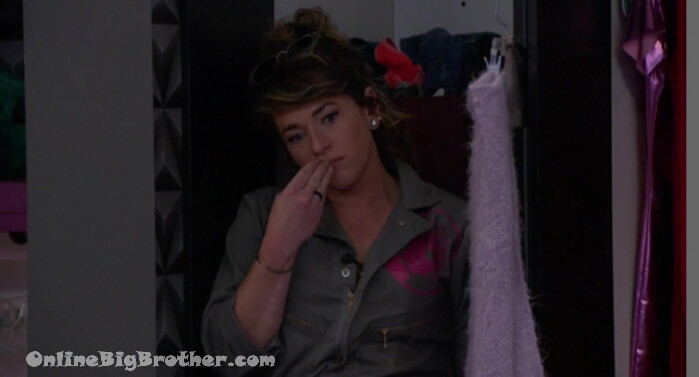 7:12pm Sam and Angela
Sam – I didn't want neither of them to go but nobody would tell be definitively how they are going to vote (BS)
Sam – at the very last minute I decided that would be the bigger thing to do I don't think it's right for her to… I don't know
A – you don't have to explain yourself.. if you think that is the right thing to do than you are 100% right
Sam – everyone voted against her are you f*ing kidding me
A – I don't know why.. I don't know what happened, I'm not in their loop
A – all I know is she had this app thing and if she stayed I was going to be on the block next week and she was telling everyone that and that is why I had to tell my people.. that she has to go if she stayed I knew I was going home
A – I don't know what happened on the other side… no clue
Sam – I don't feel like their's sides anymore..
Sam – I'm the only one that loves ROckstar beside Bayleigh (there's a reason for that)
Angela – everyone has their own unique connections in the house.. the last 2 weeks I had 2 people up that I loved.. ultimately we are here to play the game and I had to to what makes me safe the longest time possible.. once you start taking personal side it's a whole new level..
Sam – I'm doing the exact opposite
A – that is why this is so hard for you Sam.. that breaks my hear..
Sam – I got to tell my brother happy birthday this evening (ZOMG )
A – I know
Sam – I might be going home or I might go to the little house this week..
Sam thinks Haleigh is putting her up.. "it makes the most sense I put her up.. I'm not going to s**k her D*** because she's the HOH"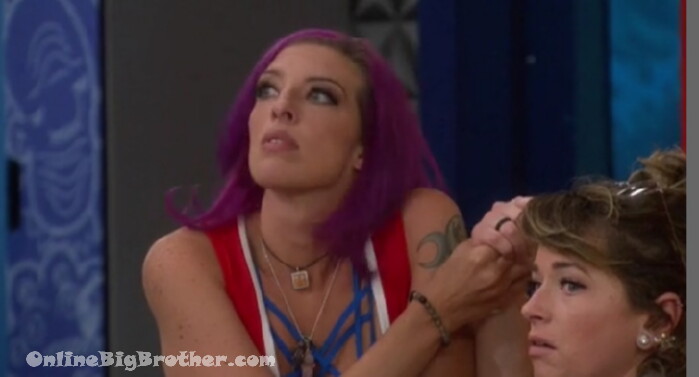 7:24pm Sam and Rocks
Sam – I didn't know her until the end of the game but.. you and her are the only reason I feel comfortable here.. I know you and her really do care about me and check on me .. I'm sad to see one of you go
Sam – I wasn't voting against you I was voting for her.. I was pretty sure you were going to stay..
Rocks – I'm glad someone voted for her to stay.. I would have voted for her to stay
Rocks – I refused to campaign against her
Rock – she really shouldn't have been on the block it was a stupid thing why she was there to begin with (Rocks you are dumb…)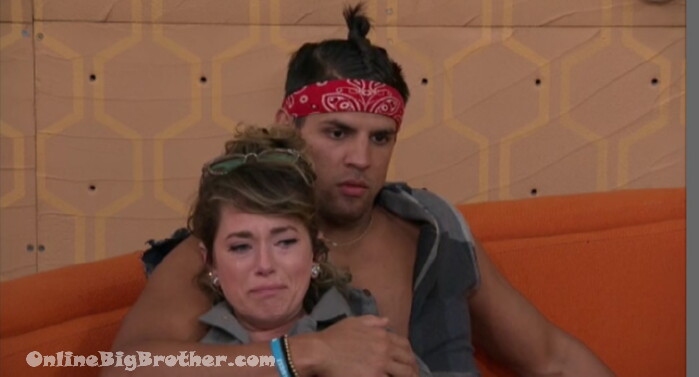 Fes joins them to comfort Sam … tells her how big the cheers were for Bayleigh.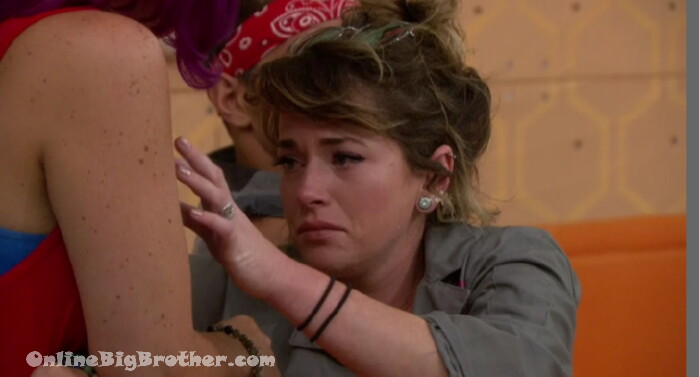 Sam just keeps crying ,… grabs for ROcks..
Fes – Bayleigh went out Classy
Sam – she is classy.. she looked beautiful too she was gorgeous
Rocks – she looked beautiful.. I put her in that dress..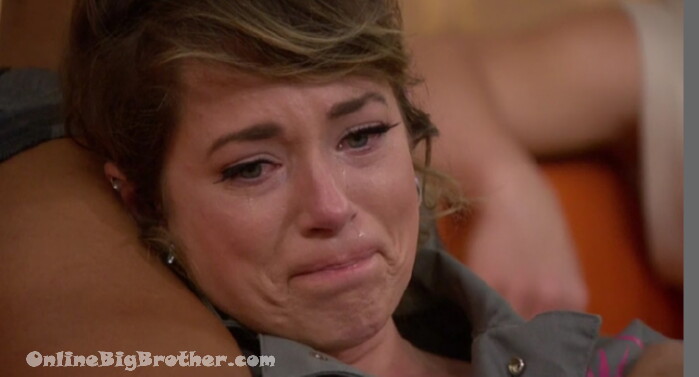 Sam whimpers "I'm f*ing stupid.. I'm going crazy I made up a bunch 0f stuff in my head and it's not real.. "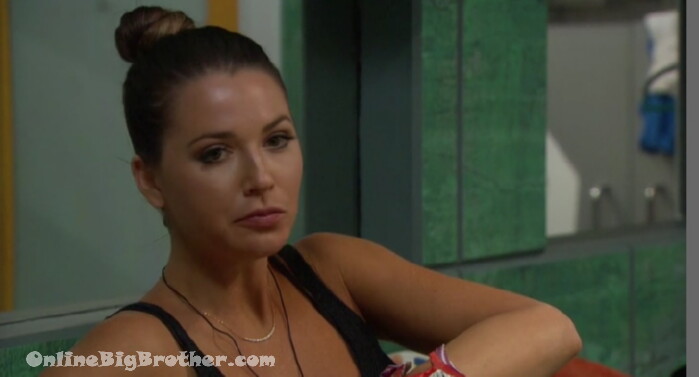 7:34pm KAycee and Angela
Kaycee points out how Sam is now crying all over the other side now that Haleigh is HOH.
Kaycee talking about how over Sam she is.. "now she's crying with fes.. "
Angela – they are going to try and backdoor one of us.. put up Sam as a pawn and backdoor one of us..
Rocks joins them talks about how JC said she had DINOSAUR Toe.. not camel toe.. they all laugh..
Rocks screams.. "JC were are you you gremlin" JC yells back at her something.. (LOL rocks is the best)

Rocks leaves…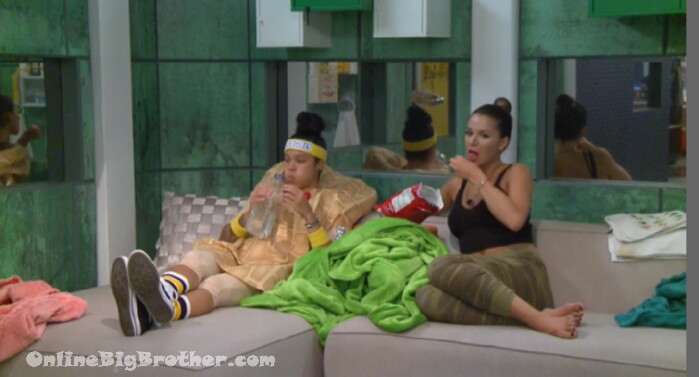 Angela – Sam's an easy target.. she can get her out with not blood on her hands..
Angela mentions that Fes will want one of the boys out .. "I think she will put up Sam and Bret and backdoor Tyler"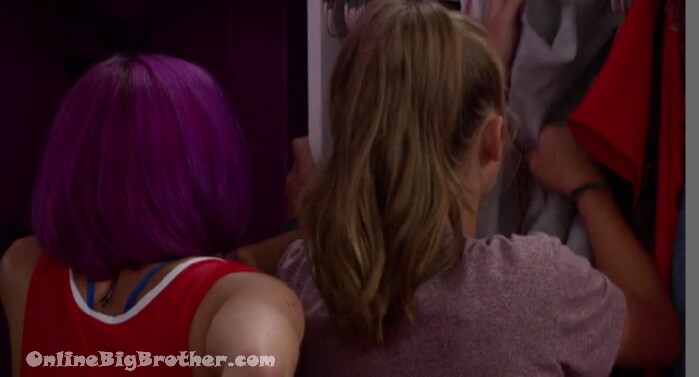 7:38pm Rocks and Haleigh
Haleigh says she's doing one on ones until 10 then no more.. asks ROCKS what they should do
Rocks says she was going to put up Kaycee and Angela backdoor Tyler..
Says that haleigh can win teh hacker comp again.. points otu that Angeal and kaycee walk around here they've never seen the block
Haleigh says she's not putting rbett up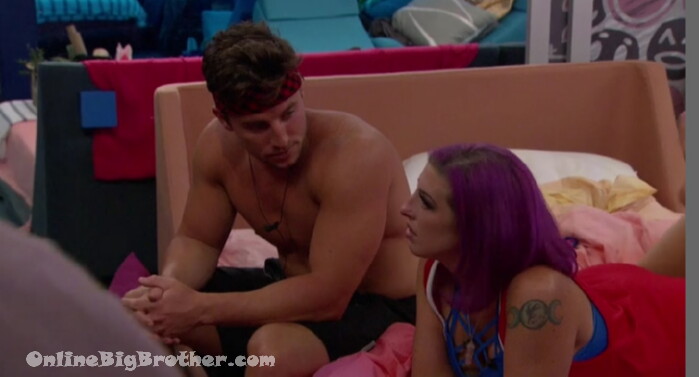 Rockstar tells Brett if she was going to win HOH she wouldn't put him on the block says she means it.. (LOL if she wins HOH)
Rocks – I really wanted you to know If I had won I wouldn't put you on the block we've both been on twice and it's a really shitty feeling..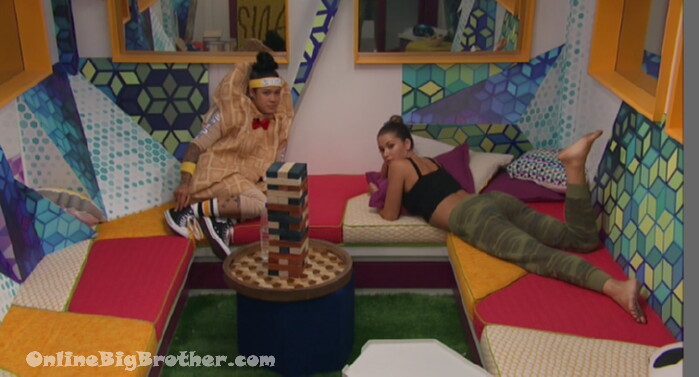 7:52pm Geometry room kaycee, Angela and Tyler
A – who do yo think will be running them fes or Haleigh
Kaycee – probably Hayleigh
Angela is worried they are going to try and pull Sam in..
Kaycee complains about Sam could have screwed their game up tonight if bayleigh had stayed in the game with the power.
Kaycee – I'm sick of her being so negative about everything.. It's a f*ing gamer we all care about her but she says she's going through things in life we are all
a – We all have sh1t to deal with (like being beautiful)
They think that Sam will go up as the Pawn.
T – we gotta get this hacker..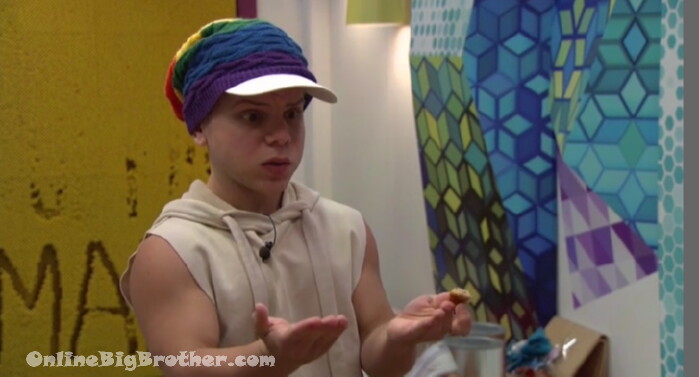 JC comes in..
JC – I'm so sorry I didn't know what the f* i was doing..
T – just convince her not to put me up right away and I'll win the Hacker.. don't say shit about backdoor.. just say don't put me up right away
If you like our content please consider a donation
Rank the houseguests!
Easiest way to Rank the house guests use link below