| | | | |
| --- | --- | --- | --- |
| POV: | Angela | Next POV: | Aug 4th |
| POV Used | YES | POV Ceremony | Aug 6th |
| HOH: | Angela | Next HOH: | Aug 9nd |
| Noms: | ROCKS and Scottie Tyler Bayleigh | Have Nots | |
Big Brother Spoilers – The Hive is so clueless.. It's all sour grapes from them now.
12:45am POOL MEGA PICS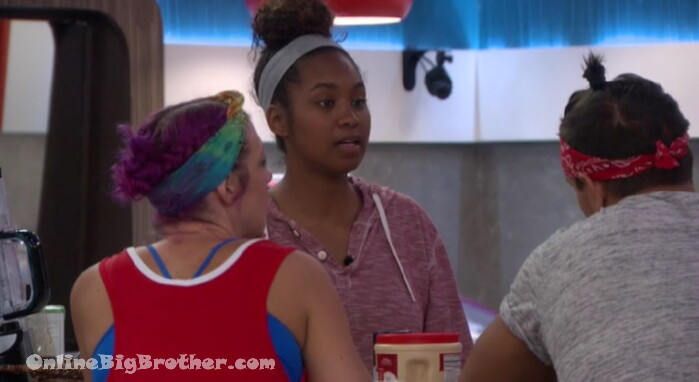 1:11pm Rocks, Bay and Fes
Fes is trying to calculate the day Steve left and how many episodes they've aired..
Bayleigh – no no no don't do it like that
Rocks screams out – whos d1ck do you have to s** to get a Halting Hex in this b1tch
Bay – don't ask me.. I don't know..
Rocks – it's just a turn of phrase..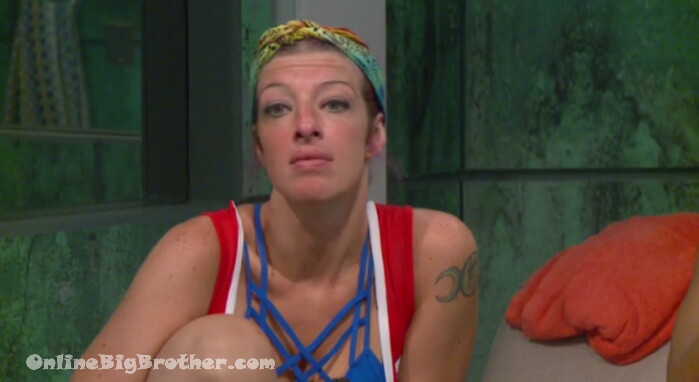 1:30pm Rocks, Fes and Bay
Rocks – I just really can't stand any of these people
Bay – these are the people America loves
ROcks – these are the people we needed to get rid of the first week
Rocks – Angela tell us someone else you dated in your modelling career.. Shut the f* up
Rocks says it's possible to be very pretty and cool, "I only find her one of those"
Bay – I don't find her either
Bay thought she was cool but not now..
Bay – nice body.. Real nice body..
Fes says it's not his type of body
Bay – she got a boob job ..
Bay – sometime this is peoples only moment to shine so you gotta let them (LOL)
Rocks – i feel like there's certain messages that need to be sent to America..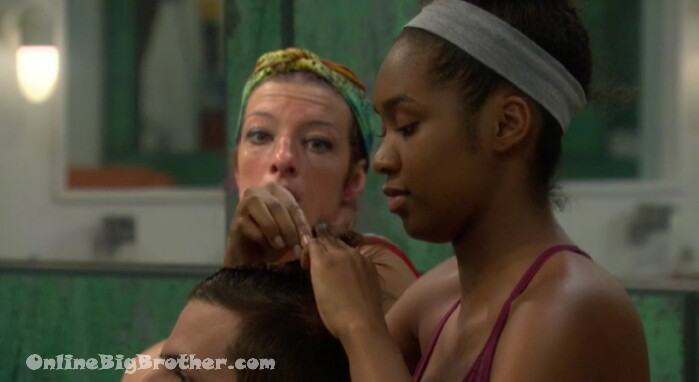 Bay – America the people you are supporting are big..
Rocks – fake spoiled a$$
Bay – classless.. TRashy a$$
Fes – spoiled ..
Rocks – Spoiled rich.. Privileged ..
Bay – Privileged is a great word too
Rocks – I'm thinking of going out Epic..
Bay tells her she's not going..
Rocks says that is what she's thinking of doing.. "I'm thinking of keeping you here for my feeling of justice in the world"
Bay – in my one on one she said Bayleigh I love you if it's not me that wins I want you to be the first black person to ever do it ..
Bay – little b1tch.. Get off your power trips sweetie..
Bay – that's going to go down in history that's our one on one.. .
Rocks – what if I can say a epic f*ing speech you stay and take them all down.. what if.. I'm not promising nothing I'm just thinking about stuff..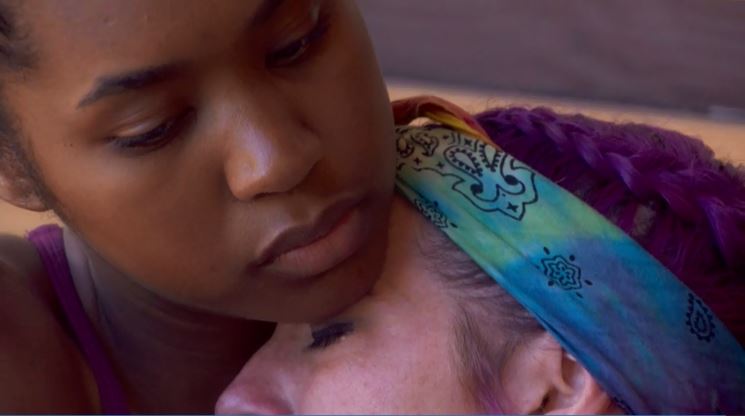 1:57pm – 2:12pm Rockstar – I am just thinking a lot. Sam – Like about Isac and stuff? Rockstar – sort of, I guess it's more self-preservation versus epic social statement. Sam – I just don't know if this is the right platform for that. I think that I agree and I am not opposed to the idea. Rockstar – how real can I be with you and you not repeat anything. I am going to really need you to not repeat this. Sam – I'm a lock box. I've never broke a pinky swear. We can pinky swear. Rockstar – If these spoiled a$$, rich a$$ kids are going to keep throwing me on the this block. Is it better to let them know what I think about them and go out with a bang and keep Bay here who could potentially win and make a big social statement. Or is it self-preserving to stay on the f**king block over and over again while these kids win and maybe make it further because they keep using me as a pawn. And I am really thinking about that because they just keep winning and I don't feel like I could actually beat any of them. I would like to say that I could but they're real athletes. They're really athletic and what if I could go out on some epic big a$$ statement. If anyone of these Brett or Angela win they're just going to throw me right back on there. And I am really thinking about a bigger message but is that a disservice to my family if I could go further? By just being some weak person that they just keep throwing on the block. Sam – it's easy to get caught up in this and not think about your team outside of here. We all love each other and will be friends outside of here. What matters most is the people outside of here. And I spend a lot of time missing my family but the they're right here with me. The reality is I'm here for all of the people that I could potentially help. I guess. Bayleigh joins them. Rockstar – I am deep in thought. I am just really thinking. Bay – been there, done that. If I could just let you in on my mind for 30 seconds you would be overwhelmed. Sam – there isn't really a destination or an end it's a circle. It's a never ending path. It's just all a beginning. It's a passage of time and distance where I will eventually end up where I started. Rockstar starts crying. Rockstar – I am just weighing self-preservation versus my believe system. So I stay here and these privileged a$$ kids keep throwing me back on the block. I have a lot of thoughts in my head like is it more likely if you stay could you win. That's a big statement. Bay – I don't understand why god would bring me here if it wasn't for me to win. But I can't discredit your path, it doesn't mean more than your path. For me to be completely thrown under the bus someone must have some real life problems. I want to see justice for these dumba$$ people.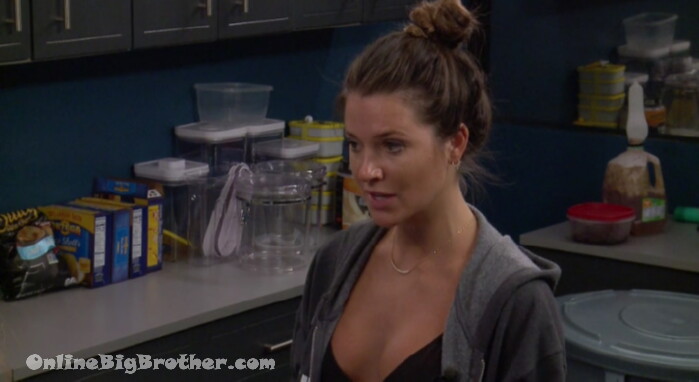 2:08pm Haleigh and Angela cam 3-4
Angela says when someone freaks out like Bayleigh did you know they are up to something.
Haleigh talking about being serious about a girls alliance.
Angela says she knew all week that Bayeligh was going up, "She told me so many lies.. So many lies"
Angela – she was always safe I was not trying to get Bayleigh out she was safe.. And the fact she had HOH last week, she had this power app to keep herself safe and she still wanted to mess with my thing when she wanted to work with me.
Angela – that's the most shadiest.. How do I not put someone up that does that to me
Angela – you have proven to me I can't trust you
Angela – nobody has done be wrong in such a way.. If she had not done anything she would be here.. That's the thing you get too much power in this game it bites you in the a$$.
Angeal a- Me and Bayleigh will be really really good friends.. I adore her I love her personality she's fun to be around.. I don't know what she did this
H – it's just crazy she's never said a word
Angela – I think she was targeting me for f*iung with my HOH
Haleigh thought she was going to put up Scottie
Angela – I want everyone to think I was going after scottie..
Angela says Bay made it personal when she lied to her.
Angela – if we talk right now she's just going to lie to me.. I don't want to be lied to anymore..
H – I know it's tough
Angela – she hasn't tried to pitch anything to anyone.. Is she giving up
2:36pm pump off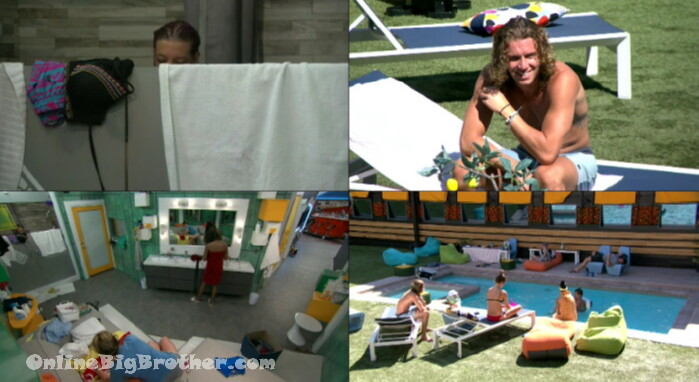 3:40pm
4:04pm Scottie and Fes
fes – how are you feeling in this game
Scottie – this week I'm alive.. I was freaking the f* out yesterday morning.. next week I don't f*ing know.. obviously if one of us wins I'm goo d
Fes – me, you or Tyler have to win.. the girls.. Like the past HOH's have been girls and they've all sent home a girl.. if a girl wins [HOH] the shot at me you or Tyler is happening.. that is what I feel
Scottie asks him who he thinks would take that shot at them.
Fes doesn't know
Fes – people in this game are being very social just to co er angles.. does that make sense..
4:41pm Haleigh and Fes..
Bayleigh – Stop flirting it's really weird..
5:28pm KAycee and Bay in the kitchen
Bay – I asked you if you were the hacker or not
Bayleigh saying when Angela was saying she thought she was the hacker Kaycee was probably agreeing with her because bayleigh lied to her about not having the power app
Kaycee says it wasn't like that says she's close to a lot of people in the house not only Bayleigh..
Kaycee – I'm not telling people what you tell me .. I wasn't going against you
bayleigh says people (dr) were asking her yesterday if she can trust KAycee moving forward and she broke down from the question.
Kaycee says the personal and game thing is different
Bay – you're laughing right now this isn't funny..
Kaycee – how am I laughing
Bay – you smirked at me
Kaycee – are you kidding me I"m always smiling.. you think I'm laughing at you why would I sit here laugh at you
Kaycee – why would I laugh
Bay – look at your face .. I'm genuinely coming to you because my feelings are hurt
Kaycee – I'm not laughing..
BAy – I don't appreciate that .. you're smiling
Kaycee – this is how I talk
Bay – Can I not come to you and express my thoughts
Kaycee says she can they trust each other
Kaycee says he's trying to give Bay space out of respect she can tell BAyelgih is in a mood.
Bay – I'm not in a mood.. Like am I not allowed to come to you and be like Hey Kace
Kaycee – you can
Baye – but you get snappy at me
KAycee – I'm not snappy at you, you are taking it the wrong way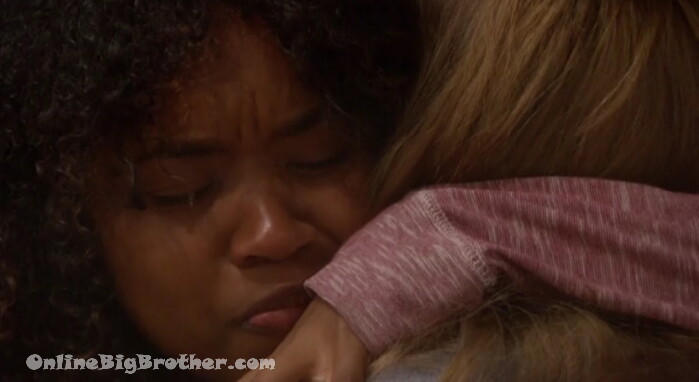 5:55pm Bayleigh and Haleigh
Haleigh tells her she's the hacker..
Bayleigh thinks that Angela has something deeper inside her that's not game for why she wants to get rid of Bayleigh because if Angela had accepted their deal she would have been set.
Bayleigh suggest that she offended Angela in some way (you have a power)
(drop the alliance you've had from week1 feeds to be the bottom of an alliance that is at best at treading water)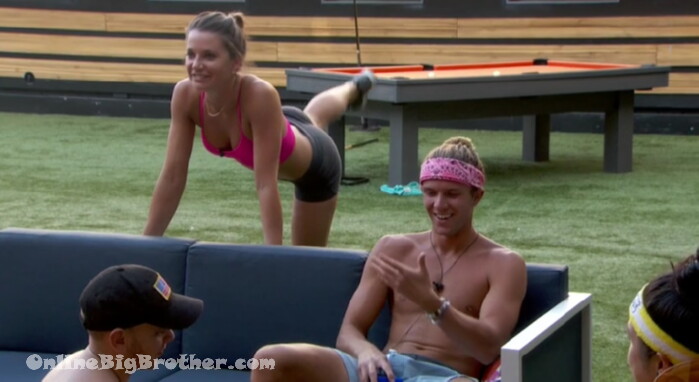 6:10pm Backyard Kaycee and the rest of her ilk
Kaycee is talking about her conversation with Bayleigh.. Angela tells them that Fes was up in the HOH talking to her. they laugh at his lack of game knowledge. Tyler impersonates fes pretending to read off "notes"
Tyler – I won't put you up next week .. you're hot…
Angela – that was his pitch seriously..
Tyler- I don't know what the f* is going on
6:20pm
Kaycee gets a peanut workout mid normal workout #BB20 @DawgsBigBrother pic.twitter.com/sYRmBjMDKw

— OnlineBigBrother.com (@bigbspoilers) August 8, 2018
6:45pm Bayleigh, FEs and Haleigh
They're talking about how to keep Bayleigh. They know Angela doesn't vote and Tyler has already said he's voting out Bayleigh so that's 2 votes out from the the other side.
Bay says that Fes was the only person that knew she had the power before Rachel.
Haleigh says Kaycee will vote for her.
Bay – Kaycee has been so rude to me these past few days and being and so pro Angela.. the only time I cried was yesterday and today because of Kaycee ..
H – Angela can't play next week..
Bay – I'm not mad i'm on the block I'm more disgusted how people are treating me this week.. like I would never treat someone so disrespectfully
H – all we need is 4 we have half of them right now..
Fes – I could get JC..
Bay – what about Scottie .. (hmm.. )
Bay – what about Brett…
Fes – what of JC can convince them that BRett and Rockstar are working together
Haleigh – we don't know where Sam's head is at
Bayleigh – Sam doesn't want to choose between us two
H – the thing about rocks is people have been wanting her out for while
Bay – this has been a very rough few weeks in this house.. we've had 1 good week..
They are joking around that Fes needs to stop winning vetos and start winning HOH's
Fes says he's board..
Bayleigh – you're board right now fes!!! he's so spoiled what have we gotten ourselves into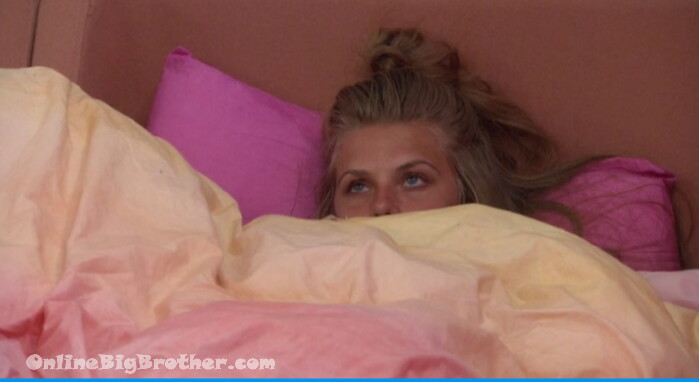 7:08pm haleigh and Fes
Fes – what has gotten over you these past couple days.. you act like you like me
H – I do like you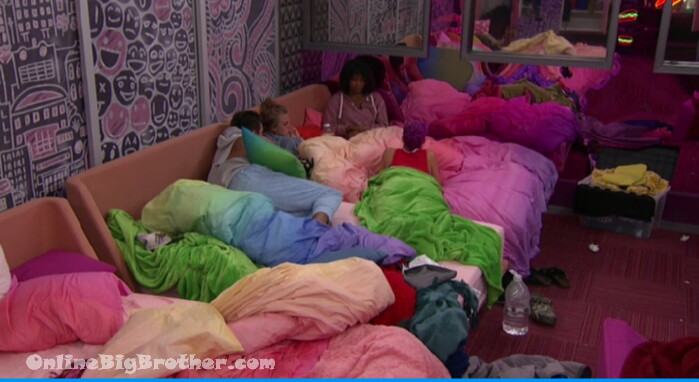 7:50pm HIVE in the pink room.. (minus Scottie)
Chit chat.. I heard Jeff and Jordan and hit MUTE
If you like our content please consider a donation
Rank the houseguests!
Easiest way to Rank the house guests use link below