POV:
?
Next POV:
Aug 4th
POV Used
?
POV Ceremony
Aug 6th
HOH:
Angela
Next HOH:
Aug 9nd
Noms:
ROCKS and Scottie
Tyler
Have Nots
Hacker TWIST: They can rescue one of the nominees from the eviction vote and name a replacement. In addition, they can choose one of the house guests (other than the HoH and nominees) to compete for the Power of Veto. And they can nullify one of the votes for eviction.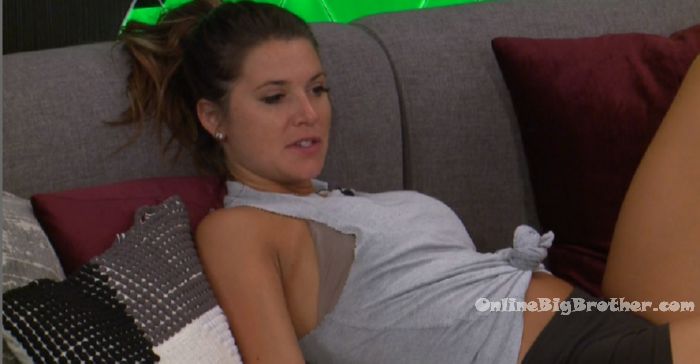 5:05pm HOH room. Angel, Fes, Haleigh. Angela. Angela leaves. Fes – I thought you won. Haleigh – I didn't get it. Fes – you didn't know it was a skull so I was trying to cover for you. Haleigh – I was making fun of her because she said sad face. Angela returns. Angela – everyone was like if I win I'll let you know. Cool… and now no one is telling me. Haleigh – that's the thing though if they change it you can just change it if the veto is used. Angela – it doesn't make their game any better. Everyone is still in jeopardy. No one is safe regardless of what happens with the change because of the veto. Haleigh – to use it would just be stupid. Angela – I think the hacker will be obvious.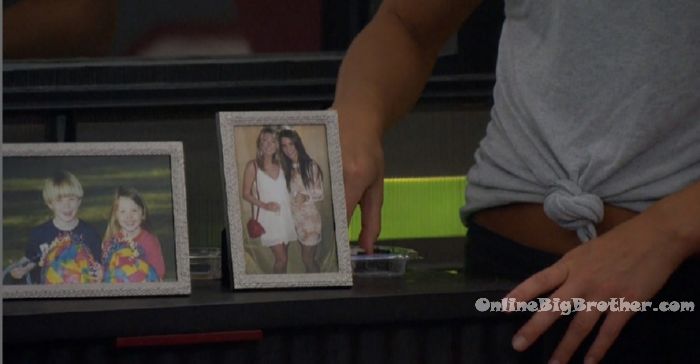 5:15pm – 5:23pm Big Brother blocks the feeds for the hacker noms. When the live feeds return…
Hacker Twist: Was used
Scottie was taken off and Tyler was put up.
On the Block: Tyler & Rockstar
– Scottie isn't safe this week he could still go up as the replacement nominee.
– Word on the street: Haleigh is the hacker winner..
– Tyler's Cloud App: The Cloud ensures immunity for Tyler at a nomination or Veto ceremony during the first eight weeks and he must use it before the HOH reveals his or her picks.
FLASHBACK and watch everything you missed: Live Feed 7 day FREE Trial!

Living room. Kaycee – interesting. Very interesting. Rockstar, Bayleigh and Haleigh head to the bedroom. Rockstar – well that sucks, he's like the veto champion. Haliegh – I'm sorry. Rockstar – I didn't think either of us were going to be taken off. Bay – Someone is specifically targeting him. Scottie joins them. Haleigh – tells him congrats. Scottie – this could easily be a backdoor. I might not play in the veto now. Bay – and then put you right back up. Scottie – yeah I could easily go right back up. Rockstar – so whoever it is they get to pick who plays in the veto. Scotttie – yup, we'll see. JC – this house is a sh*t show! Scottie leaves. Haleigh – that would be a stupid backdoor plan. Haleigh – when Scottie came down he looked shocked. Rockstar – this just adds another level of crazy.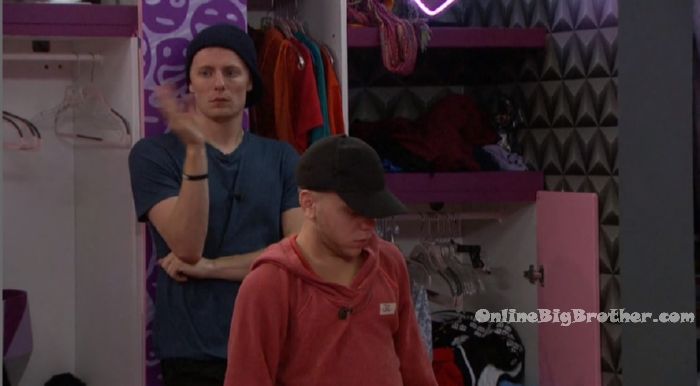 5:27pm Bathroom. Angela, Tyler, Fes, Sam.
Sam – its not going to stick. Tyler – it could easily stay. Sam – no f**king way! Tyler – and a vote gets cancelled. Sam – well just win the veto and take yourself. Tyler – yeah. Sam – or I'll win the veto and take you off. Sam – This is one of those things that I will just have to wait to because I don't understand. there is no sense in worrying about it because there is so much that can change. Angela – the only thing that we need to worry about it the noms staying the same.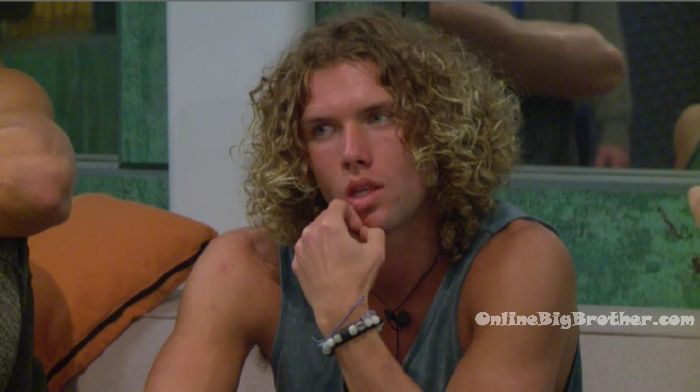 Tyler and JC are alone in the bathroom. JC – I am going to do as much as possible to make sure the veto is used. Tyler – I will go if I don't win the veto. Someone's vote is going to be cancelled out. JC – I will flip this whole f**king house. Tyler – If I don't win, I am gone. Your vote is cancelled. JC – you are not going home. Don't get in the negativity. Tyler – I am going to win the veto. Fes joins them. Fes – I have a feeling I am going to get picked to play. This is a crazy a$$ f**king game!!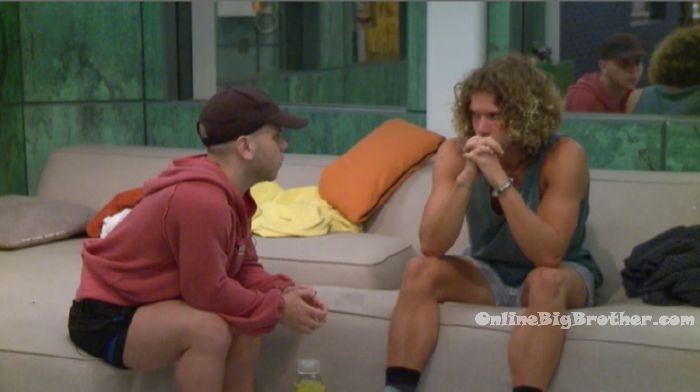 5:40pm Bathroom – Tyler and Scottie. Scottie – I would like you to still look me in the eyes. You marched out of the havenot room and looked pretty mad. Tyler – I don't know what the f**k is going on. Scottie – me neither. It doesn't make any sense. I assume we were associated together but why take me down and put you up. It doesn't make any sense. Tyler – I don't know. I didn't do sh*t. Scottie – we're pretty much the same player. Scottie – the only options are one you really pissed someone off. Two – its a backdoor for me. Three – they want us to not trust each other. Tyler – but who knows we're tight? Scottie – everyone. If I win, you're coming off.. then we're both safe. Tyler – yeah.. I don't know this sucks. I'm just glad we're not up there together. Haleigh joins them. Haleigh – I swear it wasn't me.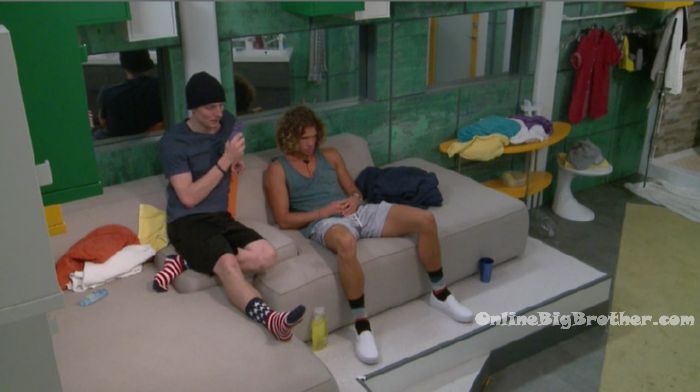 6:15pm HOH room. Tyler – who plays in the veto will be very telling. The cancelled vote is what really blows. Angela – I feel really helpless. I can't control anything. Haleigh – you can control tomorrow who's in it (Veto). Kaycee – pick me, I want to play. Tyler – I wonder if it is someone trying to pit me and Scottie against each other. IF Brett can survive on the block twice, I hope I can. Angela – I feel like when someone tries to make a big move .. it gets out and everyone will be pissed at them. Tyler – its just a weak thing to do. Like tell me I'm a threat because I win competitions.
Haleigh – the best case scenario is Tyler wins, takes himself off and Angela puts up her original nomination. Kaycee – I just hope I get to play.
6:48pm
6:55pm Bathroom. Brett and Haleigh. Brett – you know who it could be? It could be Angela. Haleigh – that would be stupid. Brett – not really because then there is no blood on her hands. Its not Rockstar, she would have used it on herself unless she put someone up that she thought she could beat. Haleigh – I don't think Tyler would go home over Rockstar. Haleigh – I know it wasn't f**king me. I don't think it was you. I don't think its Rockstar. It definitely wanst Angela is way too pissed or it.
7:20pm Havenot room. Scottie and Tyler. Scottie – I just hate all this lying. Tyler – either way they are trying to pinch it on you. Bay joins them. Bay – It couldn't have been a smart play … you're killer at vetos. Everyone is paranoid.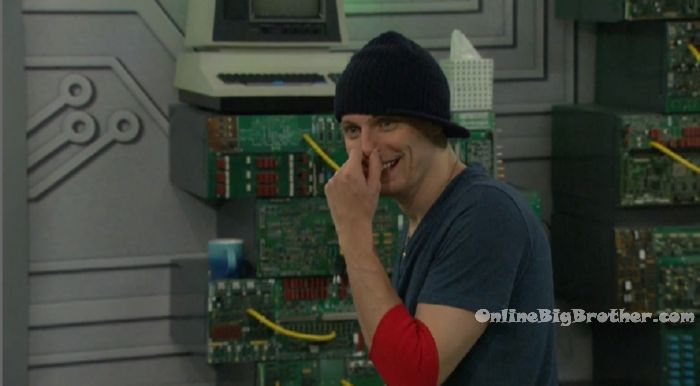 7:40pm Angela -& Tyler. Angela – If I win I am pulling you down. I have JC talking to Fes. I don't think Fes will try to win. Tyler – he (Fes) told me that he would use the veto on me if she won. Angela – stupid hacker sh*t! Tyler – Bayleigh is so dumb too .. she said she got zero right. Umm .. no you Tryler – the only Thing e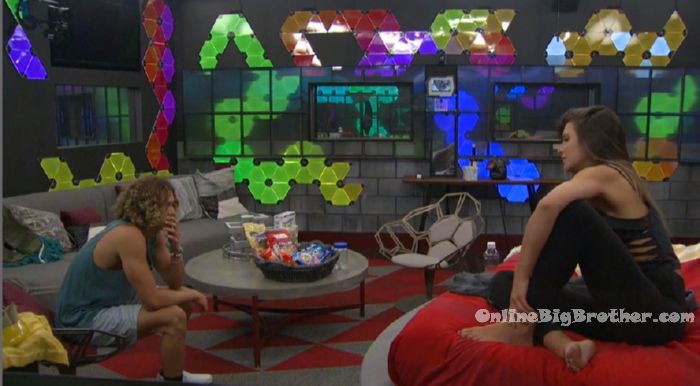 http://cbs-allaccess.7eer.net/c/130370/175680/3065
8:15pm JC, Tyler and Angela. JC – If you get house guest choice, pick Harassment pick Fes. Angel – I was thinking of picking Kaycee. She hasn't played yet. Tyler – she is going to be running or thing. Angela – if Rockstar wins and pulls herself down then we put up Bayleigh. Brett joins them.
8:28pm Haleigh and Scottie. Play chess. Scottie and and Haleigh. Haleigh – you need to get picked for the veto and win so that you don't get backdoored! Scottie – that's what I was saying.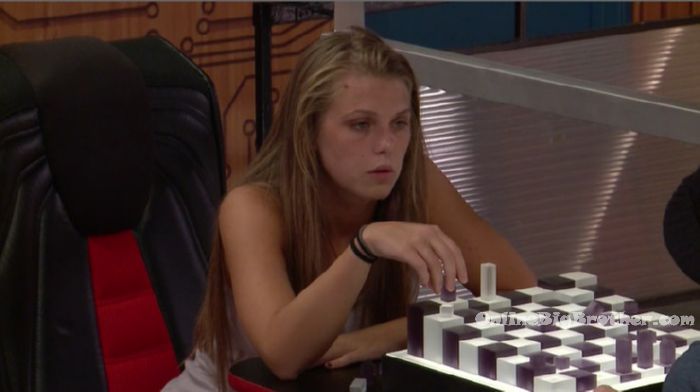 If you've enjoyed our live feed updates so far this season, please consider donating.
Any amount is greatly appreciated! Your donations go directly to paying the fees required to run this site.
Rank the houseguests!
Easiest way to Rank the house guests use link below