POV Holder:
Victoria
Next POV
July 19th
POV Used
?
POV Ceremony
July 21st
HOH Winner 1:
Frankie
HOH Winner 2:
 Cody
Battle of the Block Winner
Jocasta/Amber
Next HOH/ Next BOB
July 24/July 18
Original Nominations:
Brittany/Victoria(Cody) Jocasta/Amber (Frankie)
Final Nominations:
?
Have Nots
?
POV Players
Cody, Brittany, Victoria, Caleb, Nicole, Zach
Leading up to the Power of Veto competition this is what we know
Cody and Frankie won HOH
Second place went to Jocasta and Brittany (Brittany wants to make sure everyone knows this I'm just passing it along)
The detonators are targeting either Jocasta or Brittany a distant 3rd target is Donny
Frankie nominated Amber and Jocasta
Cody Nominated Brittany and Victoria
The winners of the Battle on the Block are safe from eviction for the week. The HOH that nominated the Winning Team is dethroned and is now at risk to being nominated.
Jocasta has been proven to be Competition poison whereas Brittany and Victoria both have BON wins.
Amber and Jocasta win the battle on the block, They are safe from eviction and frankie is dethroned.
The Plan is still to evict Brittany, She continues to  stay up around the clock ensuring feed watchers don't sleep
Power of veto players are picked —> Cody, Brittany, Victoria, Caleb, Nicole, Zach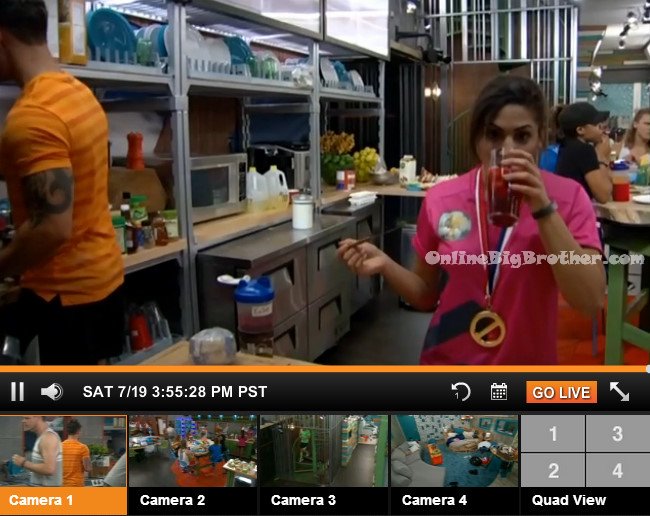 Victoria Wins the Power of Veto
Nicole has to wear the Germatard
Caleb won money (5thousand)
Zach won a trip to Germany. When asked if he'll take his brother he said no way my brother can't drink.. followed by i'm giving it to my parents)
Brittany has a 24 hour punishment in the backyard where she has to kick 2400 goals
Cody gets kicked in the a$$ every hour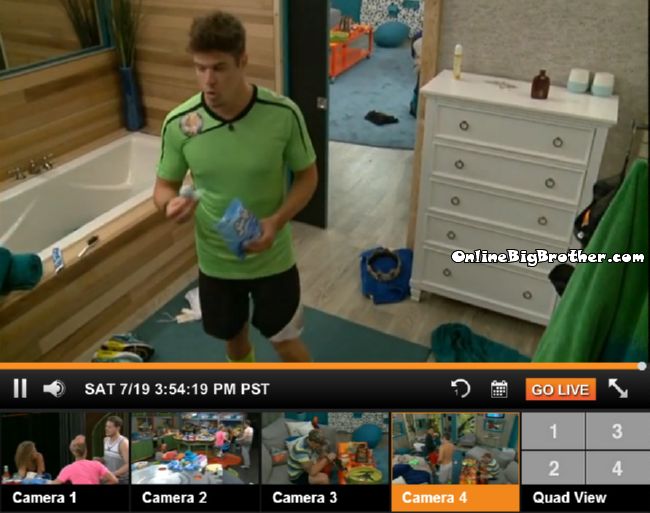 3:54pm HOH Frankie and Zach
Frankie "Say.. if you put Caleb up I'm going home next week"
Zach – "Dude that changes everything"
Frankie doesn't change shit"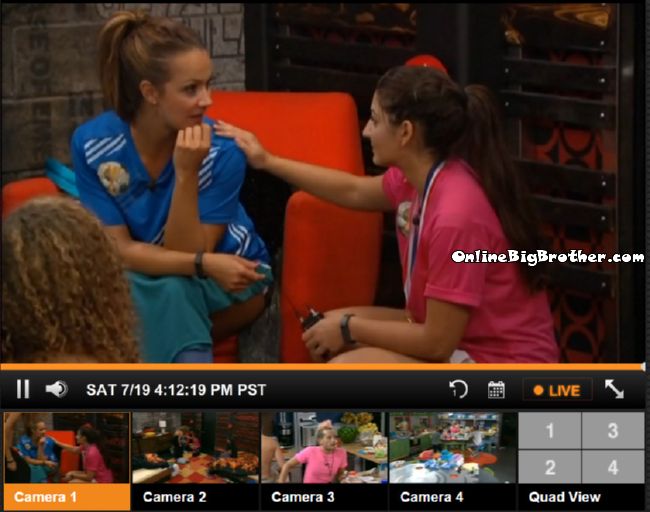 4:00pm FIREROOM Amber, Jocasta and Brittany
Talking about COdy not making a big move. Jocata says Derrick Caleb and COdy are in the room talking. "So it's Derrick caleb and cody
Victoria comes in says she's sorry
brittany tells her not to say that she won it she had to save herself.
Brittany – "I need to work out my legs cause these look like curdled milked"
Victoria leaves
Brittany – "Satan is working overtime"
Amber – Brittany
Brittany – I'm still here I'm still praying
Jocasta starts singing… "The sky's the limit to what I can get.. just believe and receive"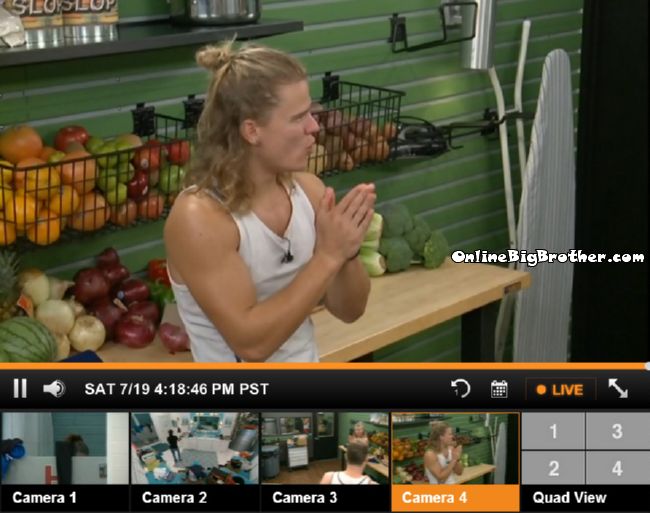 4:18pm hayden and Derrick
Hayden – Brittany is going home
Derrick says if Caleb goes up Cody is playing personal.
Derrick – If it was me I would put f***ing zach up as the pawn
Hayden – Zach or Caleb.. I know Cody wants to freak out right now
Hayden – Zach and Caleb are so f*** selfish
Derrick suggest they put up Donny.
Hayden says if they put up Donny the house will know what is going on
Hayden – Why would Caleb feel so safe and didn't go for the veto
Derrick is worried if Caleb goes up he could go home says the same thing with Zach.
This is why Derrick thinks Cody has to put up Donny.
Derrick -"They f***d us.. They F***d us" (Zach and Caleb)
Hayden – Dude I hope we could send them all home Brittany, Zach, Caleb, Amber
Derrick "Caleb won 5 grand Zach won a german trip and they are being a$$holes"
Derrick – Zach should have taken the veto.. I knew Caleb was taking the money.. We have to make sure Cody knows we have his back
Hayden – We have to have this conversation with Him
With a live feed subscription you can go back and rewatch all the events we highlight in this blog.
Try It Free! Get 24/7 access to the house for 48hrs before you decide!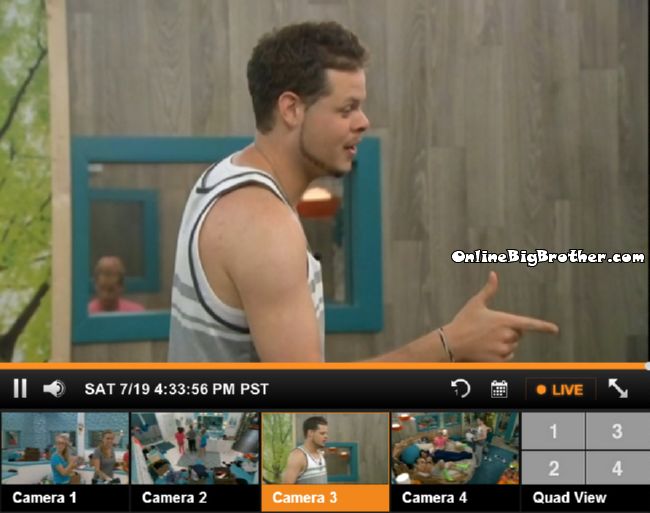 4:30pm Derrick, Cody, Zach, Frankie
Derrick suggests they put up Donny. They all agree if Caleb goes up he will go home. Derrick explains they need the numbers. Cody – "I'm telling you next time I win HOH he's going up"
Derrick says worst case scenario they flip the house and DOnny goes home "that is the worst case". Derrick adds that they could say to Caleb you took the 5 thousand dollars now you're on the block. Derrick warns if Caleb goes home it's short term game but long term lose.
Cody is just going to have a hard time justifying to the house not putting Caleb up after being the last person and didn't go for the Veto.
Cody is agreeing that putting up Donny is the best plan he wants to have a one on one with Donny. He's going to say that Donny is a competitor and he wants to make sure he puts up a strong player against Brittnay to make sure Britany goes home.
Frankie about Caleb – He's a bigger a$$ than you are
Zach – No he's not don't ever say that
Derrick tells them if Brittany goes home Amber will come running back to them.. Derrick adds she'll be like "I need to go lick Caleb's b@ll.. And cody and Frankies"
They all looking at the HOH TV screen.
Derrick says the girls are wanting Cody to put Zach up. Cody says there's no way of that happening.
Nicole joins them all the guys in the room tell her she';s not going up.
Christine joins them They Start bashing the players downstairs the ones suspected to have no idea about Big Brother. They talk about Brittany always mentioning how some people in the house deserve it over others because of their financial situation outside of the house.
Zach says sarcastically that Brittany is poor BUT she does drive a BMW and gets child support.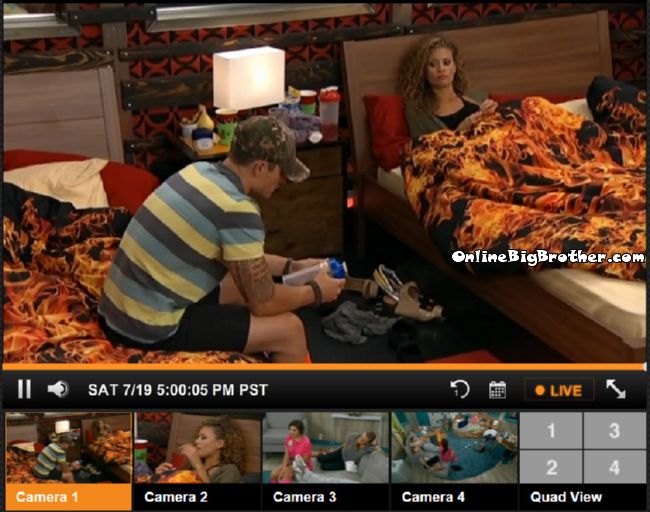 4:59pm FIREROOM Amber and Caleb (Beastmance)
Caleb saying he's been trying to convince the guys to get out Victoria but not that she has the veto, "It's sticky"
Amber – Donny is stirring up stuff.. he's been saying stuff this morning
Caleb doesn't know hasn't heard anything from Donny. He says the guys have it in their heads they want Brittany out.
Amber says she trusts Brittany a lot more than Zach
Caleb feels that whoever they put up against Brittany will stay. Before when Victoria was nominated there was a chance.
Amber – "I'm telling you right now if Donny goes up I'm voting Brittnay to stay.. he's stirring up stuff"
Caleb warns her if she votes against the house she may be painting a target on herself.
Amber says she's by herself she's not playing with anyone.
Jocasta joins them
Amber – "I'm waiting for a girl to be HOH"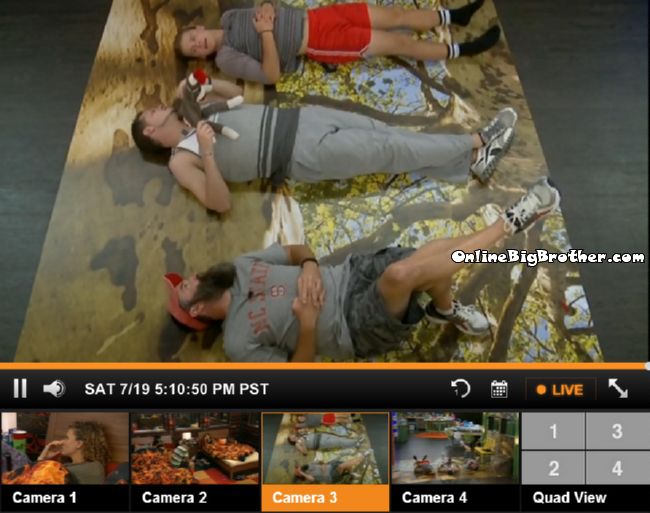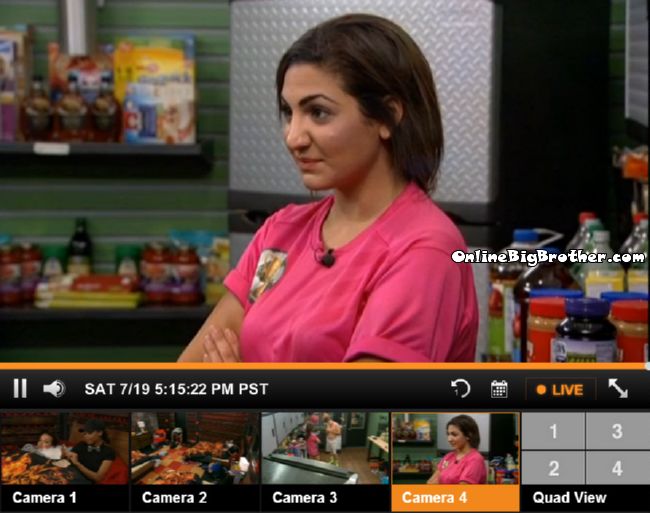 5:13pm Storage room Victoria and Zach
Victoria "2nd time on the block 2nd time I've saved myself.. does anyone see a pattern here stop putting me on the f***ing Block"
Zach says he's putting up Amber and jocasta. Says Brittany and Amber HATE him they have made it so obvious today.
Victoria admits that today was pure luck. She said before coming in she was going to fight as hard as she can and that is what she's doing.
Zach – Caleb is going up for sure next week (For taking the money)
Victoria says she's more deserving than Brittnay to win the game she bring positive vibes into the house. She points out she was a big fan of the show but it was from another country, "It's the same show just another language"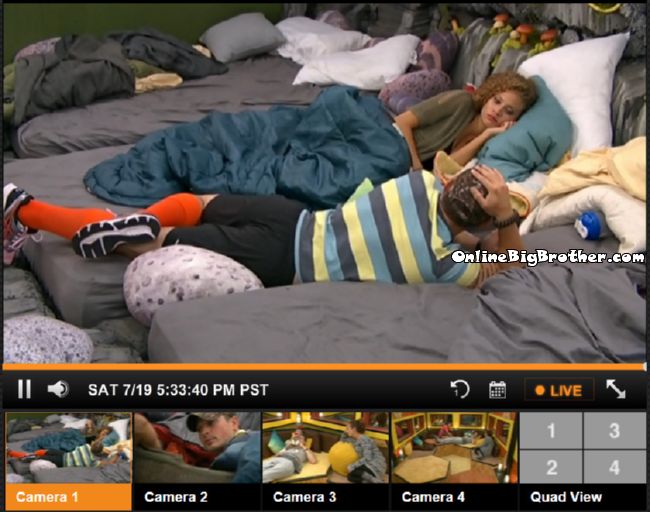 5:30pm Amber and Caleb
He tells her she needs to do what is best for her game Caleb warns her they all saw what happened to Devin when he went against his house.
Caleb doesn't want Brittany gone but there's nothing they can do.
Caleb says they all made a deal at the beginning and if they turn their back on that deal why go hom, "Devin went against us no you see where he's at" (Talking about the bombsquad)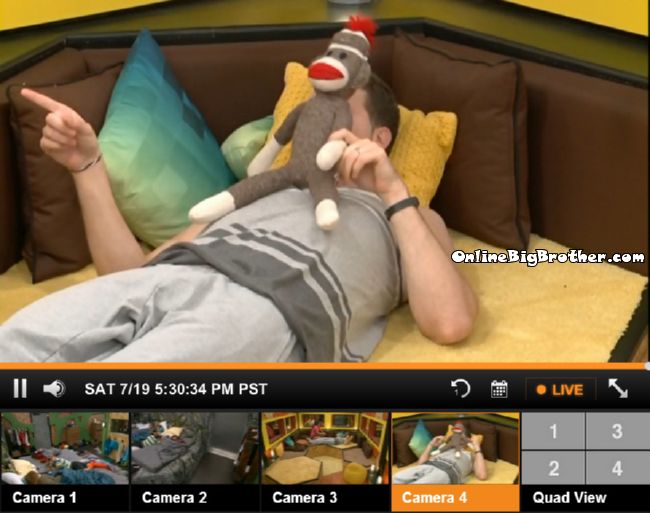 5:41pm BEEHIVE Derrick and Victoria
Derrick tells her to be quiet for the rest of the week lay super low. She's won the Veto she's not going anywhere. Victoria says Cody seems alittle made. Derrick points out now he has to nominate another person that's 3 poepel he's pis$$ing off.
They agree grabbing the money and trip will put a target on Zach's/Caleb's back.
Thy talk about the taxes you have to pay on your Big Brother Winnings. Victoria wonders if you can go to jail for not paying your taxes. Derrick says "Umm ya for Tax evasion you go to jail"
Derrick – "F** all you people that do Animal abuse.. you f***er"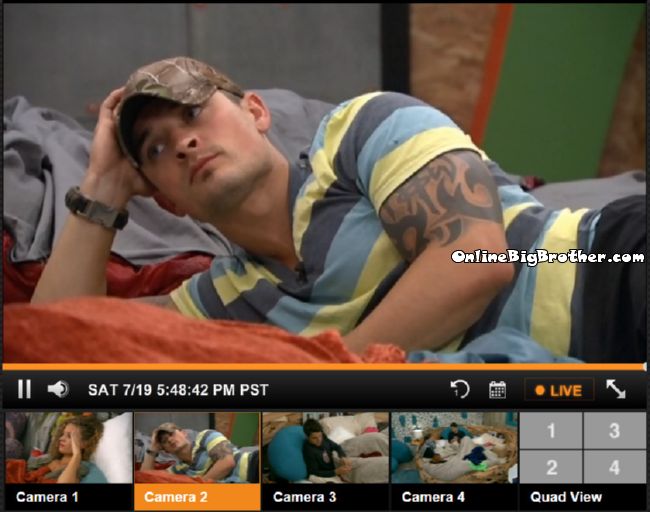 5:48pm Rock Room Caleb and Amber
Caleb says the only guy he trusts 100% is Derrick. He doesn't trust Cody he's too close to Zach.
Amber – "Zach is hurting Cody's game just like Devin was hurting yours'
Caleb says Frankie told him that Cody said Amber volunteered to go up.
Caleb wants her to be sure about the people she trusts. He warns her she being so close to Brittany is really turning the house the wrong way. He's worried come Double eviction people might want to take them out. "During the Double evict you have no time to convince anybody.. "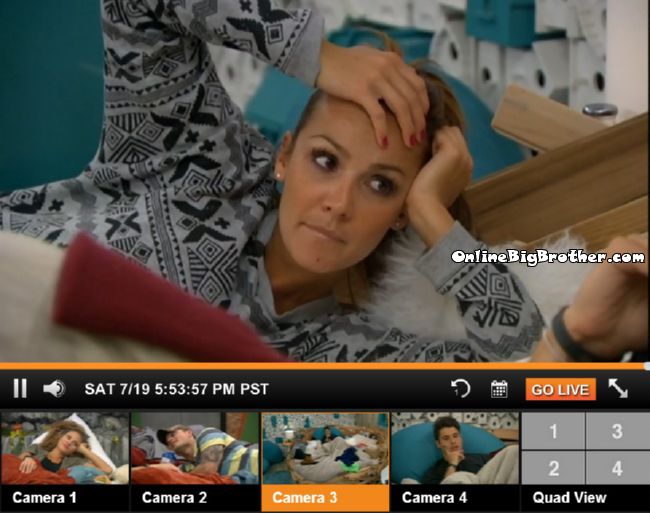 5:55pm Brittany and Cody
Brittany working on Cody.. Will cody fall in love with Brittany like Devin did?
Derrick comes in says that Nicole didn't get her germatard yet. Brittany tells him "You traded me in for Victoria"
Derrick says Vicotira has been on him since Day one.
Alliances (Some Of these are dead)
Zankie = Frankie/Zach
Bomb squad = Caleb, Amber, Frankie, Derrick, Cody, Christine, Zach, Hayden
Team America = Donny, Derrick, Frankie
Nicotine = Christine/Nicole
Not a showmance= Hayden/Nicole
Los Tres Amigos = Derrick, Cody, Zach
The bottom Feeders = Derrick/Nicole
We hate Devin = Christine and Zach
Outsiders = Brittany, Victoria, Jocasta, Donny
Old timers = Jocasta/Donny
Stalker = Caleb/Amber
Quad Kings = Derrick, Zach, Cody and Hayden (still being built)
Trilogy = Nicole, Christine & Hayden
The Detonators = Derrick, Frankie, Zach, Christine, Cody
Final 2 Deal "The HITMEN" – Cody & Derrick
[polldaddy poll=8194643]
[polldaddy poll=8192326]