POV Holder:
?
Next POV
July 19th
POV Used
?
POV Ceremony
July 21st
HOH Winner 1:
Frankie
HOH Winner 2:
 Cody
Battle of the Block Winner
Jocasta/Amber
Next HOH/ Next BOB
July 24/July 18
Original Nominations:
Brittany/Victoria(Cody) Jocasta/Amber (Frankie)
Final Nominations:
?
Have Nots
?
POV Players
Cody, Brittany, Victoria, Caleb, Nicole, Zach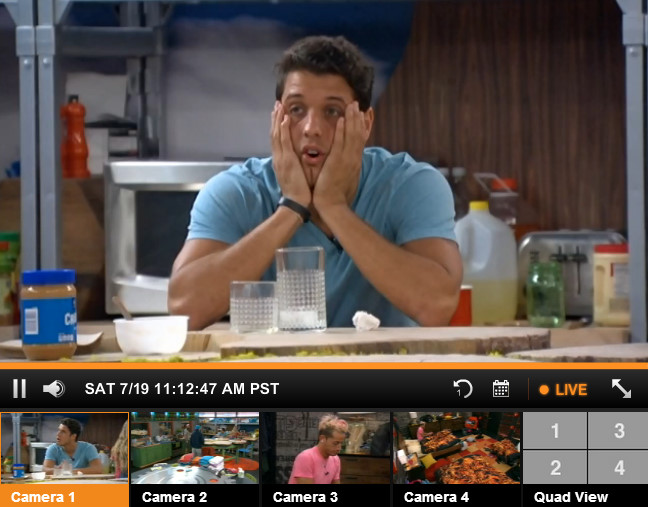 TEST out the Big Brother 16 Live Feeds for FREE with the 2 Day Trial!
Power Of Veto Players: Cody, Brittany, Victoria, Caleb, Nicole, Zach
POV Host: Frankie

10:55am – 11:15am Big Brother blocks the live feeds for the house guests to pick players for the power of veto competition. When the live feeds return – Cody, Caleb and Derrick are in the kitchen talking about how if nothing happens when they come back inside after the Veto this week will definitely be a double eviction because of how Julie stressed something would happen this week. Caleb talks to Cody in the living room about his conversation with Amber last night about her stepping all over him. Cody says that every time you walk in .. I can't stress it enough that it is not like that. Calbe tells Cody about he told Amber that she is walking around like she had Cody in her back pocket like a baby and its pacifier. Caleb says that was not good to say to her. Cody laughs. Caleb talks about how she wanted cookie dough and I flew in with my cap and found some for her. She doesn't appreciate anything that I've done for her. Caleb says it looks really sketchy that Brittany picked my to play in the veto because we were out there talking last night.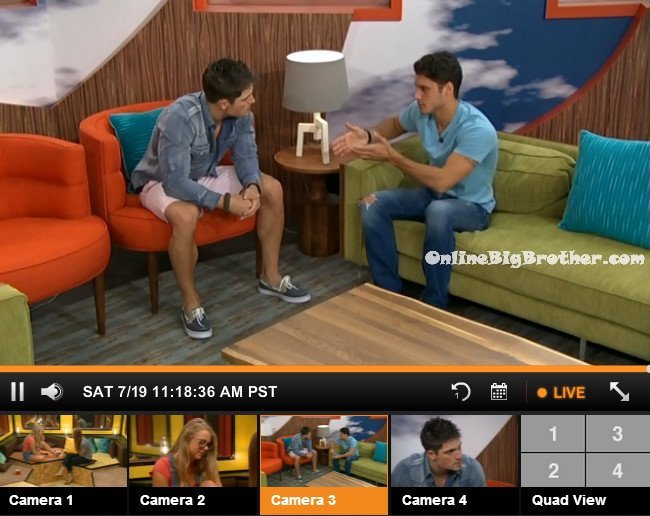 In the fire room –
Amber congratulates Frankie on Cody picking him to be the host of the veto competition. She says that she asked Cody not to pick her and is glad he got picked to do it. The cameras switch to Christine and Nicole in the hive room. Nicole says that she is so glad that she got picked. I had a feeling I would get picked. Christine tells her if you win it, it would solidify things with the guys if you didn't use it. Nicole asks what if it's the money Power of Veto Competition? Like the one with the unitard, or solitary confinement one? What do I do? Christine says if you are not the last person standing, then take whatever prize you can. Christine says if Derrick, Cody, Caleb or Zach have the veto, then don't touch it. Christine tells Nicole she doesn't think she's in danger of being the replacement nominee. Nicole says that she's happy, it's her first POV competition. I had a good feeling I was going to get picked. Christine says it's going to be awesome, 3 guys against 3 girls. Christine says I hate Amber's attitude, when Cody said he was picking Frankie to be host. Christine says that Amber said Frankie, you're lucky I didn't want to do it.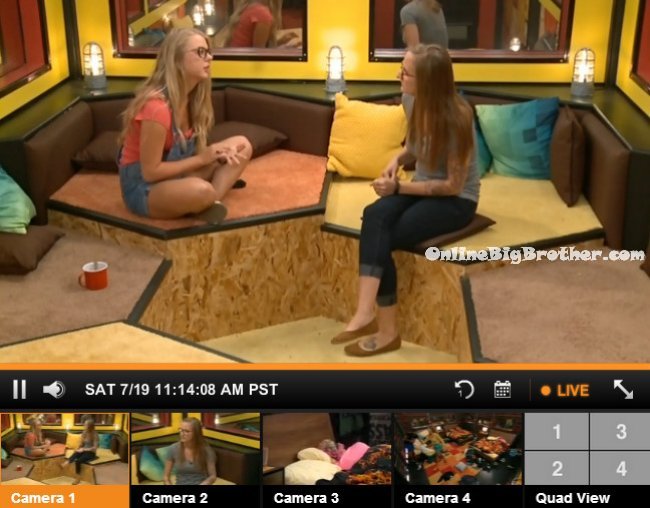 11:30am In the earth room – Derrick and Amber are talking. Derrick says that its weird that Brittany picked Caleb to play in the veto. Amber says that she thought it was weird she didn't pick me but she said it was because Caleb got more sleep. Derrick says I am surprised she didn't pick me because I would have used it on her. Amber says you know how we are working in our alliance and outside. If Brittany were to win HOH she could put up people that we couldn't. Amber says that she doesn't trust Zach.
11:40am Up in the HOH room – Derrick brings up the alliance name of "The Bottom Feeders" because we're live feed watchers and .. Nicole says because we're at the bottom, we're bottom feeders.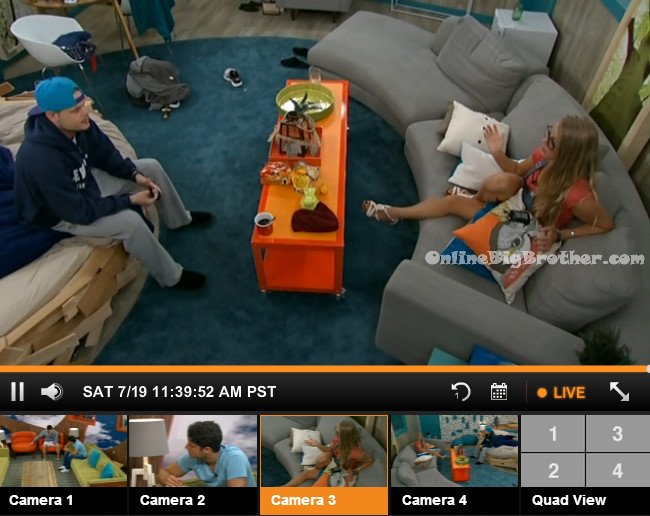 11:45am Amber and Brittany are in the earth room talking. Brittany says that I have never had an opportunity to talk to anyone about anything. Amber says you need to go talk to people or else you will be on the block every week. Brittany says I know I have you, Caleb, Derrick and Jocasta's vote. I don't know about Donny. Brittany says if I win the veto I can dispel any rumors about me. Amber says if you do win or come off you need to start playing the game because it is day 30 something.. Amber says I wanted to play but I am just so tired. Brittany says I wish you got picked. I just couldn't pick you because they people would know that you and I were talking.
11:45am – 12:20pm Up in the HOH room – Cody joins Derrick and Nicole. Cody tells them about his conversation with Caleb. He explains that he was telling me about his conversation with Brittany last night. Cody says I don't give a f**k what any one has to tell me about Brittany. If she can't even come talk to me. Derrick says she is trying to get everyone but herself to campaign for her. Derrick says and I don't get it I am a pretty easy person to talk to. I am not like Devin. Cody says Brittany is a flip flopper and Amber is the biggest one. Cody says I am playing Amber.. I'm not really her friend. Nicole leaves. Derrick says I am not talking game to Zach any more and I don't think you should either. He is talking too much. Cody says oh I know. Derrick says that Amber is campaigning for Brittany to stay. She is playing you. Cody says what I want to tell Caleb is that we know 10 times what he knows. I wish I could tell him that Amber is trying to get Nicole and Brittany to form an alliance and their biggest target is to get you (Caleb) out. Cody says that Nicole and Christine are on board with getting Brittany out. Zach joins them. Cody talks about how he pulled Zach's name to play in the veto. Cody tells Zach that Caleb said in the kitchen that if he wins it he won't use it on her (Brittany). Zach asks why would Brittany pick him then? Derrick says she's trying to get her vote. Caleb won't use it or if anything he will throw it. Cody says if Brittany comes to be I am going to be like if you are telling people that we are so close but then why have I had 4 people come and talk to me for you. I take it as being disrespectful. Cody says this girl says I won't look her in the face .. Does she not walk around with her head down? Zach says yeah. They agree the votes they have for sure to evict Brittnay are Derrick, Cody, Zach, Christine, Hayden, Frankie. We have 6 for sure and all we need are five. If Brittany wins veto I would put up Donny. They talk about how Amber, Hayden, Nicole and Christine all volunteered when Brittany got house guest choice and asked for someone to volunteer to play. Derrick says I was surprised she didn't pick me. Cody says she would have if you had volunteered. Derrick says now that we know that Amber is so adamant about getting out Victoria show us that Victoria hasn't flipped and has nothing to do with them. We can then use that next week that Amber was campaigning to get her (Victoria) out.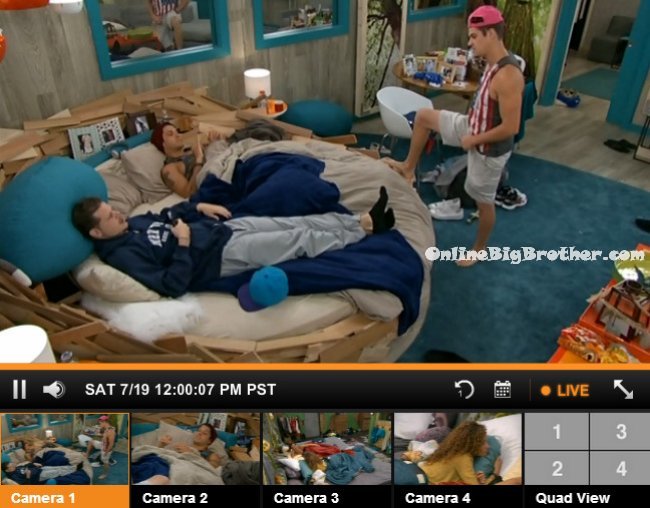 VICTORIA says into her MIC "Can you call me into DR I NEED TO CHECK MY ADDERALL @bigbspoilers #bb16 pic.twitter.com/wjei14oa18

— Dawg (@DawgsBigBrother) July 19, 2014
12:25pm – 12:35pm Brittany says I was thinking last night that I wouldn't even give a veto speech because the obvious is the obvious you know. Brittany and Amber try to get some rest. Right after Brittany gets called to the diary room. She asks why is it every time I try and close my eyes you guy call me in. The DR hates me too! If the diary room could, they would put me on the block too! Brittany goes to the diary room. Amber goes to sleep.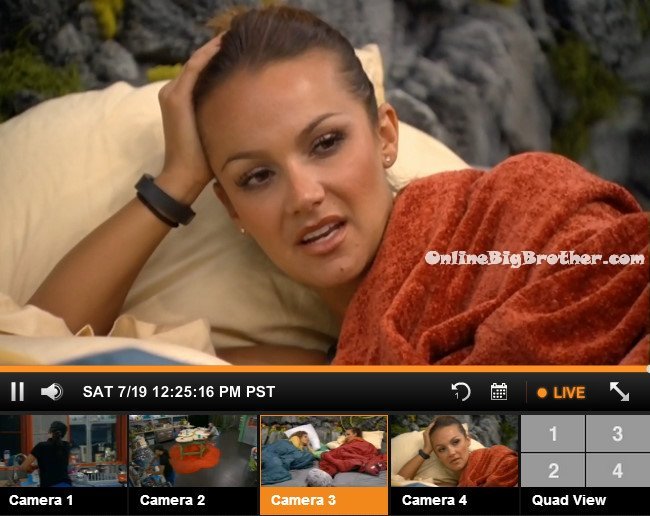 12:50pm – 1pm In the kitchen – Caleb tells Donny that he figured out when they are live and when they're not. Its when the light is on the fish tank, thats when we're not live it means they're showing the fish. Caleb says I feel like there was a lot more for me coming here than just for the money. I think they put Nicole in here for me because she like straight up country boys. But I like a little more dark to the skin if you know what I mean. I've never dated a black girl before. Jocasta says I don't know I would have thought you had. Caleb says I might, you never know! Big Brother calls Victoria to the diary room. Caleb says good luck with that you'll see her in 45 minutes to an hour. She's sleeping. Caleb says I think some money and punishments are going to be involved in this POV. Brittany says well if you win money you realize you have to give me some because I picked you to play in it. Caleb says if I see money, I am going for it!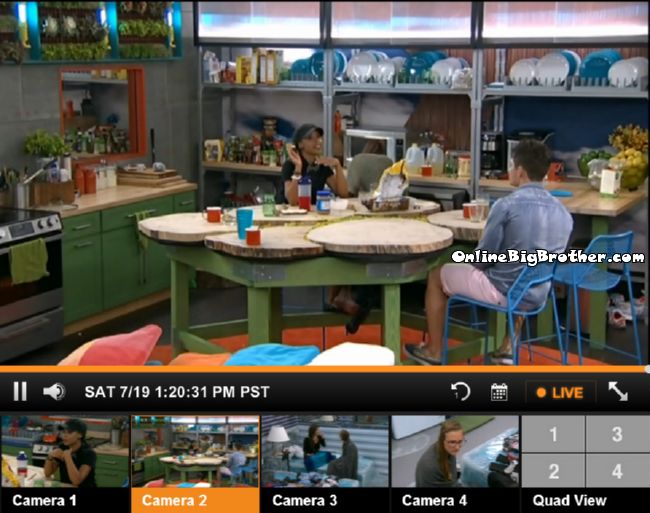 1:05pm Loitering around waiting for the Power of Veto competition.
Brittnay I used frankies face wash and I feel like my face is on fire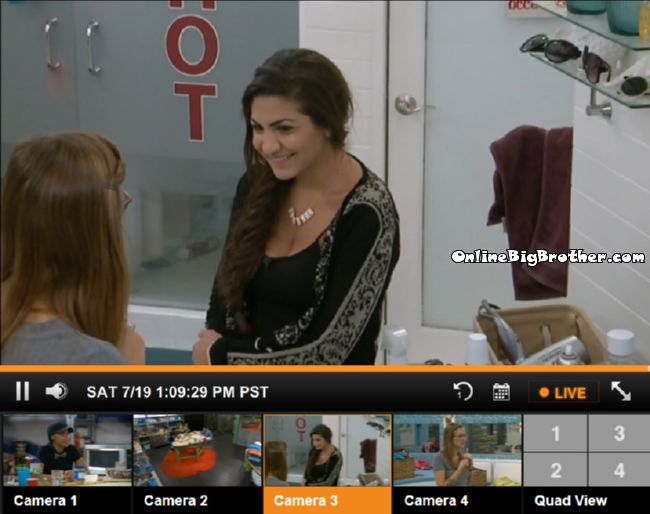 1:09pm cam 3-4 Victoria and Christine
Christine there's no way she's going to win a veto
Victoria what if she does
CHristine – I'll kill her.. ok sorry that was harsh
Christine She's literally the only person that can't win
Victoria says Brittany called her the second POW Christine have you seen Jocata in the last two competitions ..
Victoria – thank you
Victoria is motor mouthing taking the conversation in 100 different directions at lighting speed..
Christine mentions how Cody put Brittnay up as a target when they were friends that is how huge she screwed up/
Victoria says that Brittany is getting mad at her for talking to people. CHristine says nothing that comes out of Brittany's mouth is the truth. Christine doesn't think Brittany will talk to her anymore after what has happened. Brittany knows Christine doesn't listen to her.
Victoria – "All Brittany does is shove shit into my mind.. I had to break down in DR" Victoria keeps saying how annoyed at Brittany she is, "She told me in the bedroom.. you're the weak one"
Christine supports victoria thinks she has a real chance of winning the POV. Christine- "I think it's really rude that brittany said you are weak.. it actually really pisses me off"
Victoria says her parents never babied her she a fighter been on her own since she was 16.
1:33pm Feeds go to Jeff POV Time
3:13pm Feeds on Jeff
Alliances (Some Of these are dead)
Zankie = Frankie/Zach
Bomb squad = Caleb, Amber, Frankie, Derrick, Cody, Christine, Zach, Hayden
Team America = Donny, Derrick, Frankie
Nicotine = Christine/Nicole
Not a showmance= Hayden/Nicole
Los Tres Amigos = Derrick, Cody, Zach
The bottom Feeders = Derrick/Nicole
We hate Devin = Christine and Zach
Outsiders = Brittany, Victoria, Jocasta, Donny
Old timers = Jocasta/Donny
Stalker = Caleb/Amber
Quad Kings = Derrick, Zach, Cody and Hayden (still being built)
Trilogy = Nicole, Christine & Hayden
The Detonators = Derrick, Frankie, Zach, Christine, Cody
Final 2 Deal "The HITMEN" – Cody & Derrick
[polldaddy poll=8194643]
[polldaddy poll=8192326]