POV Holder:
Victoria
Next POV
July 26th
POV Used
Yes
POV Ceremony
July 28th
HOH Winner 1:
Frankie
HOH Winner 2:
 Cody
Battle of the Block Winner
Jocasta/Amber
Next HOH/ Next BOB
July 24/July 25
Original Nominations:
Brittany/Victoria(Cody) Jocasta/Amber (Frankie)
Final Nominations:
Brittany & Donny
Have Nots
?
POV Players
Cody, Brittany, Victoria, Caleb, Nicole, Zach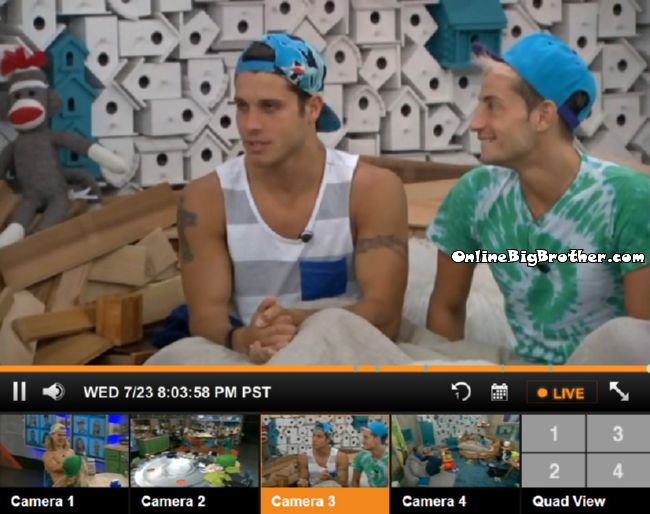 7:57pm HOH Frankie, Zach and Cody
Frankie says Caleb is stupid they have to make sure he's voting out Brittany. They think they should pull in the 8 person alliance and make sure everyone is on board with getting Brittnay out.
errick rolls in .. Christine rolls in says he wants to punch Amber in the face. .
Christine and Derrick don't think they should pull Caleb up and tell him as a group.
Derrick jokes they will tell Caleb – Simple Brittany goes this week and next week we're sending you home followed by your girlfriend.
They start ripping on Caleb because he wants to put the pickle in a Banana .
Victoria comes up and they continue to slam Caleb for "being pathetic"
Christine starts saying that Amber gave her a "Offended looks" for having a date with Cody. Christine says the way Amber was asking her about it was frightening.
Christine says Amber told her she liked Christine's skirt and said "I'm going to have to wear that"
Christine told her she didn't think her "Booty" would fit in it and amber told her "And that is why I will look better in it"
They all say Amber is catty and they hate her.
Victoria calls Amber pathetic
Nicole and Caleb joins them … chit chat..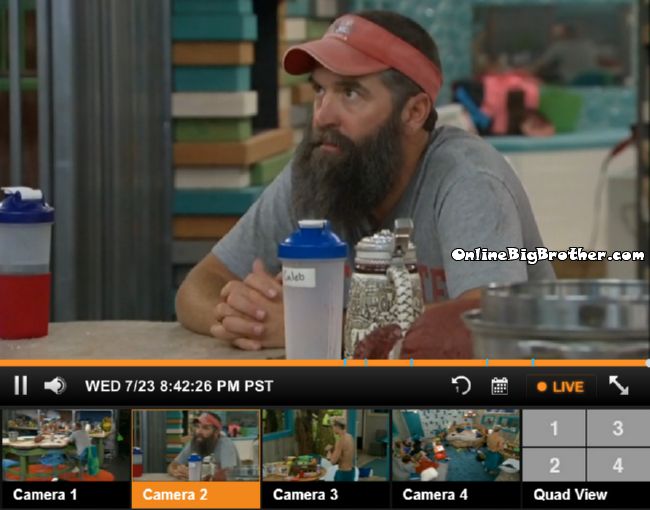 8:38pm Donny and Amber ins thee storage room saying how people have been throwing garbage in the recycling
8:40pm Kitchen Cody and Donny
Talking about working out and starting a new workout program for Donny on Monday. Donny has his stuff packed tells him you never know for sure.
Donny – "I'll leave my name on the water bottle here and you can cry next week"
They start talking about Donny's home town. Donny says he's close to Charlotte, "Great weather 4 equal seasons". Cody tells him a bunch of stories about playing soccer at the university says his dad wanted to move to charlotte.
Cody asks him what competition would Donny like to see tomorrow.
Donny doesn't know if he likes the ones that are True/False with everyone lined up. Donny also doesn't like majority competitions 'It's kinda luck.. it usually comes down to the chalk"
They chat about the past season..
Donny says the 4th person to go home in season 15.. "that pretty dark haired girl."
Cody – "Kaitlin"
Donny says the first one out was that surfer kid Daivd, than Ginatmaries boyfriend Nick followed by Jeremy.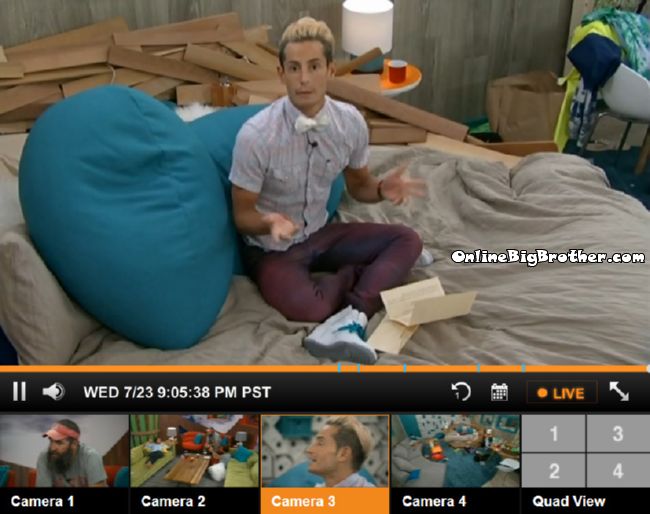 9:00pm HOH Nicole and Victoria
They are worried Caleb is going to tell Brittany she's going home and make is really awkward in the house.
Nicole goes to the bathroom door and Christine jumps out scares her Nicole – "I'm really weird about pooping so please don't let anyone into the bathroom
Frankie comes in says he's going to be talking to the camera about his grandfather.
Frankie "Hello everybody today has been one of the most difficult days of my entire life i've never had to go through anything like this before in my life"
Frankie starts to read the letter ..

My dearest Frankie WE love and miss you so much i'm sitting here with Nona, Arie and your cousin and are so sad to tell you that Grandpa lost his battle with cancer. Although it's so difficult we thought it would be the right thing to tell you. We love you so much and want you to know that Grandpa said specifically a few days ago that if anything happens to him he wants Frankie to know how proud he is and he's rooting for him to win.
Eventhough he had no idea what was going on on the show he was watching just for you, live feeds and all. He also insisted that no matter what happened he didn't want it to interfere with your opportunity.
All of us are here strongly supporting you and encouraging you to stay in the game and work hard like Grandpa did his whole life as grandpa wanted you to.
He said so himself please don't think about coming home think of how much grandpa wanted you to stay. He's watching you from heaven and i'm sure thats better than any live feed we got.
Be strong as he would be and smile as he deserve to be celebrated take you time take deep breaths we love you dearly and are staying strong over here.. we are waiting for you to have a celebration of his life. we love you so ,much and want to hug you
P.S. the four of us just spent 40 minutes arguing weather we should tell you we want to hug you. We don't want to tempt you to come home. stay. be strong.
That is the letter I got today.. it's been a difficult day for me mostly because i'm not with my family I know the pain the anguish that my family is going through. 6 years ago my aunt judy passed away of breast cancer they gave her 6 months to live and she lived for 7 years.. my grandfather gave her that life.. my grandfather fought every day of his life for his family.. he fought for his county he was born to very humble beginnings, and he worked every single day of his life, to get the money and the fortune that could support his family, As he wanted them to live. He had dreams he had ambitions he had goals, and he worked his butt off every single day to get to that place.
Frankie says his mother took the company her grandfather gave her and she turned it into three companies all while raising her kids. My mother did this because she was strong she had in her the Grande fight that grandfather gave to her.
(The mother Joan Grande is the CEO of Defense contractor Hose-McCann bought be the Grande family in 1964)
Frankie says that letter he got shows his grandfather wants him to stay in the house. Frankie – "I'm playing a character in this house.. I'm playing many different rolls. i'm doing this to win half a million dollars so I can build Schools in Africa so people in the world can enjoy the luxuries he has all because of his grandfather
Frankie says he was a triple major in college biology, Theatre and dance "I never did drugs I never partied I never drank alcohol, all I did was study. I wanted to be my grandfather" My name is Frank Grande. His name is Frank Grande. I was named after that man. Frankie says if he wins all the money for the Team America tasks he's going to Africa to build a school and name it after his Grandfather "Frank Grande"
Grandpa was an impeccable dresser. "Man, was never out of a suit He took such pride in his appearance, always a suit, always a tie.. He taught me how to take care of my nails. "
His grandfather survived cancer twice colon and stomach cancer. he was 90 years old when he was diagnosed a second time with colon cancer.
Grandfather sacrificed everything for them . He laid down everything for us we were his entire life and he gave us everything that he could have ever possibly provided. He never thought about himself he worked to the day he died. My 90 year old Grandfather went to work everyday. Like literally to work He spent hours working. He was an electrical engineer He would draw blueprints invented thing. I hope that you all support my decision in wanting to stay here. I hope that honestly everyone that is watching this will support my family
Some might say that this is a failure this was his final battle and he didn't win. I don't look at it a different way. Look at the legacy that he left behind. He brought to this earth, two beautiful, One of them is no longer with us, but she is up there watching above. She gave birth to one of the most incredible, strongest, most brilliant woman my cousin Lonny she works at world health. his other daughter Joan had Frankie Grande and Ariana Grande. We know that Ariana is killing it. He passed away knowing that his granddaughter is one of the most strongest, talented, most successful young artist of this generation.
I hope he was proud of me he said he was proud of me I believe him. This is not a game that instills pride. it's a hard game is not something that's easy. It's not a game that you play to win without getting your hands dirty. That's how he fought and that was his life. I learned that from my Grandfather Frank.
Frankie asks us to support his family. His grandfather wants him to stay here and have their back.
Frankie – NONA if you are watching this you have to be strong because i'm going to need my hugs when I get out"
Frankie thanks all the people on twitter "I'm going to build schools around the world in his name"
Frankie says he's going to win HOH and the game for his Grandfather.
I know my family If they wanted me home and they couldn't handle it they would have said come home. I know that , that's how my family works so the fact that they are telling to stay, means they have things under control. I don't have to worry.
Rest in Peace Frank Grande. 90 Years Old. One of the most remarkable men to ever live on this earth. Thank you for all that you taught me being a father a gentlemen and for being the greatest role model a grandson could ever have.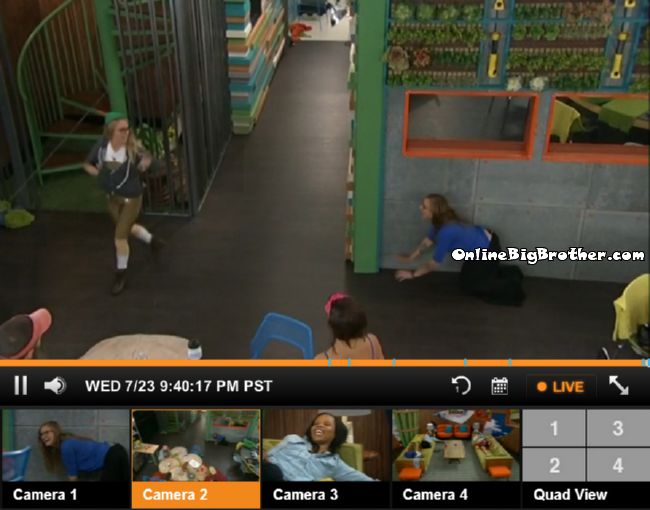 9:40pm Christine has been scaring Nicole all day