POV Holder:
Victoria
Next POV
July 26th
POV Used
Yes
POV Ceremony
July 28th
HOH Winner 1:
Frankie
HOH Winner 2:
 Cody
Battle of the Block Winner
Jocasta/Amber
Next HOH/ Next BOB
July 24/July 25
Original Nominations:
Brittany/Victoria(Cody) Jocasta/Amber (Frankie)
Final Nominations:
Brittany & Donny
Have Nots
?
POV Players
Cody, Brittany, Victoria, Caleb, Nicole, Zach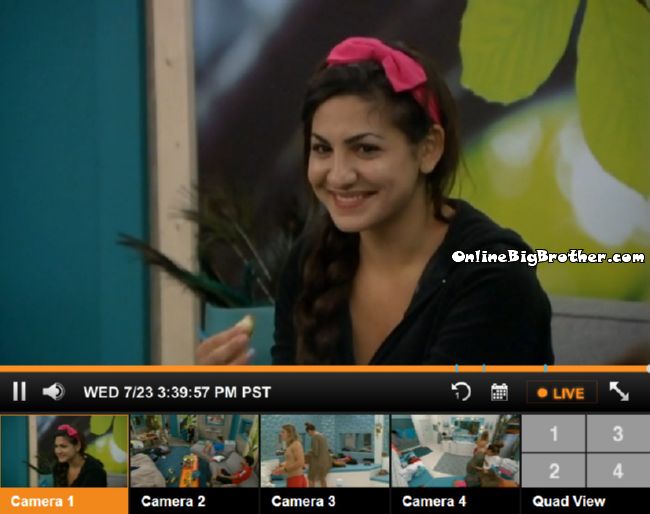 3:28pm HOH Cody and Derrick
Cody – last day in here
Derrick – you gotta enjoy it
They both complain about their legs hurting after they drink.
Derrick says Victoria found out that Brittany is telling everyone to keep her in the house so she can get out VIctoria. Brittany is saying Victoria doesn't deserve to be in the house. Victoria told Derrick she's redoing her goodbye message, "Theres a natural hatred there"
Zach joins them.
They wonder why Brittany was sleeping up in the HOH. Derick mentions that Jocasta was weirded out by it.
Derrick she does believe in her heart that Cody controls the votes.. "I'm going to start calling you the original DON .. She hasn't even talked to some people"
They agree Brittany's face is going to DROP when she finds out the vote is 10 to O
Derrick – "She's conniving as f****" Derrick says Donny is handling the nomination much better. Zach points out if Donny thought he was in danger he would be doing things differently.
Cody says Amber is getting on his last nerve.
Christine and Nicole come in.
Cody goes on about Brittany sleeping in the room last night and how weird it was. Derrick jokes that Cody was getting a bl*w j*b
Victoria comes in.
Derrick says to Victoria to promise them all she's not going to get mad at them.
Derrick – "We're keeping Brittany.. Donny is talking mad sh!t around the house"
Victoria smiles says DOnny isn't talking to anyone.
Nicole says they better not keep Brittany asks them if they really are keeping Brittany.
they all laugh.
Cody says he's got a date with Christine tonight in the HOH because they didn't get their hammock date last night.
Christine says she told Amber she had a date with COdy and her Face she gave was hilarious "She's use to having everything.. every guy"
They start teasing Victoria for "Making out" with Frankie last night. Zach – "That was a wet sloppy kiss"
They start giving Victoria a hard time about Frank, Victoria play along.
Victoria says in this house "Frank" (Frankie's hetero ego) is the best looking guy and he's the most mysterious "He only comes out once a month.. you never know when you'll see him next"
Victoria calls the kiss with Frank a "Pop" kiss. Zach calls something more
Victoria – Whatever I pop kiss my girlfriend all the time. They start giving her more grief for "Making out" with Frank but telling them she can't sleep in a guys bed.
Vciotira say she's over Frank.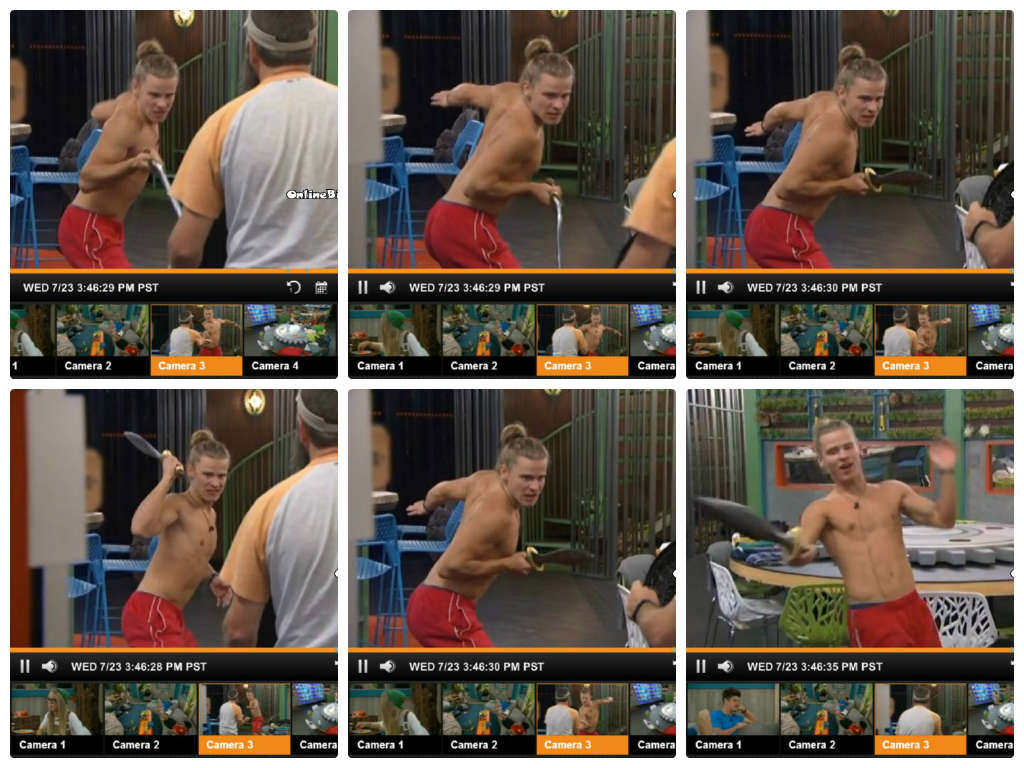 3:47pm
Hayden and Donny preparing for a HOH gladiator challenge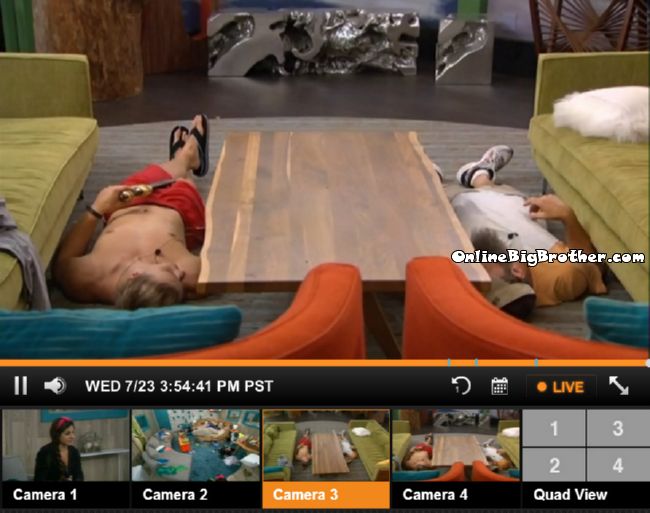 3:55pm Donny and Hayden Living Room
They find a price sticker on the coffee table it say 1 thousand dollars.
Hayden says it better transform into a robot or something to cost so much
Nicole joins them they start chatting about Donny's life. He starts at 7:30 and works until 3:30. He showers at night cause he gets dirty during the day at his job. He eats a pop tart in the morning, 9'clock he eats 4 crackers, For lunch he has a sandwich, chips and a cookie, He drinks one coffee in the morning..etc etc..
Christine joins them.

4:24pm bathroom Brittany packing her stuff.. She told the girls she's leaving some of her product for them.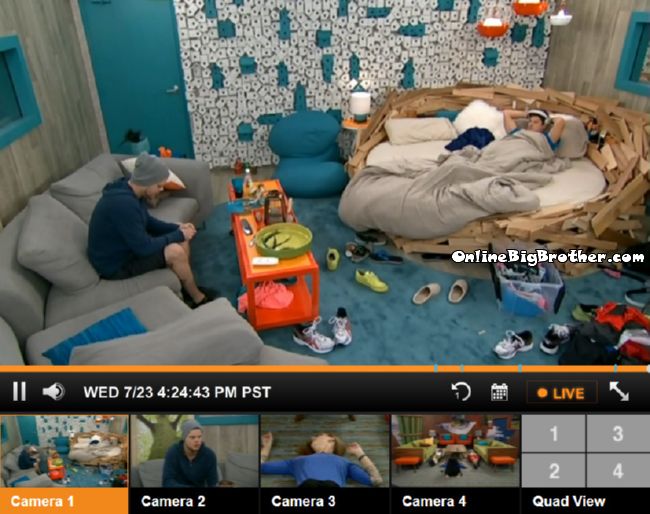 4:25pm HOH Derrick and Zach
Zach – "Dude you and me gotta win HOH this week.. it's CRUCIAL"
Derrick agrees says it's not going to be endurance they want some quick ones until they get to 10 people
Zach says they need to put up Amber/Donny/JOcasta/Donny the only problem is if Caleb wins POV and takes down amber.
Derrick – YUP
feeds change to the living room.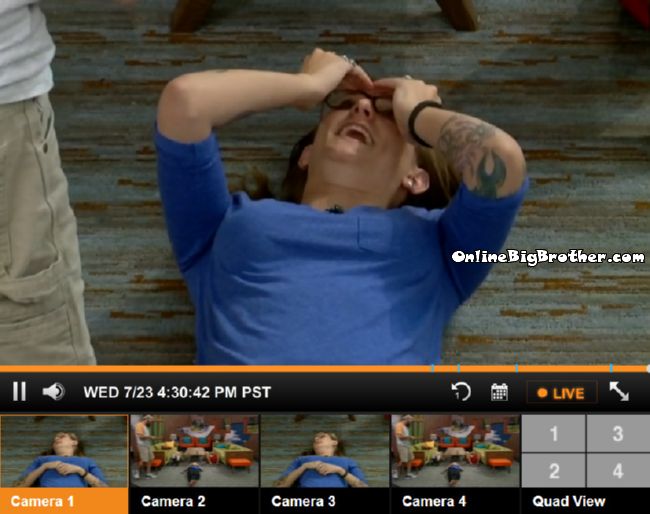 4:28pm Living room Christine, HAyden and Nicole
Christine says top 5 best looking men to every be on Big Brother not inducing this years.
Christine – Lane (BB12), Dan (BB10,BB14), Jeff (BB11, BB13), Brendon (BB12,BB13), Dominic (BB13)
Nicole agrees with the list.
Hayden – WHAT DAN
Christine says Cody, Hayden, Caleb and Derrick are very attractive "We got a good looking season that is for sure"
Nicole says Hayden is very attractive.
Christine keeps telling everyone she's going o a date with Cody in the hOH in 7 minutes.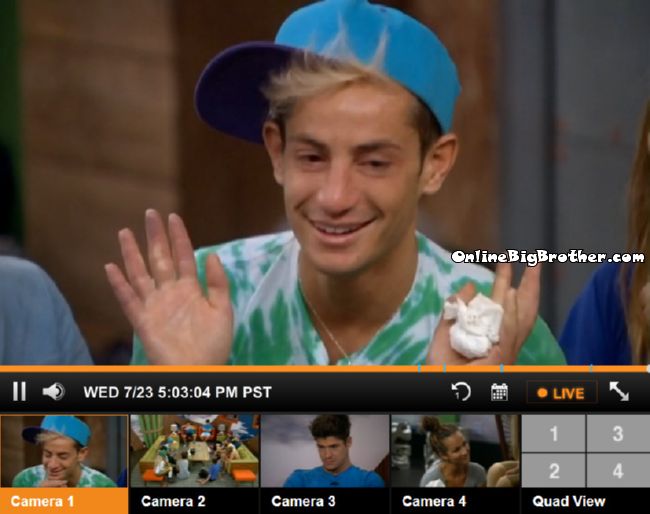 5:02pm Living Room
Frankie was given a letter that Explains what happened with his grandfather, "He was a real italian bada$$"
Frankie talks about his grandfather's life he was an electrical engineer a very smart man that was close to Frankie.
Frankie says they are letting him send a message to his family..
He overcame cancer 2 and a half times.
He was the first one that came out to support Frankie's sexualty.
Caleb sleeping though all this probably because nobody woke him up.
More information about Frankie's Grandfathers death here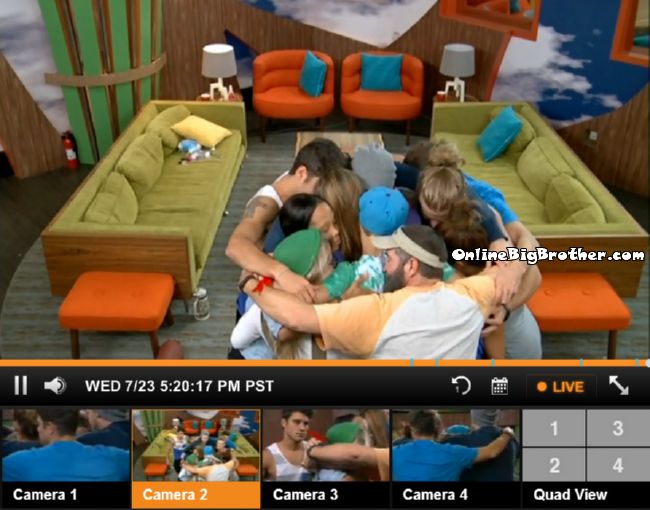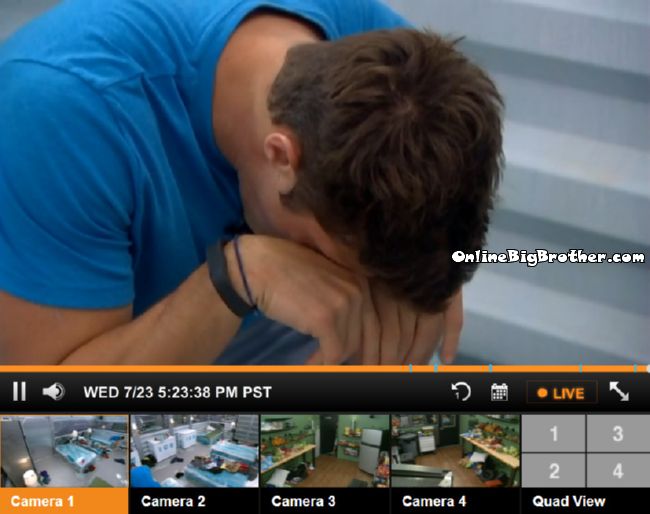 5:25pm Zach ion the havenots room
Crying "Damn that f**ing sucks"
One way to support this site that doesn't cost you anything extra is making your Amazon purchases through this link Amazon.com OnlineBigBrother Link
For Canada use link Amazon Canada OnlineBigBrother
Alliances (Some Of these are dead)
Zankie = Frankie/Zach
Bomb squad = Caleb, Amber, Frankie, Derrick, Cody, Christine, Zach, Hayden
Team America = Donny, Derrick, Frankie
Nicotine = Christine/Nicole
Not a showmance= Hayden/Nicole
Los Tres Amigos = Derrick, Cody, Zach
The bottom Feeders = Derrick/Nicole
We hate Devin = Christine and Zach
Outsiders = Brittany, Victoria, Jocasta, Donny
Old timers = Jocasta/Donny
Stalker = Caleb/Amber
Quad Kings = Derrick, Zach, Cody and Hayden (still being built)
Trilogy = Nicole, Christine & Hayden
The Detonators = Derrick, Frankie, Zach, Christine, Cody
Final 2 Deal "The HITMEN" – Cody & Derrick
More polls here https://www.onlinebigbrother.com/big-brother-compendium/big-brother-16-polls/
[polldaddy poll=8198814]
[polldaddy poll=8194643]