POV Holder:
Victoria
Next POV
July 19th
POV Used
?
POV Ceremony
July 26th
HOH Winner 1:
Frankie
HOH Winner 2:
 Cody
Battle of the Block Winner
Jocasta/Amber
Next HOH/ Next BOB
July 24/July 25
Original Nominations:
Brittany/Victoria(Cody) Jocasta/Amber (Frankie)
Final Nominations:
?
Have Nots
?
POV Players
Cody, Brittany, Victoria, Caleb, Nicole, Zach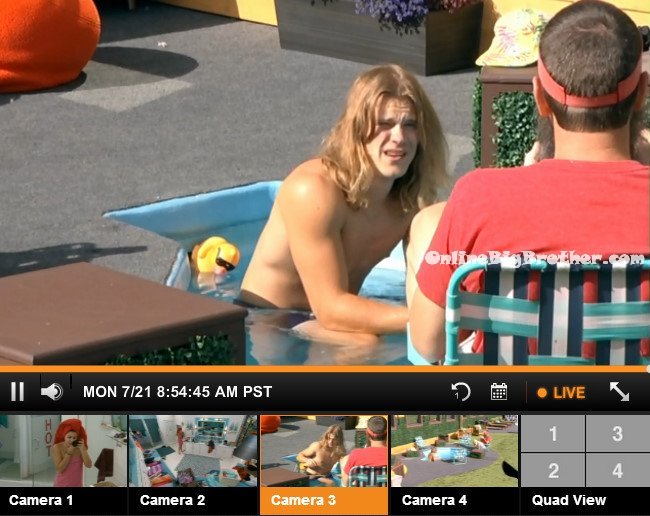 TEST out the Big Brother 16 Live Feeds for FREE with the 2 Day Trial!
8:40pm Big Brother wakes up the house guests. When the live feeds return – Hayden and Donny are out in the backyard. Hayden is in the hot tub and Donny's beside in a chair. Donny says that he slept in the fire room because the others kept giggling and carrying on and I got upset. Donny says I slept well in that room. Donny says I would like 2 minutes with Cody because I don't have a good feeling about today. Hayden says that Zach did some campaigning yesterday but he doesn't always come across in the best way. Donny says I had a good speech planned but I think I will just keep it simple. Donny says I might not get that opportunity they're too comfortable. Frankie has a final four with Derrick, Caleb and Amber. That's why they're not cutting them loose. They're pretending like they are but they aren't. If they wanted to get rid of Amber the time before why did they put me beside her. They could have put Victoria beside her. Donny says they could have put Victoria beside me but I dont think they ever wanted to get rid of her. Hayden says I think they really want her gone. Donny says they come and talk junk about her to us because they want us to think they want her gone so we target her. She's their fall guy. Brittany comes out and joins them. Donny heads inside after lowering the awnings. Hayden asks what was going on last night for Donny not to be able to sleep. Brittany says they were just chit chatting he got upset so I told him to sleep in the fire room.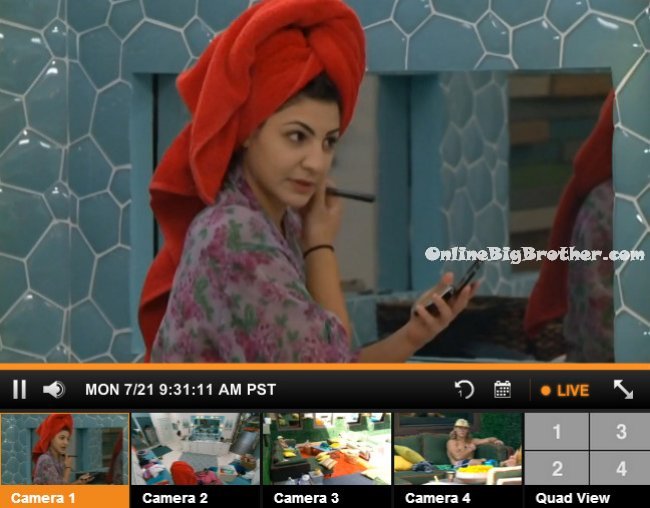 9:30am In the bathroom – Nicole asks Victoria if she already went to the diary room. Victoria says no, I have a lot going on this morning with the veto ceremony and want to look good. I don't like it when I have to rush my make-up.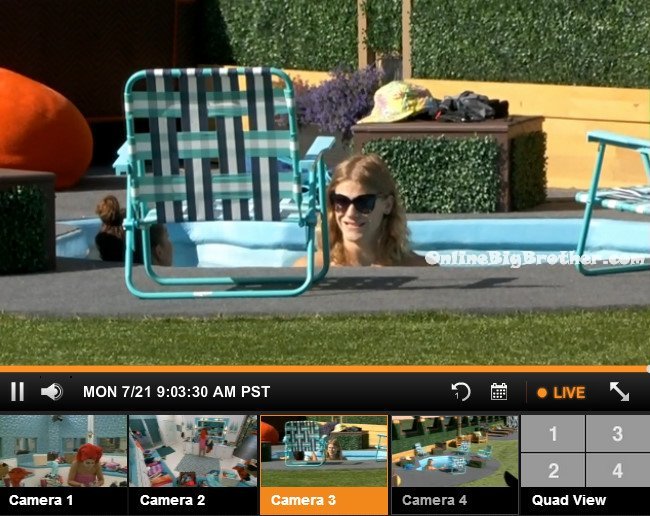 9:15am – 9:30am Donny comes back out to join Hayden. Hayden says all I know is that if you go up I will not send you home and I think a lot of others won't either. Donny says I would appreciate that. Donny says I would love to win HOH and put Derrick and Frankie up there and if one of them wins veto I would throw Amber up there. There is a lot of people that haven't felt what it's like up on the block. Hayden says that would be awesome. Donny says it would draw some lines right there. It would be good tv. Right now no one would nominate them. And people like Derrick wouldn't go up on the block because he stays so close to everyone but he talks so much crap about Victoria. Hayden says that he likes Victoria. Donny says she is almost child like isn't she. Hayden says she is so easily convinced what to do. Donny heads over to get on the elliptical. Hayden and Donny start studying the events of the house. Hayden says if you go up, you're safe. It would definitely make sense for Caleb to go up but I don't think he will. Donny brings up again how they were giggling and laughing so much that he couldn't sleep. They were just going on and on about the same thing.. They Brittany touched my foot and said to sleep in her bed. Hayden says Caleb and Amber make me so mad. Donny says but they're not the brains. They're the brian's target when the opposition wins head of household. Donny asks if you were HOH who would you put up if it was just one HOH. Hayden says I would love to see Amber out of the house.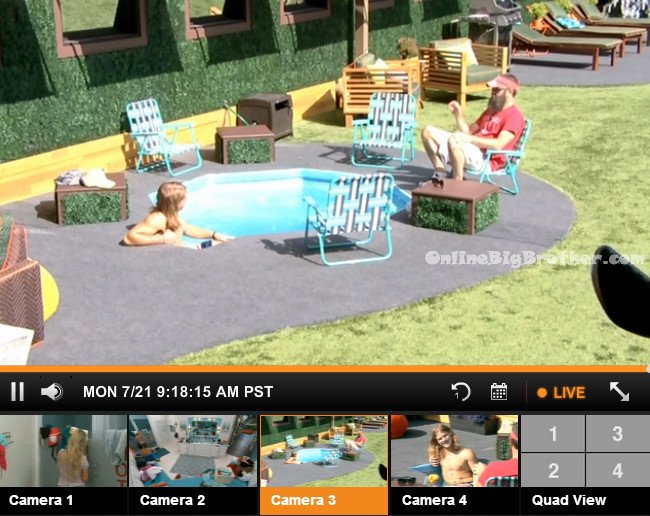 9:50am – 10:25am In the HOH bathroom – Frankie asks Cody did Zach tell you he wanted to go up on the block? Cody says yeah, stupid idea. Frankie says horrible. Frankie leaves the HOH room. Brittany comes into the HOH to talk to Cody. She asks are you nervous? Cody says yes. Brittany asks I just wanted to ask who you would put up? Cody says the person I was thinking about, there would be a lot of push back. Brittany asks Donny? Cody says no Caleb but a lot of people wouldn't want to vote him out. Brittany says I think the only person I would have a shot against would be Nicole. Cody says I don't know because this situation sucks bad. I don't know what to do. Brittany says I know I have Donny, Jocasta, Amber, Caleb, Derrick. You would be the tie breaker. Brittany says I just think that Christine or Nicole but Christine needs the money more than Nicole. Cody says that he can't put up Nicole because she helped him yesterday. Brittany says I can't push for Donny to go up. Cody says it's just frustrating because if people would have just helped with the veto then you and Victoria would still be up and it would be a lot easier. Brittany talks about the 2400 goals it seems pointless to do it but I'm glad I did it. Cody says everything about this game kind of sucks. If feel like next week I could go up because I feel like my name has been used so much and that its been wrecked. Brittany says I think people are trying to get out the people that aren't doing anything. Cody says hurting people's feelings and making them upset is the worst thing about this game. You being up set and Victoria crying to my face were probably the worst things that have happened to me. Brittany bring up how Donny came in last night to wake her up and tell her that they heard people yelling her name. Brittany says maybe it was my family… Big Brother blocks the feeds. When the feeds come back – Donny heads up and asks for an appointment next. Cody says he will come grab him. The conversation turns to talking about their punishments. Brittany asks what do you think the activity bracelet is for? Cody says I wish I knew. Brittany says because yesterday I had 5's all day. Cody says some times I will be running and working out and I will be at a 3 and others will be higher than me. Brittany says yeah like Zach whos sleeping. Cody tells Brittany I am really sorry you're in this situation. Cody and Brittany head downstairs.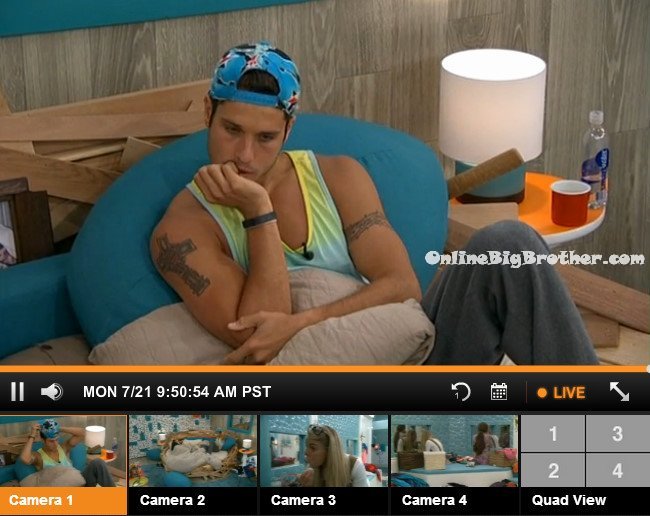 10:20am In the fire room – Frankie talks to Nicole and tells her how Donny was talking to him and said that whatever happens today will make lines drawn in the sand. Frankie says he told him I don't think so. They talk about how Brittany stayed up all night. Nicole leaves Frankie to sleep. Nicole heads outside. Donny asks Nicole the day you nominated we were working together… are we still working together? Nicole says yes! Donny says okay enough said. Donny says that week when I was nominated with Amber .. who was the target? Nicole says Devin.. there were 4 pawns that week. Donny asks did Derrick know you were nominating me? Nicole says no, it was my decision.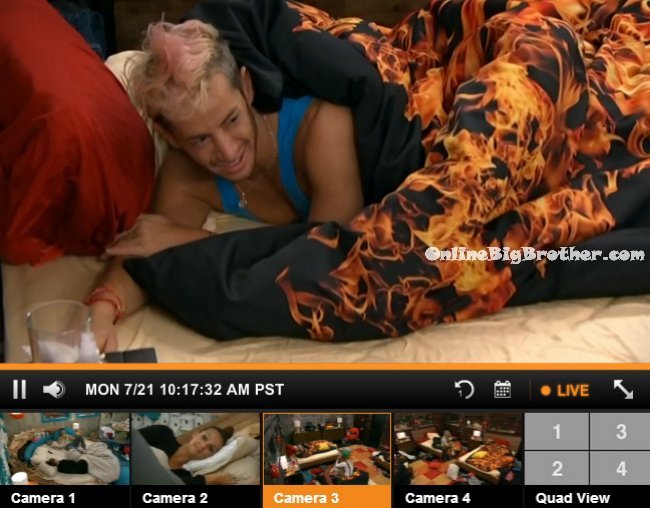 10:30am – 10:40am In the bathroom – Victoria tells Brittany that she feels bad that taking herself off the block gets more blood on his hands. I feel bad but I have to. Brittany tells her that Cody wanted us to win the battle of the block so we wouldn't be up there. Victoria leaves. Brittany tells Christine I wasn't even planning on getting ready for this thing and then Victoria comes out all dressed up. Out in the backyard – Victoria tells Hayden and Nicole that Brittany knows she's going because she said she doesn't stand a chance against anyone.
Up in the HOH bathroom – Frankie and Christine are talking. Christine says that she heard Victoria in bed with Hayden and she asked where his face was. Why would she ask where his face is? Frankie says use your hands rose! They wonder if Victoria and Hayden made out last night. Christine says Nicole and Hayden were making out earlier. Frankie says Hayden will get it from whoever he can. Christine says that Nicole was fast asleep when Victoria was asking for Hayden's face. Cody and Donny come up and Frankie/Christine leaves.
Cody calls Donny up to the HOH room to talk. Donny says that he came up with a great speech ..But I'm not going to give you that one. This is a very pivotal week .. its where you draw a line in the sand. I don't want you to base decisions off other peoples game. I want you to base it off of what's best for your game. OUr families are all watching. You need to do what's best for your game for what best for you. Donny says that's it. Cody says you need to talk more Donny. Cody says I was thinking Caleb but others don't think it would be a good decision. Donny says because its not good for their game. Cody says I want to have a frank conversation with you. Donny says okay but I am afraid to throw names out. Cody says Zach is super tight with me but he is throwing me under the bus. Frankie is always up here butting into conversations and I have had to send him out a number of times. I am worried about putting Caleb on the block and him not going home. Donny says I can't promise you five, four, three or two votes… But I can promise you the honest way. Donny says if you are sitting in the end, you have my vote. Nicole too. And if you're both there then you would have my vote. Cody says if you were up on the block I know it would be a landslide with none against you. Donny says I would put up people that you cant trust. Cody says you're right f**k that! Cody says Caleb scares me as much as a puppy dog does. He can flex his muscles as much as he wants. He's been saying he is going to win everything since the beginning but hasn't shown it. Cody says I don't know if you are working with Brittany and Jocasta or not. Donny says if you want me to vote out Brittany I will. Donny says I would have saved anyone that was sick, it doesn't mean we're working together. Cody says if I put up Caleb how do I know that I won't go next week. Donny says none of us know that and you can't base his week on next. Cody says I look you in the face and I trust you. Donny says I trust you too even if you put me up. Donny says I won't hold it against you. Doing this will show you who your true friends are. Look what I've done to then and look at what they're doing to me. Cody says I know what I need to do. I am not putting you on the block. They hug and leave the room.