POV Holder:
Victoria
Next POV
July 26th
POV Used
Yes
POV Ceremony
July 28th
HOH Winner 1:
Frankie
HOH Winner 2:
 Cody
Battle of the Block Winner
Jocasta/Amber
Next HOH/ Next BOB
July 24/July 25
Original Nominations:
Brittany/Victoria(Cody) Jocasta/Amber (Frankie)
Final Nominations:
Brittany & Donny
Have Nots
?
POV Players
Cody, Brittany, Victoria, Caleb, Nicole, Zach
9:45am – 10:20am Big Brother wakes up the house guests. The house guests are waking up and getting ready for the day. In the bathroom Victoria talks about the shaving cream fight last night and how Derrick lost his wedding ring. She says they ended up finding it downstairs on the carpet. Up in the HOH bathroom – Caleb showers and comes out he sticks out his tongue and gives the hang loose sign.
10:20am – 10:50am In the kitchen – Donny tells Hayden if it was just 1 HOH I would go ahead and nominate Caleb with possibly Cody with the purpose to specifically back dooring Amber. And No one would suspect it. I would have reason to put up Cody too. You were the first to nominate me and the most current one to. And I would get to play in veto too. But this is only if it was just one HOH, I couldn't nominate two power players if it was still the 2 HOHs. Caleb comes down and joins them and the conversation ends. Caleb says that he's going to be the kitchen police from here on out. I haven't done what they've been doing until last night. We took everything off the counter and cleaned everything. We spent 3 or 4 hours cleaning it. It needed to be done but there needs to be the police in here to say hey I saw you do that! Go clean that up. Derrick, Jocasta, Christine join them. Caleb says this was the first time I cleaned this kitchen and it will be the last. Amber said she is going to be that police. Everyone thanks Caleb and Amber for cleaning the kitchen.
See what they can't show you on TV! -Try the Big Brother 16 live feeds for FREE!
10:55am Up in the HOH bathroom – Derrick tells Cody that he talked to Caleb and Amber last night and they said they're voting Brittany out. They said if they had the votes they would but realized everyone is voting her out and they didn't want to be exposed. Derrick says we're golden though.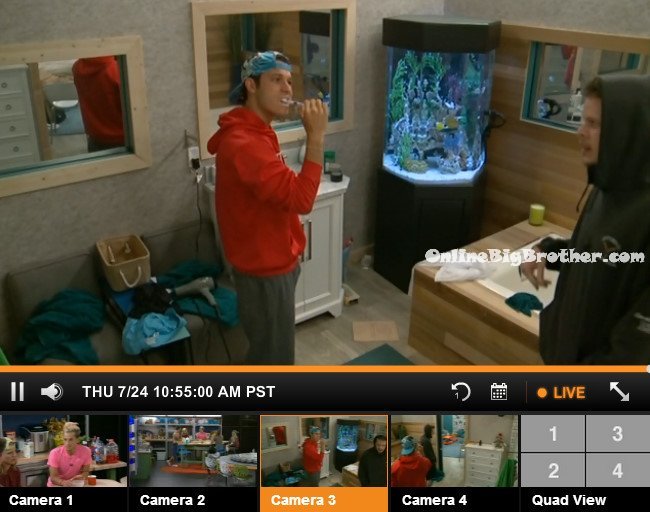 11am – 11:10am Big Brother blocks the live feeds.. When the live feeds return Zach and Victoria are sleeping in the HOH room bed. The other house guests are in the kitchen eating and talking about random things. Nicole wonders if she has to wear the Germ-itard suit till Saturday or if she can take it off today. She says she'll check because it's supposed to be a full week and she got it on Saturday.
Caleb and Cody head up to the HOH room. Caleb tells Victoria that she better get in a minute of sleep because pretty soon a whole bunch of Jamokes are going to come up here and she won't be able to sleep now or tonight. Caleb tells Victoria that she woke up the beast! Normally it only comes out in competitions but you woke it up. Caleb says he hopes its the HOH wall endurance competition tonight because he will hang on all night! You could put Vaseline on it and it wouldn't matter.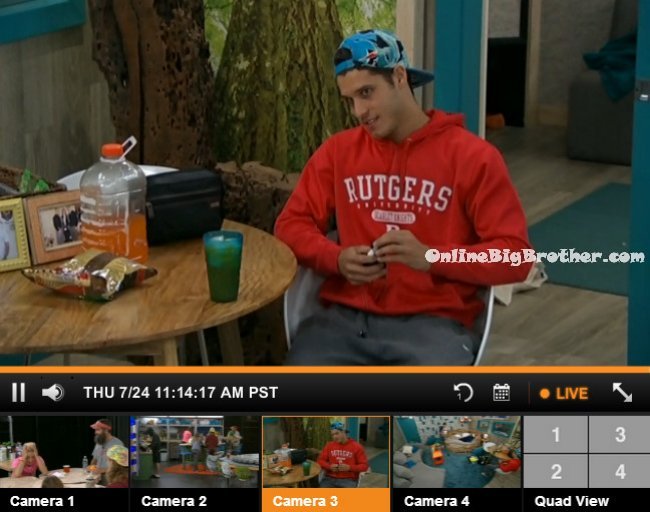 11:15am – 12:40pm Big Brother blocks the feeds for the HOH lock down.
1:35pm – 1:45pm The live feeds return. Derrick, Jocasta and Zach are sleeping in the fire room. In the bathroom – Amber, Christine, Victoria and Nicole are getting ready for the live show tonight. Caleb and Cody are in the havenot room. Caleb is getting dressed for the live show tonight. He talks about his hair was like Cody's when he came into the house and if he makes it to jury he will let it grow out. Caleb asks Cody to ask in the diary room if they can dress up for tonight or if they're going to be wearing athletic gear. That way I don't waste my time dressing up. Cody comes out and says that he asked what they're wearing tonight and they didn't know yet because Rich wasn't there. Hayden comments on how they're usually not told until after the second rehearsal. Victoria is eating nuts. Hayden gives her a hard time and asks her why she has to touch all the nuts. Victoria says that she takes whatever she touches. Hayden then grabs the tin of nuts and digs his hand all around in it saying he only takes the ones he touches.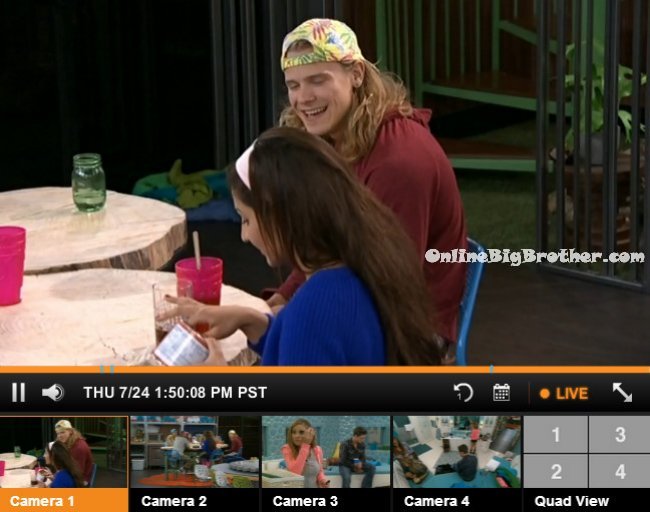 1:53pm – 2pm In the bathroom – Caleb tells a story about his friend Zach that he was cleaning out the horse's hoof and the horse reached down and took a bite on his hair and took a big old clump of his hair. Caleb says that his friend reached up and punched the horse square in the nose. Big Brother blocks the feeds.
2pm – 2:30pm Cody jokes that he sprayed Victoria's perfume all over the house. Victoria says if you even touch my perfume you will have to buy me a new one and it will come out of your pocket. Cody says that fine because my pockets are deep! Victoria laughs. They house guests are just milling around chatting about random things, getting ready for tonight and sleeping.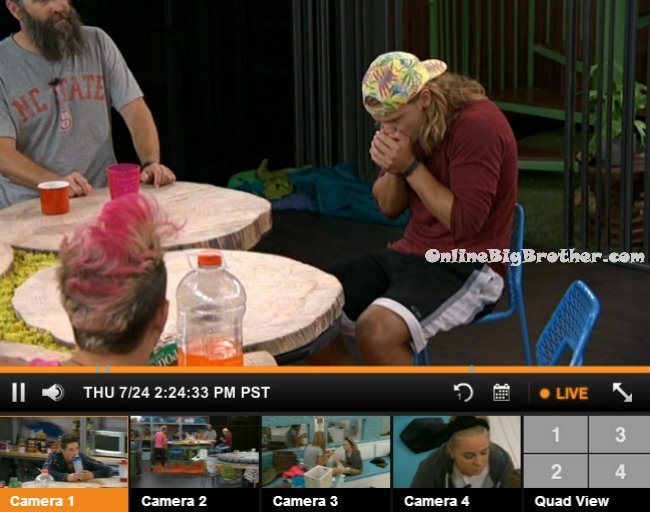 2:35pm – 2:45pm In the bathroom – Caleb curls his eye lashes and then puts on mascara. Amber isn't impressed.

2:55pm – 3pm Amber, Hayden and Nicole head to the earth bedroom to lay down. After they lay down Amber is called to the diary room.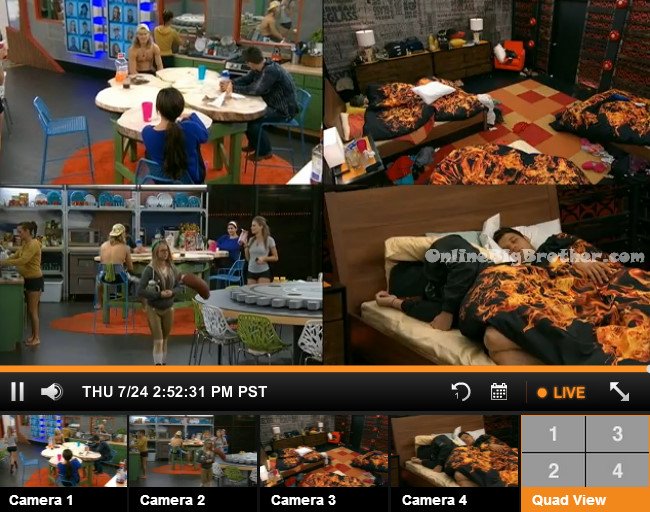 3pm – 3:10pm Big Brother blocks the feeds… The feeds return showing Hayden/Nicole sleeping on cameras 3 & 4 and Cody/Derrick sleeping on cameras 1 & 2. The cameras switch to Brittany, Caleb and Donny in the living room.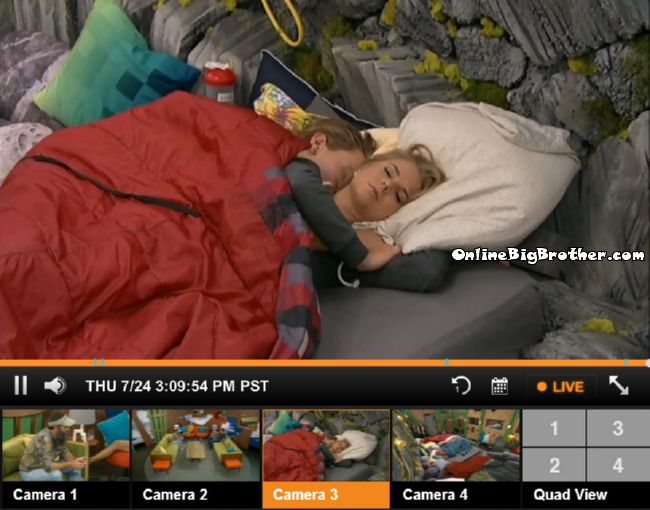 Right before the feeds go to jeff
Alliances (Some Of these are defunct)
Zankie = Frankie/Zach
Bomb squad = Caleb, Amber, Frankie, Derrick, Cody, Christine, Zach, Hayden
Team America = Donny, Derrick, Frankie
Nicotine = Christine/Nicole
Not a showmance= Hayden/Nicole
Los Tres Amigos = Derrick, Cody, Zach
The bottom Feeders = Derrick/Nicole
We hate Devin = Christine and Zach
Outsiders = Brittany, Victoria, Jocasta, Donny
Old timers = Jocasta/Donny
Stalker = Caleb/Amber
Quad Kings = Derrick, Zach, Cody and Hayden (still being built)
Trilogy = Nicole, Christine & Hayden
The Detonators = Derrick, Frankie, Zach, Christine, Cody
Final 2 Deal "The HITMEN" – Cody & Derrick
One way to support this site that doesn't cost you anything extra is making your Amazon purchases through the links below Amazon.com OnlineBigBrother Link
For Canada use link Amazon Canada OnlineBigBrother
More polls here https://www.onlinebigbrother.com/big-brother-compendium/big-brother-16-polls/
[polldaddy poll=8198814]
[polldaddy poll=8194643]