POV Holder:
Victoria
Next POV
July 19th
POV Used
?
POV Ceremony
July 26th
HOH Winner 1:
Frankie
HOH Winner 2:
 Cody
Battle of the Block Winner
Jocasta/Amber
Next HOH/ Next BOB
July 24/July 25
Original Nominations:
Brittany/Victoria(Cody) Jocasta/Amber (Frankie)
Final Nominations:
?
Have Nots
?
POV Players
Cody, Brittany, Victoria, Caleb, Nicole, Zach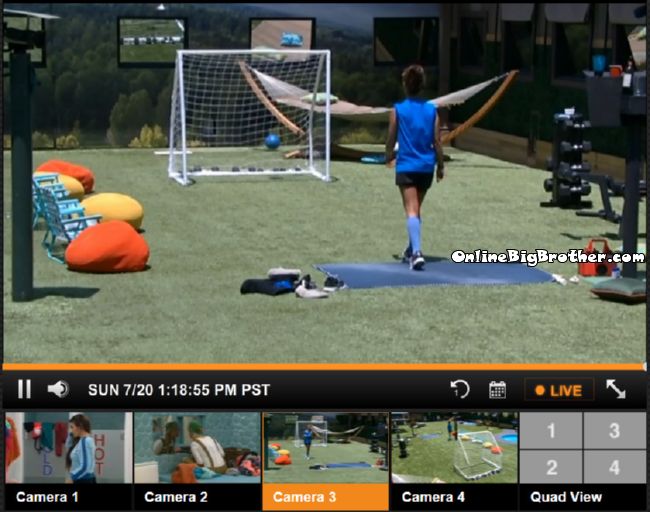 1:18pm Brittany kicking soccer balls She's got 7 hours left @1774/2400 goals
Donny is beside her says she's doing an awesome job only missing one out of ten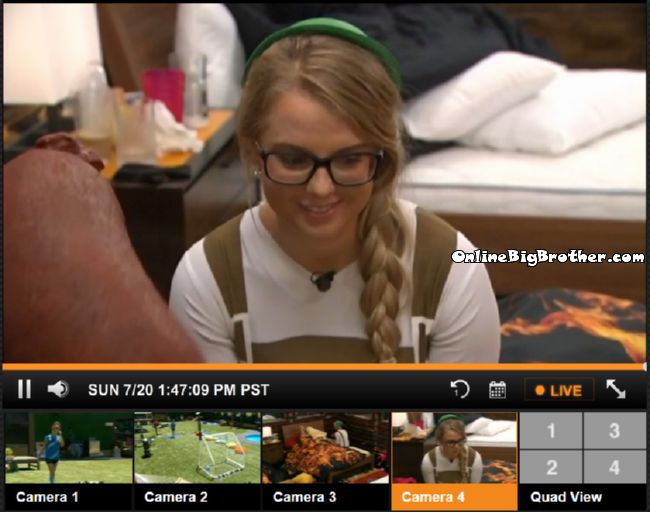 1:44pm FIREROOM Hayden and Nicole
Hayden says he has dreams about her every other night, " I had a steamy dream about us.. Don't worry it was good"
Hayden asks her if she hates everyone in the house because she doesn't really hang out with people.
Nicole says she doesn't hate anyone she has trouble being fake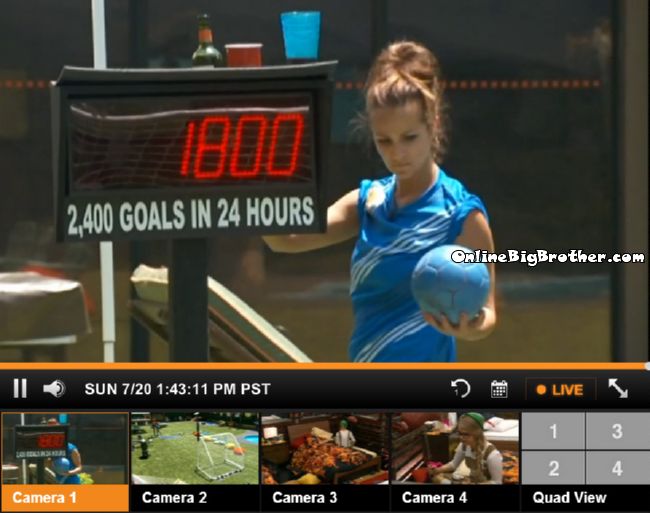 1:56pm Backyard Brittany, Christine and Donny
Brittany – "I would much rather be in labour right now this sh1t is no joke"
Brittany wonders if the live feeders see her playing the game. Christine says they do but they have to piece together what is going on. Brittany says everytime she hits the ball it hurts. She moans and groans every once and awhile.
Brittany goes and grabs some candy " C'mon sugar rush give me a frickin spike give me a sugar buzz"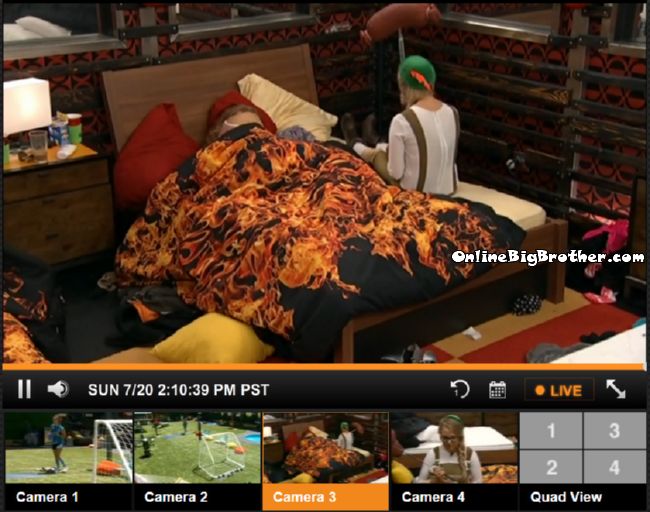 2:07pm FIREROOM Nicole and hayden
Hayden says if one of the guys got that punishment they would have been done in 5 hours. Nicole says nobody would complain as much as she does. Hayden points out that Brittany is kicking the ball with the tips of her toes
Hayden says the number one target for next week is Amber the backup is Donny.
Hayden asks her even when they cuddle she has no desire to kiss him
Nicole says not on national Television
Hayden – not even under the covers
nicole HAYDEN.. you want to kiss me
Hayden – I do ..
Nicole – I'm not against it if it happens it happens I Just don't want to talk about it..
Nicole says she hasn't kiss anyone in a long time
Hayden jokes he hasn't kissed with anyone in 6 hours.
Hayden says Christine was super worried during the first two nominations when the bombsquad members were in control full knowing she was 100% save. Hayden points out she's a very good liar.
Nicole – It's scary how convincing she is.. She's a very good Actress
Hayden says they have a real possibility to get to finl 5. "me you Christine Derrick and Cody"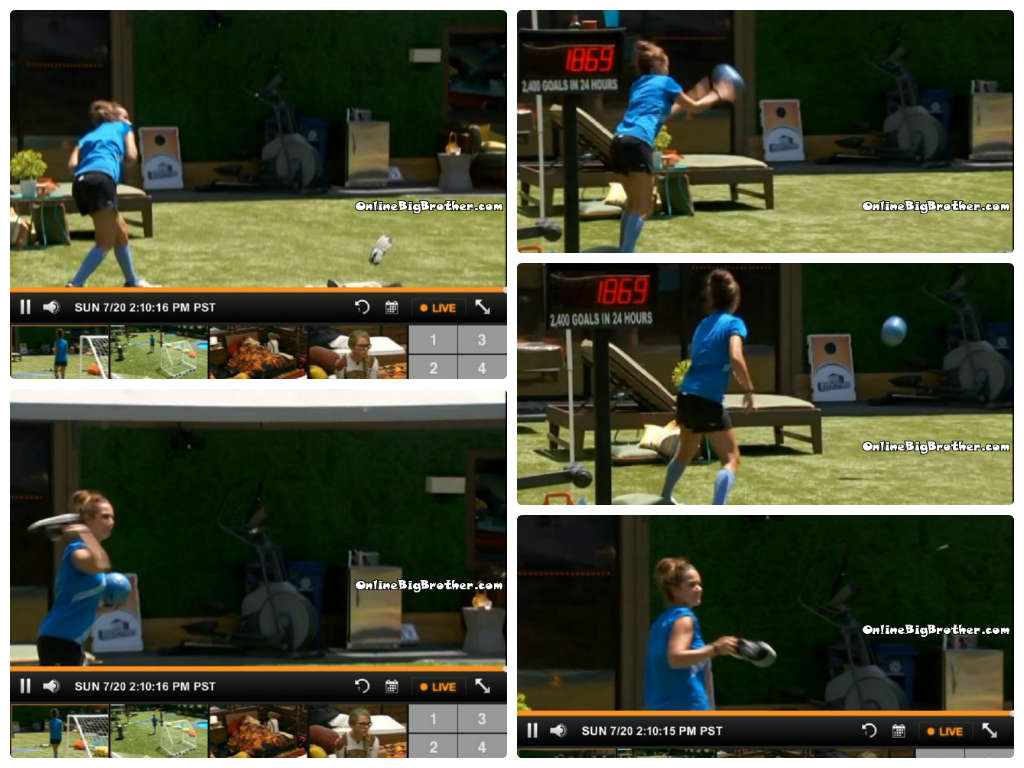 2:10pm Brittany in the backyard takes out a bug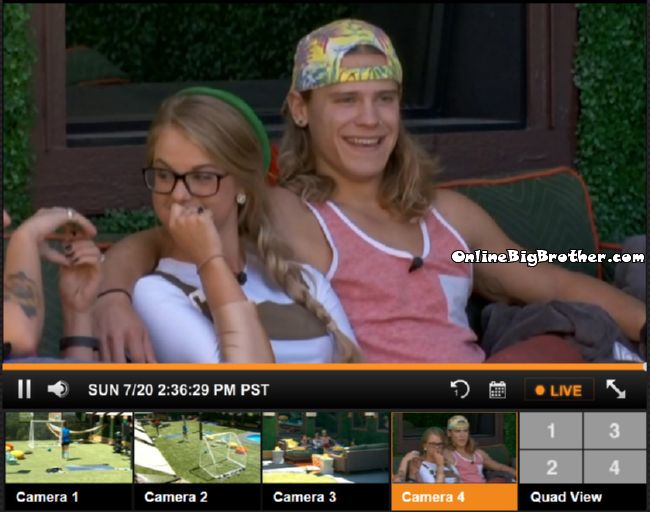 2:36pm Christine, Nicole and Hayden backyard
Hayden joking around says Christine last name is TW or Third Wheel. She is third wheel by default not that she wants to be she has to be if you have to rank a third wheel on a scale from 1-0 she is a 12, "We're a perfect tripod"
Hayden – "Every stool needs a third leg otherwise we would fall over :
Christine – "ahww Hayden that's so niche"
Hayden says he has a crush on Nicole..Christine – "that is weird cause I married my innocent crush"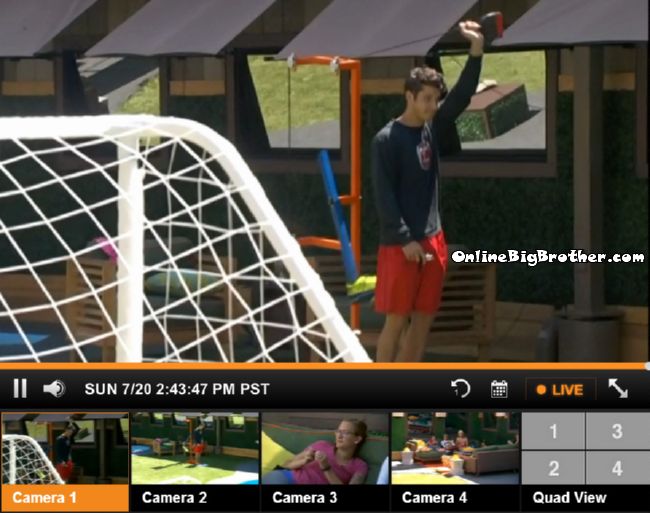 2:44pm Cody is in the Diary room and while in there is given a pentaly kick. He talks out to the backyard gets kicked in the behind and goes back into the Diary room.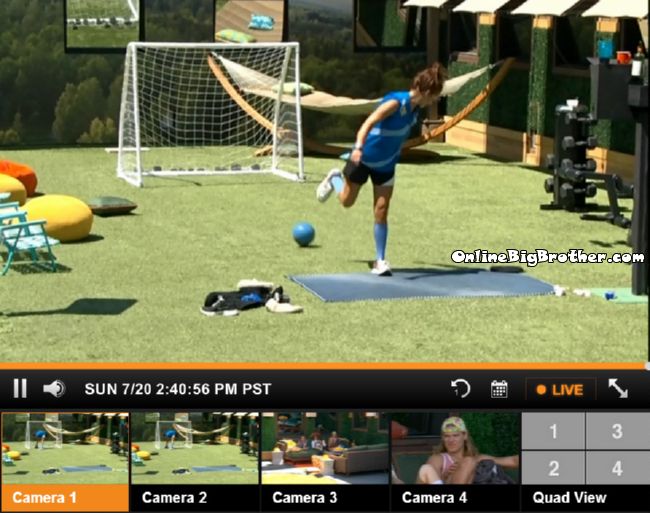 2:48pm Brittany figures out a new way to score goals. shes now at 1996!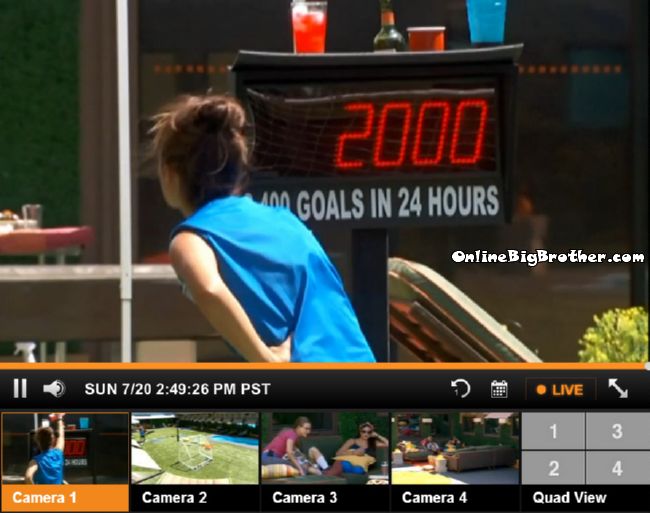 2:50pm She hits 2000 Brittany, Donny and Jocasta
Brittnay – "Four hours to get 400"
Donny who's been watching says if she continues to do it backyard she'll make it without any problems.
Brittany takes her shoe off shows Donny the blistered toes. Donny says it could be a blood blister.
Brittany starts to cry. Donny says she can do it she's almost there she's done one thousand already today.. "ONE THOUSAND.. you can do it"
Donny – "I probably just a little blister a BIG blister"
Brittany – My nail is half way off.. oh my god
Brittany says she's fought so hard to stay here why are they sending her home it's not fair.
Brittany says Zach does nothing but sleep he won the trip to Germany, "WOW"
Jocasta says she is strong she can complete the task.
Donny mentions production has changed the net twice so she's going to get extra time for that. He suggests she complete 200
Jocasta finds a verse from the bible reads it out.. "do not be surprised by the fiery attacks… don't let discouragement set in… his demonic underlings are determined to destroy our intimacy.. when In battle call my name Jesus help me .. "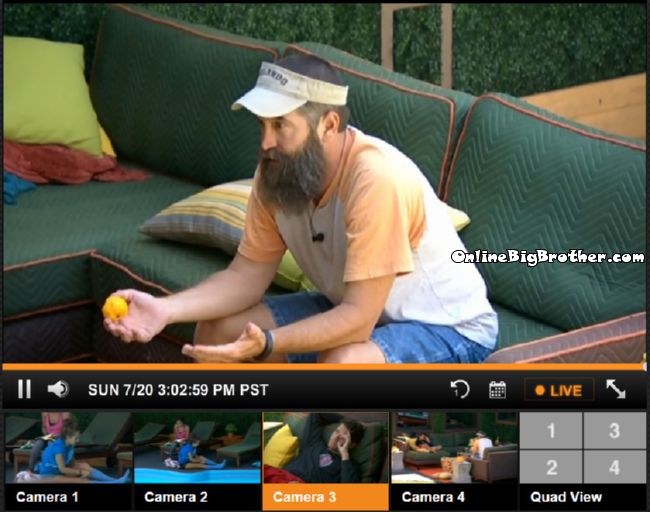 3:04pm Backyard Donny and Cody
Donny trying to get Caleb put up. Points out Caleb getting the money and screwing Cody over in the long run. caleb made a selfish decision and now he's mad because he didn't make another selfish decision and go for the money. Donny mentions how Caleb wanted to trade the money for a trip to Germany so he could take Amber.
Donny points out if Caleb goes home this week Brittany won't be a big deal she will go against the girls
Donny – If he(Caleb) goes up she(Brittany) still might go home..
Cody – I've been thinking about it a lot.. my biggest thing is not knowing what she will do
Donny – talk to her
Cody – I can talk to her but can I beleive it or not..
Donny – she won't go after you ..
Cody – that what she said to me yesterday she said that to devin and she was lying to him.
Donny – people say things to save themselves
Cody – that is what I'm saying
Donny – who's she's going to get on board with her I'm not… JOcasta won't
Cody Yeah.. I dunno i'm really mad
Donny – he put you in this perdicatioment..
Cody says if he puts up Caleb and Caleb doesn't go home he will be gunning for Caleb big time.
Donny assures him if Cody wants Caleb goen Caleb will go home.
Donny leaves Christine joins them asks if Donny if donny is going to get mad at him. Cody plans on talking to Donny later tonight. Cody says he doesn't know who should go home Brittnay or Caleb. If caleb goes home Brittnay might go after Christne and if Caleb doesn't go home he'll be gunning for COdy.
Christine doesn't think they should make the play for Caleb this week but she will support any decision he makes, "If Caleb wins next week we're all safe and we can get him out next week"
Christine asks him if he's worried about Caleb. Cody thinks Caleb will put him up but not as the target.
Alliances
(Some Of these are dead)
Zankie = Frankie/Zach
Bomb squad = Caleb, Amber, Frankie, Derrick, Cody, Christine, Zach, Hayden
Team America = Donny, Derrick, Frankie
Nicotine = Christine/Nicole
Not a showmance= Hayden/Nicole
Los Tres Amigos = Derrick, Cody, Zach
The bottom Feeders = Derrick/Nicole
We hate Devin = Christine and Zach
Outsiders = Brittany, Victoria, Jocasta, Donny
Old timers = Jocasta/Donny
Stalker = Caleb/Amber
Quad Kings = Derrick, Zach, Cody and Hayden (still being built)
Trilogy = Nicole, Christine & Hayden
The Detonators = Derrick, Frankie, Zach, Christine, Cody
Final 2 Deal "The HITMEN" – Cody & Derrick
[polldaddy poll=8194643]
[polldaddy poll=8192326]