POV Holder:
?
Next POV
July 19th
POV Used
?
POV Ceremony
July 21st
HOH Winner 1:
Frankie
HOH Winner 2:
 Cody
Battle of the Block Winner
?/?
Next HOH/ Next BOB
July 24/July 18
Original Nominations:
?
Final Nominations:
?
Have Nots
?
POV Players
?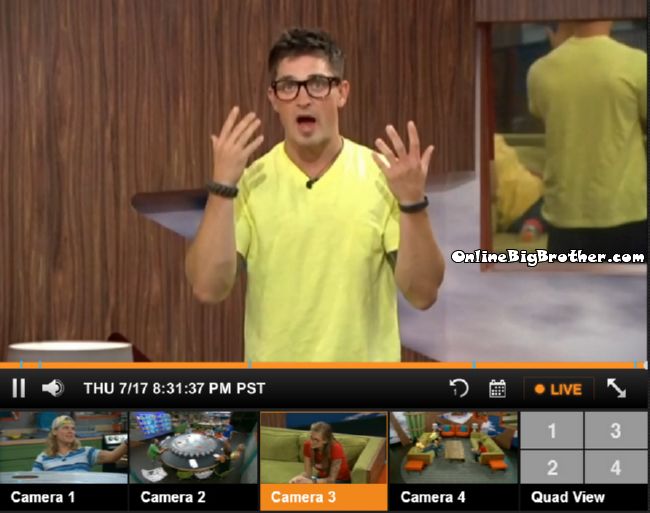 8:26pm Christine, Jocasta and Caleb
Christine is saying how much better the house is with Devin gone, She can walk around the house and not feel awkward. Caleb can't wait to hang out with Devin outside the house. CHristine – "Really?"
Jocasta starts bringing up all the stories from Devin that were changing this week. He told her things about his mother saying they were close but the other day he was saying they never talked. .
Caleb thinks Devin went through all his stories and was retelling them to make people feel bad for him he was trying to get votes.
Caleb says as long as his shirt was open and showing his abs I was happy, "TRying to look good for 9 million people.,. I work for it I flaunt it"
Caleb goes over his speech and talks about the parts he forgot to say..
Caleb "I'm not a beast I'm Beauty and a Beast.. I don't want you to wake up with a sore back because theres a knife in it.. I just hope I did my momma and brothers proud"
Caleb is surprised he didn't get one vote against he thought someone was going to try and be funny.
Jocasta mentions Devin was asking for single vote he didn't want to go out that way. Christine – Did he say that.. Gross.. never"
Amber , Zach joins them
Caleb says next HOH is endurance and he's going "Beast Mode" on it he'll won the hOH "You can put your stipend that"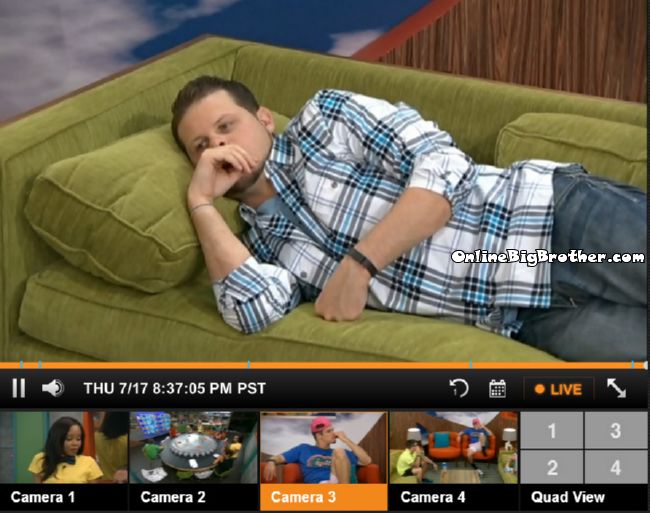 8:36pm Derick, Zach and Caleb
Zach asks them who should the nominees be, Victoria, Jocasta, Brittany and Nicole or ????
Derrick says the first three are definites , "Could be Donny"
Caleb says the only people he was worried about was Jocasta and Brittany winning and they almost did.
Derrick – "I know I was sh1tting bricks"
Caleb l doesn't understand how Frankie and Cody used just one hand. Derrick explains… again.
8:46 Frankie sneaks in a kiss on Caleb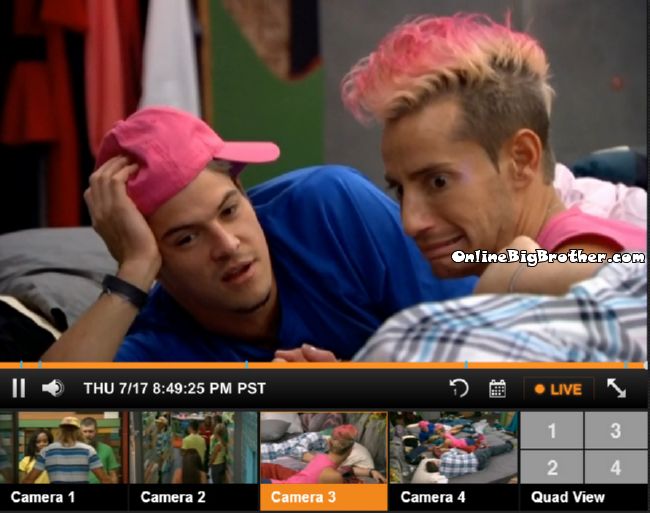 8:45pm Rock Room Zach and Derrick
Derrick – Jocasta and Brittany on either side those are our targets.. if they are on the same team they will take themselves off"
Derrick – "If they had won HOH you're going up"
Zach – "Really"
Derick – "Ya me and you.. she (Jocasta) didn't vote for you right"
Derick adds Brittany will put them up to also so they are lucky they didn't win HOH.
Zach – Amber, Jocasta Victoria and Brittany
Zach says how about Amber and Brittany vs Jocasta and Victoria
Derrick claims he is fine with this mentions how Amber and Brittany will probably win the Battle on the block
Derrick – "No noms no renoms.. we made it half way.. 45 days"
Frankie jumps in "Who wants to see my p$n1s"
Derrick- I f** love this kid if I wasn't straight you'd get it.. you'd get it..
They tell Frankie about possible nominees. Derrick thinks it should be Jocasta and Amber vs Brittany and Victoria.
Zach wants Brittany and Amber together.
Frankie – They are going to win
Derrick – Brittany and Jocasta have to go home this week cause they are working with DOnny.
Derrick keeps fighting for Brittany and Victoria Frankie wants Jocasta and Victoria.
They go back and forth… Derrick "I personally think Calzone should put up Brittany but not Amber because he's working on Amber"
(Calzone = Cody)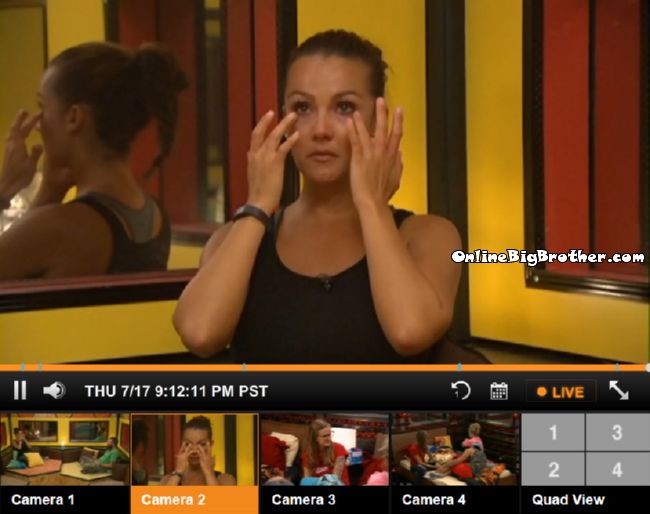 9:02pm BEEHIVE Brittany and Donny
Brittany asks him how he feels. Donny never feels safe. Britany whispers she doesn't feel safe
Donny asks her why she made a heart
She wanted to make him a package so he made a heart to she would get excited about it
Donny thinks Devin is going to think it means something
Brittany isn't worried say Devin has no way to find her.
Brittany is certain she's going to be nominated again.
Donny – I hope not.. I hope I aight either.
Brittnay is uncomfortable after someone wins HOH how everyone pretends.
She feels they will just get picked off one by one.
Donny says eventually they are going have to put them up against some of their own, "But I guess they would have the votes anyways.. but you never know"
Brittany starts to cry.. Donny tells her to think happy thoughts.
Donny – "you know what it's done to me it's taken my emotions out.. you come into this house and its other emotions its new people..
With a live feed subscription you can go back and rewatch all the events we highlight in this blog.
Try It Free! Get 24/7 access to the house for 48hrs before you decide!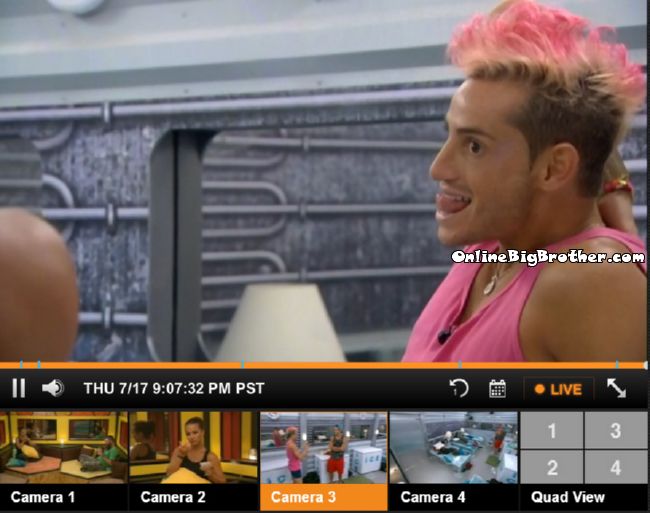 9:07pm Have nots Cody and Frankie
Cody is worried that there will be a twist the HOH that loses at the battle of the block goes up.
Frankie tells him to stop being silly.. Both talking super fast.. Frankie says they will talk to Derrick he has a NEW NEw idea.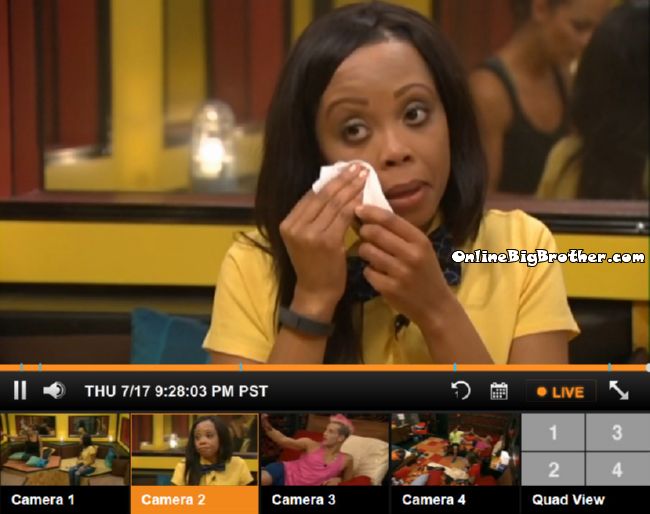 9:27pm Jocasta and Brittany
Jocasta blames herself for breaking so many eggs in the beginning. She thinks if it wasn't for that they would have won. Jocasta starts to cry. Brittany tells her everyone broke eggs. Jocasta knew they needed to win that HOH.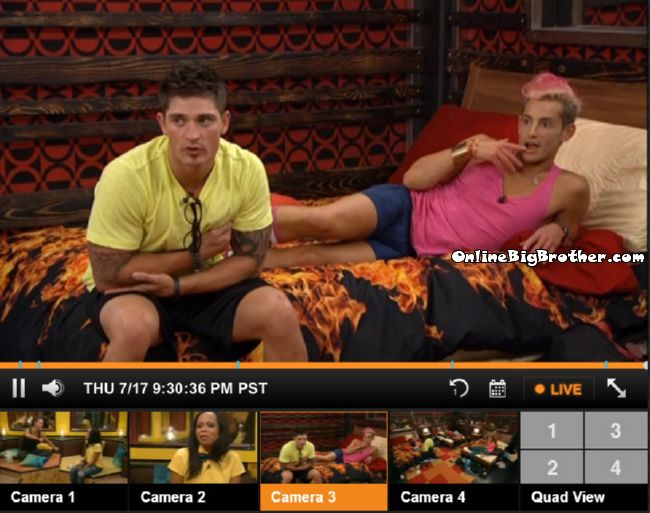 9:30pm FIREROOM chit chat
Caleb wants to play a game with Frankie slap each other as hard as they can on their butts. Frankie says NO he'll die and Caleb will enjoy it.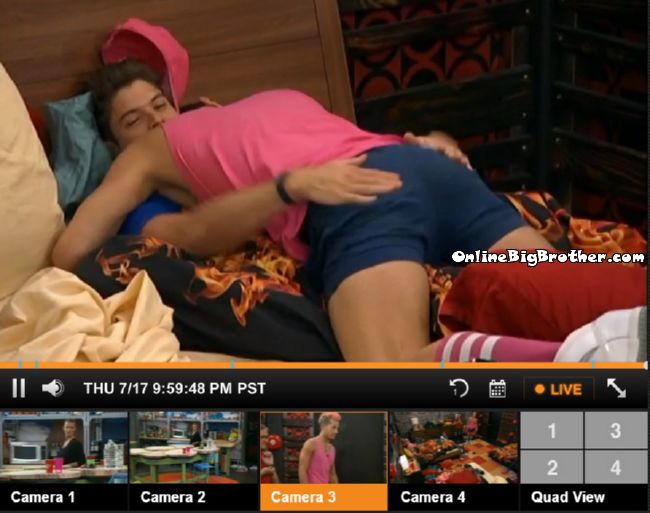 10:01pm Bunch of Hosueguests in the FIREROOM trying to figure out the sleeping arrangements. Lots of confusion. Zach tells Frankie "F**k you" Frankie says yes he's been waiting for him to. Zach tells to come over there he's ready. Zach jumps on him and Zach slaps his b*tt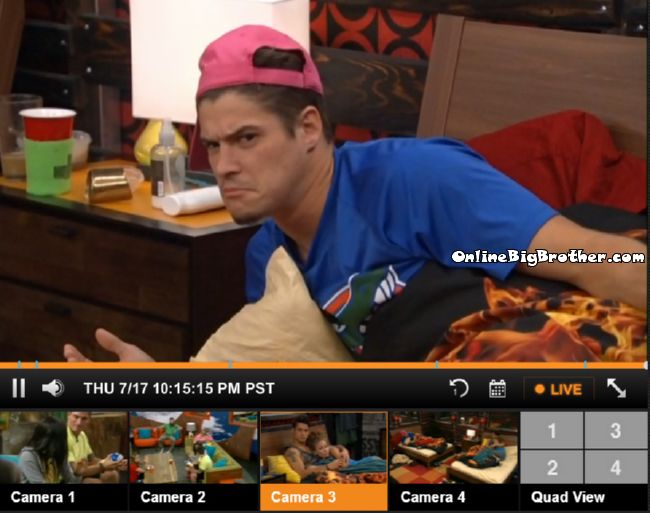 10:07pm Zach and Cody
Cody says he cannot put up Amber and Brittany he'll be the HOH that puts up Victoria and JOcasta. Cody is trying to work with Amber and if he puts her up he's screwed.
Zach says no matter what one of Jocasta, Donny or Brittany have to go.
Zach – "Frankie hates Brittany.. You put up JOcasta.and Victoria"
Zach mentions if for some reason Jocasta wins the POV , "I dunno.. God helps her win it .. put DOnny up there send him home"
Cody says once Donny is gone Jocasta and Brittany will be scrambled.
Zach – "Dude we're going to the final 5 ..we're back on the cruise control… I'm sleeping all f*** week hanging out with you in the HOH"
Zach tells him this is a great HOH to win because they are throwing up pawns. Cody is so glad it's going to be an easy week, "Can you imagine if Brittany had won"
Zach says they are guaranteed to make it to the end the detonators cannot be stopped.
Zach says he felt like he was at the dentist when he was talking to Caleb yesterday.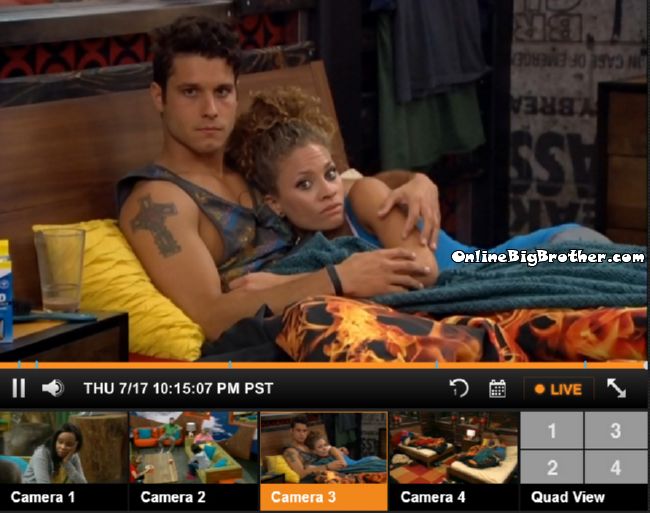 Amber joins them says she's glad Frankie and COdy won HOH because she knows she would be a target if Brittnay/JOcasta had won. Amber brings up Donny and Brittany talking game in the BEEHIVE. Zach catches them in there all the time.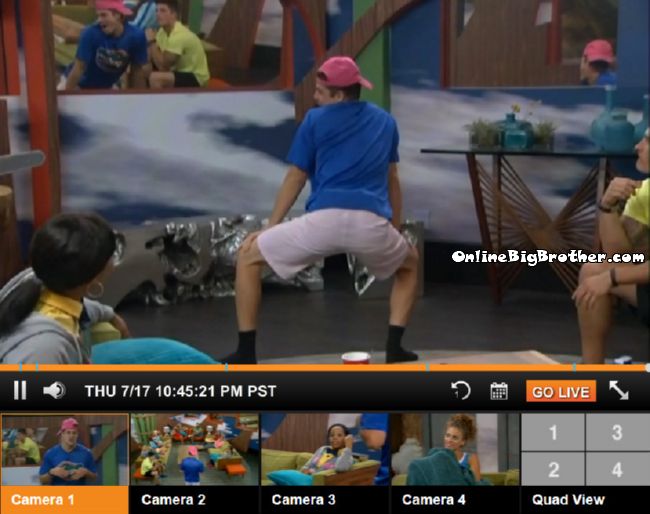 10:45pm everyone but Derrick and Brittany in the living room chit chat
Zach starts the First ever Big Brother Talent show.
Zach "They call himself the twerk king " he starts his twerk (See image) everyone cheers.
Zach – Thanks you thank you thank you
Zach – The second contested is christine the contortionist"
Christine says her stomach hurts. Zach wants to hear a joke.
Christine says her favorite joke they won't find funn. Zach doesn't care.. " grasshopper walks into a bar and the bartender says hey I have a drink named after you the grasshopper says you have a drinks named bill."
Victoria tells the crow story about when she was a little girl at the beach a crow grabbed her dug the talons into her and carried her away. "I have a phobia for birds now"
Caleb says a bald eagle can pick up a baby and a goat, "A crow cannot pick up those glasses over there.. Crows don't hang out at the beast it was a bald eagle..a vulture "
Zach – "If you had to be any animal what would you be"
Victoria – "A unicorn "
Donny – "A Dolphin""
Nicole – "chipmunk"
Jocasta -" whale
Zach asks If you had to eat either chipotle or panera bread what would you pick
Nicole and Amber picks panera the rest chipotle.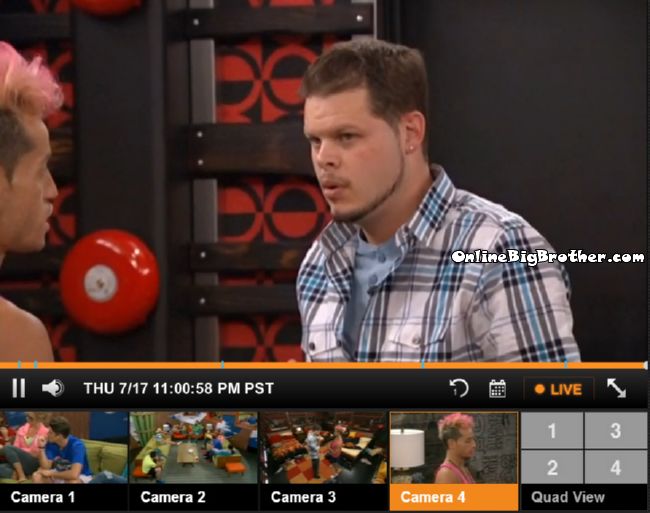 11:00pm Frankie and Derrick FIREROOM
Frankie – "We have a new mission we have to put a physical threat up on the block" Frankie explains they have to get them up during the original nominations sor as ren nom.
Frankie – "it up to use to pick the threat and all three of us have to come to agreement"
Zach – "We just need Donny to Agree Amber is the physical threat"
Derrick says they have two more weeks guaranteed to complete missions.
Derrick says Amber is without a doubt the strongest female competitor in the house.
Frankie agrees says now they just need to convince Donny that.
[polldaddy poll=8192326]