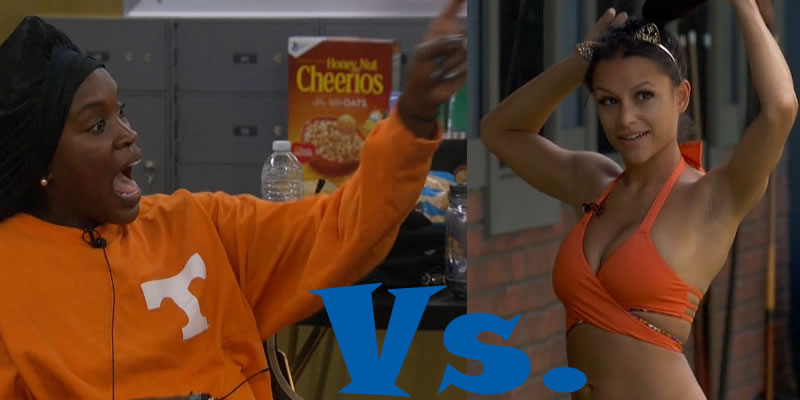 What a Fun Week in the Big Brother 19 House! The entire dynamic got a little shake which is always good for the show. Not the SMASH I was hoping for but enough to breath more excitement into an already exciting season.
This is how Week 3 Went Down…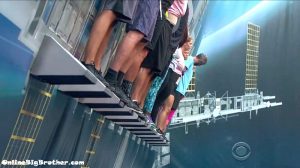 Cody was evicted as predicted but unlike the prediction the the vote was a little off. There was 3 votes thrown at Ramses and they were Christmas, Kevin and Jessica. The Big Surprise was Christmas, as we already knew Kevin was going to as he promised Paul on the feeds. For the houseguests having these 2 unknown votes caused all sorts of drama in the house as they houseguests work themselves in a knot trying to figure out the rogue votes.  The Head of Household Competition was a Spaceship themed wall endurance. Final 3 standing was Jason, Elena and Alex. Jason eventually falls off. It was amazing how well Jason did considering his size, historically the wall competition favours small light people. With Jason out is leaves Elena and Alex to make some deals. Elena offers a deal to Alex where Elena would drop if Alex would promise Elena protection for Elena and "Whoever else she wants safe" . Alex agrees, but later mentions how the "whoever else she wants Safe" is a bit vague and needs to be explained.
The results is a Head of Household win for Alex. What followed that was 48hours + of no sleep houseguests scrambling (it was a fun weekend.. I stayed up through most of it). Jason was advising her to put up 2 big players make sure someone from the other side goes home. He stresses if the vote is f*ed like week one they are in BIG TROUBLE. Paul was pushing Ramses and Jessica but soon figured that wouldn't work and started pushing for Dominique to go up saying Saturday at 3:30am.
"Dominique and Mark are up to some sh1t and the reason they want Christmas out so bad is because Christmas is onto them"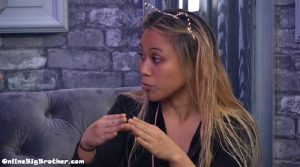 Alex wanting to play something a little bit more strategic suggests they try to incorporate themselves into the opposing side then "annihilate them from the inside" To accomplish this Alex nominates Dom and Jessica. She tells Jason they need to drive a wedge in the other group because they don't have reliable numbers.
Alex – I need to convince them that there is a rat in the group.. we need to move into the group we are becoming the group.. I'm saving you trust me.. The more we're in the group and the more they trust me and you we can attack them later.. We know one of them in their group flipped.. this is our chance to move in their groups and become protected..
Power of Veto
Jason wins a unusually timed Power of Veto. It was at midnight on Friday. What follows Jason POV win is a mind spinning whirlwind of game talk centered around if Jason should use the Veto and if he does who does Alex put up. It was nice to see those showmances scramble. Especially ones as boring as Matt/Raven.



The plays after Veto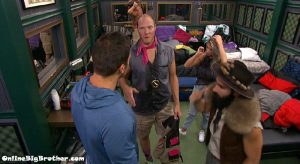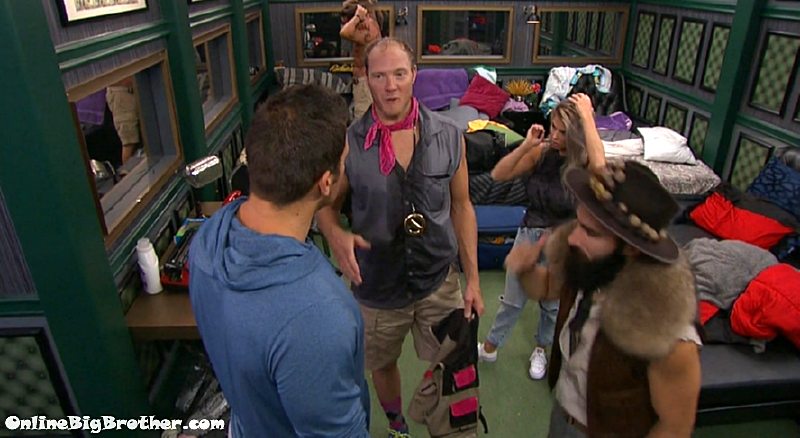 Prior to all the Dominique blow ups which I explain below. Paul was trying to get The veto used to put Mark up. Not sure if he was trying to get Mark out or not but he really tried and it was noticed by some players (mainly Jason). Remember that before Cody left last week he told everyone that Mark and him had a ride or die and Mark/Dominique told him they didn't trust Christmas and wanted to target her. On top of that he said Mark knew about his plans to put up Paul.
Jason at times wanted to use the veto on Jessica to put up Mark or Raven just to make sure Jessica doesn't go home and the other side losses a number. Jason was suspicious of the other side and suspicious of members of his side (Josh/Kevin). Mark flat out refuses to go up as a pawn.
Then the blow up occurred with Dominique and Paul and the conversation changed a bit, Everyone wanted Dominique out. In the end Jason didn't use the Power of Veto , He was confident enough in the vote. Alex noted to Jason that Paul was the one that really turned the house against Dominique, especially after the blow up. Jason believed that Paul was telling their side to use the Veto to put up Mark while telling the other side he's trying to get them to not use the veto to put up Mark.
Dominique Paul BLOW UP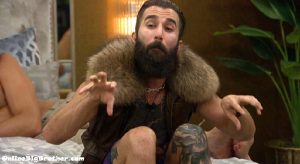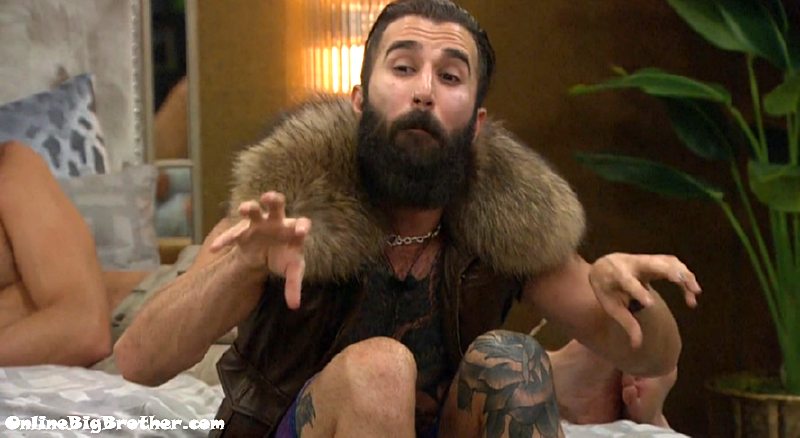 At some point Paul started to really push the narrative that Dom was the person that voted out Ramses. After Dominique was nominated she knew she was betrayed by one of her own, AKA Paul, AKA the Snake.
Early Saturday morning Dominique and Paul went at it in the HOH. Dominique called Paul out for being a snake and Paul called her out for making shit up. Dominique thinks she did enough to expose Paul and how he Backstabbed her warning other players that he'll do it to them. Unfortunately for Dominique most of the house is so extremely misted by Paul it didn't do shit and sunk her game. It didn't help that Dominique used messages received from GOD as evidence of Paul's snaky maneuvers. Paul gets very agitated by Dominique pressing him about being a snake and many times loses his cool. Alex points out to Jason how fast the other side turned on one of their own.
Mark Josh BLOW UP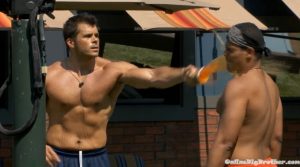 Monday afternoon Mark and Josh decided to have a pool game. The bet was loser has to drink 1/2 a cup of pickle juice and 1/2 a cup of hot sauce. Paul prepared the mixture into one cup. The game ended with Josh losing on a technicality, However there was a disagreement on who won. Josh claims that Mark wins matches all the time on the same technicality. Josh and Mark both say they offered to have a rematch making the bet null and void but neither admits to accepting defeat.
In a sign of toughness, Mark takes the cup of juice asks Josh one more time if he won. Josh says no. Mark fakes Josh and splashes the hot sauce in his face. Josh is beyond PISSED at this. What happened next is 2 hours of fighting with as many people getting involved as Josh was able to pull in.
Some say Josh won, Some say Mark won I say we won, with this season. (It's worth going back and watching this)
The Stupidness and the misting of the BB19 house
I like Alex but I need to include this small conversation from before the Power of Veto Ceremony as testament at how bad Paul is misting some of these people…
Jason- I don't think you should trust Paul with 100% certainty all the time
Alex – I don't, the safe guard I have is he can't lie in front of America
Jason – Yes he f*ing can
Alex – If he breaks that friendship promise, If you remember the friendship bracelets was the whole reason he came back this season . it would totally destroy his fan base
Jason – No it wouldn't cause they are already fans
The only people that Paul hasn't misted are Jessica, Dom, Jason and Ramses everyone else is fighting over who can rub his pimply back. Raven and Matt being gold stars in this regard.
Predictions
Dom will go home with only 2 votes to stay.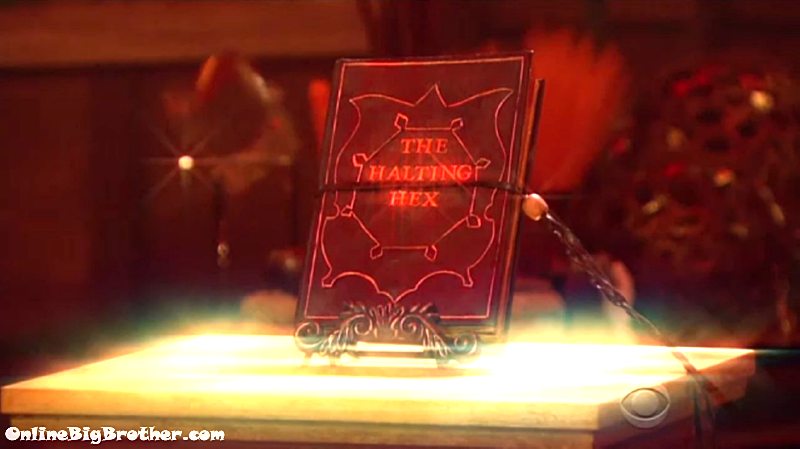 Results from the Show
Jessica won the Temptation.
Final chances to sway the votes.
Jessica says she misses Cody. Dominique says she loves Jesus.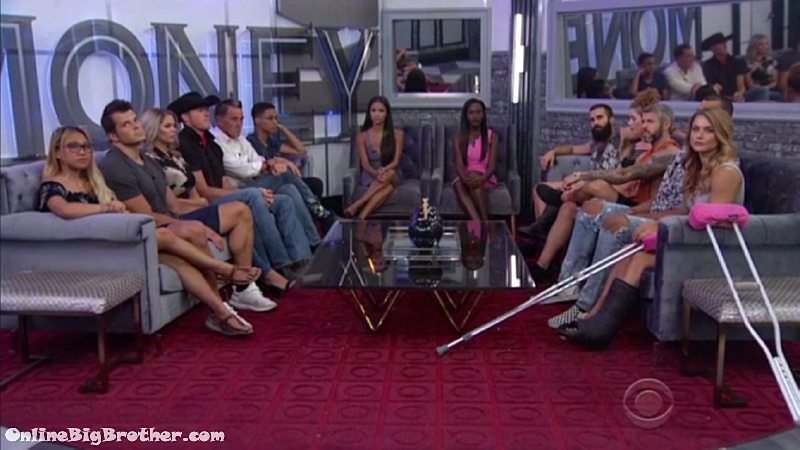 Jessica doesn't use the Halting Hex this week.
Paul Votes to evict = Dominique
Kevin Votes to evict = Dominique
Christmas Votes to Evict = Dominique
Raven Votes to evict = Dominique
Mark Votes to evict = Dominique
Jason Votes to evict = Dominique
Josh Votes to evict = Dominique
Elena Votes to evict = Dominique
Matt Votes to evict = Dominique
Ramses Votes to Evict = Dominique
Dominique is Evicted.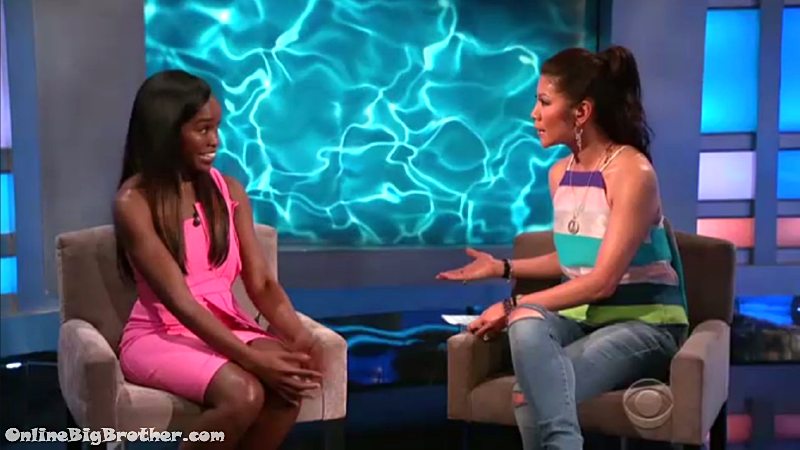 Dom says that Paul whispered "Philosophy outside of the house" Meaning he wants to talk Philosophy outside the house with her. She says she loves god a lot and will have to pray on it weather she wants to speak with Paul again.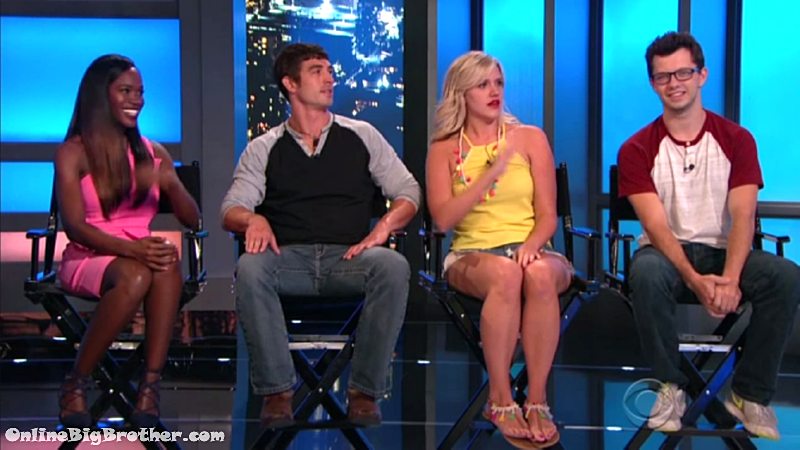 Evicted Houseguests are dragged out..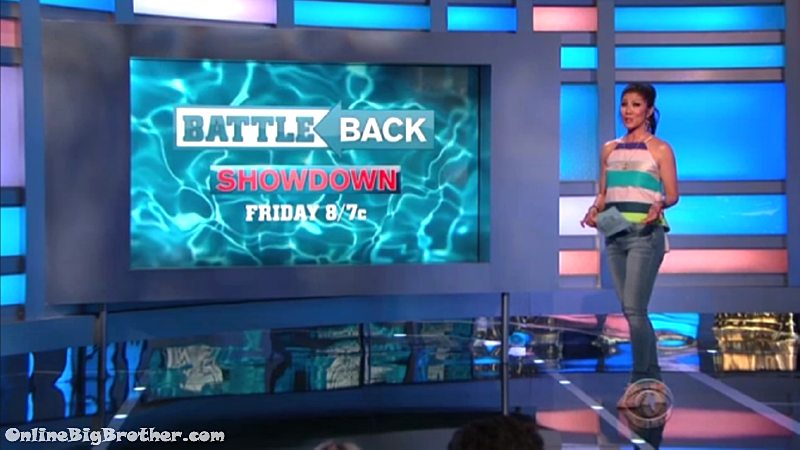 Battle back will be shown on Friday's show. Where they compete in 3 competitions.
Next Thursday we find out about the curse that Jessica unleashed.
BB19 Live Feed Outage
In case you haven't heard the live feeds will be down tonight and tomorrow until after the Friday special episode airs on the westcoast. By that time we should know A) who got evicted b) who is HOH c) who won the temptation and D) who are nominated
Links to the ranking system
Rank your house guests here
For those of you that like Statistics here are some expanded reports.