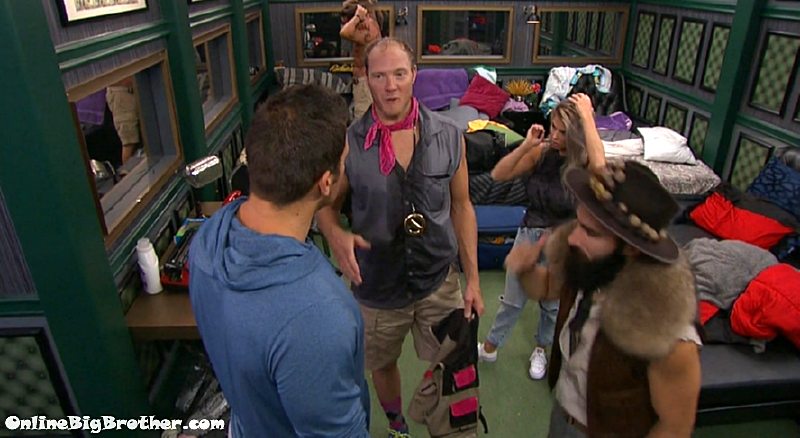 Feed subscription lets you go back and re-watch everything we post here CBS All Access Live Feeds with a FREE 7 DAY trial.

Jason wins the power of veto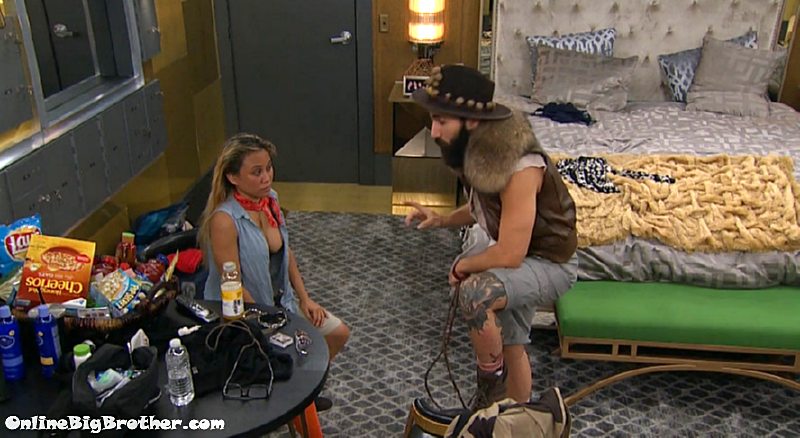 12:35am Paul and Alex
Paul is suggesting she put Mark up as a pawn. Her original plan was to use Raven as the pawn. (Was Christmas at one time)
Paul – Mark is the only stickler that is causing paranoia
Paul – talk to Mark first Clarify you want Dom out.
Paul – I thought the Raven Idea was good.. Raven is for sure going to vote Against Dom why take that vote away, Think about that.
Paul – raven is a vote to get Dom out so is Matt.
Alex – I gave him my word I wouldn't put him up this week.
Paul – talk to him, say I need Dom out.
Paul says tomorrow is nominations.
Paul – if you talk to him before doing it it's a a+ move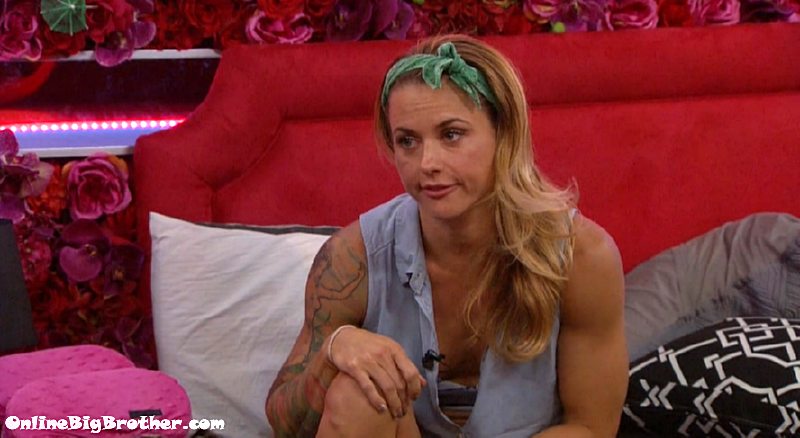 12:40am Dom telling Christmas what Cody told her was a complete lie she had no idea Christmas was going up. (Week 1)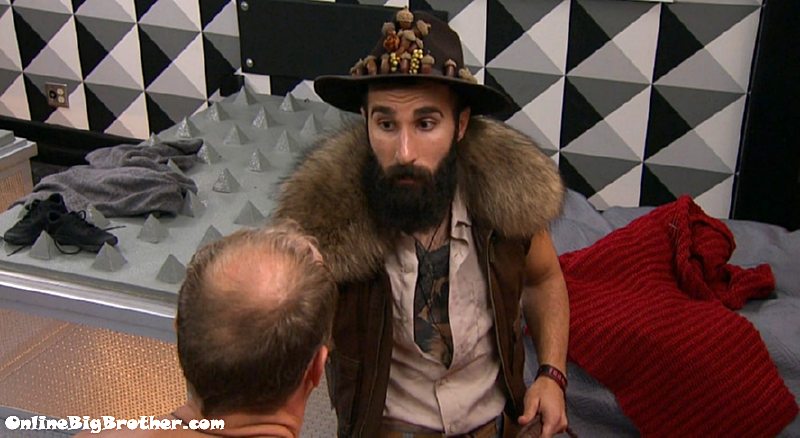 12:41am Paul and Jason
Paul tells him Alex has a better plan an alternate Idea.
Jason – better than Raven
Paul tells him to talk to her later and they'll touch base. Tells him they have the votes.
Paul – Jason, be real careful who you say sh1t too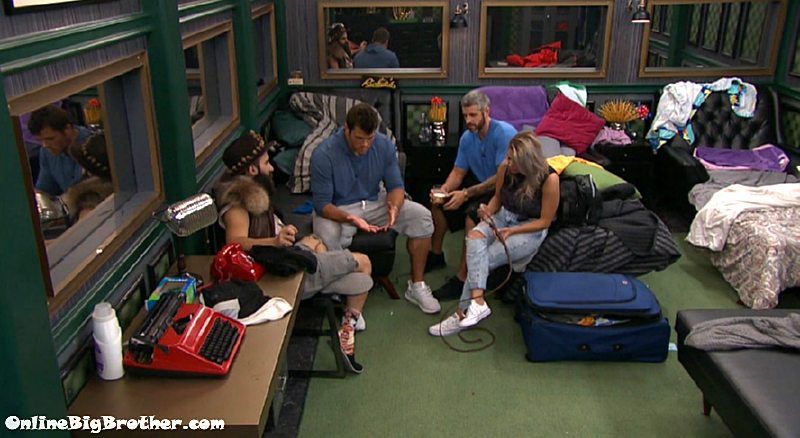 12:59am Paul, Mark, Matt and Elena
Elena thinks Alex is going to come after her.
Paul – I'm not banking on Josh's vote
Mark – You're going to vote with Alex
Paul – No… fool
Paul points out that they have no power this week so it'll be hard to persuade people like JOsh to vote their way.
Mark – what are you saying, we go with the house to keep the peace.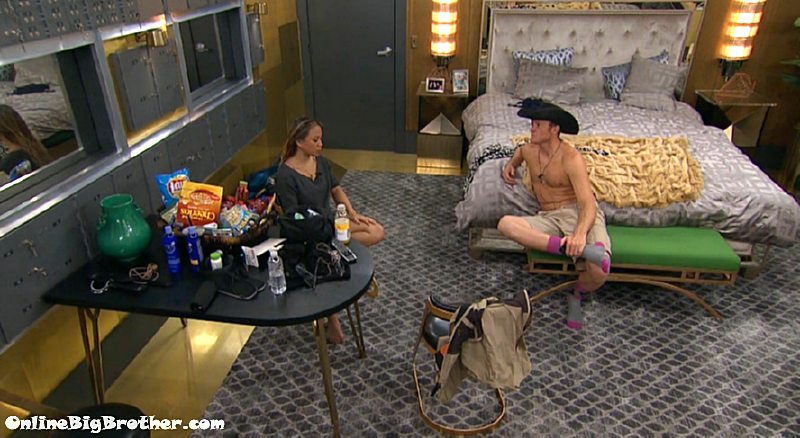 1:05am HOH Alex and Jason
Alex says Paul's plan for mark going up is stupid she thinks they should go with Christmas or Raven. Alex says Paul's reasoning is so that Mark can't campaign for Dom.
Jason – go with Raven
Jason – I'm going to use the Power of Veto on Jess..
Alex – we can't work with Jessica anymore
Jason – I don't like her..
Jason – If I win HOH that Ramses has got to go.
Jason – why are they still clumped up like a bunch of sea crabs. (see the image @ 12:59am)
Alex – I know that is why I'm nervous about the plan.
Alex says Kevin is playing both sides.
Kevin joins them..
Alex says she's thinking about putting Mark up.
Kevin thinks that will ruffle their feathers more than Raven.
Jason – yo think they will vote Raven out over Dom
Kevin – Not a chance 10 nothing
Alex says Elena will be pissed
Jason – we can put Mark up there.. it's either Matt or Raven
Alex – it has to be Raven
Jason going through the safety deposit boxes get's a "STOP THAT" from production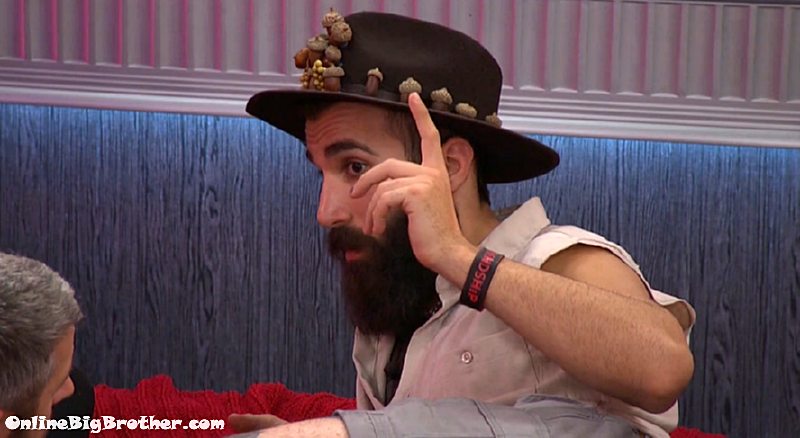 1:29am Matt, Paul and Raven
Raven complaining about Christmas not being able to compete in the POV. Saying that if they're lifes were on the line and they needed Christmas to save them she wouldn't be able to.
Paul mentions how Christmas has been complaining about the pain. He's wondering if Production will finally decide to pull her from the game. Paul says that the other side is dead set to get Dom out there may not be much for them to do.
Dom joins them.. Paul going on about how Christmas staying in the game isn't "OK" for her and it isn't fair for the players in the game.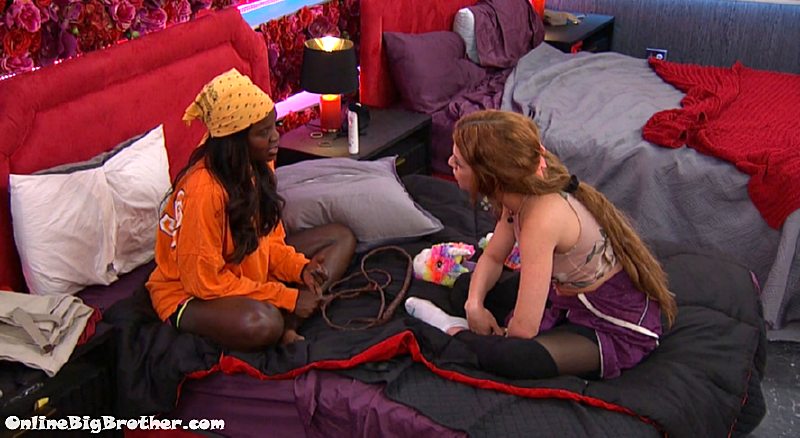 1:39am Dom and Raven
Dom says she was betrayed by someone in their group. Asks her is she's betrayed her.
Raven says no of course not you're in my group.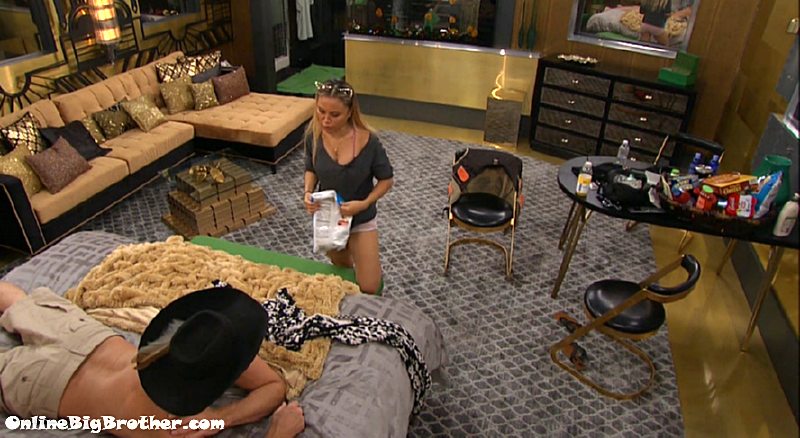 1:54am Jason and Alex
Jason says Paul wants Mark nominated so they can vote his a$$ off.
Alex doesn't think they do.
Paul stress that Dom is questioning everyone downstairs. She's really freaking out.
4:50pm Mark, Elena, Jason and Paul
Paul trying to talk Matt into going up as a pawn.
Mark – someone from our side doesn't trust me because of what Cody said
Mark – Alex told em that
Paul – Xmas is that person.. who did he talk to , me and Xmas.
Mark – Jason and all them..
Jason says Cody told him is was Mark and Dom.
Paul – you're going to be uncomfortable.. being on the block is very uncomfortable Mark
Mark – three days after Cody..
Paul – just humour a conversation with Matt and Raven
Mark doesn't know how to start the conversation with Matt/Raven.
Paul says he'll open it up but nobody better go downstairs and call him a snake head
Jason laughs says the only people that are calling him a snake are dom
Mark says he doesn't feel safe right now.
Mark asks Jason how does he feel about him going up.
Jason – I don't think you should be worried.. I don't thin kit will be a threat to you.. BUT I don't want you up there either.
Elena says she doesn't want him on the block but for Mark's game it makes the most sense.
Elena – I feel confident you won't go home.. but I don't want you on the block.
Mark – I told Alex If she puts me up fine.. but I'm not comfortable..
Paul says Raven or Mark go up and Dom goes home. If Mark doesn't go up as the pawn his game becomes more difficult in the coming weeks. If mark is the pawn his game become smoother in the following weeks.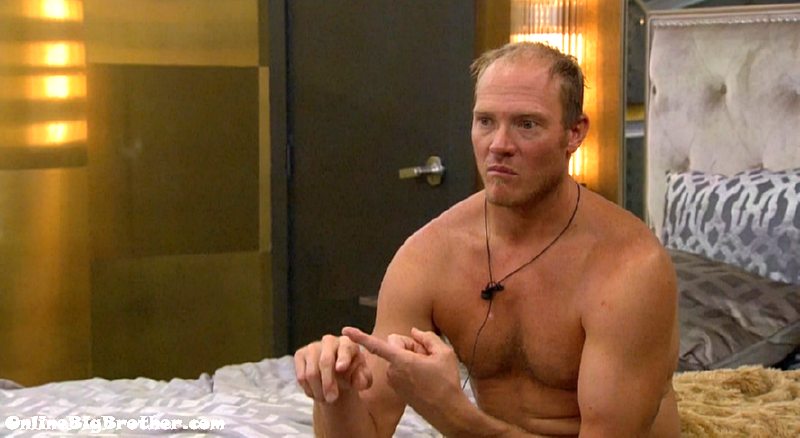 4:59am Mark and Jason in the HOH
Mark asks Jason if there's anything he can do to make them want to keep Dom.
Jason says no, Dom has got everyone in the house Topsy turvy
Jason says if Mark tries that it will be dangerous.
Mark – she's a number
Jason – I know
Mark – this is your guys power, and if you want me up as a pawn find.. .but I'm telling you it's a number
Mark – get Ramses out of the house, get Christmas out of the house, that's my take.. You guys are in power.
5:05pm Elena, Mark, Jason, Paul
Mark says he's fine with being the pawn.
Paul says he's a million percent sure Mark will be safe.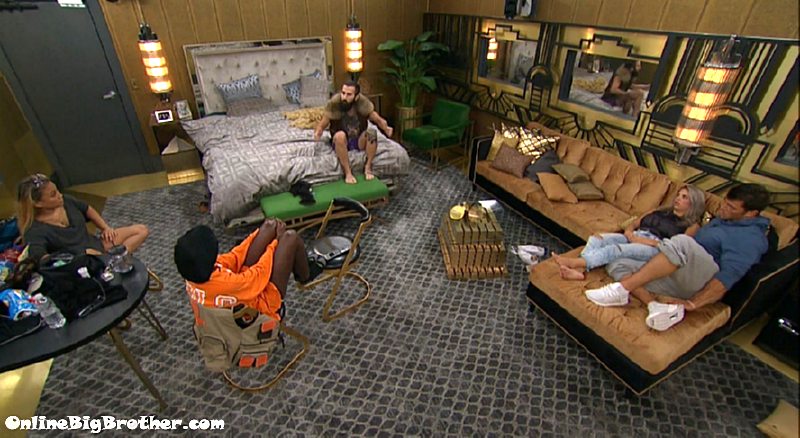 5:46am HOH Paul, Dom, Mark, Alex and Elena
Paul – – I'm all ears.. but I don't think snakes have ears..
Dom – that's cute
Payul – how am I a snake
Dom – did I ever say you were a snake
Alex – you said someone in the room..
Dom – did I say that.. no I said I want everybody in the room when we talk tomorrow..
Paul says she implied he was a snake, "please tell me Dom, how am I a snake"
Dom – Before I address that.. who else did I talk about
Alex – Jason and Elena..
Dom – understand this.. If you want to send me home you're setting yourself up because there is a snake.. and if they are coming after me and are close to me understand they are going to come after you to.. I'm just letting you know what..
Dom – I confided in you Paul and I told you things that you said you would never say anything to anybody.. I considered you my sounding board because you're a vet in this game and you're wise.
Dom – we connect on various levels
Dom adds that she then had a conversation with Elena and Elena holds this specific information that she only told Paul.
Paul – ok.. ok so it's only me you told..
Elena now saying that Paul has never told her anything that Dom said.
Paul getting heated.. says that it's their fault he's in the game they picked the temptation and he was the curse. Paul highlights how honest he is and how he can't play a devious game.
Paul – I love when people come at me when I've played a honest game .. and when I say i've played a honest game I don't bluff..
Dom – just for clarification.. I am not a Mother f*er
Paul is saying he's heard from 4 people that Dom called him a snake.
Dom wants him to name them.
Paul says they are not in the room, "We can wake the entire house up"
Dom – yes I would love it..
Paul – I don't need to
Dom – why not if you have nothing to hide.. have the people in here that said I said you were a snake
Paul calls Dom the snake.
Dom asks Alex why is she getting blamed for not voting out Cody.
Alex says people were starting to question it.
Dom asks if those people are in the room.
Alex doesn't want to talk about it "I'm protecting everyone"
Dom – alright.. cool, for the record I did not call you a snake, I was still accessing the situation I was sharing with her the things that had been said that she has clarity about everything that has been happening..
Dom – for the record this whole interview thing that people use to put a target on my back that was not a strategy .. that was not part of my game.. and if pepole were smart like they say they are they would have figured that out.
Dom – third things is I did vote for Cody.. I am 1 team 1 fight
Dom – the fact that I am targeted.. just wait..
Dom – you know what Paul the thing that baffles me is you are choosing to believe 3 people over me, how do you know they aren't lying about me because they are potentially targeting me
Dom – America is going to see that I was the real one.. I am the honest one.. you all will see..
Dom – they came for me and they're coming for you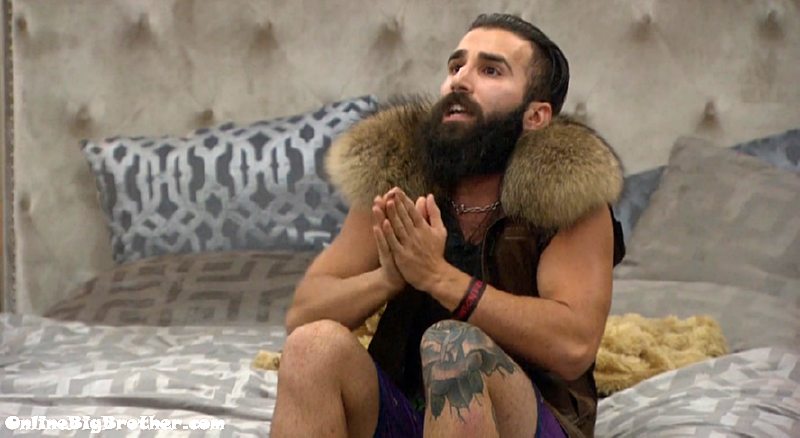 Dom calls him out for saying he's working alone and that he's dissolving the team.
Paul – I did not say I was dissolving the team.
Dom – I promise onto God he said.. I am now working alone I don't even know who I can trust
Dom – I'm telling you what he said.. mark my words.. if you don't believe it that's up to you
Paul – you can use the bible for whatever you like but what I said at this point I need to retract and reassess who I can and Cannot trust and I said the act of a team is no longer there based off the following reactions of the past few weeks
Paul – so do not tell me I swear to god this is what that guy said .. I'm pretty sure god cannot vouch for you at this moment.
Dom – he wiill
Paul – he will.. we'll see he's not here to play this game at this moment
Dom – he is..
Paul – but you are so it's easy to toss it onto god..
Paul – I'm not trying to bring religion into a make believe TV show .. god does not belong on a TV show
Paul says invoking God holds now wait because he can't vouch for it.
Dom – we'll see how much wait he holds
Paul – I'm not questioning god.. you can't toss I swear to god..
Dom says she was stabbed in the back.
paul – by whom
Dom – smirks.
Paul – you think it's me but I think you're wrong..
Paul says all of America has his back in this game.
Dom says he's being extremely reactive..
Paul is going to call more people up.. "I am absolutely shocked at your behavior Dom"
Dom – me too
6:14am a few more house guests have joined them..
Dom – just to bring up up to speed I had a conversation with Alex..
Dom mentioned to her she wanted to have a housemeeting, "This is the session of temptation.. when you think about it there's a tempter in the house"
Dom – I told her about the conversation I had with Paul where he advised me to not have individual private conversations with people
paul – never said that .. lets ask god
Dom – he also asked me for his respect.. and he's saying I never gave him the respect..
Dom – If I'm be targeting for absolutely nothing.. other people will also be targeted the same.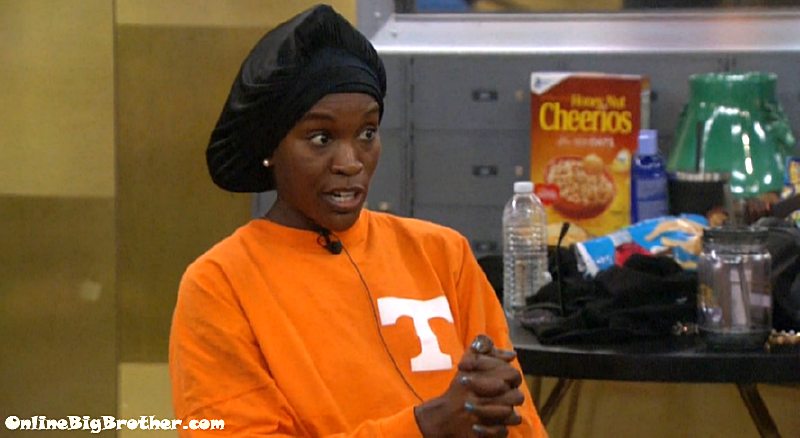 (They been up all night)
6:28am House meeting.. (This has been going on for hours.. I'm in the process of updating)
Dom says Paul denies that he told her not to have private conversations but he did tell her yesterday.
Dom says Paul told her he's going to dissolve the team.
Paul – I used the word retract…
Dom – why would I make this up
Paul – because you're on the block
Dom – I never called Paul a snake
Paul – but you implied Paul's a snake..
Paul – Elena .. Dom went to alex when she was upstairs started talking about this is the season of temptations .. What does a snake do it's slitters
Paul says Dom was going around saying that Paul was tossed into the house as a snake
Domn – I didn't say toss..
Alex – you said there's someone where to tempt us
Alex says Dom was implying that Paul was a snake
Dom – and I asks you to share that
Paul says Dom is making a bunch of false implications in her head..
Paul says he doesn't f*ing appreciate what Dom is doing.
Dom – I'm done with the conversations.. You guys vote for you you want to vote for but there's a snake..
Dom – I am not doing what I'm being accused of doing.. I trust as time progresses this will be revealed.
Christmas brings up Dom saying there's a infiltrator why not Dom tells them who that infiltrators is
Dom says she's not going to name names.
Paul- whos the infiltrator..
Dom – I'm done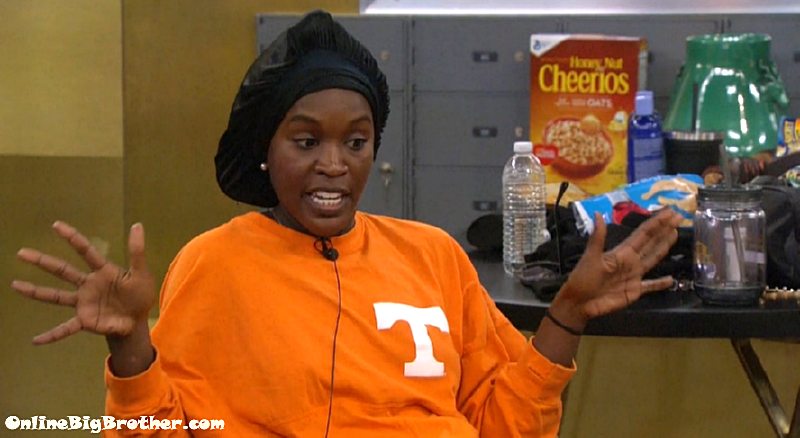 Dom – I am being targeted because of the interview.. She wanted to mention the conversations her and Paul had that were suspicious
Paul – Ohh.. and half of them are found not to be true..
Paul – you called me the snake and I called you out..
Christmas still wanting to know who the infiltrator is
Dom – I'm being targeted by someone internal.
Dom says Paul is good for putting on a show that is what brought him back
Paul – they brought me back because I'm a honest player. (LOL)
Dom says she wants to go HAM so bad but won't because she's being recorded.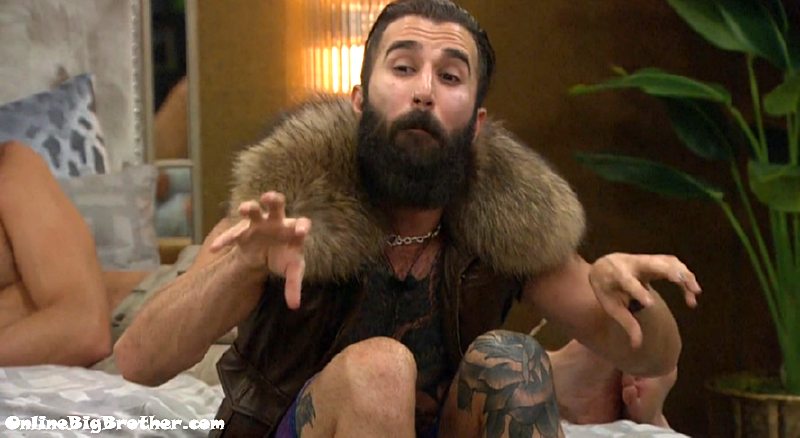 Paul tells her she has sh1t to say the two plugs she came up here he's proven wrong.
Paul – Next time you want to imply that Im a snake to somebody in the house you better have your information you can keep smiling you can keep creating gifs for reactions but you know that I'm right and you know you f*ed with the wrong person
Dom – no you're wrong..
Dom – I don't have to prove that I'm telling the truth
Paul – you're on the block hommie you have to prove it
Dom says she was honest and true and she believes that if someone is truthful the don't have to defend themselves..
Paul – have you ever watched Big Brother
Dom says she's had conversations that people know things that she only told Paul..
Paul – we've been waiting for hours for you to say
Christmas – Paul let her finish
Christmas wants to get to the bottom of who are the infiltrators in her group that are targeting her.
Dom finally says that Paul is the infiltrator, "Watch out"
Christmas – how is he the infiltrators..
Dom – he's been lieing.
Paul – to whom ..
Dom – he is denying some of the things he said in our private conversations
Paul is accusing her of he said she said..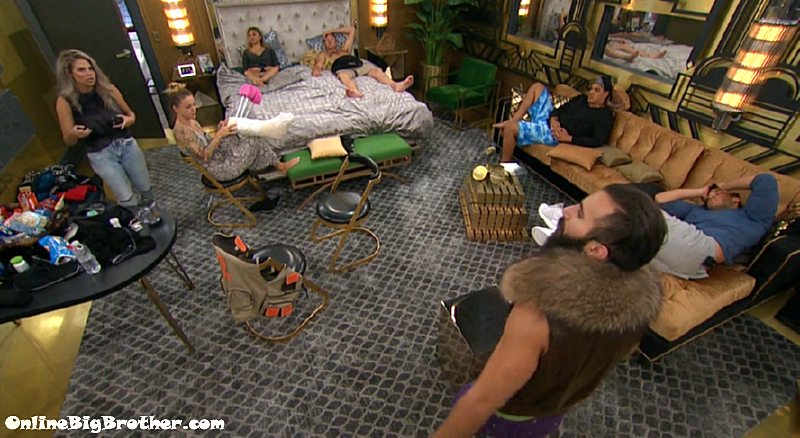 7:16am
Paul- Can I at least have the vouch of you people in this room (Alex, JOsh, Mark, Xmas) that if she tries to pull any fast shit you have my back
They say yes.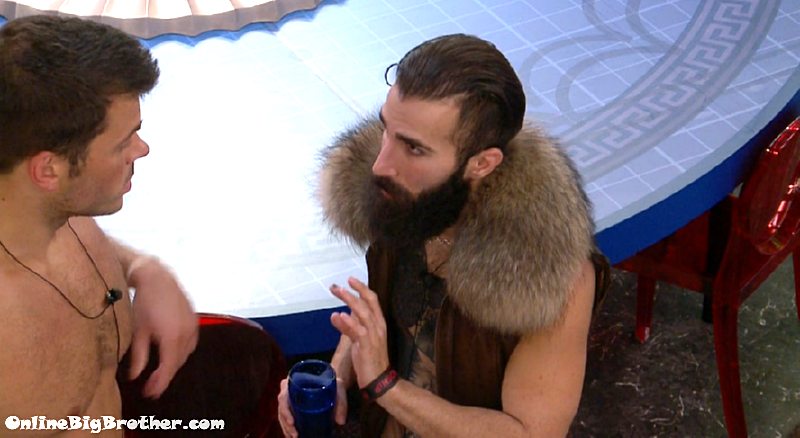 8:00am Paul and Mark
Paul says he hopes this argument and game with Dom doesn't ruin their relationship outside the house. He's going to talk to her tomorrow and smooth things over. If she tells him to f* off then he knows the type of person she is.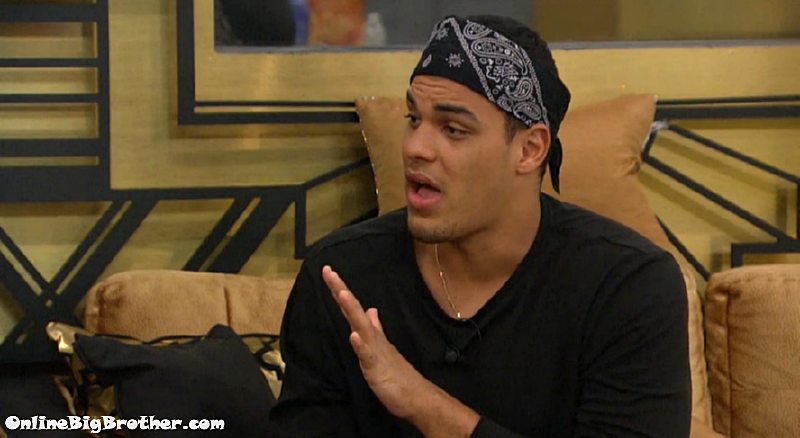 8:10am Josh and Alex
Josh says they have too reduce the other sides number. He proposes they put another one of their numbers up so their voting power goes from 6 to 5. Now their side has the majority of the vote this week.
Josh – I completely trust Paul..
Josh – this is a vital week..
Josh says the house is terrified of Jason and Alex because they are competitors.
Josh – there's no room for f*ing up .. we have to stick together
Josh – this house flipped and this is our cahnce to run with it..
Josh says it's funny how it's Alex's HOH but it feels like they are running it
Alex says she likes it.. because they are playing it all out in front of her. She's just been sitting back watching it. Everything is getting exposed and is on display.
8:40am everyone finally sleeping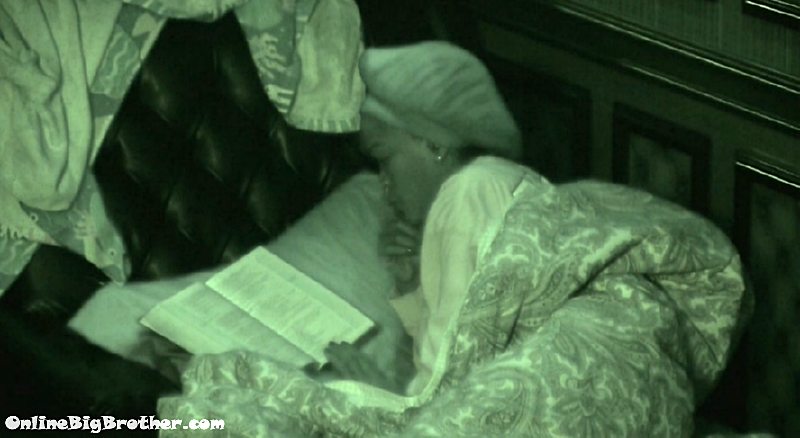 8:45pm Dom reading the Bible in the dark..
If you plan on buying anything from Amazon. Use this link Amazon home
Doesn't cost you anything and we get a small cut.
Links to the ranking system
Rank your house guests here
For those of you that like Statistics here are some expanded reports.