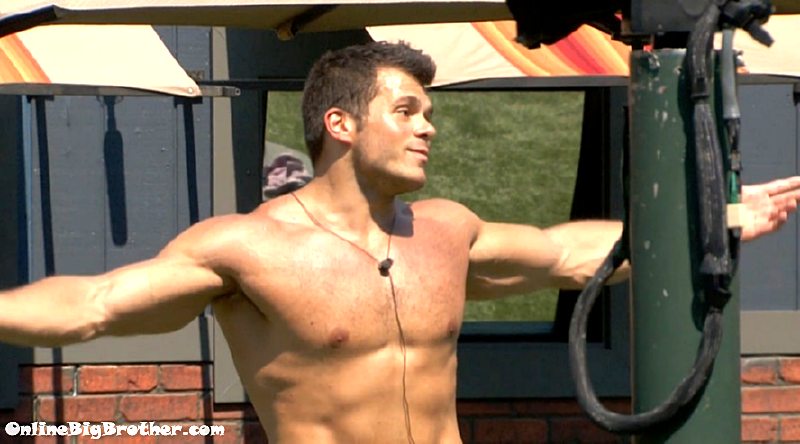 Feed subscription lets you go back and re-watch everything we post here CBS All Access Live Feeds with a FREE 7 DAY trial.
\
3:22pm Josh beats Mark at Pool ..
Mark starts getting mad.
Josh – why are you getting mad.. Other people make bets
Mark – I'm not mad..
Mark throws the pickle juice in Josh's face
Mark You can't beat me when you scratch the eight ball
Mark – I asked him if he beat me fair and square..
Mark accuses Josh of lying about the outcome of the game.
Mark – you can't beat me when you scratch on the eight ball #BB19 @DawgsBigBrother pic.twitter.com/YaGnIq1TR3

— OnlineBigBrother.com (@bigbspoilers) July 17, 2017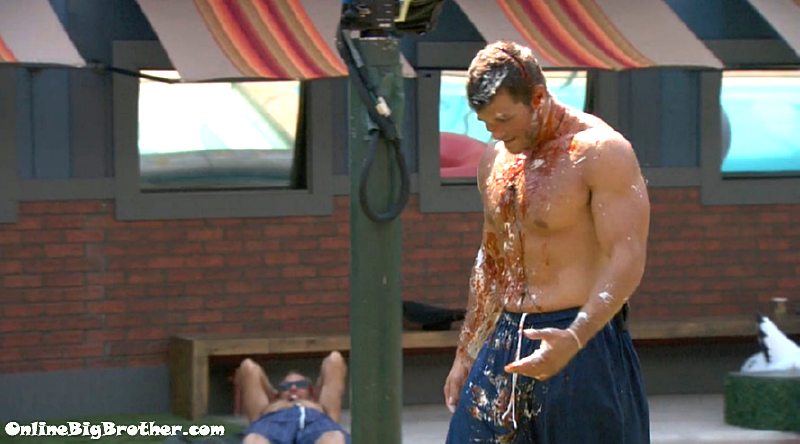 Josh comes back with ketchup and mayo
Josh – I have hot sauce in my eyes.. That's f*ed up..
Mark – you just threw ketchup and mayo
Josh get out of my face
Mark – why are you so upset
Josh You f*ing threw f*ing hot sauce in my eye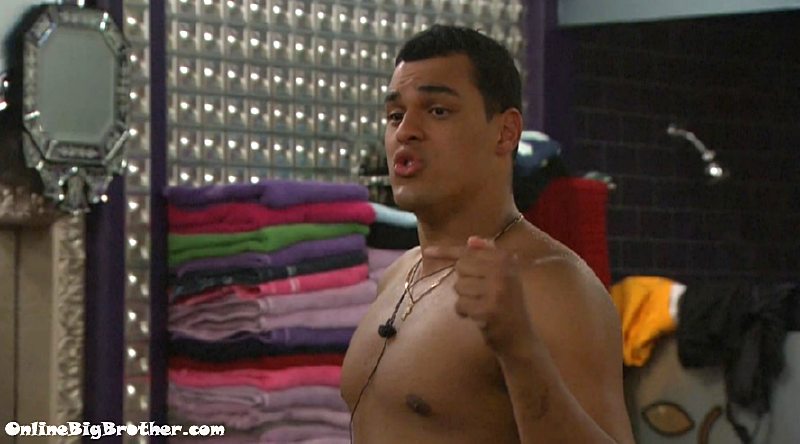 3:45pm Josh and Christmas (Raven is also there)
Xmas – big breaths chill out
Josh – that is really disrespectful
JOsh – there hot sauce in my nose, in my eyes
Xmas – IN YOUR FACE
Josh – if it was only pickled juice I would have laughed..
Josh – he crossed the line.. Then he started saying I'm not a man of my word that i'm changing the bets..
Josh – THE LAST TIME I CHECKED BUDDY I WASN'T TRYING TO BACKSTAB AND GETTING ONE OF MY MEMBERS OUT. DON'T F*ing COME FOR ME CAUSE I HAVEN'T COME FOR YOU
Josh – if you want to get outed we could go there
JOsh – when I give my word I stick to my word as a man, Last time I checked he doesn't do the same.
Josh – he lost a friend.. He crossed a whole different line by disrespecting me on television.
Josh – you don't do personal you don't touch me, you don't Attack
Josh – You f*ed up cause I'm going to torture you every day until one of us goes home
Josh – Mark double taps and wins games like that Every single time we play pool.. So now that I did it he loses it. I said let's redo do the game it's fine..
Josh – if you can't take the sh1t talking..
Josh mentions "all these f*ing losers" talking under their breath sticking up for Mark.
Josh – I hear side comments..
Xmas – Calm down we'll talk later I promise you.. I have your back..
Xmas says what Mark did was not cool "that's assault"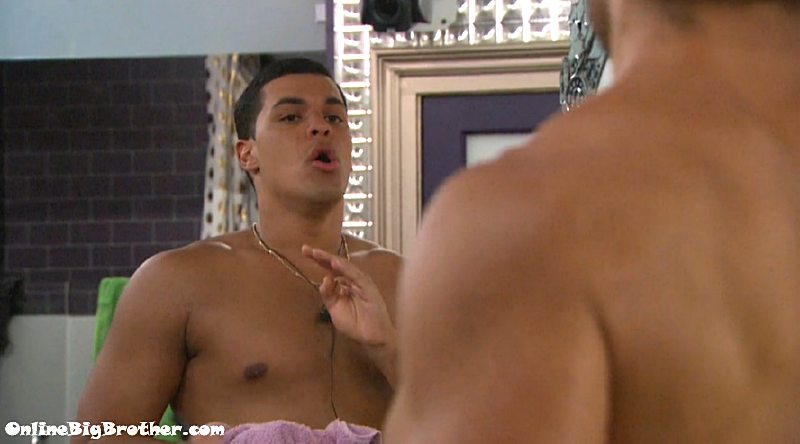 Mark comes in.. "Josh I am sorry"
Josh – don't f*ing laugh in my face.. I'm telling you, don't talk to me, don't laugh at me.. You f*ed up.. Don't f*in look at me.. It's not a f*ing Joke..
Josh – you threw hot sauce in my f*ing face..
Josh – when he's sitting eating dinner sauce on his head..
Josh – and they're all laughing.. And Raven's talking sh1t in here..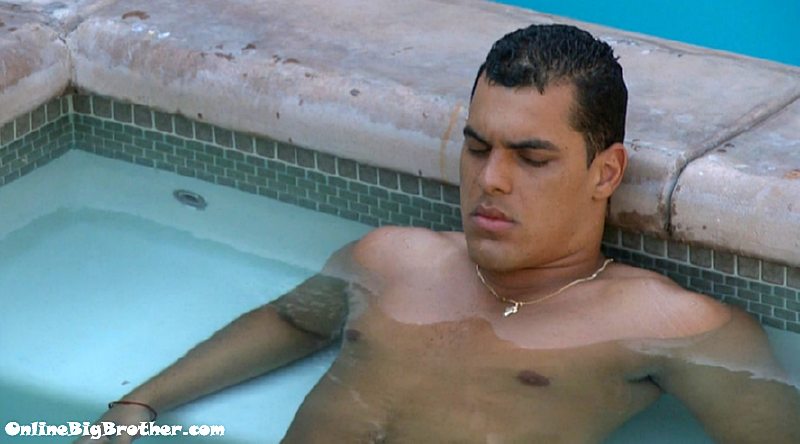 3:59pm Josh got hot sauce in his eyes and face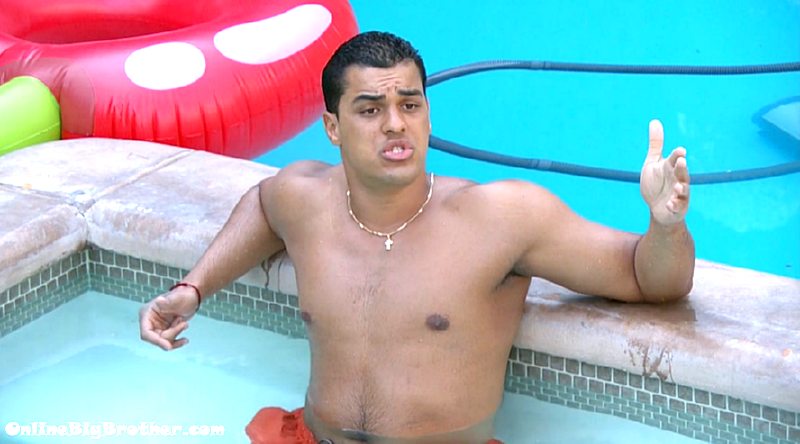 4:13pm Outside Mark and Josh
JOsh – you f*ed up
Mark – the hot sauce in the eyes I'm sorry
Josh is pissed that Mark was saying that Josh isn't a man of his word..
Josh calls Mark out for plotting against Paul week 1 so he's not a man of his word..
Paul comes out..
Josh – where's your word at.. Where's your word at.. You were plotting against Christmas and Paul week 1… where's your word aty..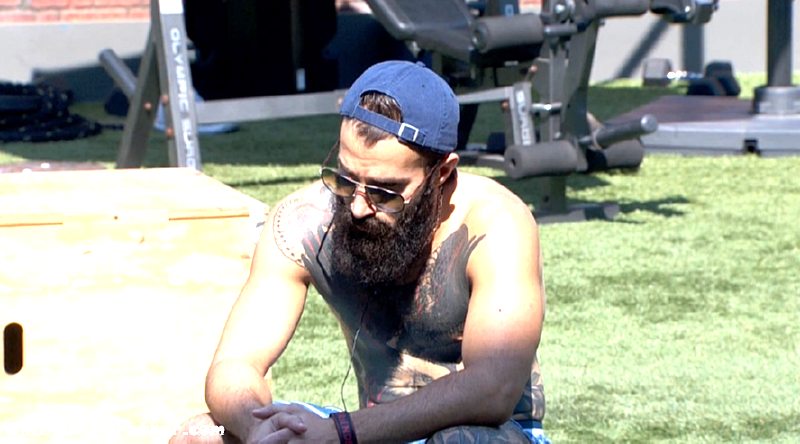 Paul tries to calm Josh down..
Josh says everyone talks sh1t about Josh all the time Raven and mark. When he starts pushing back all the "Little pu$$ies"
get upset.
Josh says he's always hearing Raven talk about him behind his back.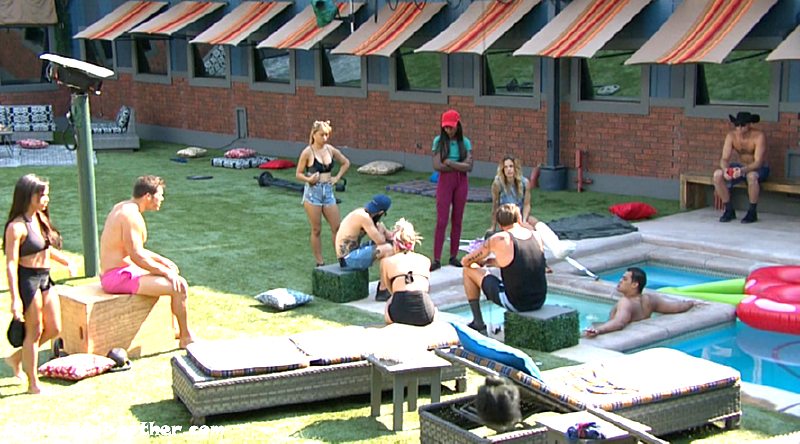 Most of the house has collected in the backyard..
Josh tells mark go ahead win HOH and take him out next week.
Josh – You know what you did… that's the word on the streets..
Mark – who
Josh – mark..
Josh starts calling Mark out for plotting against paul and Christmas week 1 with Cody.
Feeds cut..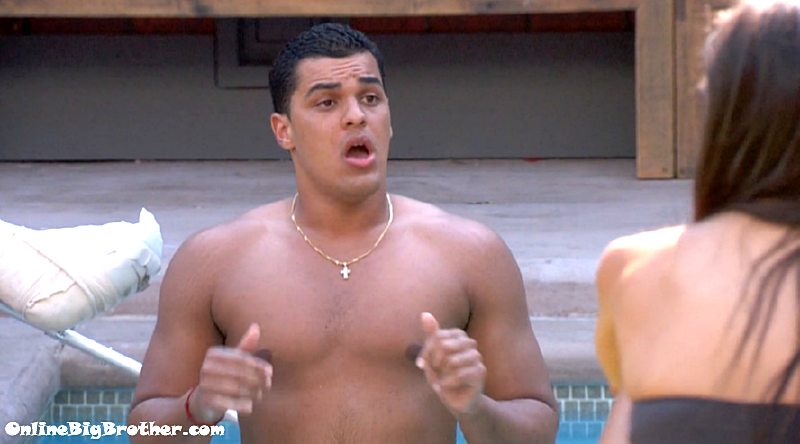 When we're back..
josh is telling him he crossed the line..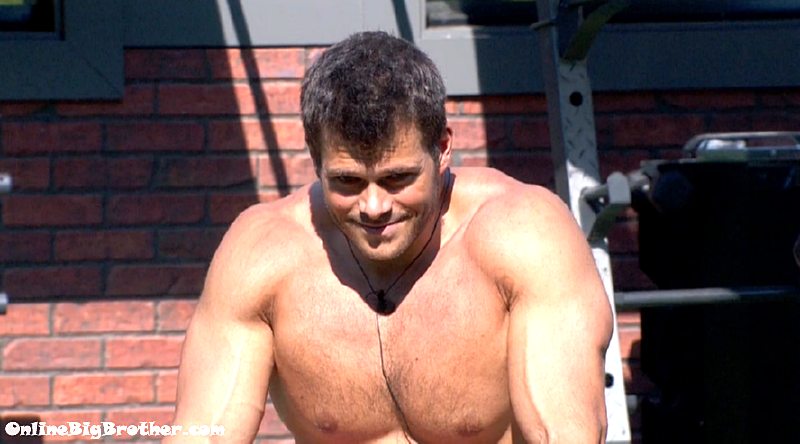 Josh – STOP LAUGHING
Josh – you f*ed up ..
Josh says everyone knows when Cody was talking in the interview mark was the only one that knew exactly what Cody was talking about because he was so aggressive.
Elena – I have a question..
Josh – why were you pinching him so much during the interview.. why if there was nothing to hide
Elena's – so he wouldn't beat Cody's face into the wall ..
Elena asks Josh about his vote to keep Christmas.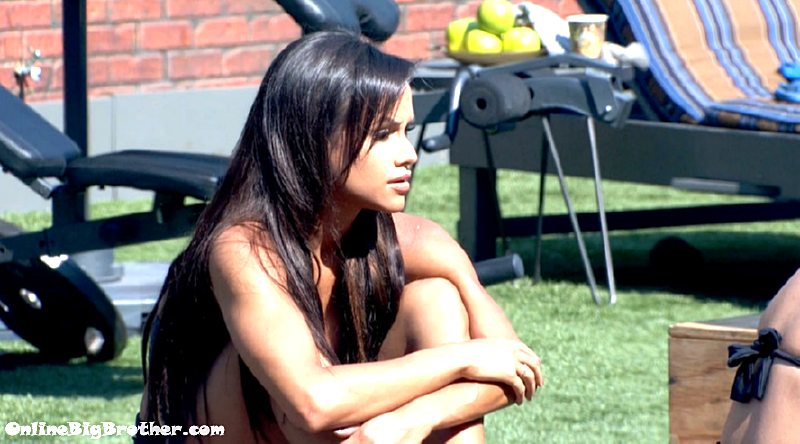 Jessica jumps in says Josh told her and Cody that Xmas never talked game so he's voting her out
Jessica calls Josh out for lieing to them about his Jillian vote.
Mark – can I ask you a question.. you said I was plotting to get Paul out Week 1
Josh – Cody was saying that you and other people were plotting to get Paul and Christmas..
Josh calls Jessica out for calling him a "Pu$$y and a Little b1tch" for when he was crying about missing his family.
Elena says Josh's word is only good when he says he owes it to someone..
Josh – no go into the room and start hiding make up stories and reinsert yourself again.. I hope you make it far..
Josh – Next.. anybody have something else to say cause I have all day..
Josh says Mark's character is sh1t..
Josh – I've been a outsider since day one.. i can hear all of you always f*ing throwing little gabs..
Josh – Stop you're a fool.. you played yourself.. You lost a friend.
Josh – I could go home next week and I don't give 3 f*s
Josh says a lot of people came to him to watch for Mark. And Mark has proven it to him.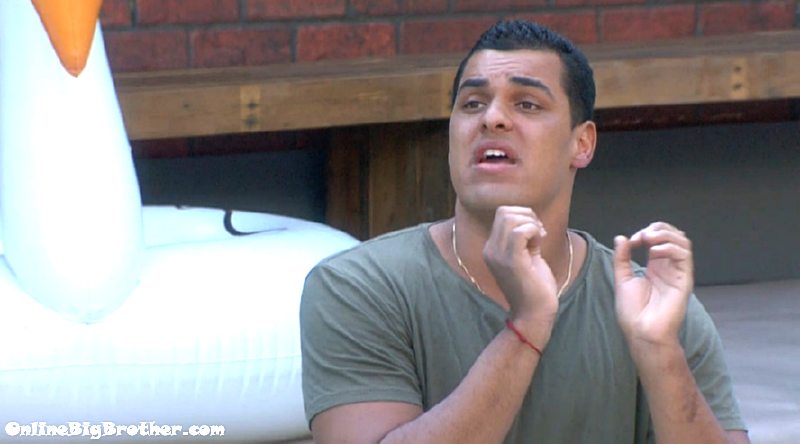 Josh – You got nothing on me
Josh – Next. .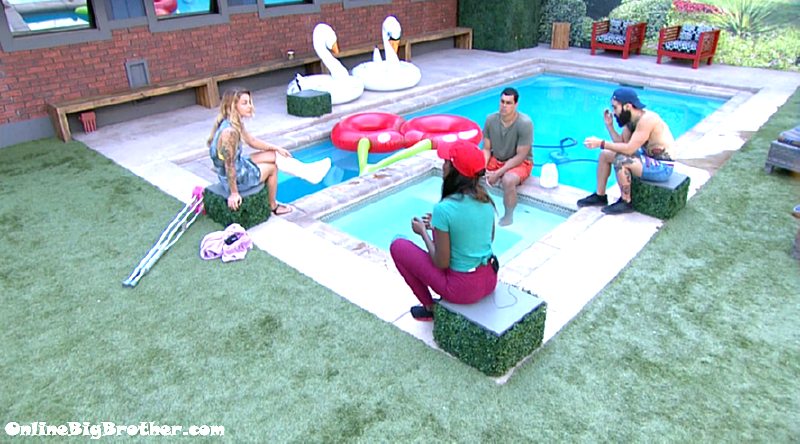 4:49pm Dom, Xmas, Paul and Josh
Dom says everyone in the group was throwing Xmas' name around as the vote for Cody.
Dom – I promise before god..
Dom – all 6 were throwing your name around I kid you not..
Christmas – what's your point right now because I am done..
Xmas – you threw my name around and threw me under the bus while I wasn't here
Dom – threw you under the bus WOW ..
Dom – Ok thank you..
If you plan on buying anything from Amazon. Use this link Amazon home
Doesn't cost you anything and we get a small cut.
Links to the ranking system
Rank your house guests here
For those of you that like Statistics here are some expanded reports.