Feed subscription lets you go back and re-watch everything we post here CBS All Access Live Feeds with a FREE 7 DAY trial.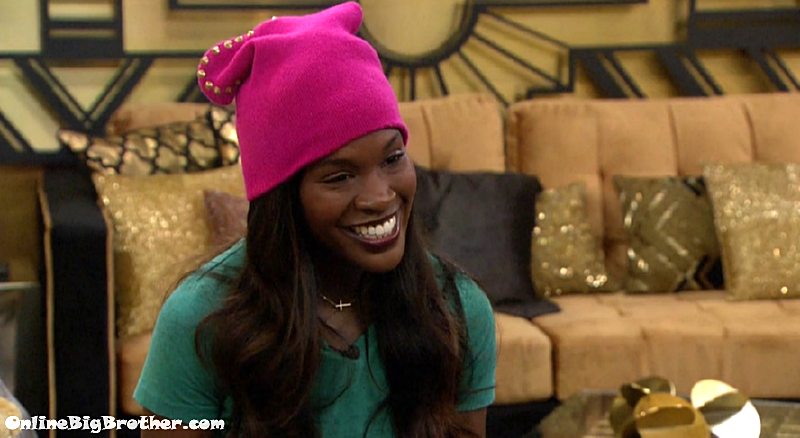 8:05pm HOH Dom and Alex
Dom tells her she has no idea who voted out Ramses but it wasn't her. She says her entire side betrayed her.
Alex says if there's someone that is trying to get Dom out find out who it is. Alex will out them and she can put them up.
Dom – Name dropping is so yesterday.. When you name drop you feel it adds value to you you are..
Dom goes on about how annoying the younger girls are.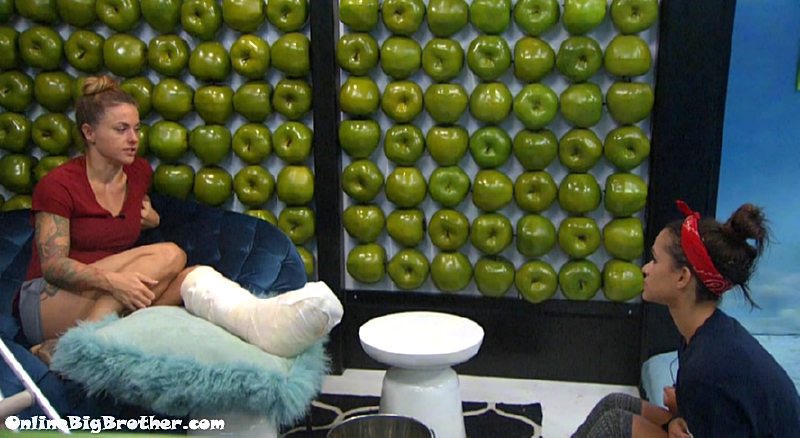 8:16pm Jessica and Christmas
Jessica says she just wants things to be good between them.
Christmas – I want the same thing.
Jessica says she wants her to heal and prove us all wrong..
Christma thanks her says it was an accident and she's hoping that it proves to America she can face a roadblock and persevere.
Xmas – you're Energy was different when I got here.. I Was like when you got here.
Jessica says the Whole Cody thing went very fast.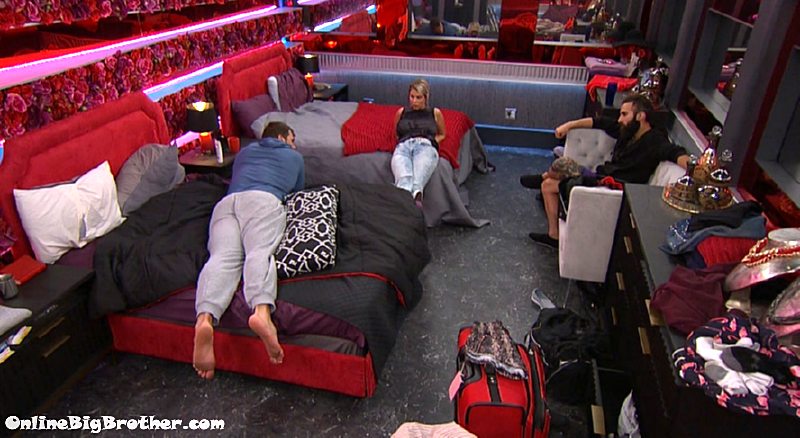 8:23pm Mark, Paul and Elena
Paul says he told them from the beginning one little crack one little stupid thing.
Elena says that Christmas told her she voted Cody out.
Paul – I don't think Christmas is a good liar..
Mark says Alex sin'[t going after Xmas because she'll be a easy target down the road.
Paul – I see it Slipping dude.. I see it crumbling.. (their alliance)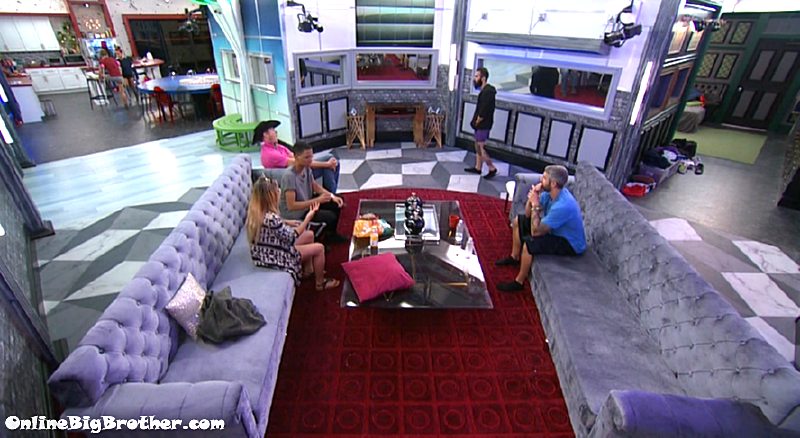 8:50pm POV players picked
Jason, Alex, Jessica, Kevin, Dominique and Christmas
Jason asking Paul "you think it'll happen tonight"
Paul – YES.. we don't pick veto players and not play.
Jason – wow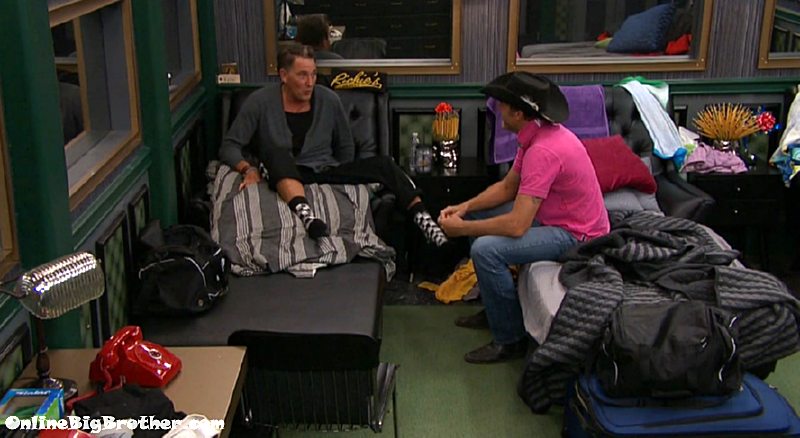 8:57pm Kevin and Jason
Kevin telling him the next person out has gotta be Matt.
Jason starts going on about Ramses how he's making the rounds they can't trust him.
Alex joins them.. Jason – Come here you bada$$ home b1tch
Kevin – do you want us to throw it..
Alex – NO
Jason – win it..,
Kevin – if I have the chance to throw it..
Jason – NO just f*ing win it. (I love Jason cut and dry gameplay. Put them up, win the comp, vote them out, it's classic )
Kevin – If I win veto … I don't take no one off right?
Alex – We'll see..
Kevin – You Tell me what to do
Jason – WIN WIN WIN WIN
Alex is pointing out to Jason that Elena, Mark, Paul and Dom are getting close again.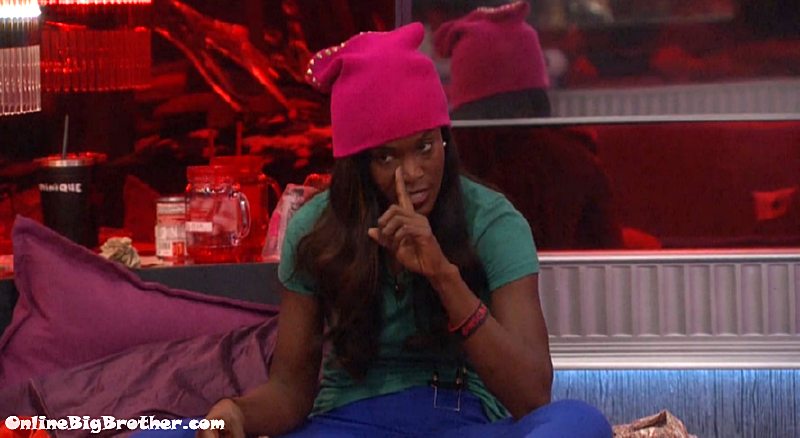 8:56pm Dom, Paul, Mark and Elena
Dom – I was betrayed by my very own
Paul – are you positive
Dom – Positive, It's all good in real life.. I understand this is a game but that was a personal attack
Dom – there's not way I can receive it any other way because I've given no one any reason to feel a certain way
Dom – Certain things were highlighted to support the decision that was made.
Dom – so .. we'll just see how it all works out
paul – you're positive
Dom – YES I'M POSITIVE
Paul – is that a concern among the group
Dom – It's hard for me to believe that no one knew
Dom – supposed to be one team one fight..
Dom says there's more than 1 person in their group that sold her out.
Dom says if she does go home it will come to surface "you can't stab someone in the back and not expect that in return"
Paul – f*ing goddammit guys
Paul – did yo get any more information about that vote
Dom – Ohh allegedly it's me
Paul – that's all you've been told
Dom – it's not me.. but individuals campaigned to convince others that it's me
Elena – in our group
Paul – multiple people
Paul – that defeats the whole purpose of a group in my opinion..
Dom – absolutely.
Dom – you get rid of the individual that accurate about Senses things way ahead of time.. You get rid of the person that is observant.
Dom – You get rid of the person you believe is smart and intellectual.
Elena – is that what you heard are the reasons you were targeted
Dom =- AHHHH no but there's no other reason.
Dom – I didn't vote for Ramses.. It's so crazy to be number 1 you have no foundation to support what was alleged
Don says theres other people "in this group that we have" that have said concerning things yet I'm the person on the block..
Mark – great pick outta the veto bag.. great pick
Paul doesn't think Christmas can even compete.
They agree it was a interesting choice by Jessica. (She picked Kevin I think)
9:30pm Feeds on dogs.. must be the Power of Veto competition.
If you plan on buying anything from Amazon. Use this link Amazon home
Doesn't cost you anything and we get a small cut.
Links to the ranking system
Rank your house guests here
For those of you that like Statistics here are some expanded reports.