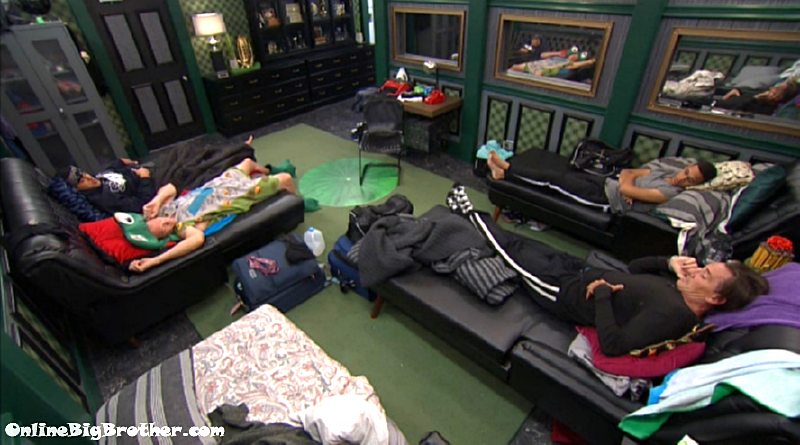 12:50am Ramses, Kevin, Jason
Joking around. Talking about porkies the movie. Jason says he has all three.
Feed subscription lets you go back and re-watch everything we post here CBS All Access Live Feeds with a FREE 7 DAY trial.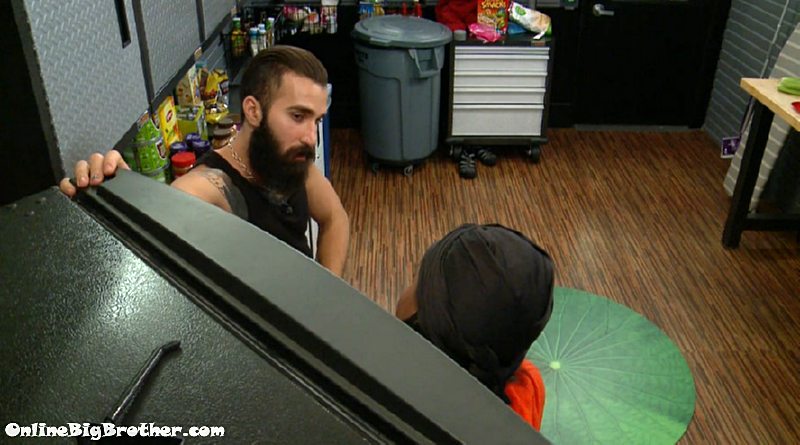 12:54am Dom and Paul
Dom is saying something is about to blow up
Paul says some people of their own are acting a little bizarre.
Dom says she doesn't trust Elena because of the deal she made on the wall.
Paul – her temperament has changed 180 degrees..
Paul asks if she's talked to mark
Dom – no
Raven joins them.. Says Alex pulled her and Matt into the APSR and she told them that she trusted them.
Raven – she said she's putting up Jessica.. She can't stand the girl..
Raven adds that Alex wouldn't tell her the second nominee she wants to know who voted out Ramses that will be the second person.
Raven – she did drop Mark's name..
Dom says she hopes Christmas comes back tomorrow..
Paul hopes she comes back to get their side fired up again.
Raven thinks Alex is putting up Josh and Jessica.. (LOL)
Dom chimes in that putting up Josh and Jessica would be a good idea..
Paul – JOSH! He goddamn fell like a flapjack on a frying pan (LOL what)
Dom – I know what I sense.. Something is up..
Paul – apparently Ramses had a conversation with Jessica… what was it about
Nobody knows Oh my god
Paul tells them Jessica, Ramses and Jason are working together.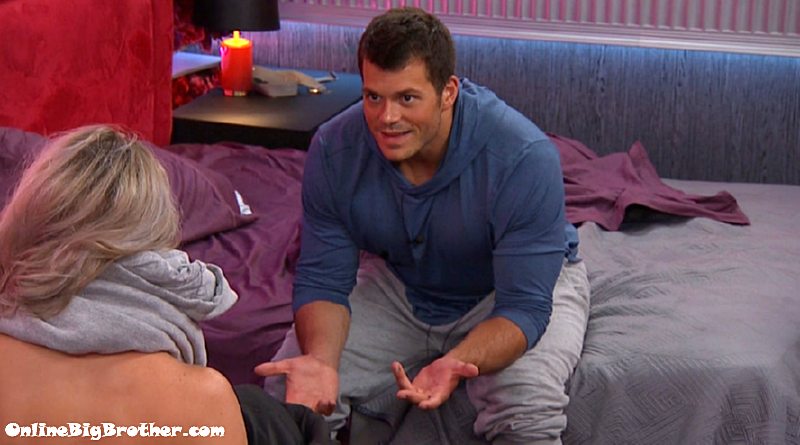 12:55am Mark and Elena
Elena says if Christmas is the one causing the trouble in their group (Voting out Ramses) Elena is fine with them sending her home. Mark is worried about tomorrow because of COdy throwing his name out.
Elena tells Mark that other than Mark Paul is her best friend in the house.
Mark – I love Paul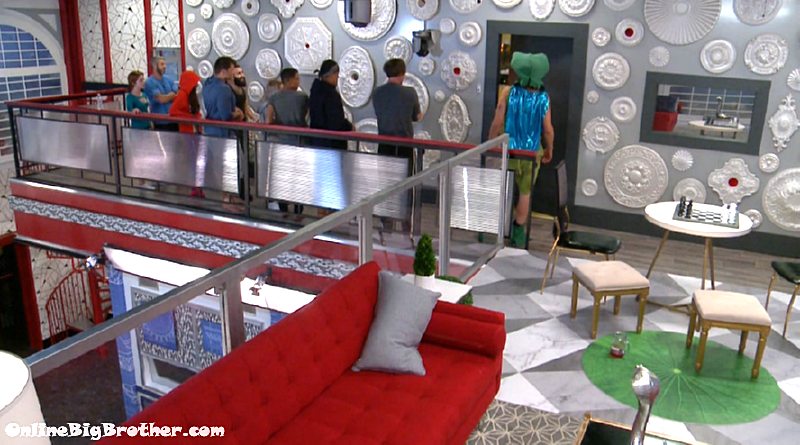 1:10am Alex gets her HOH room ….
Alex gets her HOH Room #BB19 pic.twitter.com/pWVg8OJ3Pd

— OnlineBigBrother.com (@bigbspoilers) July 14, 2017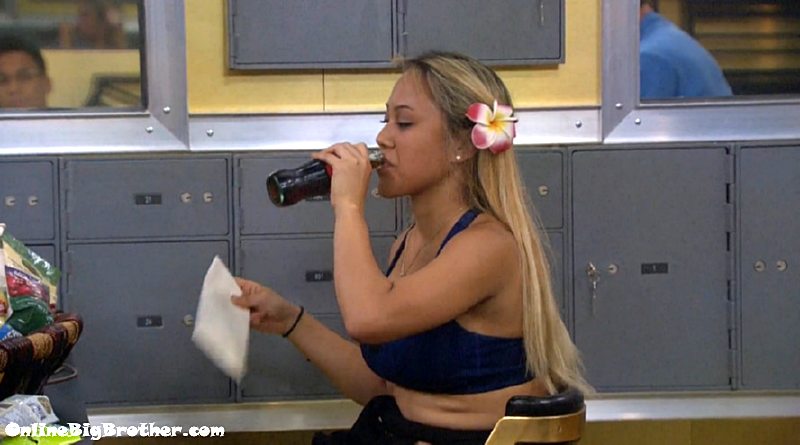 Alex gets a coke… (During the HOH she was yelling how she wanted a coke)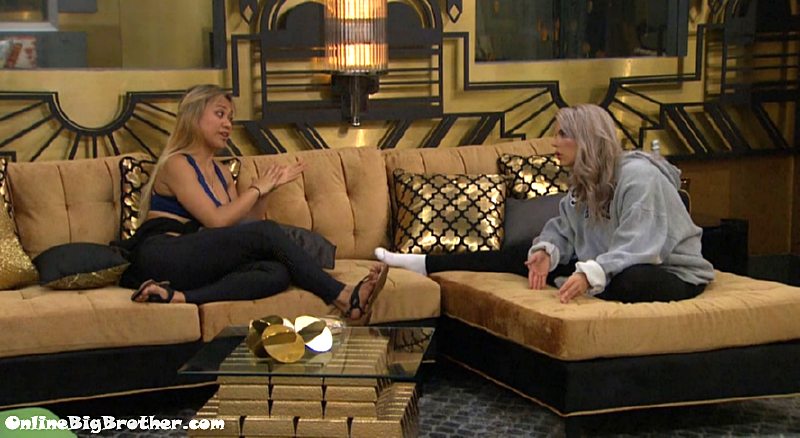 1:31am Elena and Alex
Do yo have a target or two in mind.. I figured you wanted Jessica out
Alex says someone has been rocking their alliance.. so she wants to figure out the Ramses votes first.
Alex thinks the votes against Ramses were Dom, Christmas and Jessica.
Elena says someone had told her that Kevin may have been the Ramses vote.
Alex was thinking that too..
Alex says Christmas isn't looking so good right now. She wants to wait to talk to her. Elena agrees. Elena says Mark feels "Sketched out" from what Cody did
Elena – Mark stayed the loyalist to him..
Elena says Mark felt betrayed by Cody and feel specially bad last night
Alex says he's more worried about the person in their group that is flipping than Jessica and Ramses.
Alex – I know it's not you, not me not Paul
Alex – Paul swears it's not Kevin.. and he trust him
They confirm the deal and what they will let the rest of the players know. Elena doesn't get nominated and she doesn't get Backdoored. Elena doesn't want the rest of the people in the house to know Elena asks for safety for other people. She doesn't want to get blamed for someone going home.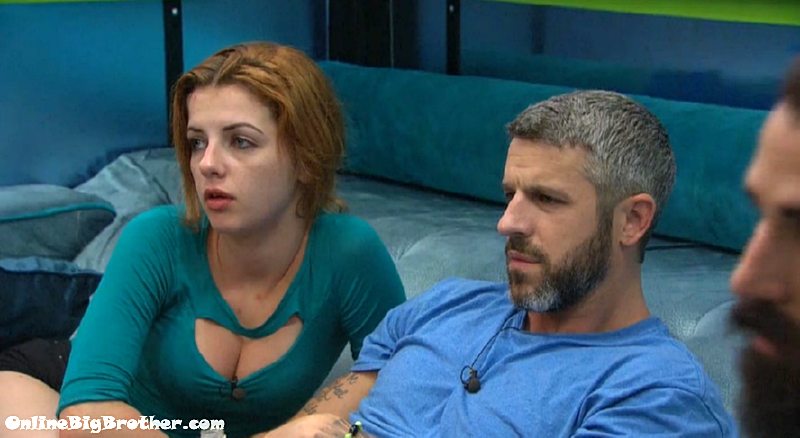 1:38am Paul, Matt and Raven
Paul says they are not on the other sides radar right now.. Dom and Mark are on the radar
Paul – we're fine.. but our group is not..
Paul tells them that he keeps hearing Marks name.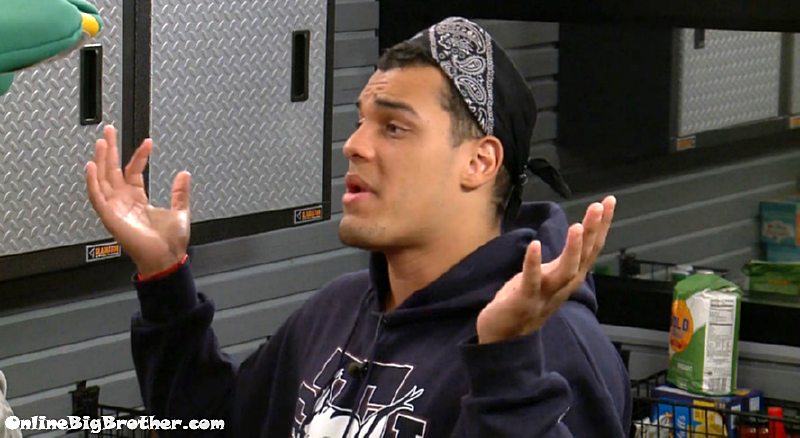 1:51am Josh and Jason
Josh wants him to know that regardless of what Alex does he has their back. Wants them to know just 2 more weeks till Jury then they should take the shot.
Jason – we have to take out those mother f***rs right now
Josh – I don't trust Mark, Raven, Elena or Matt.. they're all sneaky
Jason and Josh agree Paul talks to everyone.
Jason – he's up there right now chumming it up.. he's been talking to everyone..
Josh – I want to work with you guys.. moving forward..
Jason says everyone on the other side want to get Josh's a$$ out..
Josh – they were trying backdoor me
Jason – no they were after me.. Christmas hates my guts
Jason says he's tarting to really not trust Raven she's sneaky.
Josh – These people are smart, we need to step it up and take a shot at Matt or Mark..
2:06am Paul, Raven, Mark and Matt
Talking about Christmas still playing the game with a buggered foot. Paul said he thought he was having a one on one with her and he suggested she leave the game to let her foot heal and she looked at him like death.
Paul – again a unfortunate accident.. but you chose to ride a human being
Boys2men – that has been hit in the head by a bull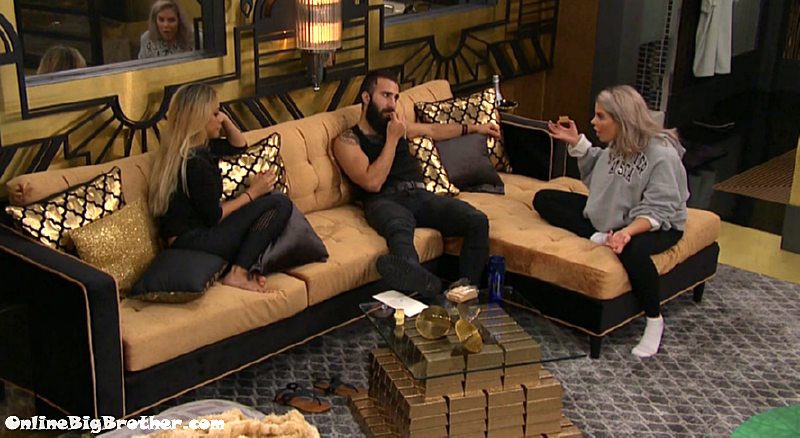 2:10am HOH Paul, Elena and Alex
Alex asks who had hid her ears.
Paul doesn't know says it might have been someone else.
Alex says she is being told it was someone else.
Elena says she doesn't know 100% but if she would put money on it it wold be Jessica.
Paul says he doesn't know.
Alex thinks someone (jess) is trying to frame someone else.
Alex says Dom, MArk and Christmas are the red flags. Adds that Jessica as of right now is on the block.
Paul – how do we feel about Ramses
Alex – I'm more concerned about someone who is causing Bullsh1t we don't need right now
Paul – what if Ramses was ion on it.. He didn't seem that freaked out.
Paul says he's hearing Paul's name all over the house.
Elena says if Mark is the one f*ing around she'll be the one to send him out.
Elena says if she was HOh and given the information she has about Christmas and if Christmas wasn't in the house to defend herself… "There's a really good chance that… I'm not saying I would put her up but… I would have a hard time not.. "
Elena thinks Raven is going to get the Temptation.
2:32pm Paul and Elena HOH with Alex in the bathroom.
Paul is warning her that most of the house is thinking something is up with Mark
Elena – I'm worried people are jumping at something….
Paul says that could be the case..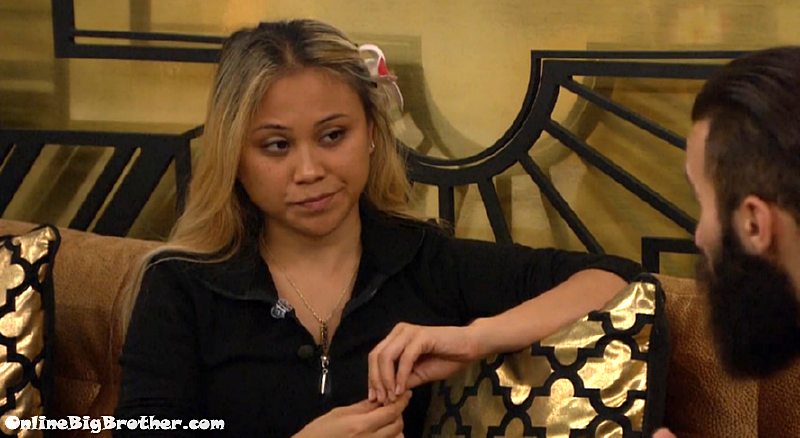 2:33am Alex and Paul
Paul says Dom and mark are up to some sh1t and the reason they want Christmas out so bad is because Christmas is onto them.
Paul is saying Ramses and Jessica as nominees. Says Ramses is a snake.
Paul says Dom uses her talk show to pull information from people.
Alex says if they Elena on board they can put Mark up
Paul – or do we put Dom up
Alex – and backdoor mark
Alex says Ramses is trying to get her to keep Jessica and Kevin said it's another vote.
Paul says he trust raven and Matt and they are both very skeptical what Dom and Mark are up to. Paul says Raven and Matt would be on board with them.
Paul says Mark isn't designed for competitions and he's got a hurt finger, "I think Dom's the best move"
Alex says she could get the votes to evict Dom. And if she comes off the block they put up Mark.
Paul says Mark and Dom are up to something. He's good with that plan.
After Paul leaves.. Alex looks at the camera and asks America for the den of temptations tomorrow.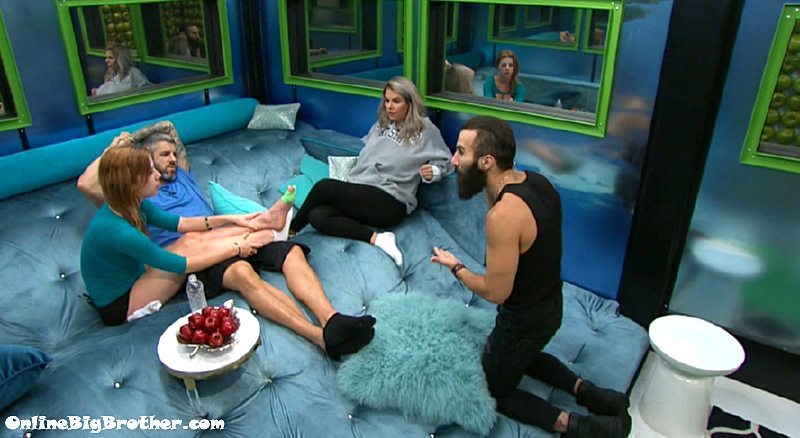 2:41am Paul, Elena, Matt and Raven
Paul says she's not budging, Alex doesn't want Ramses up and she told Paul that Ramses is campaigning to keep Jessica off the block. Paul says there's something going on and it's because of Cody dropping names.
Elena asks if Mark is gong up
Paul – I don't know.. she can't drop names.. I honestly don't know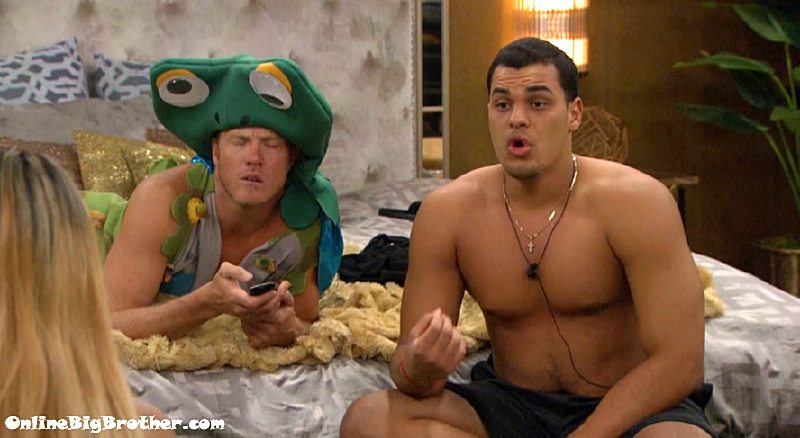 2:47am Meatballs
Josh – I wanted to talk to yo because I know everybody in this house wants me out..
Josh – after Jillian you don't trust me.. Everything I told you about getting to Jury is true..
Josh – I see hoe this game is going and I'm not liking it..
Alex – what do you see Josh
Josh – it's obvious we're outnumbered
Josh – I'm telling you I f*ing have your back.. I have never once thrown your name under the rug
Josh – if we don't make a move..
JOsh says he heard Ramses had a deal with Cody to not use the Veto.
Alex – who said that
Josh everyone.. (AKA the other side)
Josh – I wanted to cheer for you guys but when I cheer for you guys they'll see. .
Josh – if you or Jason didn't win one of us 3 would've end up on the block
JSoh – if we don't take action now we're going to be f*ed..
Josh points out that the other side is talking to Alex at 3 in the morning. "People are working overtime"
Alex – we need to shut our lips.. do not talk to Jessica do not bring her on board…
Alex – I know Ramses is going to come up here and spin his bullshit I know he's lying..
Jason – I'll tell you who's giving me crazy eyes… Dominique..
Josh – I don't trust Matt.. I don't trust Mark..
3:00pm Alex and Jason
Alex says Jessica has got to go on the block.
Alex says Ramses is a little b1tch liar.
Ramses joins them.
Alex – Ramses you're not my target
Ramses tells Alex that Raven hates her guts.
They agree that Raven is really fake.
Alex – once the noms are announced I'll need you guys to rally behind my vote.
Ramses leaves..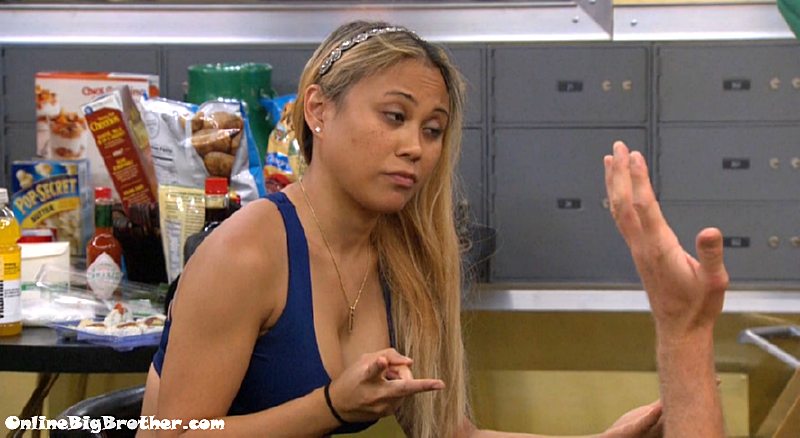 3:09am Alex and Jason
Alex says her targets is Dom. the votes are , Jason, Kevin, Ramses, Paul, Matt and Raven.
Jason says that is sketchy.
Alex says if Dom comes down the target is mark
Jason says why not put up Matt/Raven and Dom
Alex – because right now they are talking.
Jason – I'm with you
Alex – we have the numbers Paul is going to back us
Alex says she wants to take Jason to the final 4. Adds that Paul has to come with them. Paul knows how to play the game and he will protect them. (Good god kill me now)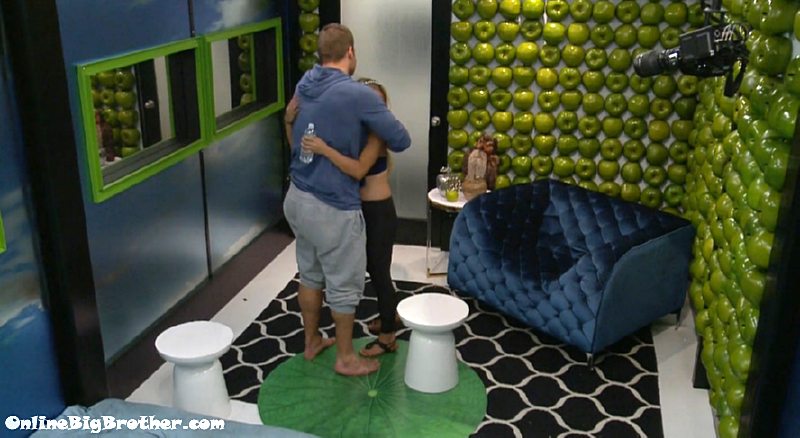 3:28am Mark and Alex
Alex asks him who he thinks flips.
Mark says he's having trust issues with the house because of what Cody did. Mark wanted Cody out more than anyone because of that.
Mark is assuming it was Christmas and Jessica. Adds that he really likes jason.. Tells her if he gets power next week her and Jason are off his radar completely.
Mark has no idea who the third vote was.
Mark says he truly likes Dom it woldn't have been her that voted Ramses. mark thinks it's just someone trying to stir the pot. it makes no sense.
Mark asks if Jessica is still the target.
Alex – yes.
Mark says if she keeps him safe he'll keep Jason and Alex safe next week.
Mark – Please talk to Dom.. because she would not have done that (Vote Ramses).. Cody threw her name under the bus..
Alex – I don't trust Ramses.. even xmas told me stuff about him
Mark – I just think logical and simple
Mark – I told Jason because I loved Jason since day one.. I voted Cody
Mark says he stuck his neck out for Cody he told Cody for his gameplay he had to go with the house.
Mark says he likes xmas as a person.
Alex asks them why did they want to keep xmas so bad with her broken foot.
Mark – can I speak between me and you
Alex – yeah
Mark – I don't
Mark says his side isn't happy with him for sticking his neck out for Cody so he's not in a position..
Mark – I'm a very loyal person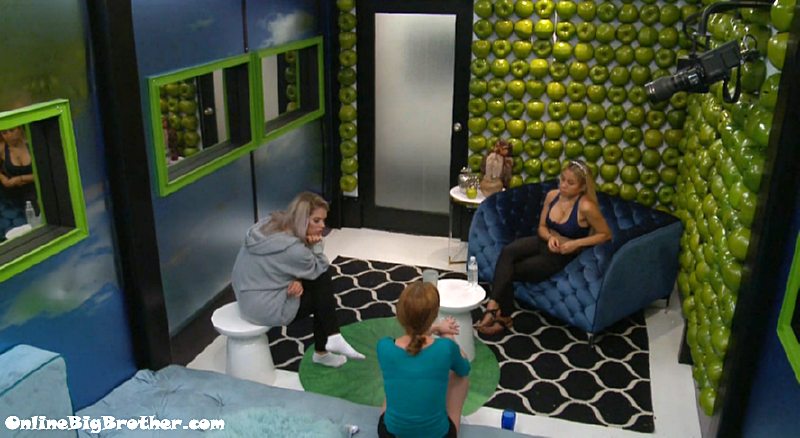 3:43am Alex, Raven and Elena
Elena is warning against they put someone from inside their group up it might cause waves.
Elena says they all know the agenda is to get Jessica out or get Ramses out.
Elena says she will have a hard time voting someone out in their group unless she knows they voted Rasmes out.
Elena leaves to "pee"
Alex says she's been praying every single day for Raven.,
Alex says people have told her that she hide her cat ears..
Raven – I did not hide your cat ears…
Raven says she knows it wasn't Elena that voted Rames and she knows it wasn't Matt because she would cut his balls off.
Raven – I have 2 terminal disease and a pacemaker why would I hide someone's cat ears.
Alex – I'm 30 I want to play big Brother not play i'm baysiting you because your boyfriends gone.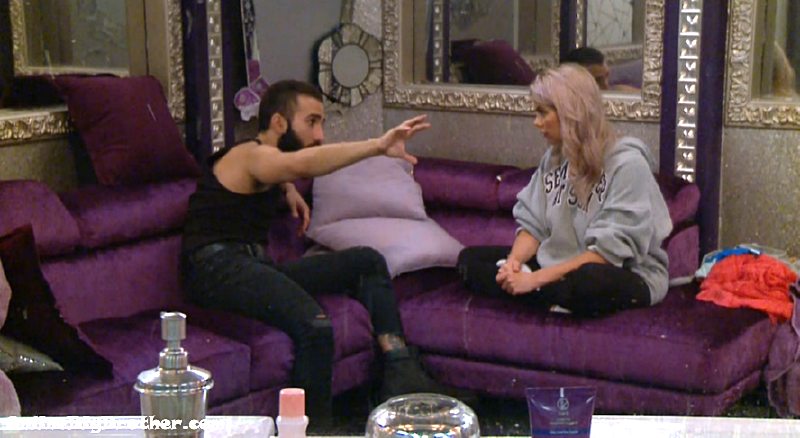 3:50am Elena and Paul
Elena say the person that voted out Rames could be in their group or they could be outside the group.
Paul – I'm telling you after this week the group is done… I'm telling you now it will crumble Because once Christmas comes back into the loop it's a f*ing sh1t show
Paul – if we don't play our cards right we are going to sink
Paul says everyone on the other side is making the points about Dom and Mark.
Paul tells him Mark is sinking his boat with his emotions.
Paul – Dom is going up tomorrow.. Which I think is really going to happen
Elena – I do to..
Paul – What is your understanding of Mark and Dom's relationship…
Elena – I don't know
Paul – do we start asking questions, again you said she has a understanding of it. How?
Elena – Jesus.. She says the lord told her.
Paul – if the heat continues I might have to abandon ship
Elena – can I abandon with you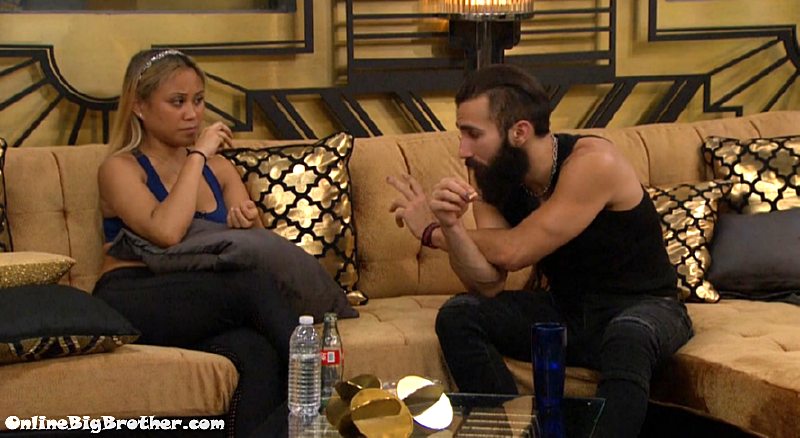 4:08am Paul and Alex
Alex thinks the votes against Ramses were Dom and Christmas. (and Jessica)
Paul says Dom is up to no good.
Paul says she has Kevin, Jason, Rames, Him, Josh vote.
Alex says if DOm pulls herself off Christmas is going up
Paul adds he'll get Elena, "She doesn't like mark and Her (dom) close"
Paul says Raven, Matt, Josh, Jason, Elena will have her back next week.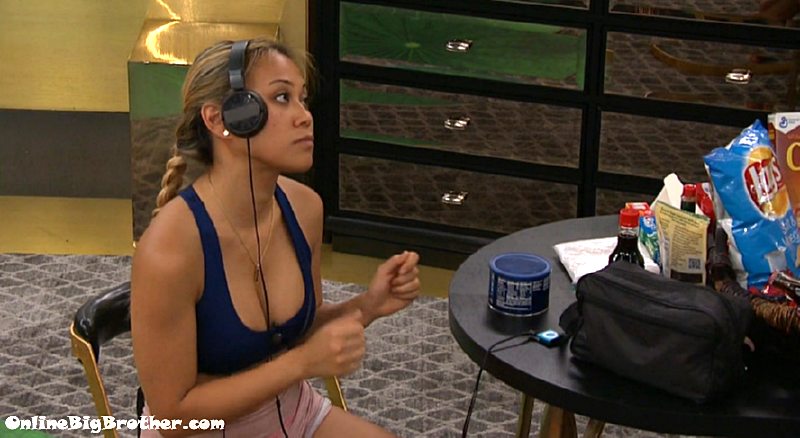 4:26am Alex tells the live feeders she's going to try and get Dom out this week.
If you plan on buying anything from Amazon. Use this link Amazon home
Doesn't cost you anything and we get a small cut.
Links to the ranking system
Rank your house guests here
For those of you that like Statistics here are some expanded reports.