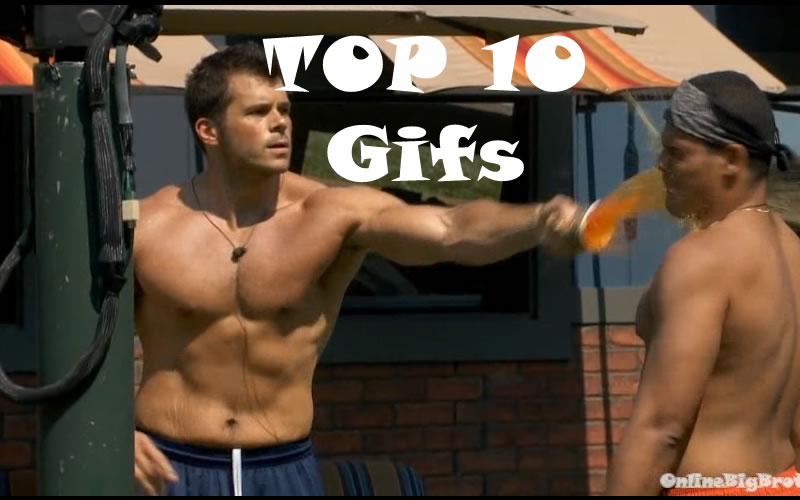 Every week we go through our list of Gifs and pick the juiciest 10 for your viewing pleasure. Let us know which one is your favorite in the comments below.
Typically Gifs always go to our Twitter accounts (@BigBspoilers) and most times they make their way to our facebook.
This week there was some great ones..
Josh getting hot sauce thrown in his face by wreck it Ralph
Christmas working out like a beast with a cast
After all the Drama Josh still is gangster
And what collection wouldn't be complete without someone trying to body slam Jessica nad her boob falls out.
Alex going complete beast mode during the Head of Household Wall Endurance
It was a Fun week! hope y'all had fun on the blog. thanks again!
Christmas back to working out #BB19 @DawgsBigBrother pic.twitter.com/zeKHJMJxDL

— OnlineBigBrother.com (@bigbspoilers) July 20, 2017
Mark – you can't beat me when you scratch on the eight ball #BB19 @DawgsBigBrother pic.twitter.com/YaGnIq1TR3

— OnlineBigBrother.com (@bigbspoilers) July 17, 2017
"The evolution of Jessica's mood.. today" #BB19 @DawgsBigBrother pic.twitter.com/3MdkhPFijw

— OnlineBigBrother.com (@bigbspoilers) July 20, 2017
Still gangster #BB19 @DawgsBigBrother pic.twitter.com/qXl3cmc0w7

— OnlineBigBrother.com (@bigbspoilers) July 18, 2017
Raven #BB19 @bigbspoilers https://t.co/sLQeY1KjzC pic.twitter.com/EJbH3n4D8h

— Dawg (@DawgsBigBrother) July 18, 2017
Body Slam "Your breasts out" #BB19 pic.twitter.com/PiExdT6Oa8

— OnlineBigBrother.com (@bigbspoilers) July 16, 2017
Jason "Can I eat honey?!"
Elena – yes
Jason "Oh sh*t, I didn't know that!"#BB19 @bigbspoilers pic.twitter.com/PSBYTqanKU

— Dawg (@DawgsBigBrother) July 17, 2017
Kevin and his Honey #BB19 pic.twitter.com/7LgpLLKjkQ

— OnlineBigBrother.com (@bigbspoilers) July 16, 2017
Paul, Alex and Ramses Attack Jason in bed #BB19 pic.twitter.com/wDfLVAHFum

— OnlineBigBrother.com (@bigbspoilers) July 16, 2017
Alex is beasting it #BB19 pic.twitter.com/Kgl0zX6rkI

— OnlineBigBrother.com (@bigbspoilers) July 14, 2017
Honorable mention (Not a gif but give it a listen.. )
The Sound Elena makes when Paul tickles her leg. #BB19 pic.twitter.com/2ZiAn9vQt8

— OnlineBigBrother.com (@bigbspoilers) July 16, 2017