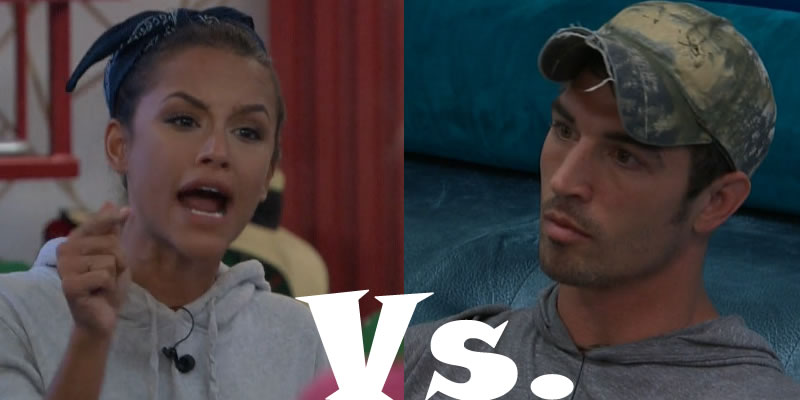 Such a fun season to watch! Seriously there was more drama last week than we've had in a month from past seasons. Another vet returns another vet damages their image with the fans. Same went for Big Brother Canada super favorite Neda on BBCAN5.  It's that social media fame I guess…   Anyways. I'm loving this season..  see! I don't call every season a Kraken season! With that said I'll probably call this a Kraken season based on the CBS edit.. tonight.. 😉
Here's how it all went down
Ramses was evicted by a vote of 7 to 3. The Inked and Evicted Head of Household competition was played and Paul pulled out win number 2.  Your boy, Friendship.. pissed.. never cared.
The Temptation Competition.
Alex, Jason, Mark, Matt  danced in the Bowlerina Temptation Competition. Jessica and Cody at this point they were playing up Jessica having the Hex safety. Mark won meaning he is safe from being nominated this week. Jason came in last meaning he's the third nominations.
Nominations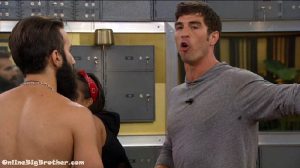 Paul didn't believe that Jessica's temptation (HEX) is as powerful as she has said (rightfully so) . Paul Nominates Cody and Jessica to expire her power. Cody and Jessica confront Paul in the HOH after the nominations and get in his face. Cody tells Paul to f* off.. things get heated. Paul tells Cody to leave, once Cody is down the stairs Paul jumps out starting to showboat.. Doesn't take long for Josh to get involved with the pots and pans against Mark..  it was awesome
The Angle Paul and his minions were going to play is to get Jessica to keep her temptation (HEX) and take Cody as a lose. Saying things like everyone in the house wants Cody gone he's rubbing everyone the wrong way and is pulling Jessica down. We all love you but we hate Cody is what they said. They want to cut a deal with Jessica to save the Hex for herself.
Power of Veto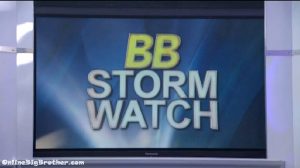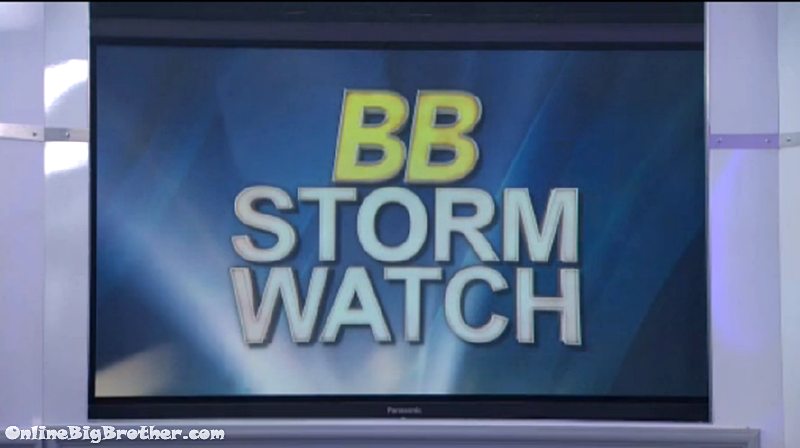 The Veto was BB Storm Watch. Through the night they would get weather updates about evicted houseguests being storms ravaging the country. Cody and Jessica don't bother staying up and studying. The rest of the house listens and study's intently. Paul wins the Power of Veto after a hard night of work with his minions. The plan is to use the Veto on Jason.
During the Power of Veto Ceremony Jason had some Choice words for Jessica and Cody. Apparently he complimented  Jessica then shit on Cody in the same breath. Something that Pissed Jessica off to the nth degree. Post Ceremony, Jessica walks in on Jason, Kevin and Raven chatting about the veto. While they were talking game prior at the moment Jessica walks in on them they are discussing the metal composition of the Veto medallion. Jason notices that Jessica is near and tries to signal Kevin and Raven to watch what they say. Jessica see this and Fight number 1 begins between Jessica and Raven.
I am using the Hex Paul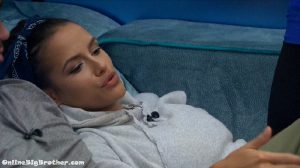 Jessica tells Paul she plans on using the Hex to save her and Cody. Jessica says the house has been against them since Cody was HOH week 1. They tells her without COdy everyone in the house wouldn't have a problem with her yet the one week Cody was gone she was on the block. Jessica doesn't believe Paul wouldn't take her out next week with Cody gone.  She points out to Paul that the house is yelling at them for stuff that happen week 1 while there's people in the house that lie every week and get away with it. Having failed to try and convince her to not use the Hex Paul rallies his minions in the HOH for a change of plan.
The Plan to get Cody to Crack..
Paul's plan is simple, it's similar to what he's employed on BB18 and with Dominique on BB19. He wants Cody to crack so he either a) loses his cool (AKA strikes someone) and gets removed from the game b) quits the game c) gets in such a fight with Jessica that she doesn't use the hex on him. The group works themselves into a frenzy
I went through to collect some quotes from these conversations.. They're selected quotes to show you the lengths Paul and Christmas were going to go to get Cody to "CracK". It didn't manifest this way when the blow up did happen but it was close.  Get the live feeds and you can go back to rewatch all this.. It takes about 3 hours.. I know I've done it twice.  4 things to keep in mind, 1) Cody was a prick to Josh even though the sex predator rumors were kinda started by Raven, Still a prick  2) Cody's social game is very very very very poor.. 4) Matt was pretty much the only one to try and stop this, rewatching this made me realize this.  4) It's big brother so everything inside the house is emotionally amplifies.. (And outside with some of us)
7/31 1:24 CAM 3 Storage room the minions with Paul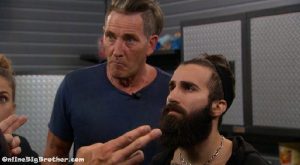 Jason will say to Cody – I don't think your names are on those dog tags.. I don't think you were in the marines.. (there's tape on his dogtags)
Paul – I'm going to drive him Bananas
Xmas – It's going to be a good day
Paul – gameplay initiated I'm going to make Cody crack..
Paul – I got all the power.. Why are we cowering.. If she uses it (Hex) she's gone and if she doesn't use it He's gone..
Alex – let's start some trouble let's start calling out people
Xmas – lets get crazy
7/31 1:29pm CAm 3 
Paul – Josh pots and Pans.. this is Big Brother.. Just because you are worried about his feelings I don't give a fuck.. I won HOH I won POV..
Matt – this is not a big deal everybody needs to relax..
Paul- I'm not pumping the brakes on my gameplay.. Social experience.. It's a social game..
Paul – if he's so cocky he's got nothing to say I'll make him say something
Matt – Jess is doing nothing more than sticking up for her man all you Alpha females would have done the same.
Paul – aggressiveness and Bullying is something I don't stand for..
7/31 1:46pm Pretty much everyone sans Cody and Jessica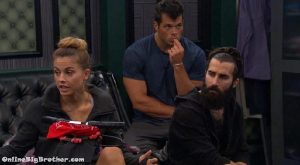 Paul – if Cody BLOWS up she won't use it because she won't want that attention be near her game..
Paul – so I ain't going to pump the breaks
Paul – and if she uses it great she goes home and we get to keep him hear and torture him
Paul – Last I checked I'm the one with power
Paul – he needs to be aggressive and she won't use it
7/31 1:48:36pm Xmas "Let's start questioning his military.. He'll take that SO personally"
Paul – Jason, Bring up his military.. He'll flip, me and Josh will jump in, he'll crack
1:53pm 7/31 cam3 HOH Matt, Paul and raven
Paul – if we can make him blow up again for his own good and for the own good of herself she's going to f*ing not use it (HEX) so he can go in peace.
Paul – she's going to use it.. The only way she DOESN'T, if we get a rise outta hommie and him staying is no longer good for his safety (Hommie = cody)
Paul – which means.. Get him to crack, even if she does use it then we have a cracked Cody in the house
Paul – I have the f*ing power.. You have the temptation … I HAVE THE POWER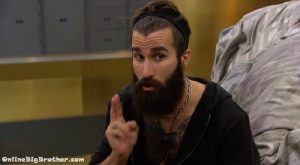 Matt – you (Paul) are the only person in this house that can get a rise outta Cody
1:56pm 7/31 Paul – there's certain words you gotta use.. Coward, You're not a man.
Paul – And Jason wants to question his military Because he's like why are you duck taping those dog tags if you're so proud . .(ohh for f* sakes)
Matt – when you get fired up like that everyone else does to (Matt wants them to cool down)
Paul – and that's the point
1:58pm 7/31 Cam 3 HOH Paul, Matt, Raven, Christmas
Paul – She's already uncomfortable, She will use that HEX right.. If that's the case what is the one thing she didn't want?
Paul – Was for Cody to crack.. When was the one time she got genuinely upset? when Cody reacted the way he did.
Paul – So in order for us to have any chance of her really not using it is to put him in such an uncomfortable spot so that either he wants to leave or he gets aggressive and he gets kicked outta this house by default
Paul – and guess what? Josh has done it before.. I've done it before and I know Cowboy can make it happen again
Xmas – do you think he's willing to push him that far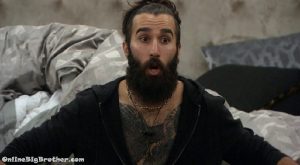 Paul – he's willing to push him that far
Paul – if i'm going to do it I need the back from each and every one of you
Paul – if we start, no more pu$$y footing around.. we need to boot strap and f*ing put Cody in his spot
Xmas – what's the strategy are we going to infiltrate  every room that he's in
Paul – don't touch Jessica, leave her outta this.. but make references.. like "that's the piece of sh1t you wanna protect"
Paul – Mental warfare guys this is a social game
Paul – we gotta get them to crack, that is the way she won't use it
7/31 2:06:35pm Paul – if she see him get VIOLENT, Childish and aggressive, you think she wants to protect that in front of America
Paul – the only time him and Jess got in a fight is when he cracked.. and I got him to crack.. I'll get him to crack again
Xmas – whats the strategy.. I doubt Pots and pans will cut it.. Jason needs to have a one on one Conversation with him.. Slow to boil
7/31 2:10:00pm cam 3 xmas – he'll isolate himself and if he isolates himself we need to penetrate that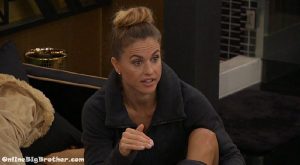 Paul – Pots and Pans aren't going to cut it what will.. Hey Cody I thought you were rough and tough.. but you have your girl do all the talking for you"
7/31 2:10:10pm cam 3 Paul to Josh "When you say you're girl has you on a leash, those kinda words.. when you say you're girl becuase you are too much of a pu$$y to stand up for yourself you need your girl to do it. He will f*ing flip a load and I'll jump and be like whats up pro Hey Jess why don't you put a muzzle on your f*ing dog.. because all he does is bark
xmas – the best thing that will get him excited is the fact he can't fight his own fight and Jess is keeping him in check
Paul – goddamn bro I thought you could speak for yourself but you have your girl standing up for you shows what kinda man you are
Xmas – don't say the same thing over and over again he'll block that out you need to think about different ways to reiterate what you are telling him
7/31 2:11pm Paul cam 3 Paul – we need him to get aggressive to show his true f*ing colours because he's a f*ing bully
xmas – if he gets up say what are you going to do, what can you do.. say why don't you call Jess because she fights everything for you
Paul – you gotta laugh in front of his f*ing face that will get him mad
Xmas – the most powerful thing you can do is be cool and calm and not have anything he says bother you and it actually entertains you
Paul – he can't swing he can't do anything to you, if he does this (motions a push on the shoulder) he's out of this game
Raven – I'm here for my disease and I'm here for my mom (Good fuck added this to remind you folks)
Paul and Josh leave.. as the door closes Christmas says "F*ing bullies I hate them" (ZOMG)
After all this
Matt suggests to Christmas this may not be the best thing for them to do. It's not a good look. Matt says to her "what's it going to take.. Someone to get knocked out" Christmas freaks out on him for lecturing her. In one breath she says how she's on the show to be an inspiration and a resource for people in the next breath she's coaching Josh how to get Cody to break by isolating him and bringing up his military service. (its pretty funny to watch how dark Christmas is)
The Blow up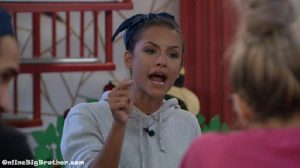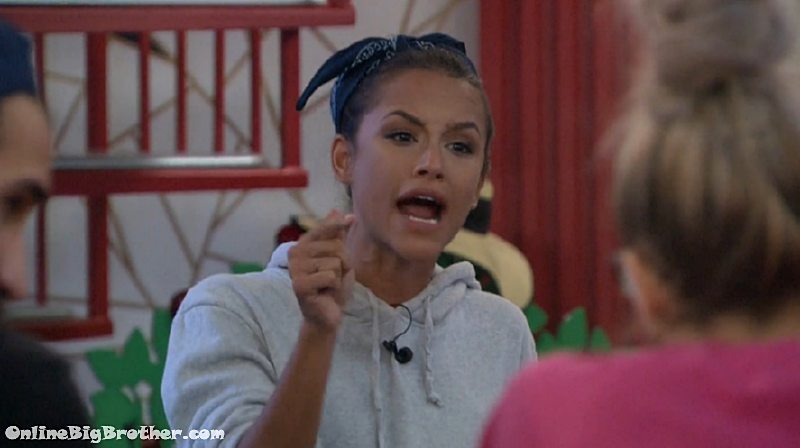 (They never got Cody) The Blow up started with the majority of the house in the kitchen and Jess/Cody in that APSR. They started calling Jessica out to "ask you some questions"  When she finally showed herself to address what they were saying..
Jessica takes on the house KABOOM
Alex, Josh, Raven, Paul, Christmas were essentially the people that participated  in the blow up against Jessica/Cody. They bring up all the lies From the past weeks that have involved Jessica. Jess/Cody have been involved in a lot so everything is is brought up in perfect Big Brother Fashion. Alex and Raven seem hung up on the cat ears. Jessica is hung up on Alex putting her up. Raven completely flies off the handle.  Alex freaks out at Jessica and Mark.
Jess and Cody retreat to the Hammock where the entire house follows them outside. Paul, Raven, Josh, Christmas and Alex continue yelling things at Cody and Jessica. Everyone else lingers around.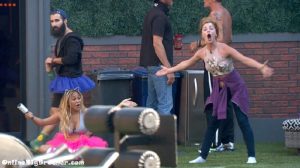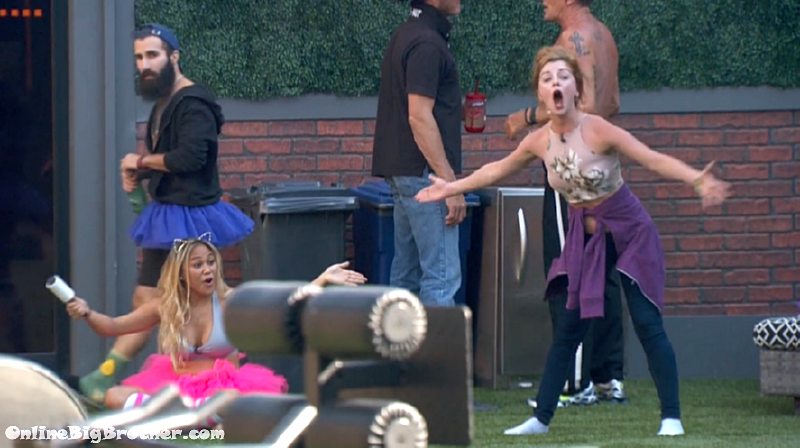 You'll need to read the post to get the full effect.. Military record, P4n1s size, clothing style, personality, American flag  etc etc.. they throw everything they got at Cody. Cody doesn't flinch . During all of this,  out of Paul, Raven, Josh, Christmas and Alex only  Josh mentions "Hey maybe we're being portrayed as the bad guys" They did give Jessica the Hex after all.. Paul tells him "F* NO" Christmas reminds him that Cody called him a sexual predator and threaten to tell everyone on the outside.
In the end someone screamed over the backyard fence that America Loves Jessica and Paul is a Bully (or something to that effect) . Paul, Raven and Christmas begun cluing in that maybe what they did wasn't kosher with the most fans and maybe they went too far. So begins the group trying to justify their actions on Big Brother After Dark etc..
My Thoughts
It's Big Brother at it's best..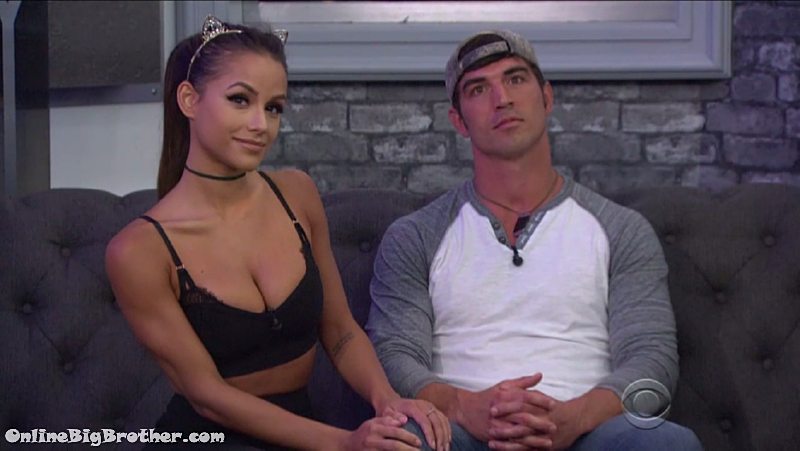 Results from the show
Jessica unleashes the halting Hex.. Jessica and Cody are now safe to play the game, Her Halting Hex power is now gone.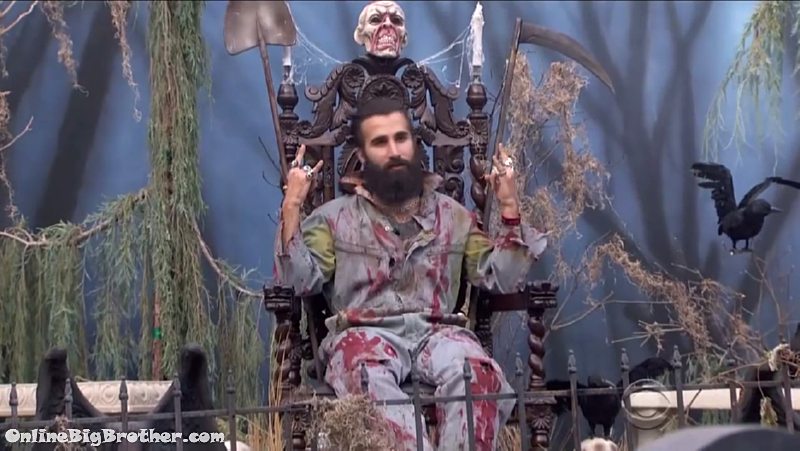 Paul is not eligible to compete in the Head of Household.. This competition becomes Big Brother Horror Week
Matt is First up = 6
Alex = 2
Mark = 15
Jason = 15
Cody = 21
xmas = 21
Elena = 13
Jessica = 2
Josh = 23
Raven = 13
Kevin = 6
HOH Winner is Josh
How things have changed .. #BB19 @DawgsBigBrother https://t.co/S663KKldQF pic.twitter.com/H9CtdyfMuh

— OnlineBigBrother.com (@bigbspoilers) August 3, 2017